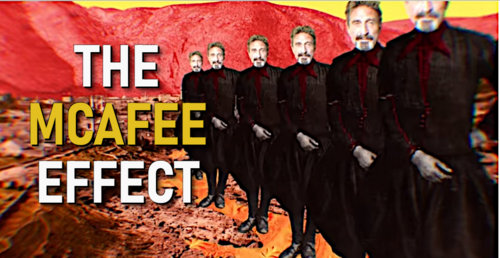 A Change In Direction But Still In The Deep End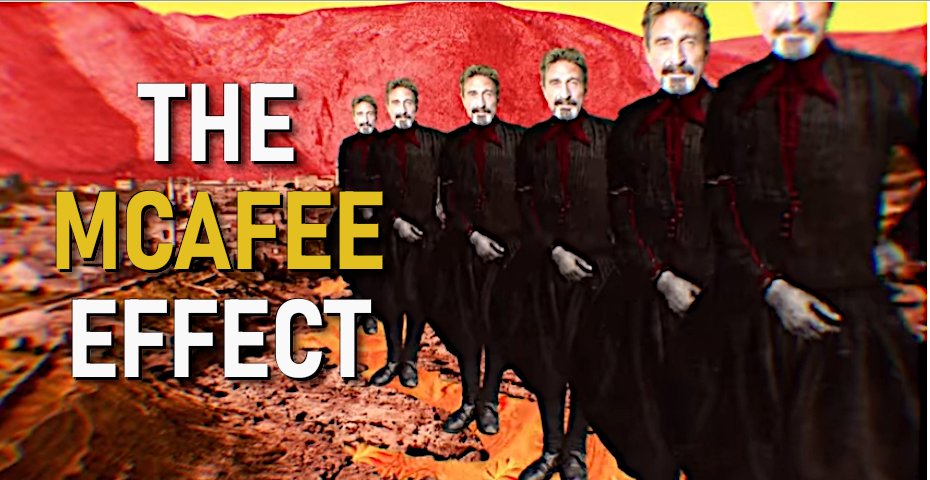 John McAfee, with the help of his lawyer, arranged his deportation from Guatemala to Miami in late 2012. He arrived in Miami with nothing but the clothes on his back, but ecstatic about his newfound freedom. In his first sit-down interview since his month on the run from murder accusations in Belize, where authorities had tried to implicate him in the 2012 murder of his 54-year-old neighbor, Gregory Faull, he said he is broke.
"All of my assets and all of my money is in Belizean banks," McAfee said
He pulled out a wad of cash consisting of $5 bills and said grinning and very appreciative, that someone had slipped it to him in the dead of night help him out as he was entering his hotel room in Miami. This was his opportunity to start anew.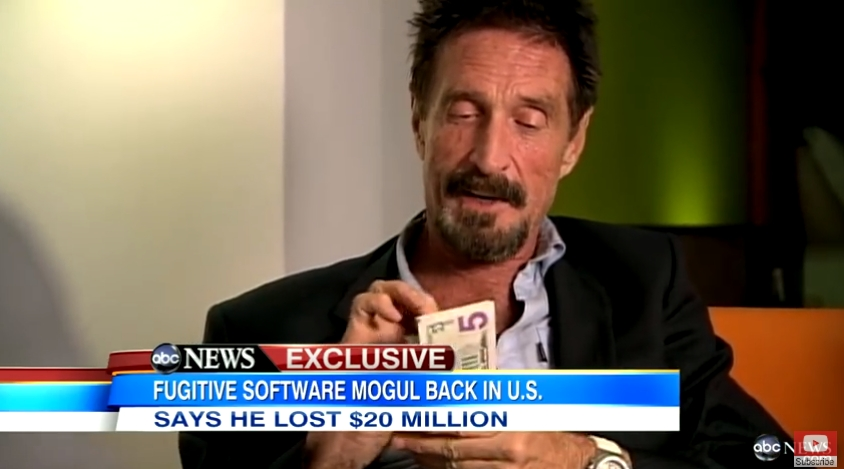 He then hired a prostitute with that brick of cash the day after he was deported. Her name was Janice Dyson and McAfee hired her for a day and a night after meeting her in a Miami Beach cafe. He was instantly besotted with her butt and then realized she was what he was looking for his entire life. McAfee reportedly rescued her from a violent pimp and years of sex trafficking. Meeting and hooking up with McAfee also allowed Janice to reconnect with her estranged son and rebuild her life.

Finding True Love
Although Janice Dyson is more than 30 years younger than McAfee he is deferential to her. He adores her and they were married in 2013. He has happily resigned himself to be a one-woman man and now both embarking on a new life together and the next adventure of John and Mrs. McAfee.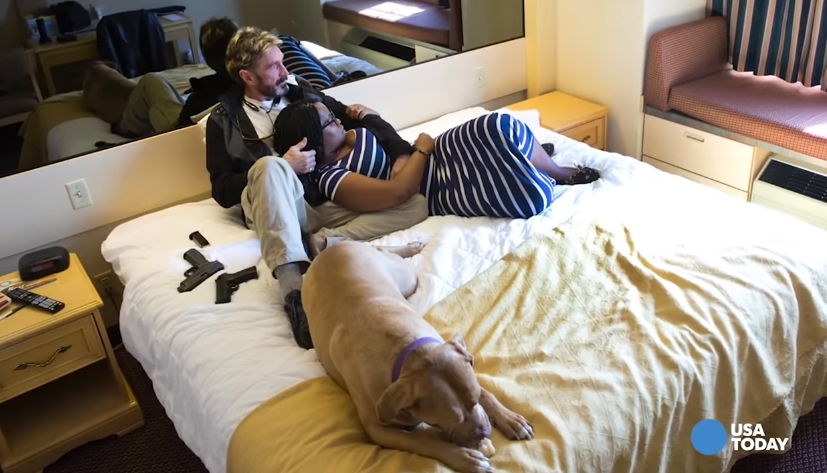 John and Janice McAfee spent the next few months constantly on the move from town to town and hotel to hotel as he believed he was constantly being hunted. He made it common knowledge he was always armed and had won numerous shooting contests, supposedly to warn his pursuers not to mess with him.
Meanwhile, back in Orange Walk, Belize, a bushfire burned his compound to the ground. When asked what he thought may have happened he replied,
" I believe that there are a select few with great power in Belize that will go to great lengths to harm me. This fire was not just a strange coincidence."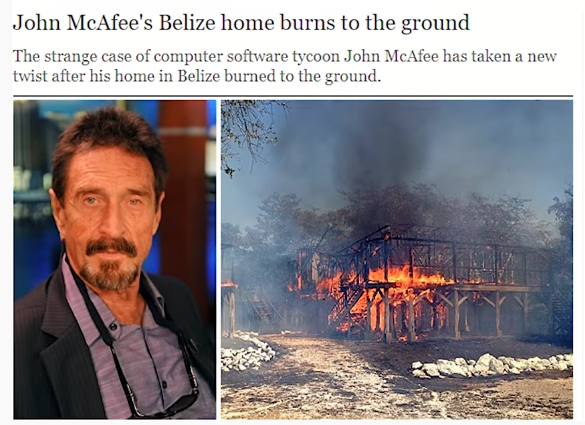 It was around this time the John McAfee began to embrace his public persona as an eccentric and self-destructive millionaire. Prior to that, he presented himself as a strict tea totaler, placing newspaper ads to expose drug houses in his neighborhood of Belize. According to many close associates, he ran his compound very strictly, not allowing or using any drugs or alcohol on the premises.
Reportedly, McAfee states that he spent most of 2014, on the road, bouncing from Ireland to Scotland and then to the southwest fleeing from the Sinaloa Cartel that he believes the Belizean government hired to either (a) kill him, (b) capture him, or (c) drive him bananas. However, in actuality, McAfee was residing was Montreal, Canada, where he worked as a consultant, before he, as his wife moved to a small city called Lexington in Henderson County, Tennessee.
While living on a rural property in Lexington, Tennessee, John and his wife Janice had fun making a rap video with the Coin Bros. basically depicting some of the events of McAfee's time in Belize, quite aptly named The McAfee Effect.
Back To Business
By 2015, he started a company called Future Tense Central which acquired cybersecurity products. One such product was called D-Vasive which protected users from malicious apps attempting to gain access to a phone's features that were sensitive to infiltration such as its camera and wifi. Unfortunately, D-Vasive ended up being a commercial failure.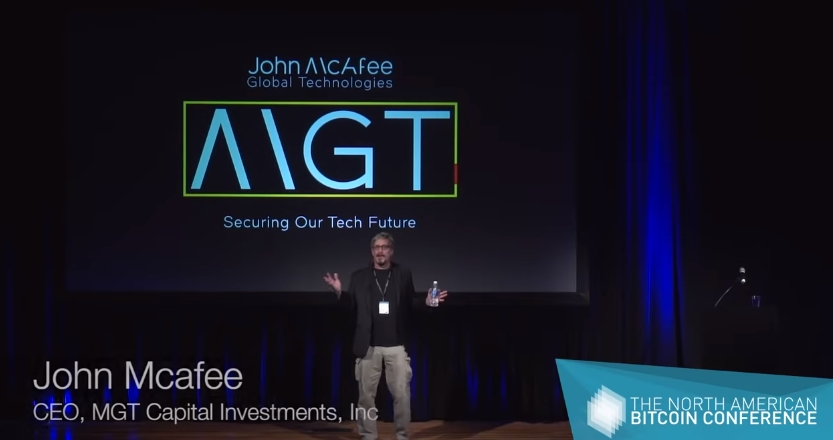 McAfee became the chairman and CEO of MGT Capital Investments, after meeting its former head, Robert Ladd who asked him to come on board. At the time MGT was seemingly focused on acquiring, developing and monetizing intellectual property assets, but in reality, it functioned as a penny stock pump and dump scam that went on to be investigated by the SEC.
Needless to say, McAfee was implicated but surprisingly he got off relatively unscathed. MGT, the company, and the former President and CEO Robert Ladd of MGT were hit with a class-action lawsuit as it was alleged he manipulated the price of company shares by participating in the pump and dump scheme.
McAfee was mainly hired to be the face of the company, create a buzz and raise awareness of MGT which he did very successfully via his twitter page. When McAfee talks or condones something, people listen. MGT went on to be the second most traded stock in the US within a week. It saw a 1000% stock jump after McAfee was appointed CEO. The reality is MGT hired McAfee to pump the stock price. MGT was all about promotions and nothing about business operations. MGT was one big scam.
John McAfee left the company before the lawsuit and set his sights on the cryptocurrency craze. With his tech background and wild man image, he was well suited to become a major figure in the 21-century gold rush that is the cryptocurrency world. But not before he was publically displayed in a Showtime documentary as a murderer, rapist and so-called druglord.

John McAfee Continues To Make Headlines
In 2012, McAfee was all over the headlines when he fled his former home, Belize after local police sought to question him about the murder of a neighbor. (They eventually said he wasn't a suspect) And in 2015, he made waves with a run for the Libertarian Party nomination for the President of the United States. (The nomination was eventually won by New Mexico Governor Gary Johnson.)
In 2016, McAfee was all over the news again. And the headlines ain't pretty. The documentary about McAfee's time in Belize alleges that he committed not one but two murders, and raped a Harvard biologist who was running a lab with him in the town of Orange Walk. The film was originally shown at the 2016 Toronto International Film Festival. Called Gringo: The Dangerous Life of John McAfee, it paints a disturbing picture of a man gripped by both power and paranoia. And, quite literally, according to the movie, a man who got away with murder.
Filmmaker Nannette Burnstein certainly was out to prove him guilty on all counts and she doesn't leave much to the imagination. There has been a lot of controversy with regard to making the film, including payoffs by Burnstein and the subsequent retractions by witnesses.
McAfee did respond with a 4-page rebuttal stating he was falsely accused and tainted for years by the press. He asserts that he has been demonized and the film is completely wrong and a little hard to follow, let alone believe. As he writes in his rebuttal "Preposterous! Yes indeed. Entirely so. I had a hard time believing it myself".
More to come…

Deb Williams
Market Manager for Markethive, a global Market Network, and Writer for the Crypto/Blockchain Industry. Also a strong advocate for technology, progress, and freedom of speech. I embrace "Change" with a passion and my purpose in life is to help people understand, accept and move forward with enthusiasm to achieve their goals.