Crypto Adoption Increasing Regardless: Self-Custody Is Key: Markethive's Next Move: Checkmate.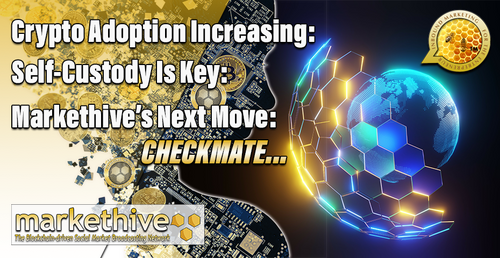 It's been a disturbing year for the crypto community and institutional investors alike as we've witnessed the collapse of Celsius, BlockFi, and now FTX. Billions of dollars of client funds have been lost and, in the case of FTX, one of the world's largest crypto exchanges, are quite possibly unrecoverable. It's become increasingly clear that relying on centralized entities to hold your crypto is foolish and purported to be a rookie mistake. But it wasn't only newbies or retail investors affected by FTX's demise. Very few predicted the depravity and criminality of FTX cohorts led by Sam Bankman-Fried.
Hedge funds, venture capitalists, investment managers, and high-net-worth individuals were all caught off guard. Who would've thought a company praised by politicians, regulators, VCs, and the mainstream media would collapse so quickly and spectacularly? Until you realize that fraud and ill-intent are rife in many so-called respected sectors. Some say FTX was worse than Mount Gox and Quadriga, and others say it's worse than Enron.

Image source: Cointelegraph
Crypto Adoption Increases
Contrary to the FUD about crypto acceptance diminishing due to recent events, crypto adoption is still increasing. As a store of value, Bitcoin is alive and well, and the decentralized public blockchain of Bitcoin remains as secure as ever. The confidence in the protocol is helping assert its role as a store of value and can reinforce its position as the gold standard of crypto.
Bitcoin has proven to be an effective form of decentralized non-government money. TechCrunch reveals that consumers are utilizing BTC for international remittances for many reasons. Its ability to transcend the traditional financial system is valuable and, in some cases, critical to many potential users. The collapse of FTX or any token doesn't change that.
Many are starting to see that FTX and the like are just stories based on misbehavior and lack of compliance, if not lining one's pockets under the guise of effective altruism, turned moral vanity. There have been many failures in 2022, and the real losers are the ecosystem of centralized actors and cryptocurrency altcoins that have failed to deliver on their hype.
Questionable Alt-coins
Although FTX and its FTT token are the latest to fail, others have fallen this year alone. The Celsius Network exposed the risk of "stablecoins" as the TerraUSD coin and LUNA token crashed. There was also the collapse of crypto lender Voyager Digital, which FTX subsequently purchased for a mere $51 million, down from a peak valuation of $1.5 billion. Hacks and marketing scams have also plagued the broader sector.
Considering there are over 13,000 cryptocurrencies, only a handful of altcoins have legitimacy and a place in the crypto ecosystem with well-defined utility or unique applications. Altcoins like Ethereum, Litecoin, Cardano, Elrond, and Solana have a reason for being, but there are many with questionable structures with no utility created for speculation purposes only. Some are just coin gimmicks with almost unlimited supply caps, which contradicts the supply and demand theory.
The critical distinction is that these questionable alts are not related to Bitcoin or legitimate altcoins with purpose, especially benevolent ones, that are working towards an alternative future monetary system, just like Satoshi envisioned. There will always be nefarious actors in our midst, and with all that's been happening, the crypto community is much more discerning.
With Markethive about to appear on the global scene as the first blockchain-driven decentralized social media integrated with broadcasting and inbound marketing platforms and its sovereign monetary system using its native crypto, Hivecoin, security, and privacy are paramount. There are various ecosystems in the crypto space, and a parallel economy is on the rise. Markethive is creating an ecosystem for everyone with an entrepreneurial spirit looking for a sanctuary away from the escalating evil in the world.
Security in centralized exchanges will always be a concern, as is the rollout of CBDCs and digital IDs that are making headlines. In a recent interview, Aman Jabbi, a computer scientist, says that if the population accepts these factors of control, it'll be game over for humanity. He states the easiest way to push against the system is to "starve the beast" by refusing to use technologies that collect and share your data. Notably, in this case, the beast is AI and is used for evil against humanity, not for good.
As with many other factions rejecting the global elite's plans, Markethive is building an impenetrable fortress to protect its growing community. Cryptocurrency is the key to freedom and financial sovereignty, so how do we protect ourselves and keep control of our crypto?
With the impending release of the Markethive internal wallet and its official listing of Hivecoin, you will need an external wallet connected to the blockchain for transactions. Unlike keeping your crypto on an exchange, there is only one way you can know for sure that your crypto is under your control: to self-custody your funds.
What Is Self-Custody?
Self-custody is when you hold the private keys to your cryptocurrency wallet, so you can only sign transactions from that wallet. Hence, you are the only person who effectively controls your crypto. There is a well-known phrase in the crypto world; not your keys, not your crypto.
Conversely, when you place your funds on an exchange or any centralized platform, you use a wallet to which the platform has the private key, not you. It's a communal wallet; you have to hope and trust that the exchange won't lend or send those funds to anyone else. So what you essentially have from the exchange is an IOU, which is worth nothing if that exchange goes bust. It's the same with a traditional bank account in that cash only exists as a database entry.
It's important to note that there is a distinct difference between self-custody and custody services. Companies like Coinbase, Gemini, Bitgo, and the like, operate custody services. Their primary modus operandi is to hold those coins and tokens for you in a supposedly safe manner. They're much safer than an exchange but are still not the gold standard when controlling your crypto. What you need is a self-hosted wallet.
There are various self-hosted wallets, so the wallet you choose will depend on what you want to use it for and the coins and tokens you want to store.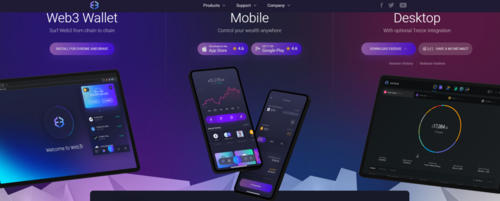 Image source: Exodus
Non-custodial Wallets
Desktop or software wallets are software programs that you install on your PC and to which you can send your crypto. The private keys themselves are stored on your device in an encrypted fashion, and whenever you want to send a transaction out, they are used to decrypt and sign that transaction.
A reputable wallet, and the one I use is the Exodus Wallet. Exodus has wide-ranging coin support and an intuitive, easy-to-use AI. It's important to note that no exchange integration in any of the self-custody crypto wallets would ever allow an exchange to hold your private keys.
Exodus also has a mobile wallet for smartphone users and a Web3 wallet that connects you to dApps, DeFi, and all of Web3. The Exodus Web3 Wallet is also a self-custody crypto wallet. It allows you to send, receive, and swap crypto and interact with NFTs on all supported networks.
Other multi-coin wallets to consider are the Atomic wallet or Jaxx wallet. Because of the Markethive and Solana Integration, as long as any of these wallets recognize Solana, they will accept Hivecoin going forward.
Forewarned is Forearmed
It's also notable that Exodus has never been hacked. If you've heard of any reports about Exodus users getting hacked, it stems from where they downloaded the software. When downloading these desktop wallets, check that you download them from the official site. There are thousands of phishing sites that try to impersonate official wallet websites.
Sometimes they'll have a dodgy domain that's easily overlooked. There have been instances of phishing sites paying for Google ads to have their sites placed above those of the official sites. Once you go on these phishing sites, you may accidentally download a wallet jammed with malware that could be used to steal your private keys.
As with desktop wallets, ensure you download the correct mobile wallet app from the Apple or Google Play store. There have been examples where hackers have uploaded malicious apps and wallets with predictably unpleasant results. It's also critical to keep your crypto wallet a secret, especially if you have any on your phone. The more people know about your holdings, the more of a target you are for the $5 wrench attack.
It's also essential to distinguish between crypto company mobile apps and mobile wallets. Smartphone apps like Coinbase, Binance, Nexo, and Crypto.com are just mobile versions of exchanges allowing you to access your crypto accounts. You don't hold the keys; the exchange does.
Once you've downloaded and installed any of these wallets, you'll be asked to generate a collection of seed words. These words are the keys to your crypto kingdom, so be sure to keep them in a safe and secure place and make backups. Remember, anyone with the seed words can regenerate your wallet and exfiltrate your crypto.
All the self-custody wallet solutions mentioned above are free to download and use. The next level option is hardware wallets, like Trezor or Ledger. They store your private keys in a cold environment, which means they are never exposed to the internet as they're always kept on the device itself.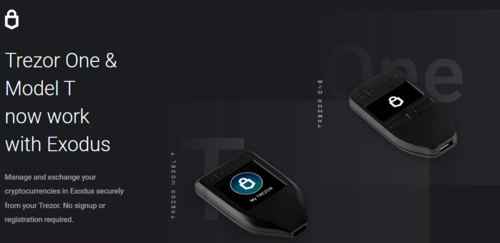 Image source: Exodus
In terms of functionality, hardware wallets will be connected to your computer and operated with software that the device manufacturer has produced. Therefore from a simplicity perspective, they should be relatively easy to use as the software wallet. Furthermore, Exodus has a Trezor integration on its desktop wallet, which adds an advanced layer of security.
Not only is your crypto much more secure with self-custody, but you also have complete control of what you do with that crypto. No permission is needed to withdraw, no limits, and no KYC. It's your wallet, keys, crypto, and your financial freedom.
Moving Forward
2022 will arguably go down as one of the worst years in the crypto ecosystem; however, it is a turning point for the industry as we adapt to weed out bad actors. It'll also be the year where nearly everyone, from big money to average retail users, truly appreciates the importance of decentralization and having total control of their crypto assets.
As we enter 2023 and witness the storm of catastrophic events worldwide and the unveiling of unscrupulous entities, the crypto industry is evolving, realizing and addressing issues borne from a nascent technology.
Markethive is in the eye of the storm, where it's calm and peaceful, diligently working to bring a blockchain-driven multi-media network to the crypto space. Markethive has introduced an extra internal layer of security; 2FA is now activated and required to log in and re-login. A simple fail-safe procedure is explained in this article.
Further, the video below is a tutorial on how to install 2FA specifically for Markethive members.
A recent article illustrates why it's critical to have these extra layers of security, as this fledgling social media app found out the hard way and was taken offline after researchers found security issues that could have had significant ramifications for its users.

As expressed by Thomas Prendergast, CEO and Founder of Markethive,
"We are basically becoming like a bank. You will hold literally $1000s, even $millions, invaluable treasure here. Do you want it stolen? Or protected? 2FA and KYC are required to be part of our advanced broadcasting ecosystem."
It's important to remember that KYC, in Markethive's case, is for the community's benefit of knowing who they are engaging with and not for governmental regulations. It assures Markethive members that you are a real person, dedicated to honest and transparent relationships in business and socially. The purpose is to have an active, very dynamic, and secure "hive of people," unlike Twitter, which has been plagued with bots. Also note: Once KYC is approved, the documents uploaded to attain approval are all deleted. Markethive does not keep these documents.
People worldwide are suffering the ongoing tyranny of governments, big tech, and social media elite, or being displaced or scammed by bad actors are being enlightened. We can consider many of these adverse occurrences as blessings in disguise.
The time is right for Markethive to distinguish itself and bring to light its purpose of delivering a broadcasting platform, marketing systems, and communication interface foundational to God's law, the universal spiritual law where truth, freedom, and liberty are upheld for all of humanity.
Come to our Sunday meetings at 10 am MST as we approach massive significant upgrades and the wallet launch. See and hear explanations, ask questions, and witness the ever-evolving technology and concepts of Markethive. The link to the meeting room is located in the Markethive Calendar.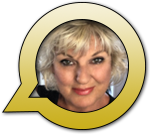 Editor and Chief Markethive:
Deb Williams
. (Australia) I thrive on progress and champion freedom of speech. I embrace "Change" with a passion, and my purpose in life is to enlighten people to accept and move forward with enthusiasm. Find me at my
Markethive Profile Page
| My
Twitter Account
| and my
LinkedIn Profile.
Also published @ BeforeIt'sNews.com; Steemit.com; Substack