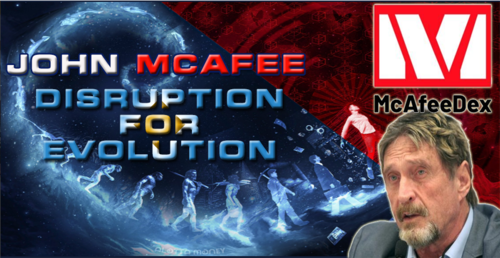 Defiant John McAfee - Disruption For The Sake Of Evolution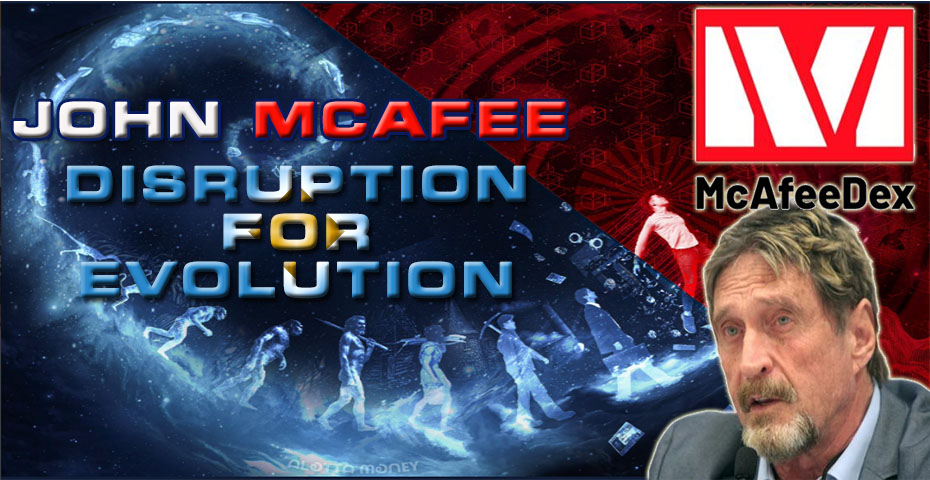 Computer scientist and cybersecurity mogul is an ardent critic of government administration and traditional elites and not afraid to speak out, he broadcasts his values, opinions, and feelings on a daily basis on his Twitter feed. He is avidly supportive of the crypto/blockchain revolution and staunchly advocates the use of crypto and blockchain technology. McAfee fervently implores society to "wake up" and be mindful of the control and interference of government institutions and big tech.
Taking his standpoint further John McAfee recently tweeted that people must decide on Blockchain, as it is a technology of the people and for the people. He wrote, "Do we bow to the corrupt we are trying to escape, or do we do the right thing for our species"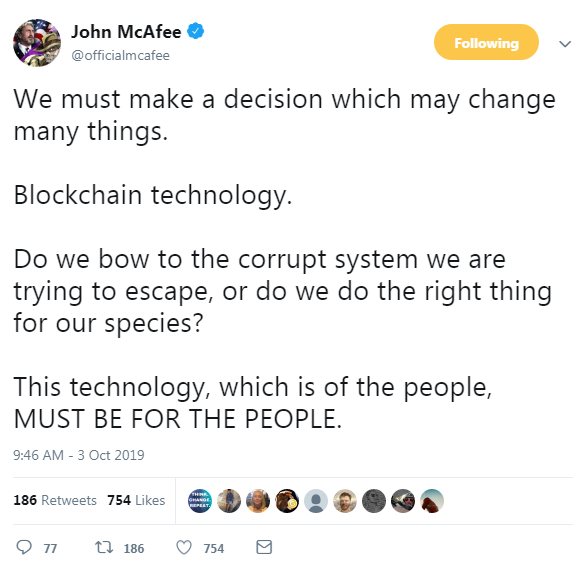 McAfee and many more who share his stance believe that the industry must remain in the hands of the common people, and should not ever be in the control of the administration. Advocates of distributed decentralized ledgers have constantly stated that the blockchain could completely liberate society from the clutches of the government and assist us in taking control of our lives.
McAfee also stated,
"From 1920 until 1933 alcohol was prohibited in America. The prohibition was abandoned because no one stopped drinking. World governments are close to prohibiting crypto. They can expect the same result."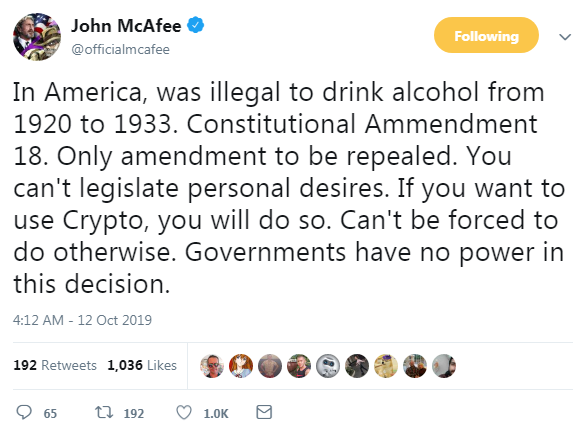 John McAfee's New DEX
John McAfee, an "on the run" US presidential candidate 2020 among many other things has just launched his very own decentralized exchange (DEX) that runs on the Ethereum blockchain. The platform requires no name, no documents, no email, and no bank info. So it's basically doing without the widely used know your customer (KYC) policy. This is reported to be all set to disrupt the industry.
Also, according to reports, nothing on the McAfee DEX will be monitored by any kind of authoritative body and there will be no restrictions, no complex compliance procedures, and no listing fees either. The platform will charge a trading fee which will be minimal.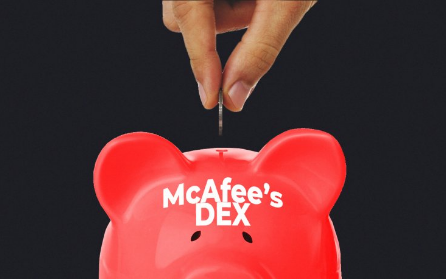 Image credit news.u.today

In addition, he announced that DEX would have shared liquidity, which means that all the portals would have access to all maker/taker information coming through from every other portal on the platform and the McAfee DEX portal.
McAfee's approach has a unique element. It's offering the creation of portals, or copies of the DEX, with access points to the trading smart contracts. This way, the DEX will be theoretically accessible from multiple hosts and locations – hence censorship-free.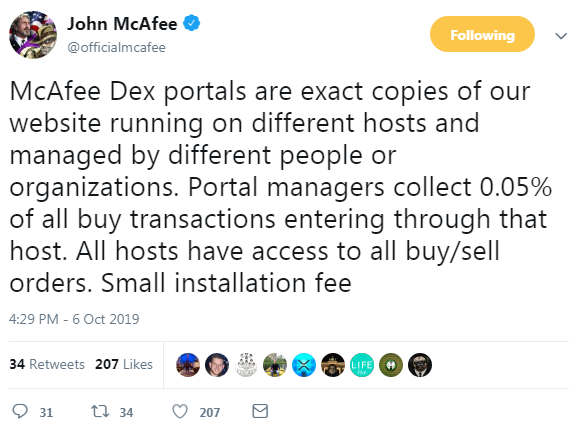 McAfee has been quite vocal that he dislikes the concept of the traditional, centralized financial system as he believes they are at risk of shutting down at any given moment by regulators thus leaving customers high and dry. Alternatively, decentralized platforms cannot be closed down just by anyone due to their intrinsic architecture as they are not controlled by any single party.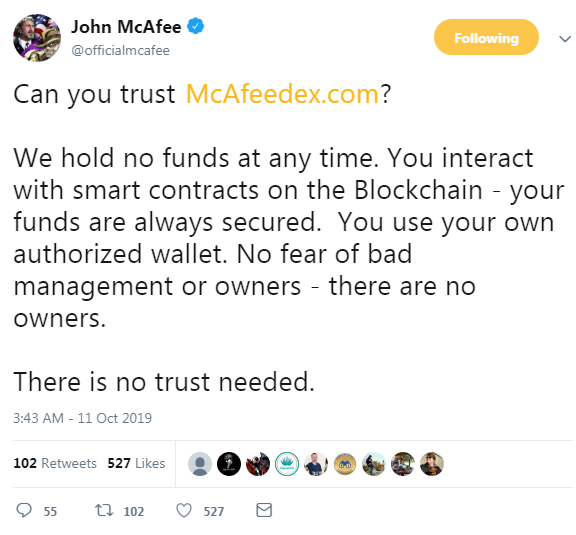 Obviously, John McAfee's moves and activities have been targeted by the United States government. McAfee had constantly claimed he's been targeted for being truthful and his criticism of the present government which he aspires to take over from.
The Beta version of the decentralized cryptocurrency exchange has already been launched. So if he had bothered about the threat of the SEC, he wouldn't have launched it in the first place. But to give his followers the assurance that his mission can't be jeopardized by SEC, he shared a tweet for better clarification.
In the tweet, McAfee was optimistic that SEC will move to shut down Mcafeedex.com, but the technology that controls the system will make it an impossible mission.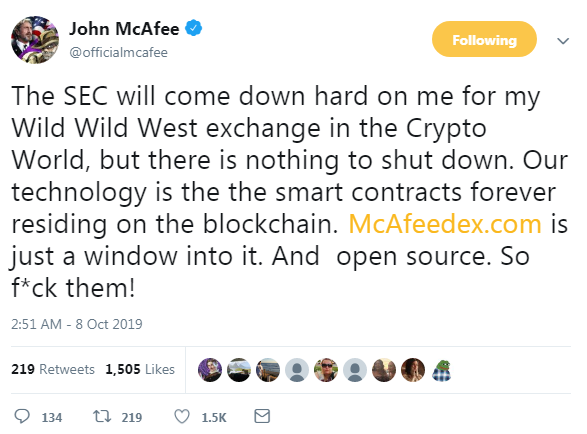 He is still in hot pursuit and wanted by quite a few American agencies for criminal charges such as tax evasion and money laundering. He has also claimed that the CIA is after him which has forced him to keep shifting his bases, last known to be living on a boat in international waters. Many of his followers are asking him if he is still running for POTUS. He had this to say…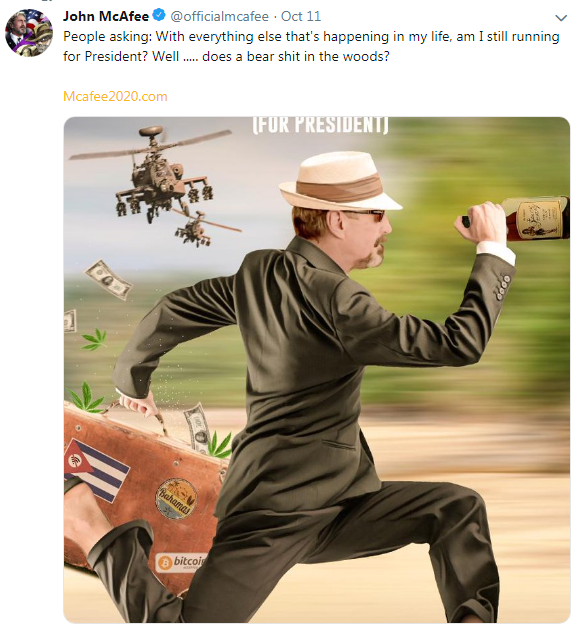 McAfee is still resolute about his far-fetched prediction of $1 million for Bitcoin by Dec. 31st, 2020, despite the criticisms and time frame left. He also publically stated back in 2017, he would eat his manhood on national television if Bitcoin didn't reach his prediction which he says is not wishful thinking but an objective reality. There is almost a cult following holding him to his bet and a website has been set up counting down the time. Now it's just a matter of waiting for either Bitcoin to reach $1 million or the "McAfee Show" carrying out his declaration which I'm sure will top ratings. (humor)


Deb Williams
A Crypto/Blockchain enthusiast and a strong advocate for technology, progress, and freedom of speech. I embrace "change" with a passion and my purpose in life is to help people understand, accept and move forward with enthusiasm to achieve their goals.