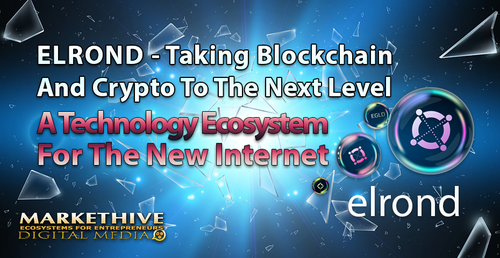 ELROND - Taking Blockchain And Crypto To The Next Level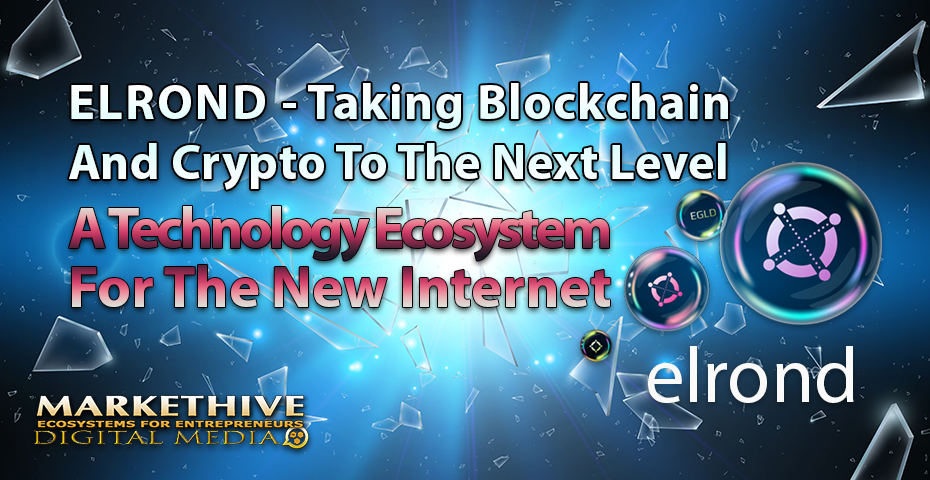 A Technology Ecosystem For The New Internet
Cryptocurrencies have many use cases. Some act as a store of value, others power blockchains that make it possible to create trustless digital contracts and permissionless, decentralized applications. Some cryptocurrencies are pegged to Fiat currencies to allow for stable transfers of value, and a few even underpin protocols that offer decentralized data, storage, and video streaming.
Each of these use cases requires a particular set of blockchain attributes and economic incentives. This is why it's often said that there is no single cryptocurrency project that can do it all. That may well be true, but there is one that comes close.
What Is Elrond?
Elrond has combined the scarcity of Bitcoin, the programmability of Ethereum, and the speed of next-generation cryptos, like Solana, to create a cryptocurrency network unlike any other. Elrond is a platform built for internet-scale and capable of processing thousands of transactions per second at $0.001 per transaction, and able to scale to hundreds of thousands with demand.
Elrond's distinction is being a project with a soul. One that has united forces of an incredibly vibrant community of 190,000 people, spanning 18 languages and in almost 30 countries. Elrond aims to create the backbone for high bandwidth, transparent financial system, and extending universal access to anyone, anywhere.
Elrond's egold (EGLD) native token has exploded in value over the last year and seems to be poised for more gains. The Blockchain project has been considered under the radar and received very little crypto media exposure until now.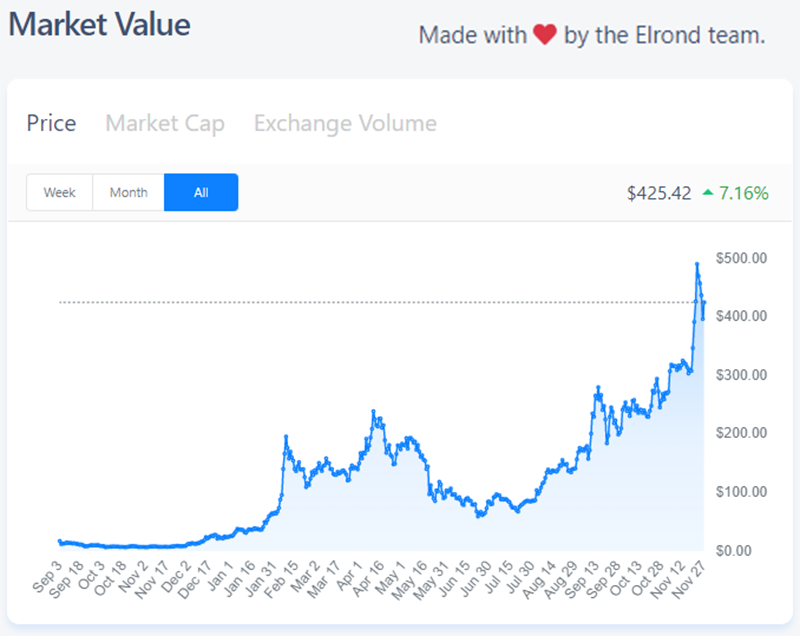 Image source: Elrond · Growth
Historically, Elrond was founded in 2017 by Benjamin Mincu, Lucien Mincu, and Lucien Todea. The Elrond white paper was released in November 2018, and the Elrond main net went live in late July 2020. Like Cardano and Polkadot, Elrond is a competitor to Ethereum and seeks to be the foundation for the "new internet economy."
Growth At All Costs
Unlike many smart contract cryptos, Elrond has a "growth at all costs" approach and has wasted no time onboarding individuals and institutions. It seems to be a perpetual process as Elrond has announced so many partnerships and integrations almost daily that it's too many to mention here, so I'll touch on some highlights.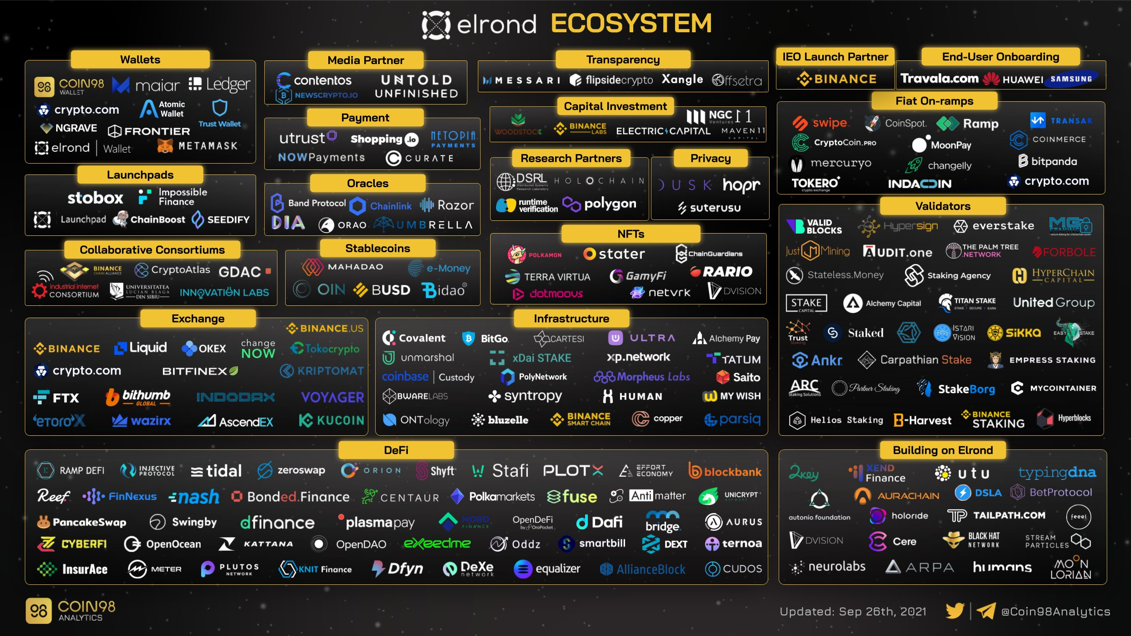 Coin98Analytics produced this graphic to demonstrate the enormity of the Elrond ecosystem.
The Ledger hardware wallet enabled support for egold in November 2020 and partnered with the Poly Network to make it possible to use Bitcoin, Ethereum, and dozens of other cryptocurrencies on Elrond as wrapped ESDT tokens.
Elrond's documentation explains that they will be native to the Elrond chain, like egold. This means that they won't require a smart contract to issue and send like ERC 20 tokens on Ethereum. This protocol is very similar to Cardano's Native assets, which have almost the same properties as ESDT Tokens.
In December 2020, Elrond announced that it had partnered with Bitgo, which is one of the largest cryptocurrency Custodians. Also, Binance joined Elond as a staking provider. In October 2021, Elrond commenced collaboration with Ardana Stablecoin Hub on Cardano Blockchain to make egold (EGLD) one of the first native assets to collateralize stablecoins issued on the Cardano network.
In the long-term, this collaboration will make it possible to bridge assets, such as the Cardano-native ADA token or other tokens issued on the two blockchains. This will allow their value to be leveraged in DeFi opportunities available on both networks.
Beniamin Mincu, Elrond Network CEO says,
"This creative exploration of collateralizing a stable coin on one chain with the native coin of another can be a good starting point for interoperability between two progressive global ecosystems that are anchored in performance and innovation."
At the beginning of this year, Elrond began its initiative of onboarding the next billion people called 100 days of Hypergrowth. In addition to onboarding as many projects and users as possible, Elrond has launched its fully community-owned DeFi ecosystem, the Maiar DEX DeFi platform. The project describes itself as a technology ecosystem for the new internet. It includes fintech, decentralized finance, and the Internet of Things.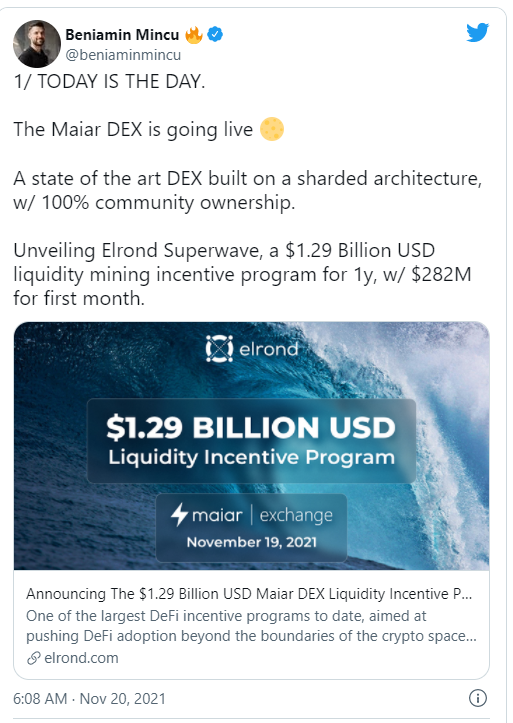 "By distributing Maiar DEX ownership to the next billion users, we lay the foundation for a truly global financial system that is accessible to everyone, everywhere," said Beniamin Mincu, Elrond Network CEO.
What Makes Elrond Blockchain Different?
The Elrond blockchain uses Adaptive Stake Sharding to achieve incredible throughput features a robust consensus mechanism called Secured Proof of Stake and is smart contract compatible thanks to Arwen Virtual Machine.
In layman's terms, sharding involves breaking up a blockchain into multiple pieces called shards. This increases transaction speed because you can divide the transactions between different clusters of validator nodes running shards on the blockchain and process them in parallel. This is in contrast to regular blockchains, which require all the validators or miners to process one transaction at a time.
Sharding in the Elrond network was designed from the ground up to address the complexity of combining network sharding, transaction sharding, and state sharding. Elrond's adaptive stake sharding takes this idea to the next level by dividing transactions, validators, and even the record of transactions between shards. The result is a cohesive protocol design, which not only achieves full sharding but attains the following goals as well:
Scalability without affecting availability requires increasing or decreasing the number of shards to only affect a negligibly small vicinity of nodes without causing downtimes or minimizing them while updating states.

Fast dispatching and instant traceability require that computing the destination shard of a transaction must be deterministic and trivial to calculate, eliminating the need for communication rounds.

Efficiency and adaptability require that the shards should be as balanced as possible at any given time.
A trivial step-by-step example of how it works is depicted in the animation below: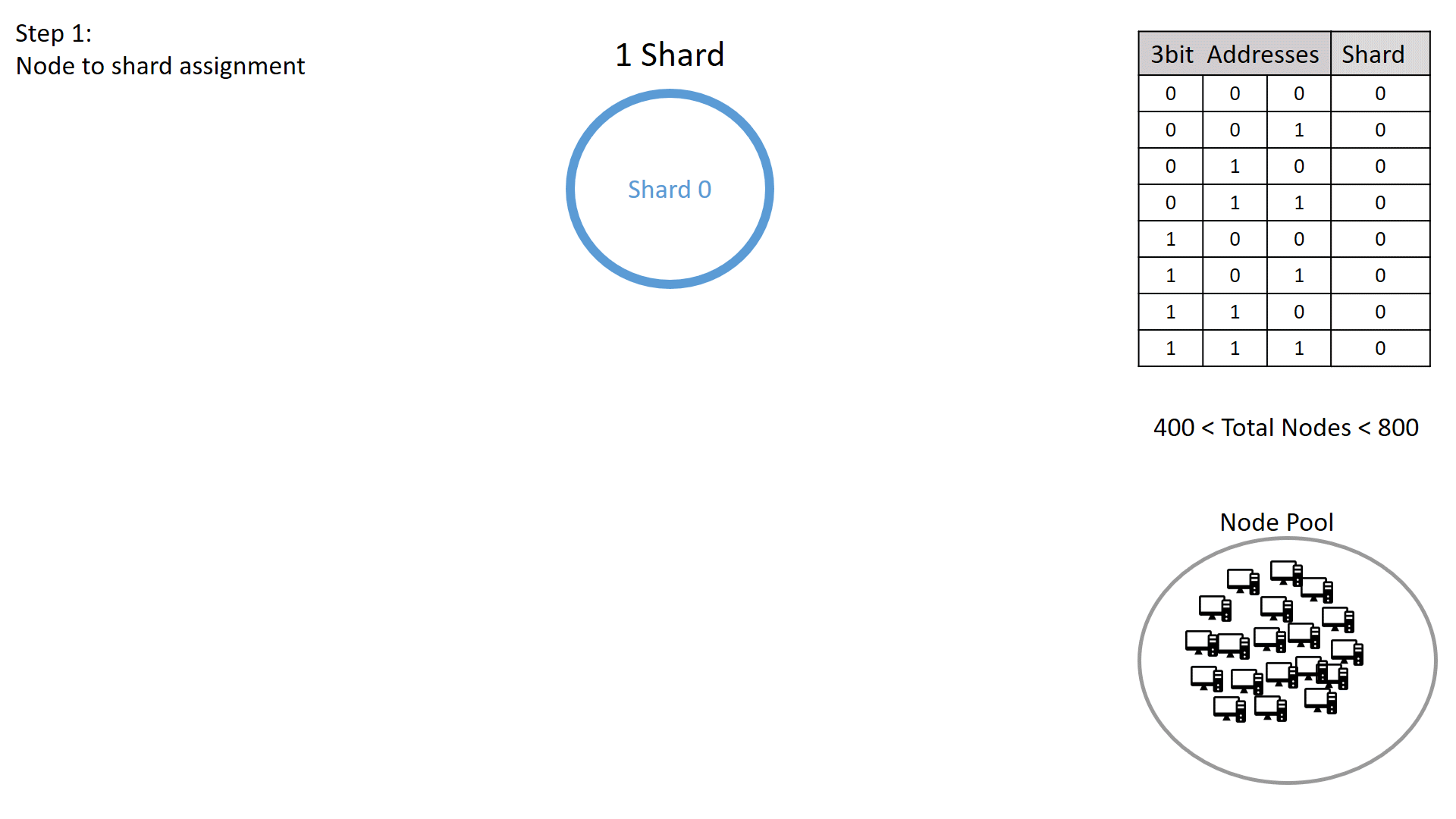 Image Source: Elrond Network
Secure Proof of Stake (SPoS) ensures that no single shard is corrupted by randomly selecting a set of 61 validators from each shard and choosing one to produce a block based on its stake and reputation. This unique setup makes it possible for Elrond to process over 5,000 transactions per second per shard.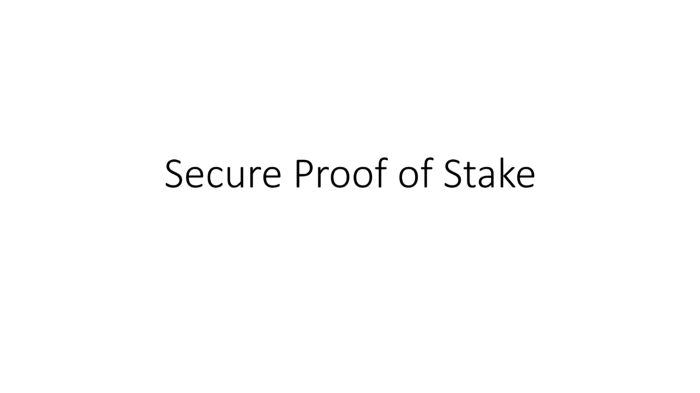 Image Source: Elrond Network
The best part is that the Arwen Virtual Machine gives smart contract transactions about the same speed, which is quite rare. More importantly, the Arwen VM can operate between shards, a development hurdle many other sharded blockchains are struggling to overcome.
Elrond is a complete redesign of blockchain architecture to achieve global scalability and near-instant transaction speed. The underlying technology beyond the current state-of-the-art concept is better explained in the video below by our mate Guy from Coin Bureau.
Wrapping It All Up
Elrond is a next-level project, and it managed to combine the best features of many leading cryptocurrencies in the space and even improve them. Elrond's adaptive state sharding is like the sharding Ethereum is working on in its 2.0 version, but better. Elrond's secured Proof of Stake is like Harmony's Effective Proof of Stake (EPoS) but better. Elrond's Arwen Virtual Machine is like Cosmos's Cosm Wasm Virtual Machine, but better.
When you combine these three features, you get a blockchain that is theoretically capable of handling more transactions per second than every other smart contract Blockchain combined. Elrond's development has been exponential since its main net launched last year, and the growth is well deserved with much more on the horizon.
Furthermore, with its highly regarded team, Elrond started out with very few proclamations but a lot of activity and consistent growth over time. Contrary to what often happens today, where the launch of new projects is preceded by too much spam, sensational announcements on social networks, millionaire ICOs raise substantial funds before any commencement of technical work on the project.
Conversely, Elrond's development started out quietly and self-assuredly, without asking anyone for money, at least initially, and then managed to gain investors' trust with a whole series of steps and transformations that have evolved over the recent years.
I believe we will be hearing a lot more about Elrond in the future as momentum builds and the need for this unparalleled technology becomes paramount to enable universal access and transcend the global economy. Elrond will be the wave that will lift all boats, taking this massive opportunity from a niche group of people and extending it to everyone in the world. Elrond is set to open the flood gates to create a new market.

Disclaimer: This content is provided for informational purposes only and should not be relied upon as legal, business, investment, or tax advice. Furthermore, this content is not directed at nor intended for use by any investors or prospective investors and may not under any circumstances be relied upon when deciding to invest.


Also published @ Before It's News https://beforeitsnews.com/science-and-technology/2021/11/elrond-taking-blockchain-and-crypto-to-the-next-level-3002719.html