How To Increase Your Sphere Of Influence In Markethive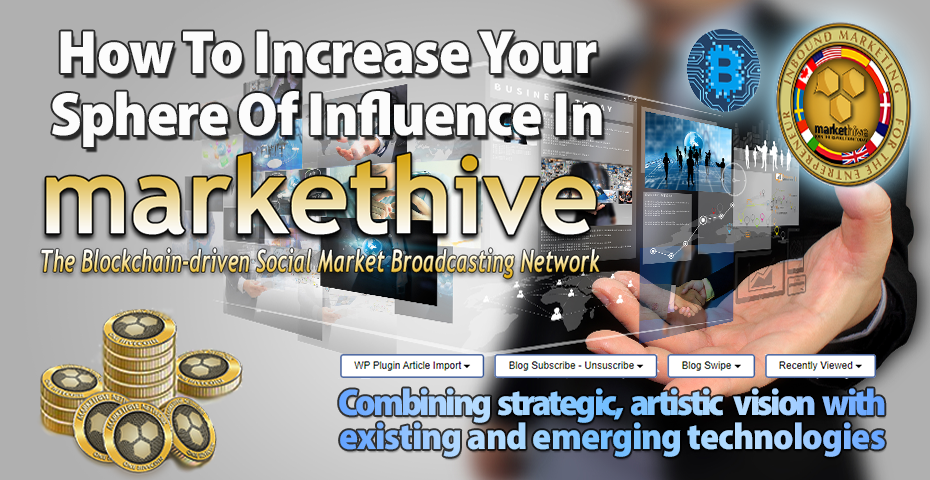 We have a lot to be grateful for within Markethive. It's like stepping out of the rat race into an oasis of humanity at its best. As an inbound marketing, business-based platform with an inherent entrepreneurial spirit, we have all the tools to get our message out to the whole world. We have a social media interface with a collaborative ethos rarely experienced on legacy social media.
We are starting to see new integrations in the blogging section in preparation for the customized, more intuitive interface and dashboard of Markethive and, of course, the Markethive Wallet that will facilitate the Merchant accounts for members as well as personal transactions, the Vault, etc.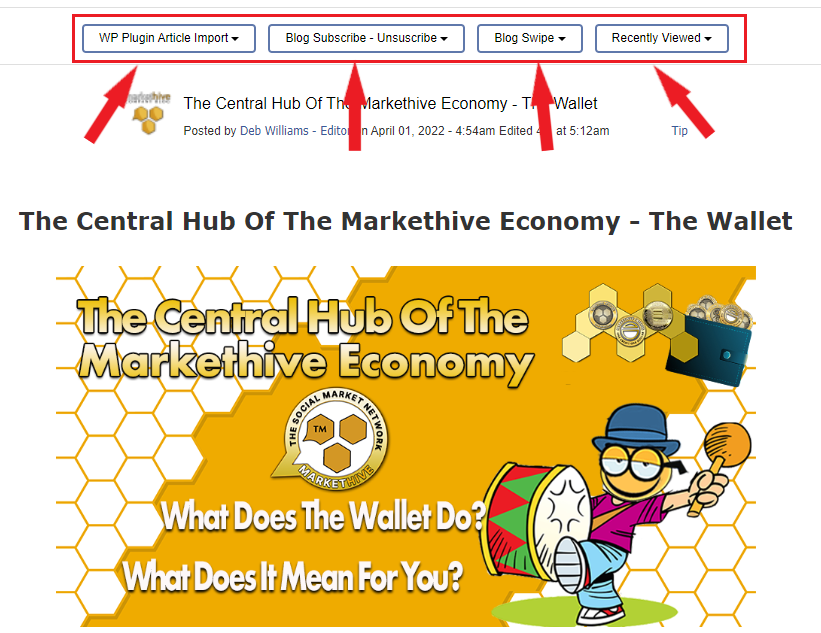 Image: Updated feature above all Blogs
As shown above, the new-look Blogcasting Hub is located at the top of all blogs in the system. Blogcasting is a term introduced by Markethive and is an enhanced broadcasting system. In the traditional broadcasting sense, only the people who physically subscribe to your blog or newsletter are usually notified of your updates via email.
With this blogcasting system, your social networks are informed of your blog as and when you publish them. What this means is the potential reach is into the millions.
For example, If I subscribe to your blog and have 20,000 followers across all my social media accounts, and you have 15,000 subscribers each with a similar following, your blogs have now been potentially seen by around 300,000,000 people. These are people who are not directly subscribed to you. It is known as a "reach" and is extremely powerful.
WP Plugin Article Import
When you use the Markethive blogging system, your content can easily be distributed to your and others' WordPress sites who subscribe to you. WordPress has been around for years and is a renowned world leader in Blogging platforms.
It will be integrated into the new Page Making system where all member accounts will receive a WordPress site and be assigned an email for both POP email and default website with an option to assign it to your WordPress or Markethive capture page.
Markethive's "Blogcasting" is an excellent solution to the long-term problem of getting the word out legitimately to people who want to hear what you have to say. Blogging is the purest essence of inbound marketing and the core of what Markethive does.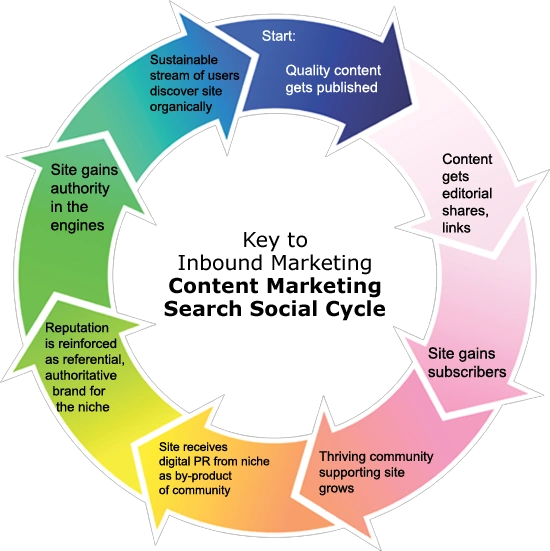 Image: Inbound Content Marketing Wheel
Blog System In Your Storefront Niche
Markethive has successfully combined all the technical and tactical aspects and requirements into one system and overcame the obstacles to make blogging a group process. You can mentor your new associates or offer your customers ongoing support through your Storefront Group.
Connecting with them through writing blogs and articles consistently with exciting and relevant information will create an authoritative presence, perhaps meet a customer's need and provide a solution that maybe can't be recognized in a short advertising message. It can start conversations and is an excellent way to be invited into the consumers' hearts and minds.
It helps us be more human in everything we do and in every engagement. It's about building relationships and connecting at an authentic and genuine level. The most human company wins, and the technology should be used to help your company be more compassionate, receptive, fascinating, and valuable.
Markethive's Inbound Marketing platform delivers a blogging system built for the beginner, sophisticated for the intermediate, and a compelling platform that advanced professional bloggers will appreciate. The system is designed to develop a complete blog system effortlessly, and easily set up to be the engine that powers your WordPress blogs.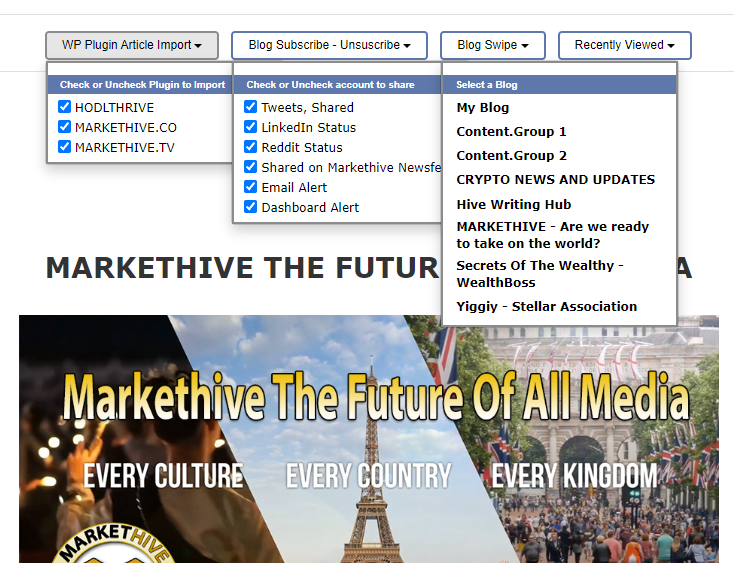 Image: Drop-down menus on Blogging Platform
Blog Subscribe
The Blog Subscribe feature is where other Markethive members can subscribe to your blog by checking the status of any medium displayed in the drop-down menu. Other sites are to be added, subject to alignment and collaboration of the parties in question going forward.
When they subscribe (and the potential is 1000s of them), your blog posts are automatically posted to their newsfeeds, email, and any social media accounts they've checked. This provides a downstream of subscribers, fellow entrepreneurs at Markethive, who expose their connections to your message; they lift you, increase your popularity, and build more outstanding branding.
When your blogs are shared and consequently clicked on, they move up in the search rankings. Your readers will want others to know if you're providing quality content. Of course, the only way to make sure your blogs contribute to your website's popularity is to create unique content, provide answers for visitors, and then share your blogs wherever you can.
Through the News Feed and Blogcasting Hub, you can promote any products and services globally with a reach into the billions. That is because when people do searches, if the content on your blog is what they are after, they will find you. A very high percentage of the traffic is non-member-related, so many of the people you address on your blog do not even belong to the site.

Blog Swipe
The Markethive blog system allows you to make your content available to all members when set on Public upon publishing your blog. The other options are privacy, comments, and swiping are to your friends only, or just to members of all the Groups you belong to, or a selection of them or just one (your choice). You can also set it to Private so no one can swipe your blog.
Why? There are many sound reasons for this.
Curating:
Content curation is the process of sorting through the vast amounts of content on the web and presenting it in a meaningful and organized way around a specific theme. The work involves sifting, sorting, arranging, and publishing information. Markethive offers features to the groups you create and is the perfect blogging platform.
The option allows others to reproduce your work with your permission and automatically take an exact copy of your blog to their Markethive Blog System. WordPress plugin enables your blog articles massive syndication to other Markethive members' WordPress blogs.
Simply set up a Curating Group for yourself and Swipe the blogs in Markethive as a collection of content you may want to use in your publications. The new Markethive interface will house a newsfeed specifically for curation to intuitively organize and further our reach.
Proofing:
You may have a group of members who want to edit, add, or rewrite your content. It is an active phenomenon in Markethive, offering mentorship to people keen to learn the art of writing and blogging, advancing their presence.
You may get critiques when you produce a blog, so I just offer them to swipe it, edit and change it as they see fit, and then let me know. If I like it, I swipe it back. It's all about perpetual learning and the ability to express yourself within a collaborative culture.

The ability to swipe a Blog makes it so much easier to get started, and new bloggers go from poorly and rarely produced blog posts to 1 or 2 dynamic and excellent on-topic blog posts daily. In other words, thanks to the collaborative culture and mentorship, Markethive is now churning out a new breed of wonderful and dynamic bloggers.
Cocktails:
A Markethive feature allows you to create unlimited groups, each with a different cocktail of content curated, aggregated, or from multiple group memberships. So the options to produce unique content for unlimited WordPress blogs controlled from within Markethive are unlimited.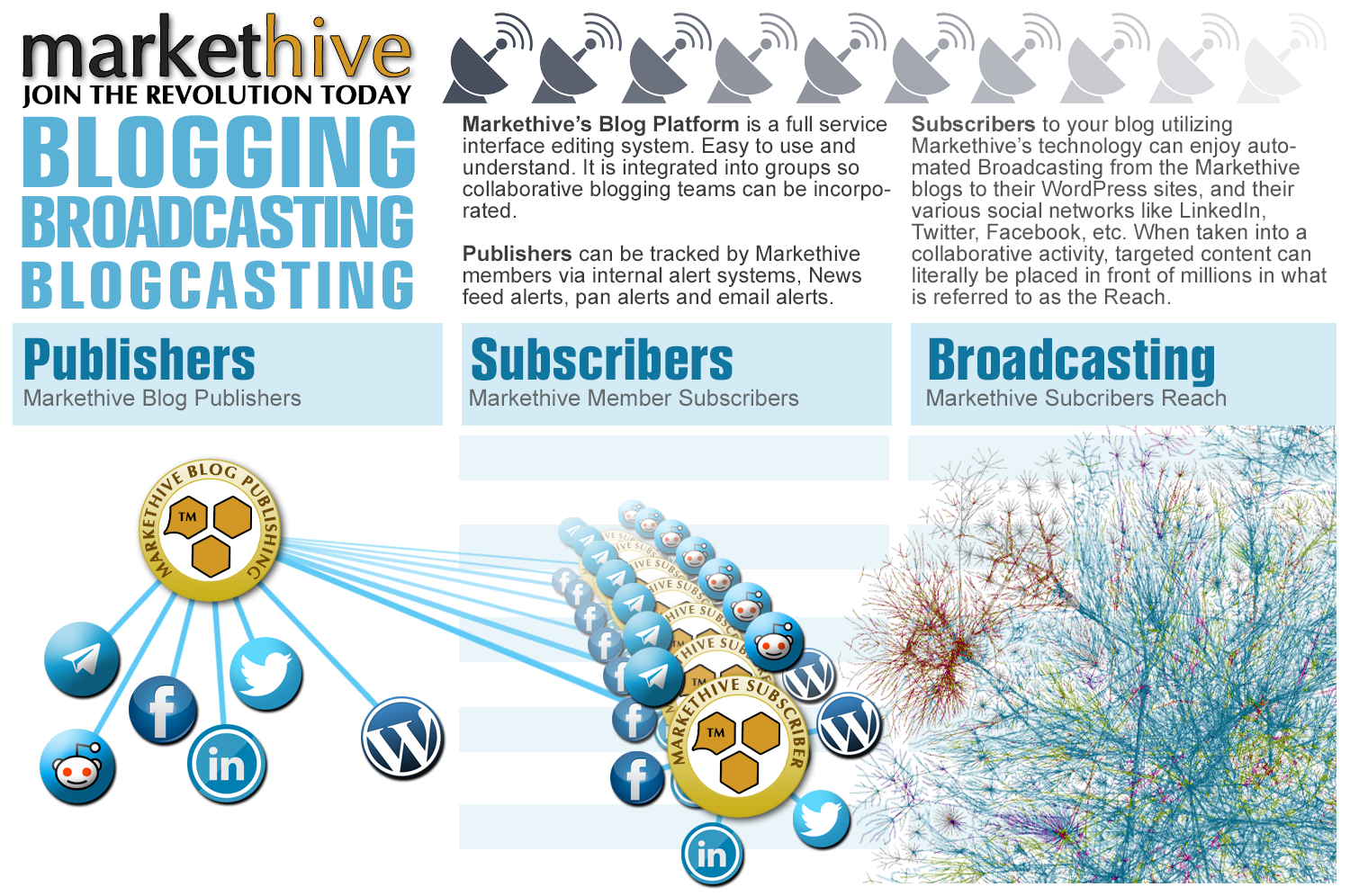 Image: Blogcasting Infographic
Ecosystem For Entrepreneurs With Respect
Markethive is blockchain-driven, being integrated on the Solana Blockchain. The Markethive coin is mined when members utilizing the platform as the system rewards you with the Hivecoin Token for using the platform as intended.
It's important to note that excessive non-productive actions and engagement for the sole purpose of accumulating the token are not rewarded. Measures have been put in place for fraudulent behavior, which is considered toxic for the professionalism of the platform.
With all members' creative content in mind, distributed, peer-to-peer data, communications, broadcasting, and marketing foundation are advantages. With distributed decentralized cloud servers, the likelihood of a data crash, central server failure, hacking, and political unrest is heavily mitigated, delivering an extremely stable platform for each subscriber on their merit.
Another Advantage Coming
Blogcasting is a Blogging Broadcasting System introduced and enhanced by Markethive. When you use the Markethive blogging system, your content can easily be distributed to your and other WordPress sites.
Markethive has also built into the system the ability to register your other social network accounts, with more being added as we move forward with the new interface. You can subscribe to your blogs and others, therefore literally distributing content to a vast reach into the billions.
The added advantage is the Bounty Program that is currently in the works. This means you will be rewarded for registering all your separate accounts through the Markethive platform. Subscribing and following the many Markethive social media accounts will qualify you for the Infinity Bounty Program.
CEO of Markethive Thomas Prendergast explains the workings and benefits of the upcoming Infinity Bounty Program.

Regardless of your motivation and drive, Markethive will add to your objectives, broaden your reach, and build your sphere of influence further and more significant than anything before has even attempted to do.
The moment you join Markethive, you have an instant setup of your own "Viral Blog" ready for you to begin posting content and marketing your business, product, service, or even personal content. You'll be up and running the moment you set up your account! Markethive nurtures the Rise of the Entrepreneur with the Divine Vision to put a great future in your hands.


Also published @ BeforeIt'sNews.com https://beforeitsnews.com/promotional/2022/04/how-to-increase-your-sphere-of-influence-in-markethive-3034.html