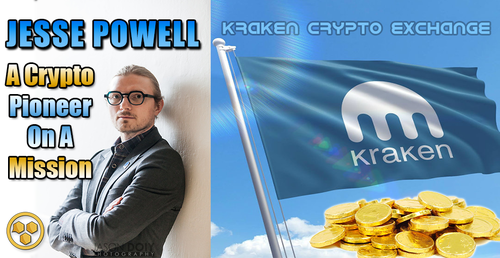 JESSE POWELL - Crypto Pioneer On A Mission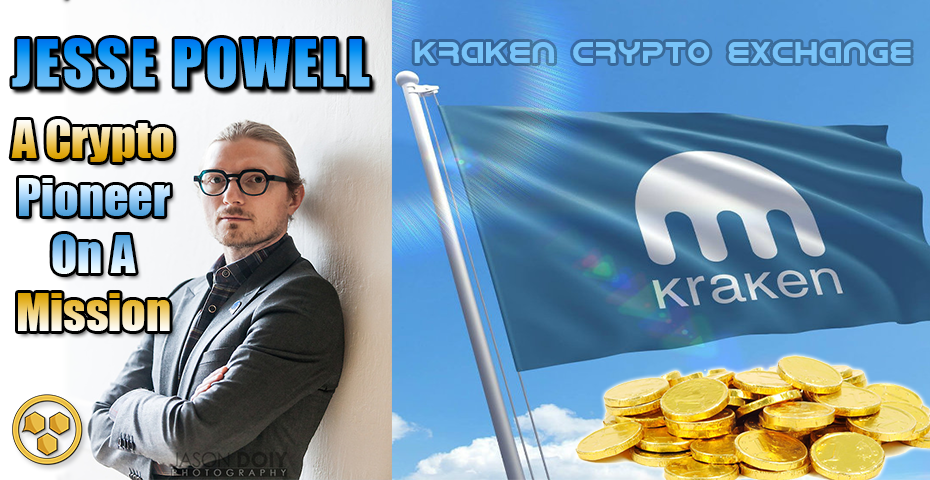 Jesse Powell, a pioneer, and innovator, is public-spirited with a compassionate outlook and says he has an aversion with bullies and people abusing their power. Jesse Powell is the founder and CEO of numerous organizations, including the founder and CEO of Lewt, Inc., that delivered services for assisting players in online-based video games with account management and in-game currency, from 2001 to 2011. He also founded Internet Ventures & Holdings, which also provided services to the online gaming community. In 2007 he started the Verge Gallery & Studio Project in Sacramento and took a board seat in 2010.
Jesse Powell is an expert in cryptocurrencies, online/international payments, and fraud currently co-founder and CEO of Kraken, the most trusted and one of the largest Bitcoin Exchanges in the world. In May of 2014, Cointelegraph did a review of a dozen of the major exchanges. Kraken was ranked No. 1.
A Long Road
It was a long road in the beginning back in 2011 when Kraken first got started. It was very early days for Bitcoin and very few people that knew about or were interested in Bitcoin, including Venture Capitalists. Jesse Powell said it was a super hard sell to get VCs interested in the Kraken project. There were basically no VCs that understood the space and very challenging trying to explain what cryptocurrency is.
Jesse went on to say, "We basically talked to like everyone in Silicon Valley. And it was just way too early. It kind of shattered my image of what a venture capitalist is supposed to be. Which until then I kind of thought that there's these guys that really are very visionary and forward-thinking. And they take risks on things. And it turned out like that was not actually the case. I mean, they understood a few businesses really well. But things that were kind of outside of that box were just hard for them to understand. And there actually are very few VCs that are willing to write the first check, you know? There are many people that will follow."
Eventually, in early 2014 a few investors who were focused on the crypto space did come on board, but the rest were Crypto Angels, meaning people who bought into crypto early, liked what Jesse Powell was doing with Kraken and was willing to invest in it.
Powell's personal philosophy is that shareholders are often at odds with their users' interests. He gave Facebook as an example saying,
"Look at Facebook looting from their users to pay off shareholders. That wouldn't happen if the users were shareholders themselves. It's good to keep interests aligned."
The decision to take the crowdfunding approach with Kraken's clients is a way to promote the interests of its users.
"So hopefully I think people will not need to go to VCs so much in the future. You know, I think we'll continue to see crowdfunding working", Jesse said.
This is a delight to hear. It seems to me that Jesse Powell is very much aligned with the Markethive philosophy about enriching and empowering the lives of users and giving the power back to the people.
Good Leadership Pays Off
Since 2015, Kraken has been profitable and under the leadership of Jesse Powell, the Crypto Exchange has grown to a global team of 800 people. According to Jesse, to ensure smooth operations, Kraken must recruit the right people and develop robust processes to protect the security of the company, while ensuring that they maintain a healthy culture.
The team at Kraken basically work because they feel they are on a mission and as Jesse has stated,
"We didn't start this company to make PayPal 2.0. You know, we don't want to be in the same spot in another 10 years from now where the regulators have taken over. It's gotten so insane that basically all the advantages of crypto are gone. And we're just like a PayPal that does bitcoin"

Much of Jesse Powell's experience with his involvement as a trader with Mt. Gox back in 2011 when they got infamously hacked inspired Jesse to start the Kraken Exchange in the first place. Due to the experience of the initial Mt.Gox attack led Jesse to believe the industry needs more exchanges in the ecosystem and operators doing it the right way. Hence Kraken was born with the focus of security being their number 1 priority. The company is constantly investing and keeping up to date with the latest security measures which have worked like a charm and to date, unlike most other exchanges, Kraken has not been hacked.
"I think this space is just going to continue to grow. So much upside for everyone in the space right now" said Jesse.
Leading By Example
The Kraken CEO, Jesse Powell is known for his unorthodox views and outspokenness and as an old-school, early days crypto enthusiast, Jesse has led by example, rebelling against the BitLicense and donating $2m to Coin Center to ensure regulations do not swamp the industry.
In a tweet, he commented on the New York regulators with regards to the controversial permit, known as BitLicense likening it to an "abusive controlling ex". Cryptocurrency businesses must obtain this license to operate in New York.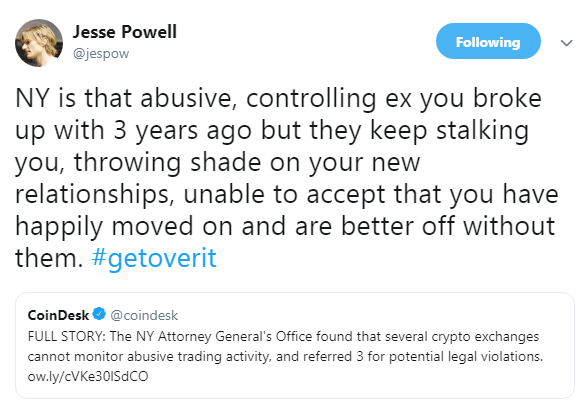 Coin Center is becoming even more important now as the crypto industry grows. They do three things:
Educate policymakers and the media about cryptocurrency technology.

Engage in policy research to develop smart regulatory approaches to questions raised by the technology.

Advocate for those solutions in order to keep cryptocurrency networks open, decentralized, and permissionless.
Coin Center is basically defending the protocol, the consumers and what is in the interest of the development of this technology on a broader scale, so they interface with regulators and law enforcement on behalf of the entire ecosystem.
Jesse Powell stated,
" Coin Center's interfacing with regulators and law enforcement on behalf of the entire industry. Trying to kind of put the brakes on any unnecessarily burdensome regulation. Making sure that they really understand what the issues are. And that things are being done in a fair way that allows the ecosystem to grow. So they're doing everyone a huge service. For us, it benefits us. It benefits the whole ecosystem just to have these guys kind of in the way.
And also appearing as an independent kind of neutral party that's not working for Kraken. They're not out there pitching the benefits of a centralized exchange or anything like that. They're just there to say, "Hey, like, let's let this thing grow. Let's hold off on the crazy regulations. We'll take a risk-based approach." They're educating politicians and law enforcement."
He goes on to say,
"And I think they've really done a lot to keep things alive, you know? To keep things from being crushed too early."
Jesse Powell, CEO of Kraken ended up raising more than $3 million in total in 2017 for Coin Center.

Wyoming - The Place To Be
Jesse Powell was a speaker at this year's Wyohackathon held in Laramie, Wyoming. Powell said part of the reason Kraken was the title sponsor at the event was that it was a great opportunity to bring more awareness to what's happening here in Wyoming and to get more people involved in it.
Furthermore, Kraken CEO, Jesse Powell noted that his San Francisco based crypto exchange is applying for an SPDI, (Special Purpose Depository Institution). He expects at least 5 to 10 people to be employed here. He says,
"It's a great place to locate developers to, they have much more certainty here on the things that they are building if they're building blockchain-related things, because of some of the recent bills that were passed."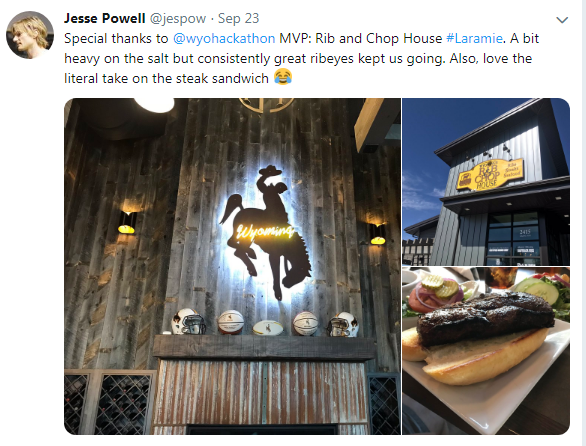 Mission Statement by Jesse Powell - CEO of Kraken
"We wake up every single day determined to change the world by delivering a great Bitcoin exchange. Bitcoin is more than just a new way to make purchases. It's even more than a protocol for exchanging value over the internet without an intermediary. We are empowering people to live simply, efficiently and more connected to others. We put our clients' best interests first and foremost. They are at the heart of our company and drive everything we do.
We believe in having a laser focus when pursuing our strategic goals and participate only in markets where we can make a significant contribution. We quickly grasp new ideas and concepts with confidence. We are in constant pursuit of innovation and strive to consistently exceed expectations. We believe in complete transparency, deep collaboration and we never forget that people come first. Having this mindset allows us to grow and advance at a rate that others cannot." - Jesse Powell

Powell says he will continue to share the same vision set out by Satoshi Nakamoto, Bitcoin's original founder. The vision is a world where the people control their own money outside of the constraints of government.
Source: The What Bitcoin Did Podcast

Deb Williams
A Crypto/Blockchain enthusiast and a strong advocate for technology, progress, and freedom of speech. I embrace "change" with a passion and my purpose in life is to help people understand, accept and move forward with enthusiasm to achieve their goals.