The blessings upon Markethive are many.

We own the international trademarks on the name Markethive in nearly all the classes.
See for yourself

We own all Top Level Domains for the Trademark Markethive
Markethive.com
Markethive.net
Markethive.org
Markethive.io
Markethive.co
Markethive.re
Markethive.in
Markethive.li
Markethive.tv
Markethive.us
And another 30+ Markethive.TLD

We own all top Social Network accounts with the trademark Markethive
Please subscribe to all of them as we move forward to activate media content status.
We will be rewarding those who subscribe when we launch our bounty program.
A total reach of 36K and growing every day, add that to our community reach of 45K+, then by the end of the year we project a reach of over 333 Million social media users.
We have 1000s of positive articles about Markethive on the Internet. Just search "Markethive" for yourself
There are 1000s of references, articles and mentions on the Internet. Do your own research and see for yourself.
Markethive's Alexa Ranking is in the top 7 in a comparison listing of the 400 other Crypto media sites;
COINMARKETCAP.COM: Alexa Rank of 349

COINTELEGRAPH.COM: Alexa Rank of 3,082

COINDESK.COM: Alexa Rank of 4,545

CRYPTOCOMPARE.COM: Alexa Rank of 8,010

NEWS.BITCOIN.COM: Alexa: 8,811

CCN.COM: Alexa Rank of 9,637

MARKETHIVE.COM: Alexa Rank of 16,870

COINTRAFFIC.IO: Alexa Rank 18,512

NEWSBTC.COM: Alexa Rank of 19,184

AMBCRYPTO.COM: Alexa Rank of 22,215

We just broke the 20,000 members threshold
(we are now about to pass 25,000), with members in 187 countries
We have achieved our milestones in our white paper to date.
https://markethive.net/Markethive%20Whitepaper.V2.pdf
Markethive is going to the moon, and you are invited.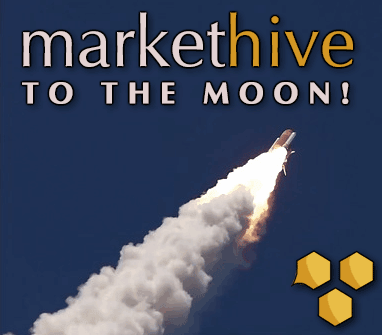 How can you help? Let me list the ways:
1. Install the Alexa browser extension (it is free) https://www.alexa.com/toolbar
2. Log in daily to Markethive and learn the system. HINT: Tutorials
3. Log into the system, navigate to Referrals and tell your friends to sign up ( we reward you generously for this action)
4. Upgrade to Entrepreneur. We regard this as a loan and pay you back with interest.
Find out more https://markethive.com/group/marketingdept/blog/entrepreneur-associate-leads-report
5. Invest in the ILP program.
Find out more https://markethive.com/group/marketingdept/blog/pay-attention-we-are-13rd-the-way-there
**Hypothetically; when we are close to our tipping point in our "Refer 3 program", assuming only 10% of our 15,000+ member referring, we will reach 800 MILLION members in 12 months. Also, assuming only 1% upgrade to Entrepreneur, that's $800,000.000.00 MILLION per month in revenue (thas just one of our revenue streams). One of the additional features of holding an ILP is you share in 20% of Markethive's NET revenue, image the possibilities.**
6. Come to our Sunday Webinars at 11am (central) See the calendar
Thomas Prendergast
CEO and Founder
Markethive.com
PS. Here are some more highlights;
Proven Executive Team that has taken the first version of Markethive (Veratek, Inc) to over $50M in revenue per year.

Through Markethive's proprietary Incentive Loan Program, we have raised over $500K.

Markethive has been in BETA for 4 years and at the end of 2018 had 2,000 members, to date we are approaching 250,000 members.

At the end of 2018 Markethive was generating about $1,800 per month in revenue, to date we are approaching $10K in monthly recurring revenue. We also have added 4 more revenue streams. We are increasing our revenue at a rate of approx. 30%-40% each month.

Per Clouldflare.com and Oneall.com, Markethive has members in 187 countries.

Per Worthofweb.com Markethive.com domain's raw worth is $1.98M up from 950K at the end of 2018.

Per CoinRanking.com Markethive's consumer coin has a market cap of $18.7B.

Per Alexa rating we have risen to 7th in the category of Blockchain Media sites with an alexa rating of 18,600, up from 50,000 at the end of 2018.

According to Cloudflare statistics, Markethive.com is receiving 50,000 unique visitors a day and over 1M page hits each day.
**Certain information set forth in this blog contains "forward-looking information", including "future oriented financial information" and "financial outlook", under applicable securities laws (collectively referred to herein as forward-looking statements). Except for statements of historical fact, information contained herein constitutes forward-looking statements and includes, but is not limited to, the (i) projected financial performance of the Company; (ii) completion of, and the use of proceeds from, the sale of the shares being offered hereunder; (iii) the expected development of the Company's business, projects and joint ventures; (iv) execution of the Company's vision and growth strategy, including with respect to future M&A activity and global growth; (v) sources and availability of third-party financing for the Company's projects; (vi) completion of the Company's projects that are currently underway, in development or otherwise under consideration; (vi) renewal of the Company's current customer, supplier and other material agreements; and (vii) future liquidity, working capital, and capital requirements. Forward-looking statements are provided to allow potential investors the opportunity to understand management's beliefs and opinions in respect of the future so that they may use such beliefs and opinions as one factor in evaluating an investment.
These statements are not guarantees of future performance and undue reliance should not be placed on them. Such forward-looking statements necessarily involve known and unknown risks and uncertainties, which may cause actual performance and financial results in future periods to differ materially from any projections of future performance or result expressed or implied by such forward-looking statements.
Although forward-looking statements contained in this presentation are based upon what management of the Company believes are reasonable assumptions, there can be no assurance that forward-looking statements will prove to be accurate, as actual results and future events could differ materially from those anticipated in such statements. The Company undertakes no obligation to update forward-looking statements if circumstances or management's estimates or opinions should change except as required by applicable securities laws. The reader is cautioned not to place undue reliance on forward-looking statements.