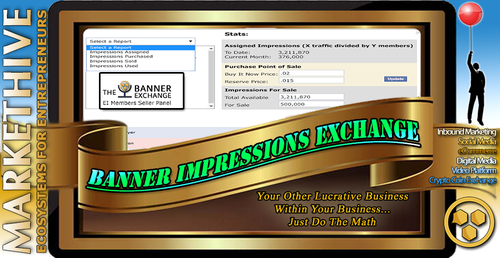 THE BANNER PROGRAM AT MARKETHIVE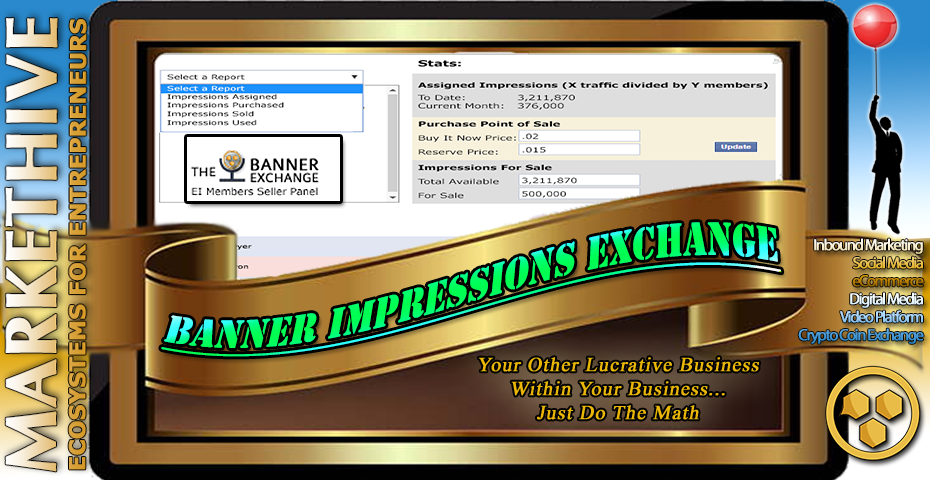 There are so many facets to Markethive, as it is a complete Market Network with a Social Media interface. It has everything you need to succeed in whatever it is that you do online, including the potential of extra revenue made available to *Entrepreneur One (E1) associates through the Banner Program. Our banner program is very innovative, where Markethive returns 100% of our ad-revenue back into your pocket. There have been 20+ years of high energy poured into Markethive. This is a Divine inspiration and places all of the members of Markethive first and foremost.

AAA Real Estate
The banners slots in the Banner Program are AAA top of the page real estate and displayed on the complete Markethive Network which includes the many websites Markethive owns. This means your banners are viewed not just by members within Markethive, but also to the vast internet traffic and onlookers.
Notably, the lower your Alexa Rank, No 1 being the top, the more expensive the banner advertisements. With Markethive's ever-decreasing Alexa ranking (currently at 9,008) and since there are millions of sites ranked by Alexa, that's way up there in terms of traffic, plus a consistently increasing number of unique visitors and members at Markethive. Being an E1 member gives you ownership of a limited resource of the most prominent, sought after advertising spot in Markethive and makes this an exceptional lucrative opportunity.

To give you an example, at Coinmarketcap, the banners are being sold for an average of $300,000+ a month. To break it down you will pay $16 per CPM (Clicks Per Mille = 1 Thousand Impressions) On average the estimated impressions for a top banner per month are 23,190,000. That works out to $371,056 per month. Coinmarketcap currently sits at 593 on Alexa Ranking.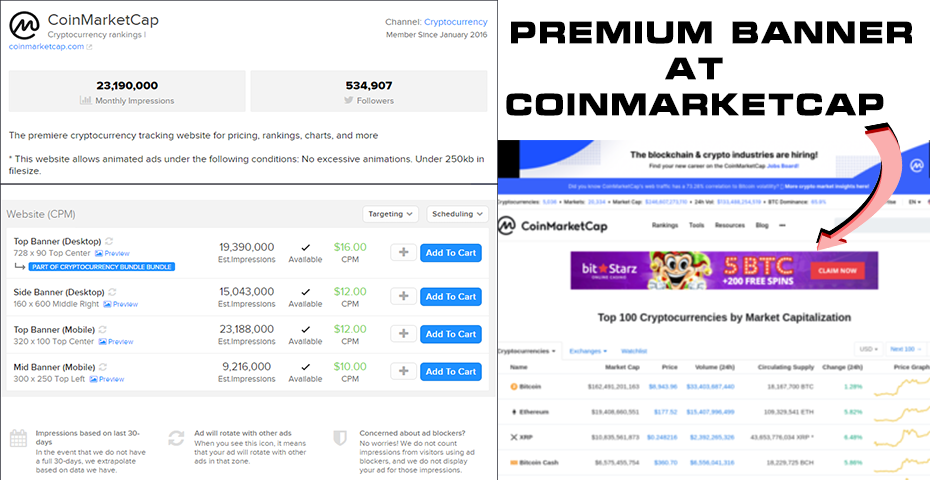 Now let's have a Markethive example. Let's say the E1 is capped at 300 members. 165,000 unique visitors divided by 300 EP1s = 550 impressions on 1 page. The number of impressions into 50 pages per day would equate to 27,500 equalling 825,000 impressions per month. So if you had to pay a rate of say $10 per CPM, that would equal $8,250 a month for banner advertising expenses.
Keep in mind these banners will be viewed on the complete Markethive Network and all other systems that we have, so the number of impressions any banner receives will be exponential.
You will get this type of exposure for only $100 per month with the Entrepreneur One Upgrade. This part of the program is up and running now where you can create a banner and upload it via the Advertising page found in your profile settings.

Markethive has now launched the Banner Impressions Exchange where any E1 member can create a Banner Ad business within the Markethive system by putting their unused Banner slots/impressions up for bid and being paid in MHV. If you have no need to use them yourself why not sell them?
https://www.worthofweb.com/website-value/markethive.com/

The Banner Impressions Exchange
The Banner Impressions Exchange, (BIX) exclusive to the Entrepreneur One Loyalty Program where each E1 member receives an equal share of the total number of impressions from the massive traffic Markethive receives.
We are now basically hitting 703,000 visits per day. Pageviews, (impressions) are nearly 110 million per month. With the very real possibility of the Entrepreneur One Loyalty Program closing at 300 members, that equals around 366,000 impressions allotted to each E1 loyalty member, who can then sell their unwanted impressions on the Markethive Banner exchange which is open to all Markethive members to purchase. At today's impression value of .02 per impression, that equals a potential income just from the banners of $7,320 per month. Not bad for only a $100 per month subscription to E1.
Choosing MHV, Markethive Coin as the transaction process is very easy, as payments are automated within the system. You may also choose other methods such as BTC, ETH, Paypal, and others, however, as the seller, you need to manage the transactions.
Check out Markethive's continuing growth...
https://www.worthofweb.com/website-value/markethive.com/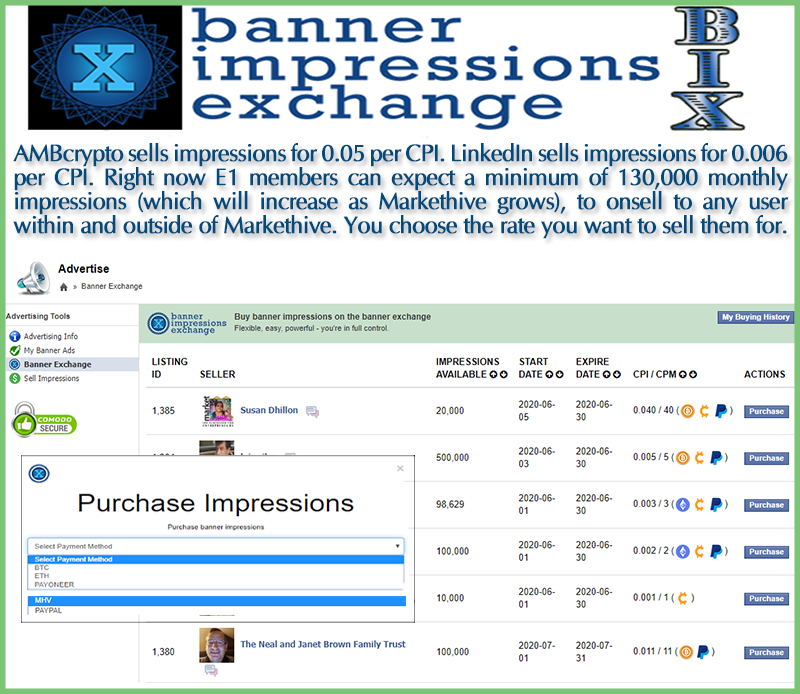 My guess is some people are saying "I have no use for the Banner Ad Program". Or "I don't use banners. I don't have a personal business that requires banner advertising" Being an Entrepreneur One Upgrade gives you the opportunity to have a Banner business and make a significant income. And this is apart from the ILP that is also included which is considered a legacy and a very lucrative living.
Are Impressions Important For Your Business?
Yes, they are the very foundation of the advertising process. They are important for branding campaigns. Awareness is created from impressions and continuing to drive impressions will be key to brand success. Increased impressions will lead to increased engagement and community size.
1. Impressions are the "eyes" that see your ad. This could be as little as a three-second scroll in some cases.
2. Reach/Engagements involve some kind of interaction, usually. But the impression comes first.
3. Lastly, clicks, and/or actions are the most important. That is where your leads, and ultimately, your sales come from.
You can't have reach or clicks without impressions first. Without impressions, which is the availability to view, there would be no clicks.
How Does The Banner Exchange Work?
The Bidder pays you for the banner slot. They will then upload their banner into your Banner Control System and the Markethive Admin will take the necessary steps to approve it.
Note: There are certain guidelines and qualifications that need to be followed when creating a banner:
Ensure your banner is sized to 960px x 80px.

Use images with white or transparent backgrounds.

Fade any graphics to white that touch the banner edge.
If it doesn't meet the qualifications. Markethive reserves the right to make changes to it. This will be free of charge as an Entrepreneur.
So now you can sell your banner slots if you are not going to use them for your personal business. This is a limited resource to an ever-expanding market. The demand is only going to continue to increase.
A message from the CEO and Founder of Markethive Thomas Prendergast explaining the Banner Exchange Platform, with even bigger numbers and the comparisons of other sites in our industry.
MHV Coin Velocity
If you're wondering how the value of the Markethive Coin (MHV) is measured, here is a simple explanation of how the ecosystem works. The Banner Program is just one more way Markethive is increasing our coin velocity. The fact that we are a meritocracy, exponentially growing daily as a social network with all the marketing tools, gamification, and loyalty programs we have and are still implementing is ensuring the credibility, velocity, and ultimate success of the Markethive Ecosystem and its Universal Income.
Many coins and tokens on the market have no velocity as they don't have a real use case. All the services free and otherwise Markethive offers, increase the velocity, supply, and demand of the MHV coin. Utilizing the coin within Markethive for services and loyalty programs including but not limited to,
Faucets/Micropayments

Incentive Loan Program

Press Releases

Sponsored Articles

Banner advertisement

Banner Slot Bids

Boosting Posts

The Vault
By the very nature of MHV being a consumer coin, it's not open to speculation like many other coins on the market. The benefits of being on the inside of Markethive transacting with MHV in its ecosystem are many, and while this is happening velocity and demand increase. The added benefit is the Markethive Exchange and MHV being listed on 3rd party exchanges gives it liquidity.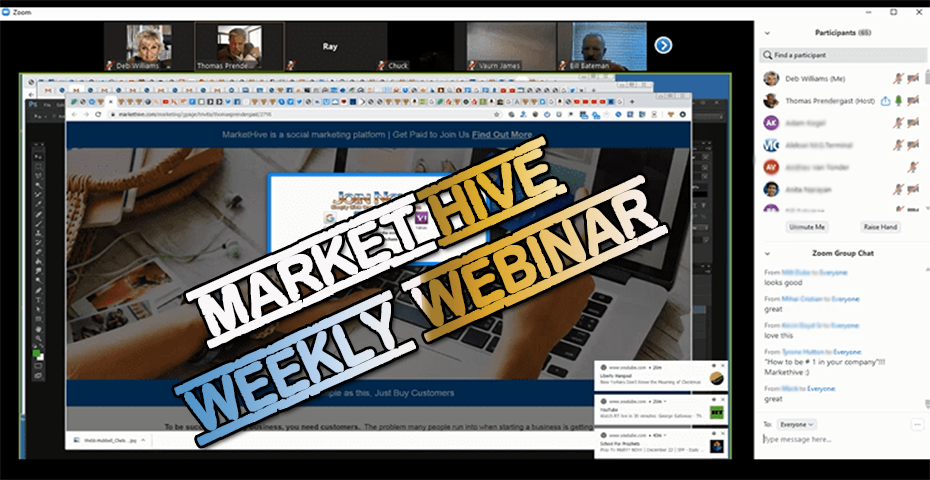 Come to the Markethive meetings held every Sunday at 10 am Mountain Time. The meetings hosted by the CEO, Thomas Prendergast, and CTO, Douglas Yates are live, relaxed, very inspiring, and above all very transparent. Stay informed about the massive undertaking and progress Markethive is making for the benefit of every Markethive member. The way Markethive is structured we have a lot to look forward to.

Conclusion
The introduction of the Banner Exchange which is a great way to earn even more income is just one more reason to Upgrade to Entrepreneur One before it closes for good. This is a very limited and time-sensitive opportunity. E1 Loyalty Program along with the Banner Program offer will end soon, but all existing and active E1s will have the Banner Program and income potential for life. Active meaning they are current and in good standing with their $100 per month subscription.
As the Markethive community exponentially grows, the demand for Banner ads just internally will be huge and they will only be available from E1s. Keep that in mind as we approach 5 million, 50 million, 500 million, or more.
If you're not an E1 member you will still be able to benefit from the massive traffic Markethive produces by purchasing Banner impressions with MHV within the Markethive ecosystem from Entrepreneur One Associates. That in itself is a marketers' dream to actually have traffic to their site.
There is still a little time to get your own lucrative banner business within your Markethive business by upgrading to the Entrepreneur One Loyalty Program. Ready to upgrade? Welcome aboard! Entrepreneur One Upgrade



Written by Deb Williams
Chief Editor and writer for Markethive.com, the social, market, broadcasting network. An avid supporter of blockchain technology and cryptocurrency. I thrive on progress and champion freedom of speech and sovereignty. I embrace "Change" with a passion, and my purpose in life is to enlighten people en masse, accept and move forward with enthusiasm.