WHAT'S IN STORE AT MARKETHIVE?
Groups And Campaigns Go Next Level
Automated and managed advertising and marketing campaigns can be done through a group or what is now called a "Storefront". You are able to set up Co-ops and automate members' contributions to a particular campaign. Publish and build the Blog Section of the group to keep your group members up-to-date and knowledgeable about your business or interest. You can also reward a member's activity with a smart rotator, meaning any conversions you receive will be distributed to the members based on their engagement within the group.
What Are Storefronts?
Markethive has created a function to turn your Group into a Storefront.
Storefronts create a single thread driving people into the Storefront via advertising campaigns, funnels, etc. A storefront will focus on one particular business; however, they will come through the Markethive portal directly into that storefront group via a capture page. Your prospects will be welcomed there with a splash page with your branding and message straight into that group. The newsfeed in your storefront group can also be used as a forum for customers who have purchased your product or service.
Storefronts are essentially a lead generation campaign that is powered by Markethive but not necessarily promoting Markethive. You are primarily generating leads and signups for your private business within that storefront. Once the prospects are in a storefront group, they then can experience the Markethive ecosystem at their leisure. This can also be monetized with a shopping cart soon to be implemented into your storefront system.
This streamlines your lead generation and conversions, and you can conduct everything within that group, including commerce, meaning you'll be able to accept payments within that group.
Regular capture pages that realistically only give you a name and email and very little control in the follow-up process can have a diminishing effect, whereas being placed into a storefront group through Markethive, you have all the verified information you need and the ability to nurture them within a collaborative environment. This is very powerful. The bonus is they receive the signup bonus of 500 MHV. This can excite and make them feel right at home.
The bottom line is this type of lead system brings the person into the sales page, so now they are a member of Markethive, with access to Markethive autoresponders, including the one you allocate to them for your business. They also have the opportunity to be trained by Markethive, which may lead to further signups within the Markethive system, thereby activating the faucet, which pays them for all activity and any other loyalty programs they utilize. So now they are receiving the nurturing and collaboration that is the essence of Markethive, plus absolute exclusivity in the sphere of influence and working with them to build your business, whatever it may be.
Group Procedures
If a sign-up is achieved through the Group's profile page link, the owner of the group is the referrer. If a group capture page is used, the owner of the group is the referrer. If a group member uses their permalink created by the owner of the group, then that group member is the referrer. If the groups' rotator link is used, then it rotates through the members for the referrer.
Another advantage is that all prospects who sign up using a group page or link are automatically added to the group regardless of the group's security settings. Also, each time they log in, they land on the groups' page as opposed to the Markethive Home Page. Soon, widgets will be available in a group. So, you can embed a signup widget on your external web page to sign new members into your group.

Markethive's Vision - The Bigger Picture
Everything Markethive builds is to your advantage. To increase your sphere of influence, Markethive is the foundational support of your pursuit and success. Markethive is so different from anything else out there. It will bring the entrepreneurial spirit out in people. They will be able to dare to dream because of Markethive. Centralized entities of the world are reputed to be corrupt and unfair structures that oppress people. Markethive is here to liberate. To give people the freedom and self-sovereignty, to lift and inspire.
When people realize that there is an organization, culture, and system that will give them what they need to be able to achieve financial sovereignty, such as Markethive (meaning we are not dependent upon governments or financial structures that oppress communities and Society in general), Markethive's growth will be exponential and lead us to 1000's of hybrid hive farms cultivating Medicinal Marijuana and producing or mining coins.
The Architecture
A simple explanation: A server and farm at the bottom of the building, the second story is a greenhouse. The greenhouse is producing electricity to feed the servers below. The servers are producing the heat which in turn produces coin and at the core of all that is our Quantum dWave computer as one of the many decentralized database systems that are operated, controlled, and protected by the blockchain of our wallet, meaning Markethives presence will be in every nook and cranny in the world and we will be spread out and decentralized along with many projects that will inspire and improve the world.
Initially, 3 Data centers will work in conjunction with our wallet on the blockchain and will be part of managing our distributed database. Eventually, Markethive will have 10,000+ data centers spread out globally in our mining hive facilities so the entire system will run off the closest data center to you but all interconnected, all updating themselves and all managed by blockchain. This is a substantial technological advancement with no other company doing it presently.
A Goal Within Reach
Markethive's goal is massive organic traffic in every country in the world. Markethive will become a multi-trillion-dollar company and well represented in all parts of the world. Markethive's social networks have grown exponentially, with functions in place to increase our followers into the multi-millions.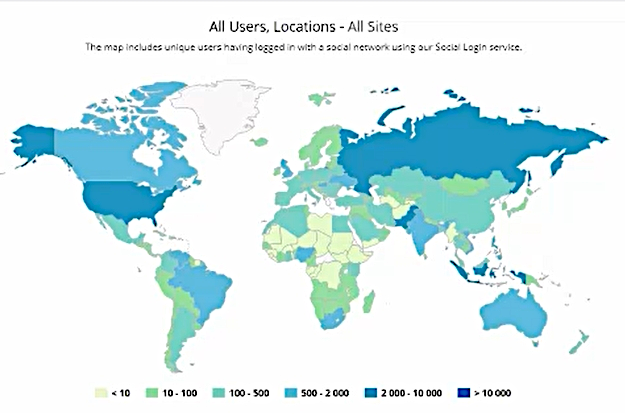 This is an image of the Log in Map into Markethive, which shows organically just where we are in the world. So many countries have been touched with Markethive's blessing already.
A Conservative Projection
A Social Market Network where the members are at the forefront of Markethive's vision and agenda stands to benefit greatly from the Incentivized Loan Program (ILP) and Entrepreneur Upgrade.
Let's keep this projection at 50 million subscribers in the next year. Based on LinkedIn's figures and Markethive's projection if…
39% upgrade to Entrepreneur program = 19,500.000 subscribers x $100 per month
= $1.95 billion per month, of which 20% is allocated to ILP holders.
20% = $390 million allocated to the ILP holders.
Notably, there will be a limit of 1000 ILPs.
So, with 1000 ILPs, that equates to $390,000 per month for each ILP holder of one full ILP.
A 1/10th of an ILP can be achieved by staying active in the Entrepreneur Program for $100 per month for 12 months. Every year you stay active, you will earn another 1/10th, so in 10 years, you will have a full ILP. Even a 1/10th ILP will provide you with a dividend of $19,500 per month based on these figures.
This is on top of all the services the Entrepreneur Program provides for its members.
Thomas Prendergast emphatically affirms,
"This is going to eliminate the struggle and empower you. This is the reality, and these are real numbers. Markethive will build the superstructure to bring on the last harvest."
Summary
So, to put it all in a nutshell, we have automated and managed advertising and marketing campaigns. We can set up Co-ops and automate members' contributions and shares to any particular campaign. Build contribution blogging among groups or storefronts and reward activity with a smart rotator. Reward your members with waited traffic and leads based upon their engagement within the group. Also, track and monitor 3rd party article submissions and press releases. Additionally, build backlinks and monitor with Markethive's exclusive data matrix display tracking system.
And remember, anything you do in Markethive, whether it be to promote Markethive as your business or a completely separate and private business, you are receiving Markethive's Hivecoin (HVC) as a reward for your efforts. Now is the time to accumulate as many coins as you can. Think about becoming an Entrepreneur Upgrade, as it will be the last thing you ever need to do to secure your future. As stated by Thomas, HVC will become the Bitcoin of the Consumer Coin.

Deb Williams
Market Manager for Markethive, a global Market Network, and Writer for the Crypto/Blockchain Industry. Also a strong advocate for technology, progress, and freedom of speech. I embrace "Change" with a passion and my purpose in life is to help people understand, accept and move forward with enthusiasm to achieve their goals.