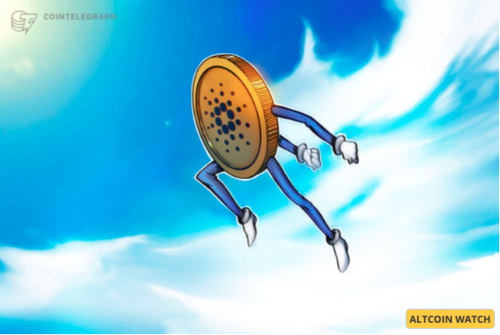 Cardano is now a top-three cryptocurrency as ADA price soars 27% in 24 hours
Cardano is soaring, though Ada's price still has a long way to go to beat its record high vs. Bitcoin.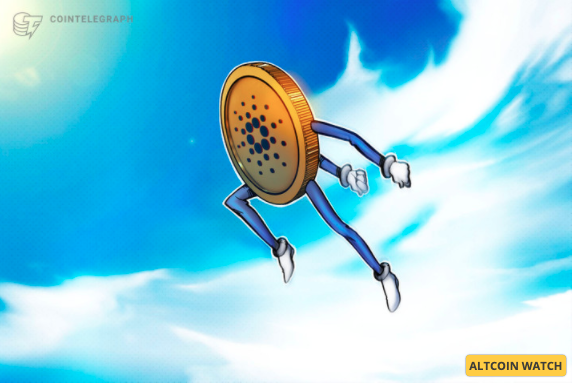 Image courtesy of CoinTelegraph

FEB 26, 2021
Cardano's Ada received a fresh wave of optimism and buying volume on Feb. 26 that pushed its price to a new all-time high of $1.29, making it the third-ranked cryptocurrency by market capitalization.
Data from Cointelegraph Markets and TradingView shows that Ada surged 27% from a low of $0.98 during the early trading hours on Feb. 26 to its new high at $1.29 on record trading volume.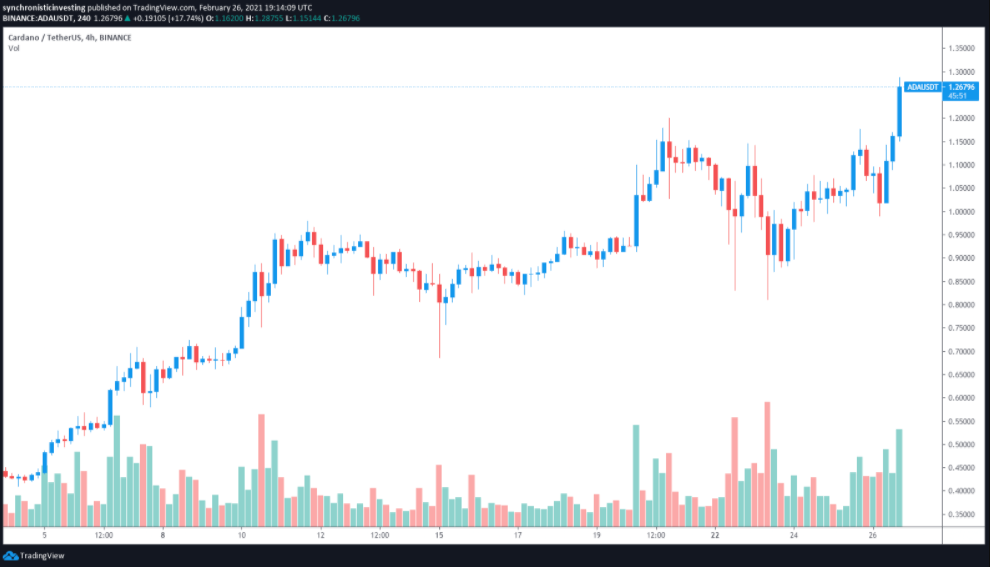 ADA/USDT 4-hour chart. Source: TradingView (Click image for larger view)
Momentum for the project has been building throughout the month of February following the integration of the Mary upgrade to Cardano's testnet on Feb. 3. The upgrade enables smart contract functionality, helping transform the blockchain into a multiasset network similar to Ethereum.
Mary's mainnet launch date revealed
The latest rise in price coincided with Cardano founder Charles Hoskinson posting the following tweet, indicating Mary would be live on the mainnet at the beginning of the next epoch on March 1: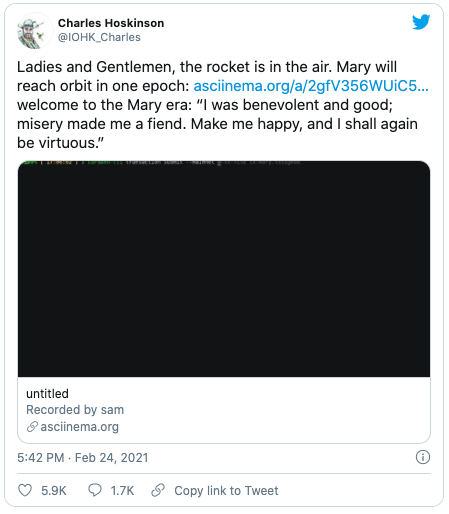 (Click image for larger view)
Ada briefly spiked to $1.17 following the announcement before pressures in the broader cryptocurrency market pushed it back below the $1.00 level on Feb. 25.
Thereafter, the trading volume for Ada has surged to a new record of $12.8 billion, helping elevate it to a new all-time high. The open interest for Ada futures also rose to $580 million, surpassing Litecoin (LTC) to become the third-largest derivatives market.
According to data from Cointelegraph Markets Pro, meanwhile, market conditions for Ada have been favorable for some time.
The VORTECS™ score, exclusive to Cointelegraph, is an algorithmic comparison of historic and current market conditions derived from a combination of data points including market sentiment, trading volume, recent price movements and Twitter activity.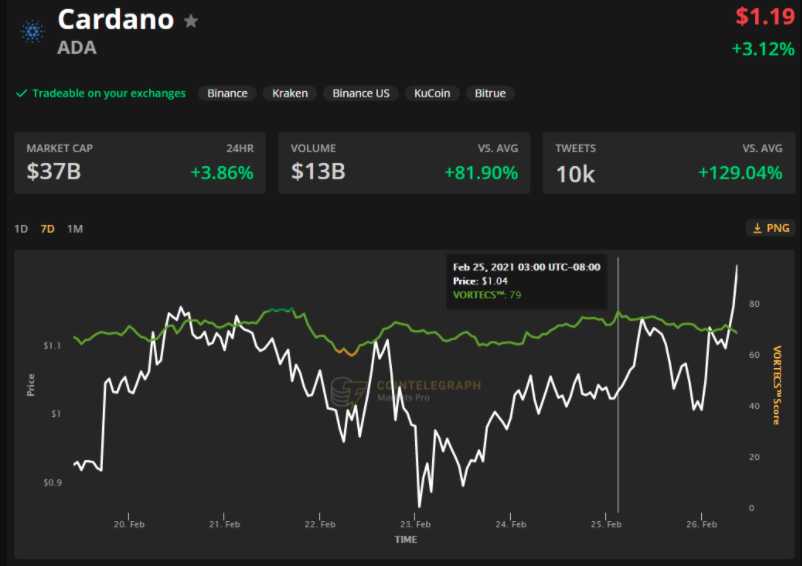 VORTECS™ Score (green) vs. Ada price. Source: Cointelegraph Markets Pro (Click image for larger view)
As seen on the chart above, the VORTECS™ score for Ada reached a high of 79 on Feb. 25, around 24 hours before the price began to spike 27% to a new all-time high.
Smart contract functionality is the key component of the Mary upgrade and is expected to usher in a new era of functionality for the Cardano ecosystem. Once integrated, decentralized finance applications will be able to operate on the network and provide an outlet for users who are looking to escape high gas fees on the Ethereum network.

Advertisement
Original article posted on the CoinTelegraph.com site, by Jordan Kinneseth.
Article re-posted on Markethive by Jeffrey Sloe