Absolutely!
There are a whole host of exchanges out there.
Coinbase has sparked a light in the retail industry for new crypto enthusiasts, allowing them to buy and sell coins quickly through their platform. So why go somewhere else?
The main reason I don't use Coinbase anymore is: Fees!
When entering the crypto space fees might just seem a small annoyance but what can you do. The base fee you are set on Coinbase is 0.5%. For those of us who look around other exchanges you notice this is incredibly high. For people who actively trade every day, this kills most, if not all, profit you might make.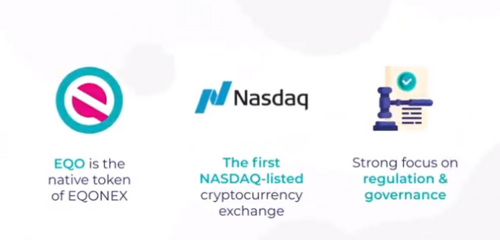 EQONEX is Nasdaq-listed cryptocurrency exchange platform
Launched on May 26th, 2020, EQONEX is a centralized crypto exchange based in Singapore. The parent company, Diginex, is the first company listed on Nasdaq with a crypto exchange (Nasdaq: EQOS).
EQONEX's first native token EQO, went live on April 8th, 2021. Holders of EQO receive numerous unique benefits, including reduced trading fees, access to future airdrops, staking rewards, collateral against derivatives transactions, and enhanced interest for crypto lending.
Their starting equivalent fee is 0.09%. That's over 5 times cheaper than Coinbase fees.
Now there are other things about EQONEX than just cheap fees. There is a whole digital asset ecosystem of lending and borrowing to investment products, asset management, exchange, and even the first stand alone FCA approved digital custodian to store crypto.
As a more general comment, people don't realise that some crypto exchanges will actually trade against them to profit. Imagine you can buy a product for $20, then some exchanges charge you $25 and keep the change. On top of the 'service charge' which are the trading fees.
EQONEX doesn't do this. In fact EQONEX works with regulators to provide the safest and fairest environment for trading cryptocurrencies possible.
What's more, if you trade on their platform, you are rewarded with their own native token EQO Crypto Token.
You can also earn more EQO just by holding onto it. More benefits of the coin are:
Reduced Trading Fees
Enhanced Interest Rates
EQONEX has announced an airdrop for EQO holders!
EQONEX (Nasdaq: EQOS) has released the details of its first-ever airdrop of EQO dollars (EQO-D) exclusively for the holders of its native token EQO.
Under the terms of the airdrop, 100 EQO-D will be issued per 1,000 EQO held, and will give traders three unique benefits: trading collateral, gift collateral, and buyback benefits.
Once issued, EQO-D can be used as collateral when trading perpetual futures contracts on EQONEX on a 1 EQO-D to 1 USDC basis up to a maximum of 5,000 EQO-D.
EQO-D recipients who have been allocated more than 5,000 EQO-D can choose to gift some of their remaining EQO-D tokens to new or inactive EQONEX customers (terms and conditions apply).
The third benefit to recipients of EQO-D is the buyback utility in which the EQONEX exchange will buy back eligible EQO-D. Eligible EQO-D holders will benefit from a buyback pool of 200,000 USDC1 and be able to earn USDC from their tokens by selling them to the exchange.
Traders have until Sep 19, 2021 to ensure they have 1,000 EQO or more in their EQONEX account to benefit from the EQO-D airdrop on Sep 20, 2021.
In addition to the EQO-D allocation, traders who sign up, verify their account, and purchase EQO can further benefit from up to $200 in EQO during September 2021.
Chief Product Officer at EQONEX, Neil Sheppard said of the airdrop:
"The upcoming EQO-D airdrop provides an opportunity for EQO holders to experiment with, or increase their, perpetual trading strategies using our advanced trading features such as cross collateral, sub account functionality, and isolated margin whilst benefiting those same holders with increased referral reward opportunities and a buyback."
His Linkedin profile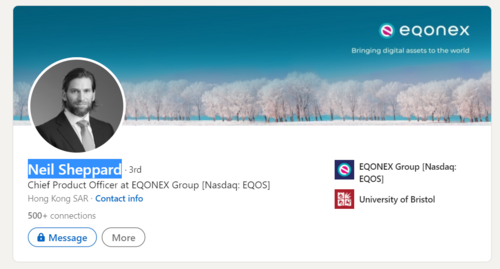 Join the upcoming EQO Dollars Airdrop here!
Do you like my article!
Read these also: