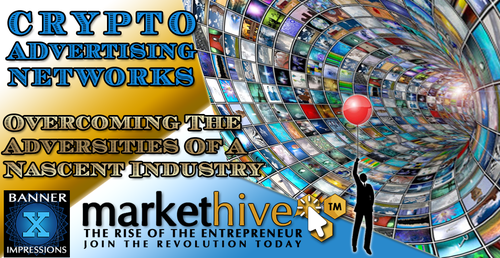 CRYPTO AD NETWORKS
Overcoming The Adversities Of A Nascent Industry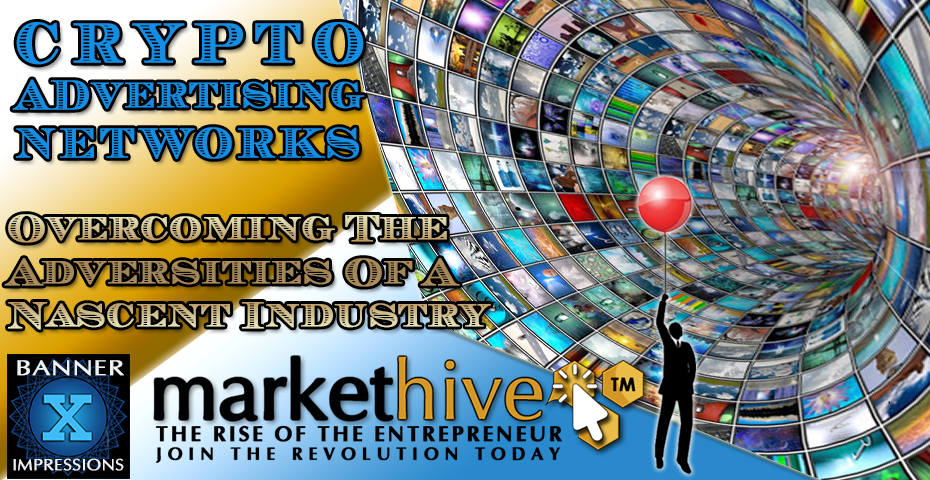 The cryptocurrency sphere is no longer considered a craze only supported and bolstered up by tech geeks and anarchists. Cryptocurrencies have become a whole new financial class by themselves and Blockchain technology is at the forefront as we move into a new world where recent events have seen complete economic chaos and we are now recession-bound on a global scale.
Whether it's a mining collective, a crypto exchange, an ICO or ILP with a specific use case, or plain old marketing - inbound, affiliate, referral, the whole gamut, a myriad of opportunities has opened up for companies, and the individual, that is focused on cryptocurrencies and blockchain, in order to create an ecosystem of self-sovereignty, financial and otherwise, along with transparency, and a trustless environment where society isn't at the behest of the powers-that-be.
However, getting the word out to the people en-masse has been inhibited and a hindrance to this emerging industry which is a concern to the advertising and marketing of the blockchain and crypto businesses.

Advertising Network Adversities
Traditional ad networks and social media giants like Google, Facebook, Youtube, et al have either outright banned any type of advertising/marketing content relating to crypto, or have placed unreasonable conditions such as requiring a license from a governmental authority.
Also, their policies could change in the blink of an eye without any warning, such as YouTube banning cryptocurrency channels, or Facebook's constant run-ins with blockchain ads.

And even if you somehow do find a way to run crypto ads, you'll be restricted in a variety of ways that would severely impact the success and reach of your campaigns. For instance,
Everything is dependent on the whims and fancies of the network, and its changing policies towards crypto.

Little to no targeting options on the audience you seek to engage

The requirement to share a lot of personal information.

Campaigns will be put under stricter scrutiny, and go through a longer review period

Restrictions on the type of payment methods you can employ

Limited number/type of websites where you can advertise
Furthermore, as technology keeps evolving, it is crucial for businesses in the sector to keep pace and grow along with it. This is why it's become vital for advertisers, and publishers, to seek out alternatives.

A Real Need For Cryptocurrency Ad Networks
Cryptocurrency ad networks are niche online advertising platforms connecting advertisers and publishers who share a common objective of promoting cryptocurrency marketing campaigns. Like with any other ad network, publishers offer their ad space and advertisers pay to use that.
Crypto ad networks offer a myriad of benefits, such as:
Connecting predominantly with advertisers and publishers from the Crypto sphere.

Multiple ad options like banner ads, sponsored articles, press releases, and more

Targeted audience of a younger generation and people already interested in crypto

A requirement of little to no personal information

Faster campaign approval process.

Custom-designed crypto banners

Dedicated customer support

Cryptocurrency payment methods
Below are 3 prominent Cryptocurrency Ad Networks helping the industry grow.
COINBOUND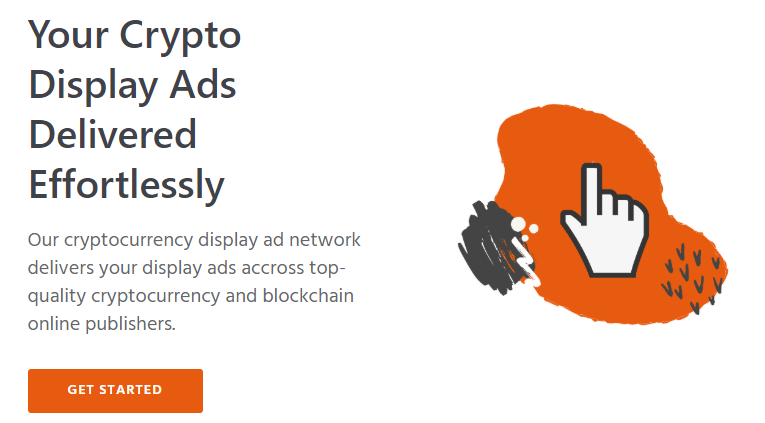 While Coinbound's ad network is one of the newer entrants in the field, the company backing it is a renowned name in the crypto marketing world that manages marketing for top cryptocurrency companies. Coinbound offers prime personalized services with a high degree of flexibility and one of the lowest CPMs of all networks.
Geo-targeting of the audience with specific interests, and other demographic data.

Multiple display ad-options.

Connecting only high-quality publishers, and advertisers in the crypto industry.

Free crypto banner Ad designs by an award-winning in-house design team.

Low CPM rates with high conversion and click-through rates.

Ability to target audience for specific sites and pages.

24/7 support.

Press release issues and accessibility across top media publishers.

Alexa Rank 248,912 at the time of this publication.
COINZILLA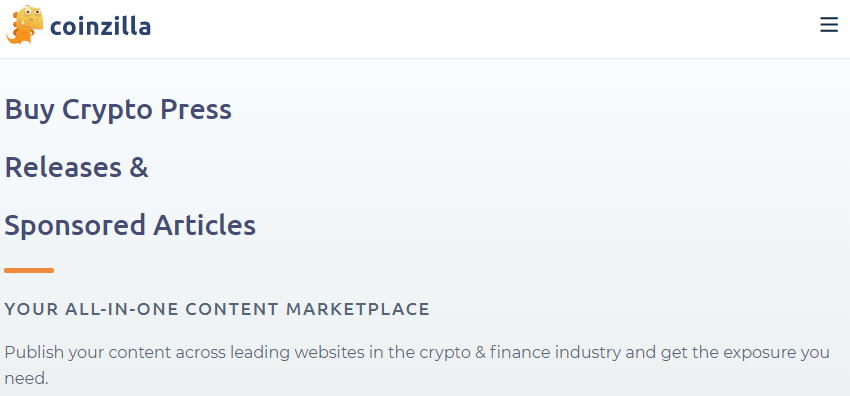 Another ad network making its mark is Coinzilla. It was founded in 2016 and has strict rules regarding the quality of websites and content used in its network. It currently promotes over 200 brands with 500 publishers in its ranks.
Multiple advertising options such as native advertising, CPM, pop-up/under, etc.

Only high-quality websites, older than 3 months, with optimal site speed and Alexa rankings.

Strict adherence to rules on ads, with instant bans to faucets, giveaways, false promises, etc.

Allows casinos, ICOs, exchange promotions, affiliates, etc.

Alexa Rank 27,739 at the time of this publication.
MARKETHIVE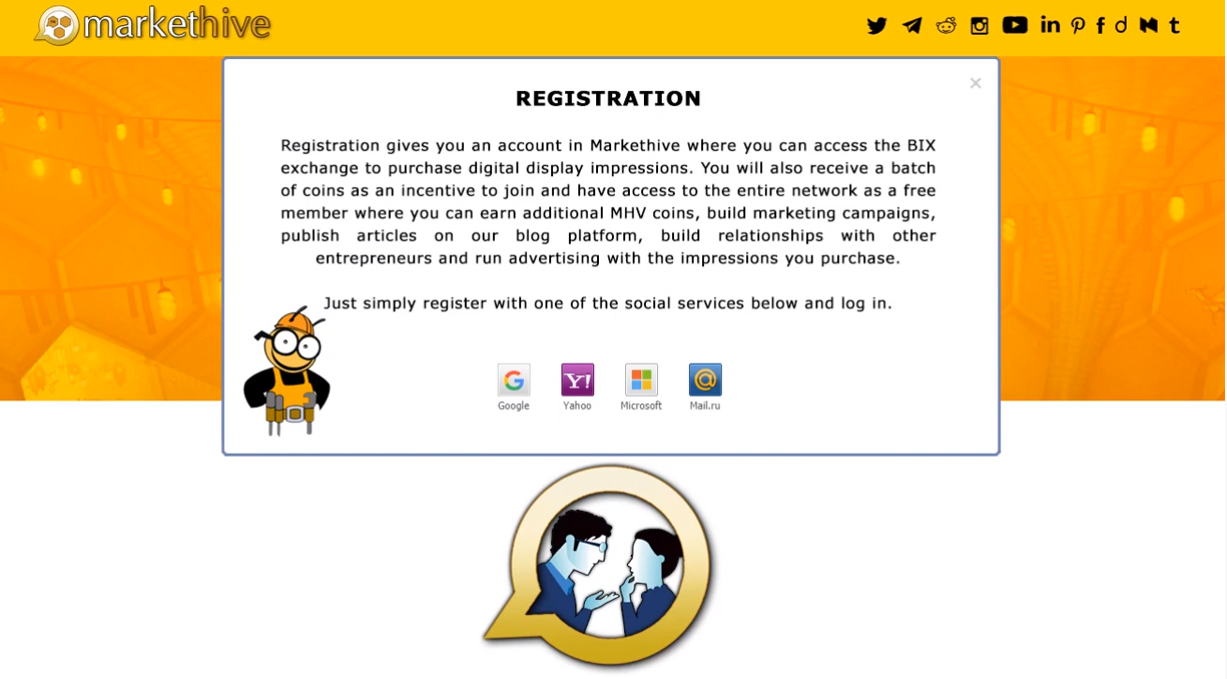 To add to the mix we now have a decentralized option, and that is exactly where Markethive trumps the other ad networks. Taking away the middleman, the social market network connects advertisers and publishers directly to offer a transparent, cost-effective, and censorship-resistant ad platform.
A complete ecosystem that is free to join.

Decentralized with delivery to multiple domains.

Markethive blockchain capable of managing a global advertising industry and instantaneous micropayments.

Payouts in MHV coins.

Censorship resistant, with publishers retaining full control on what to display on their website.

Suited for both big and smaller players due to low barriers of entry, yet safe and reliable network.

Banner Impressions eXchange - (BIX). First of its kind where you can purchase

impressions from a Markethive associate at very low CPM rates.

Detailed and reliable analytics.

Alexa Rank 4,156 (updated March 9, 2021).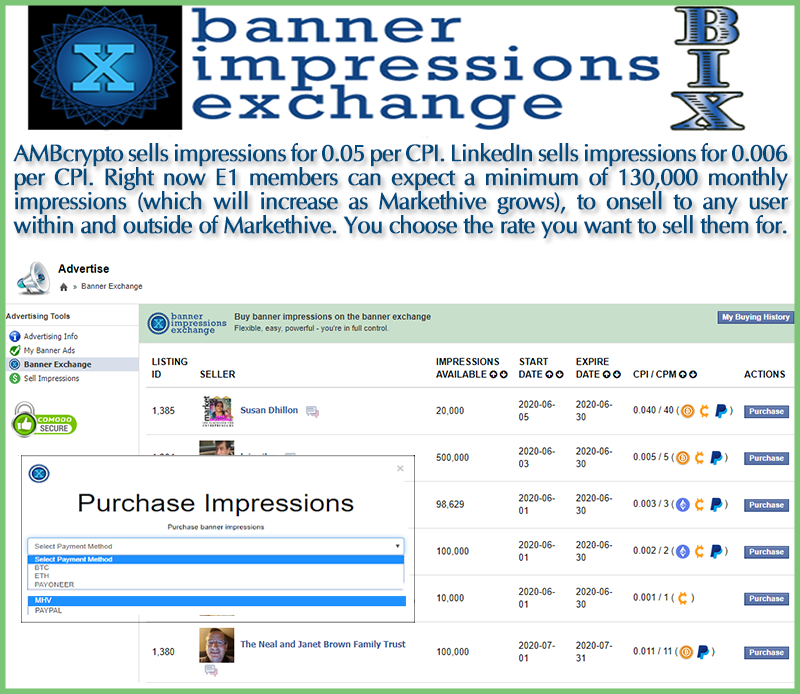 Coming Up In Markethive…
Markethive is making great headway to incorporating a press release and sponsored article platform as well as social newsfeed boost, newsletter sponsorship, and gamified video advertising which enables you to build powerful campaigns. These are all part of the cottage businesses within Markethive that are designed to be facilitated by the members, not the corporate body, with the purpose of generating an income for the users.
CEO and Founder of Markethive, Thomas Prendergast is behind the scenes working tirelessly along with the engineers preparing to launch these unique platforms;
"So we have just made a major turn in our system and have a lot of work to do. A landing page to sell/buy our impressions from an exchange, to make that page a template in the Page Maker for your use, and gearing the system for the next direction, building the Press Release exchange. Producing several Press Releases to promote our new Digital Media Impressions Exchange. This is also a time for you to get a head start sharing this."
A Perfect Opportunity
Markethive Entrepreneurs have a perfect opportunity right now to reach out to 3rd party sellers to meet with and discuss getting their impressions listed on their sites. Sites like the ones mentioned above. The collaboration will result in creating a monster of an ad network that will be immune to the idiosyncratic and censorship behavior of the tech giants.
Also, in the interim and as an introductory offer in celebration of the newly launched BIX, you as Markethive Entrepreneurs have the ability to advertise your Markethive referral page and offer free banner ad impressions for joining you at Markethive.
The Prime Objective Of Alexa Ranking
The Alexa ranking measures traffic on any given website from subscribers and visitors that have the Alexa Extension installed. Alexa rank is a measure of website popularity. It ranks millions of websites in order of popularity, with an Alexa Rank of 1 being the most popular.
Alexa rank is calculated using a proprietary methodology that combines a site's estimated traffic and visitor engagement over the past three months. Although every website's goal is to achieve a low Alexa ranking, it has no bearing on the number of digital impressions a site generates so there is no negative effect on banner impression sales.
Sites that have Alexa ranking like Chronicle of around 16,000, charge $66 CPM, and estimating their impressions from Worth Of Web, we can estimate they are receiving 13 million impressions per month with a potential income over $8.5 million.
AMBcrypto has an Alexa rank of 53,893 and charges $5,500 to run a banner duration for a month. They average about 100-200 banner ads per month displayed based on IP address, time, and random rotation.
However, if you have not installed the Alexa Browser extension, please do so. It does help to give Alexa more accurate data with visitors.
https://www.alexa.com/toolbar
Crypto Advertising Market Growing
There are quite a few more crypto ad networks catering to the crypto sphere such as Bitmedia, Ad Shares, Cointraffic, Ad Dragon, Coin Ads, Mellow Ads, Propeller Ads and now we can add Markethive to the list with its Banner Impressions eXchange operating live now.
Markethive with its BIX Banner Impressions Exchange has created a non-fungible impressions token that is now traded in an open market assuring all purchases and set by the free market insuring you pay the right rates for advertising. You might call it free enterprise we call it a fair market for the entrepreneur from Markethive.

Conclusion
Connect with entrepreneurs, techies, crypto nerds, artists, innovators, musicians, and professional members both subscribers and traffic. You can get the first-mover advantage by advertising your product or service on Markethive and Markethive subsidiaries. The average user comes to Markethive to learn how to build an Inbound Marketing campaign, promote their services, connect with other members, and discover services to purchase.
Markethive, the complete market network on blockchain, provides a valuable inbound marketing platform, commerce portals, and a social network where users can learn, engage, expand markets, and be introduced to trusted providers. Markethive provides education, mentoring, direction, and professional services all the while earning MHV coin through its micropayment faucet system. This is just the beginning of the next-generation network built for the crypto-preneur.



Written by Deb Williams
Chief Editor and writer for Markethive.com, the social, market, broadcasting network. An avid supporter of blockchain technology and cryptocurrency. I thrive on progress and champion freedom of speech and sovereignty. I embrace "Change" with a passion, and my purpose in life is to enlighten people en masse, accept and move forward with enthusiasm.