Delivering Real People Registering In Your Markethive System: KYC, OAUTH & SMS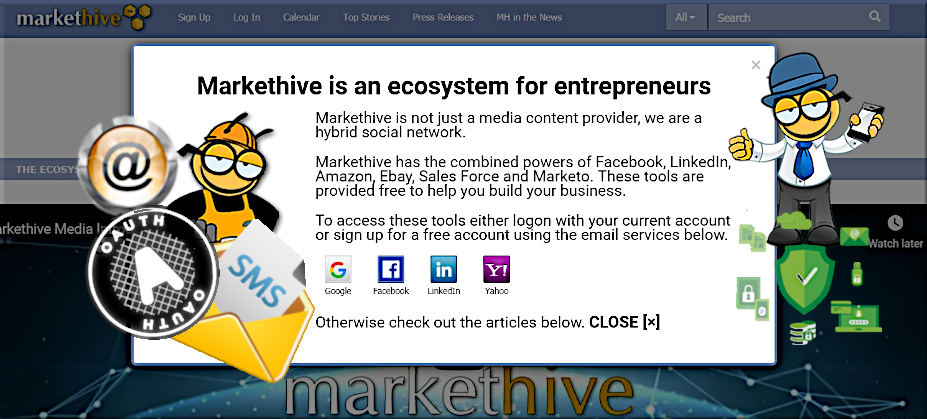 When social networks begin combining the three points of biometrics (KYC, SMS, and OAUTH) the results are one human = one registration. Here is why:
What Is KYC?
"Know Your Customer" (KYC) refers to detailed and authenticated information required by financial institutions and other regulated companies before conducting business with a customer. According to Wikipedia, Know Your Customer (KYC) is the process of a business verifying the identity of its clients. KYC policies mandated by regulators globally are becoming progressively important to prevent identity theft fraud, money laundering, and terrorist financing. The process was once a simple one but now becoming an expensive nightmare for organizations and its customers due to compliance costs and the increasingly long time to complete the customer onboarding process.
As more financial institutions begin to augment their customer identification security policies, evaluation of using biometrics for KYC management is rapidly increasing. The use of biometric identification management technology for accurate customer identity verification has proven to deliver efficiency and convenience for organizations and also helps comply with government regulations to prevent identity theft and money laundering. Biometrics use intrinsic data, allowing for immutable identification and verification of people and is fast and simple.
What Is OAuth?
OAuth is an open-standard authorization protocol or framework which gives applications the ability for "secure designated access." For example, you can tell Facebook or Gmail that it's OK for Markethive.com to access your profile or post updates to your timeline without having to give Markethive your Facebook or Gmail password. This minimizes risk in a major way. OAuth doesn't share password data but instead uses authorization tokens to prove an identity between consumers and service providers. OAuth is an authentication protocol that allows you to approve one application interacting with another on your behalf without giving away your data.
SMS - An Extra Layer
Receiving a code via SMS on your cell phone is an extra layer of security and verification to ensure the safety and identity of the user and the company. So basically it works like this; you choose an already verified email or social media account you own to sign up into Markethive. This is displayed in a floating div that appears on the page. It is then recognized by the company and their server will send you a code to the cell phone that is associated with the account you chose. It's that simple. No passwords or email required and you're in!
This also negates the woeful spam traps that have been rife where everyone is negatively affected, and companies have lost business or even gone belly up by allowing a name and email to be entered instead of going through a verified social media or an email account; such as Gmail or Yahoo, etc, ensuring authenticity.
Culture Of Integrity
This builds a culture of integrity, eliminating duplicate or fake accounts and hackers. Furthermore, as Markethive is built on the Blockchain it's not centralized information. Once you have been verified by the system your information is placed in your wallet and only you receive the Key pertaining to that wallet. It belongs to you and no one else has access to your information or MHV coins you accumulate by using the platform including Markethive.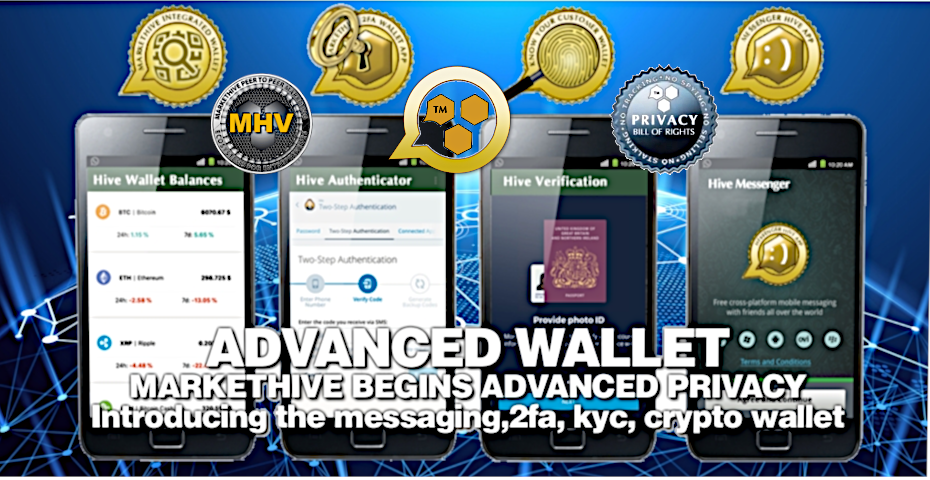 When Markethive implements the wallets and internal exchange, then the KYC protocol will be mandatory. In the past, scanning and uploading a utility bill, passport or drivers' license was executed by the user. Now a much more verifiable course of action is now required. A photo with the person holding their drivers' license and a signed piece of paper with Markethive and the date written on it next to the face is a foolproof way to authenticate and secure your identity, account and any transactions you administer within the Markethive system. Also, a video stating who you are maybe implemented and will be the next level to this whole process, ensuring peace of mind for you and Markethive.
Conclusion
Implementing live recorded video conferencing, while scanning and comparing photo ID (govt identity cards, passport, utility bill, and bank statements) between the two parties adds a level of verification, when combined with the previous SMS and Social Networked OAUTH, delivers a real person, not a clone or a fake sock puppet. Email deliverability of 98% is achieved instead of the 50-70 percent that many systems deliver as they suffer from spam traps that are all too common in the world of automated emails.
This is a step up from web 2.0 and the next generation where privacy, security, and autonomy are of the utmost priority with Markethive leading the way on its mission to deliver a Social Market Network of the highest integrity.

FOLLOW US ON...
Website: https://markethive.com
Token Site: http://markethive.io/
Telegram: https://t.me/markethive_support
Twitter: https://twitter.com/markethive/
Github: https://github.com/markethive /
Reddit: https://www.reddit.com/r/markethive/
Crunchbase: https://www.crunchbase.com/organization/markethive
Medium: https://www.medium.com/@markethive
Bitcointalk: https://bitcointalk.org/index.php?topic=3309067.msg34535452#msg34535452
Telegram News: t.me/Markethive
LinkedIn: https://linkedin.com/company/Markethive
Facebook: https://facebook.com/MarketHive
Youtube: https://youtube.com/Markethive
Deb Williams
Market Manager for Markethive, a global Market Network, and Writer for the Crypto/Blockchain Industry. Also a strong advocate for technology, progress, and freedom of speech. I embrace "Change" with a passion and my purpose in life is to help people understand, accept and move forward with enthusiasm to achieve their goals.