MARKETHIVE - AHEAD OF THE REST
Inbound Marketing just became "Next Level".

What is Inbound Marketing?
Over the years it has been proven that Inbound Marketing has been more successful in customer acquisition in B2B and B2C markets. People will not tune out to your messages. Period! Inbound Marketing is the process of attracting the attention of prospects, via content creation, before they are even ready to buy; it's one of the best and most cost-effective ways to convert strangers into customers and promoters of your business.
Inbound Marketing platforms integrate blogging, email marketing, marketing automation, social media monitoring & publishing and analytics all in one. It also delivers landing pages and offers a content management system that assists you in optimizing your content.
With inbound marketing, potential customers find you through channels like blogs, search engines, and social media. It offers better two-way communication where the prospect or customer can interact. When people participate they become engaged and invested in your message. This creates relationships and a sure-fire way to keep them long-term.
Inbound Marketing is perfect for Non-Marketers
Due to its very nature, inbound marketing doesn't feel like marketing. Traditional marketing (outbound) takes a certain amount of aggressiveness, particularly cold calling. Inbound Marketing provides valuable content like infographics, white papers, and blog posts. This assists in attracting the optimal customer. It's really not selling in the conventional way, therefore more attractive to those who feel uncomfortable with the old pushy image of "selling".
A substantial content marketing effort demands a significant investment of time and funds to produce income. Inbound marketing software reduces and streamlines your efforts by automating content creation, distribution, lead capture and management, analytics and measuring ROI.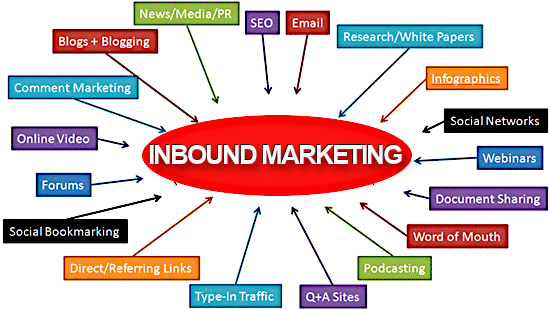 Notable Inbound Marketing Platforms
Marketo was founded in 2006 and centers around the B2B market. Their tools manage the business cycle of a company and gather information to create itemized client profiles. These profiles enable you to determine definitive behavioral paths of leads and the content data is displayed relative to their current location in the sales funnel. They may mean either fundamental product information is presented to prospects in the inquiry stage or clients that are close to buying may receive a call from the sales department.
Their tools include landing pages, email marketing, lead management, CRM integration, Social Marketing, Analytics, and reporting. Marketo, Inc. is a software company focused on account-based marketing, including email, mobile, social, digital ads, web management, and analytics. A notable feature of Marketo is its custom-built ROI reporting tools. Marketo requires a high level of technical ability and is well suited for marketing departments of larger-scale companies.
Prices range from $1,195/mth through to $25,000/mth. (billed annually)
Notably, Adobe purchased Marketo for a tidy sum of $4.75 Billion. Quoted from a recent ZDNET article, "Adobe just announced that it is buying marketing automation firm Marketo for $4.75 billion. The deal is Adobe's largest ever and puts the company in more direct competition with Oracle and Salesforce".

Hubspot was founded in 2005 and coined the phrase "inbound marketing". It provides strong solutions for business owners, marketers, and entrepreneurs including publishing content through a blog platform, attracting and managing an audience, messaging with prospects and reporting. The package allows you to create lead capture forms integrated with an email marketing platform. Also Social media engagement tools and SEO features.
Additional services are also available. Custom consulting (starting at $10,000) offers professional hand-holding when needed and HubSpot classroom training ($500 per seat) can help bring new team members up to speed on the theories and methods of inbound marketing.
Pricing starting from Basic onboarding fee, $600, then $270/mth through to Enterprise Onboarding fee $5000, then $3,200/mth (billed annually)

Markethive founded in 1996, operating as Veretekk first established "Inbound Marketing" which the company called "Automated Marketing" platforms. It has been a pioneer in professional and ethical online business systems, developing innovative and powerful tools for global communities of marketing professionals. Markethive's mantra from the beginning has been to build systems "for the little guy and gal".
Markethive's functionalities include SEO features, Analytics, Customer Management System, Traffic Portals, Capture Page and Lead Creation, Profile Page, E-commerce portals, video conferencing, and Blogging Platform. Markethive plugs into all Social Media, simplifying your marketing efforts, with automated email campaigns allowing for lead flow into your designated business. Markethive incorporates collaboration and building relationships within the community.
They have significant training tutorials and weekly live support meetings.
Pricing: Markethive's entire lineup of Inbound Marketing tools is free for life. No limit on leads, no limit on email data. No limit on campaigns. (No Charge)
Inbound Marketing is the technology and action that attracts customers through relevant and helpful content, adding value at every stage in your buyer's journey moving them closer and closer to becoming a loyal fanatical client.
But Wait...There's More…
The beauty of Markethive is it is built on the Blockchain with its own Consumer Coin (MHV). This opens up a whole new world of opportunities, including owning a piece of Markethive.
Markethive is an established company, (previously Veretekk), with proven technology taking it to the next level.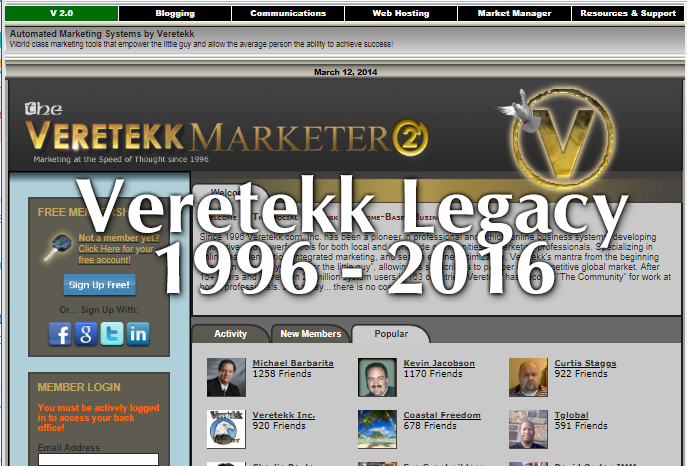 With the introduction and implementation of Blockchain and cryptocurrency, Markethive is currently in Beta preparing for the launch. While this is happening there is an opportunity for a limited time only to share in the imminent success of Markethive for a lifetime.
Traditionally you would have to outlay big dollars for a share in a company, however, Markethive has made it easy for everyone to participate.
Entrepreneur One Upgrade - $100 monthly
The current Entrepreneur Upgrade is the premium highest level you will ever have the opportunity to acquire. It contains all the leveraged advantages you need to accelerate your success in Markethive. All the benefits are outlined here, but for the purpose of this blog, I want to concentrate on the matching bonus and accumulation of MHV which will in time be a valuable commodity for the Markethive ecosystem and of course you!
As a free member, you now basically get to "try before you buy" with the Free Member Associate Half-Life that has recently been introduced. This means for every person you invite to join you in Markethive, your referrals are kept for you as "Associates" and should you decide to upgrade to Entrepreneur status for $100 per month within the first 30 days of you joining, you will receive the 100% matching bonus of 500 MHV for every referral you invite. Upgrade at 31 - 60 days, you will receive a 50% matching bonus as illustrated in the image below, and so on. Notably, once you hit the 91+ day threshold you will permanently stay at a 10% matching bonus.

It really doesn't take a lot of effort to offer a system as powerful and valuable as the Markethive system that also rewards new members with an immediate 500 coin reward. You can easily promote this and build 1000s of referrals that will add up to significant coins and customers.
It's also important to keep in mind a Secondary Matching Airdrop Bonus is delivered to you when your associate customer upgrades to Entrepreneur. Markethive will airdrop them 100 coins and you will also receive 100 coins as a matching bonus.
And of course, let's not forget about the Matching ILP Loyalty Program: Apart from your ILP Share you receive by upgrading personally, you also receive matching ILP shares for all Entrepreneur Upgrades that come via your account and exclusive ICO like portals.
Exclusive loyalty award program assigns a 10% share of an ILP for every 12 months of consecutive payments towards the Entrepreneur program. This is only available for the first 1000 Entrepreneur upgrades. What that means is, your monthly payment is accrued and if you stay current for 12 straight months, we contribute to you a full 10% ILP and continue to offer this 12-month reward for 10 years which will then equate to 1 full ILP. This offer is limited to the first 1000 active upgrades.
Why Pay When It's Free?
Let's face it, most Marketers and Entrepreneurs are paying for services such as Autoresponders, Capture Page Creators, tracking, etc, in separate and/or vertical companies. Now all that is combined and offered under one umbrella for free. So now you can allocate your money to more beneficial, lucrative and long-term projects. This is a tremendous opportunity to get in on the ground floor of the next generation Social Market Network taking advantage of the latest technology, leaving other platforms behind. Don't get left behind. Join the Markethive, Blockchain and Crypto movement and set yourself up for lasting success with the Entrepreneur Upgrade.
We are entering a new era of Inbound Marketing - On BLOCKCHAIN with a Consumer Coin, the Markethive Coin. [MHV]

FOLLOW US ON...
Website: https://markethive.com
Token Site: http://markethive.io/
Telegram: https://t.me/markethive_support
Twitter: https://twitter.com/markethive/
Github: https://github.com/markethive /
Reddit: https://www.reddit.com/r/markethive/
Crunchbase: https://www.crunchbase.com/organization/markethive
Medium: https://www.medium.com/@markethive
Bitcointalk: https://bitcointalk.org/index.php?topic=3309067.msg34535452#msg34535452
Telegram News: t.me/Markethive
LinkedIn: https://linkedin.com/company/Markethive
Facebook: https://facebook.com/MarketHive
Youtube: https://youtube.com/Markethive
Deb Williams
Market Manager for Markethive, a global Market Network, and Writer for the Crypto/Blockchain Industry. Also a strong advocate for technology, progress, and freedom of speech. I embrace "Change" with a passion and my purpose in life is to help people understand, accept and move forward with enthusiasm to achieve their goals.