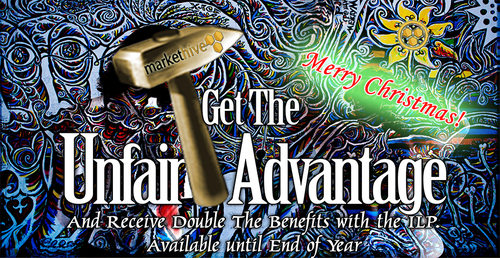 Markethive Has The Unfair Advantage For You To Double Your Prosperity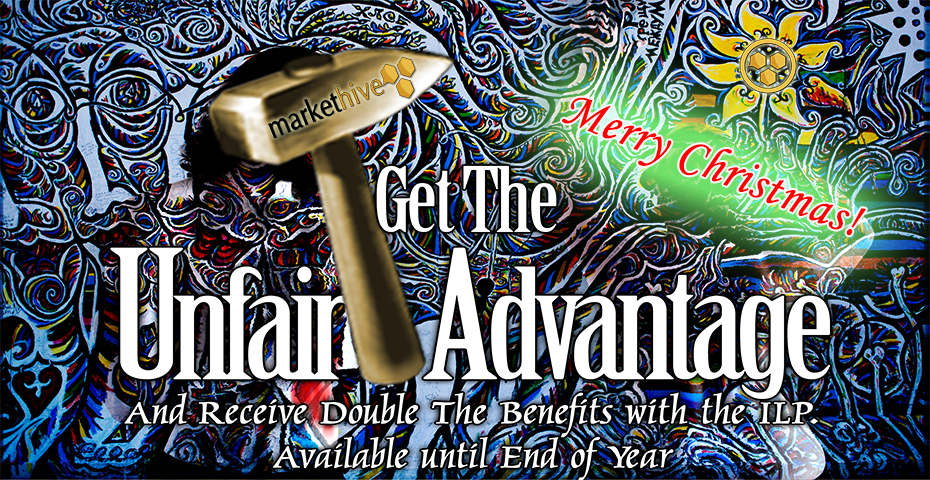 Double Your ILP Benefits! Available Now Till The End Of December This Year
Something big is happening at Markethive! As announced by Thomas Prendergast, the CEO of Markethive in the video below, he has something very special for all Entrepreneur One Upgrades as a special thank you and appreciation for your loyalty and belief in Markethive. Your steadfast focus on the overall vision and seeing the bigger picture will not go unrewarded.
Further to that, any new or free member who wishes to upgrade to Entrepreneur One by the end of December 2019 will also be rewarded with the same very generous offer.
So, What Is The Unfair Advantage Offer?
For all free members that upgrade to Entrepreneur One @ $100usd per month, we will double your ILP (Incentivized Loan Program) Learn More about the ILP here. What this means is if you stay active with your monthly payment for a consecutive 12 month period, you will receive not one, but two 1/10th shares of an ILP.
The same offer applies to our already upgraded Entrepreneur One associates.
The ILP will be limited to 1000 shares which represent 20% of the net revenue of the company. If LinkedIn had offered this opportunity to its members back in the day, that would mean a cool $36,000 a month for each member holding a 1/10th of an ILP share. Currently, LinkedIn is generating $1.8 Billion a quarter in revenue and keep in mind, Markethive is poised to be as big if not bigger than LinkedIn.
We are currently at 100,000 unique visitors a day and Markethive's Alexa ranking puts it in the top 2, 3 or 4 of many 1000's of systems on the internet.
The statistics in the image below are in the crypto digital media market. Where there are over 100s of crypto media broadcasters competing for traffic and selling ad space, press releases, traffic, etc. Markethive has risen to number 4 placement in this extremely competitive market.

Markethive also ranks number 3 in the top 10 MLM companies. Even though Markethive is not an MLM company we do support the industry and have more traffic than 99% of the MLM industry! So we are definitely on our way to be the very lucrative decentralized safe haven for all budding and seasoned entrepreneurs being the first Market Network built on the blockchain offering universal income in the form of faucets, infinity airdrops, and loyalty programs. No one else offers anything like this at this magnitude!


What Else In It For You?
There are so many benefits to being an E1 upgrade apart from the extra products and services you receive with Markethive's inbound marketing platform, like unlimited autoresponders, email broadcasting, Banner Ad program and eCommerce friendly Storefronts with API driven architecture to name a few.
Banner Program Exchange
Soon Markethive will be launching the Banner Program Exchange which will allow all Entrepreneur One associates to sell their share of impressions on the banner allotments which can equate to around $3000 - $4000 a month income for you, just for selling your unwanted impressions for that month. The impressions of your banner allotments are also available to free members to purchase. This alone opens up a very lucrative source of income for E1 upgrades.
But Wait, There's More
This even gets more exciting when we deliver the Markethive Press Release System and floating video system. (more on that later) And of course the matching bonus of 500 MHV coins you receive when your referrals sign up in Markethive, which is a great way to accumulate your coins before the introduction of the wallet and Markethive Exchange.

Check out this short video by Thomas Prendergast explaining the unique ILP doubler offer...

Conclusion
The Unfair Advantage Offer is for a limited time during the month of December 2019 for any free members who haven't taken advantage of the Entrepreneur One upgrade as yet. To the rest of you E1s, by keeping current with your monthly payments, that also sets you up to receive an extra 1/10th of an ILP at the end of 2020.
The chance to upgrade to the whole E1 loyalty program will cease once Markethive reaches 1000 ILPs. We are still in BETA and you are the early adopters of this next generation web 3.0 platform and like the limited number of fat cat investors/shareholders at LinkedIn and Facebook, you will get your share of the profits. The only difference is you are the community that has been given an equal, and affordable opportunity that other major tech giants have overlooked.
Markethive is built for the people, by the people and is of the people. The entrepreneurs who see the magnanimity of Markethive are the fabric that will help Markethive reach their goals including the launch of the wallet so much faster and everyone will benefit. It is going to explode in growth and you have the advantage of riding this wave.
So now is the time to get the unfair advantage and receive double the benefits with the ILP, available till the end of this year 2019. This is an incredible offer, don't miss out. This link will take you to the Entrepreneur 1 Upgrade page of Markethive where the video explains what you get and how to register for your piece of Markethive along with an exciting future in this blockchain age of the world's first social market network.
Merry Christmas to You All!!

Deb Williams
A Crypto/Blockchain enthusiast and a strong advocate for technology, progress, and freedom of speech. I embrace "change" with a passion and my purpose in life is to help people understand, accept and move forward with enthusiasm to achieve their goals.