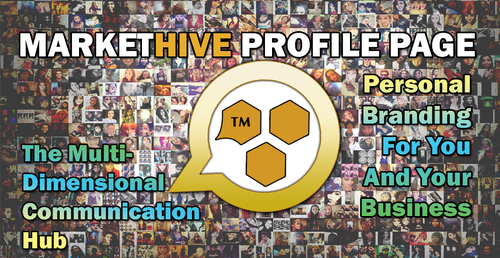 Markethive Profile Page -
The Multi-Dimensional Communication Hub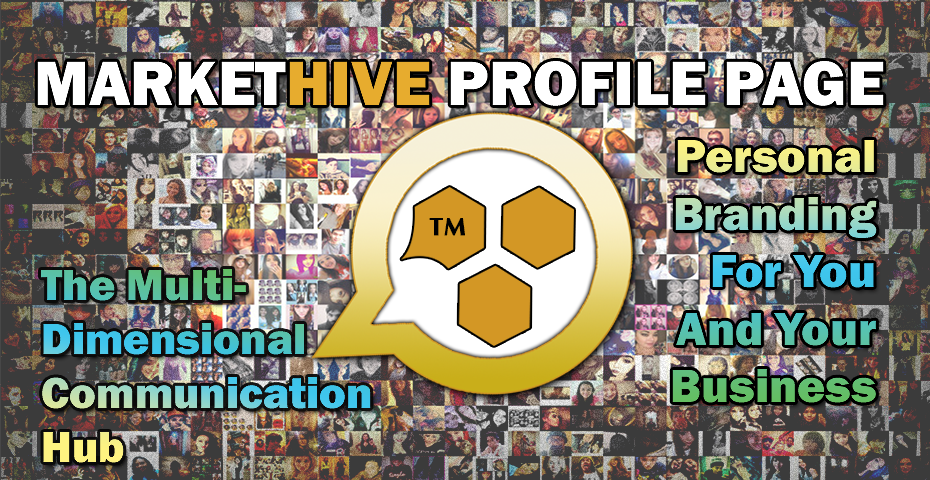 Personal Branding For You and Your Business
Profile Page - How Will It Benefit You
Your public profile page is where you need to start branding yourself. It is a multi-dimensional Communication Hub, Social Networks Hub, Back Links Hub, Bio, and Resume, Images Hub, *Video Hub, Accolades display, your Groups, your Blog lists, and tracking statistics. Friends are all central to your profile. Your profile page is an excellent way to brand yourself and your product or service.
Note: The *Video Hub is being upgraded. As Google+ has been discontinued we are not able to connect and upload videos from our YouTube account as we were able to previously, so Markethive is in the process of replacing the Youtube interface and will be operational in the very near future. Until then, you can still upload Youtube videos with the embed link provided by Youtube when creating a blog by clicking on the source code in edit settings.
Profile Page Settings
Here is where you upload your photo and your Bio. You can also change the privacy settings. Your profile page link is also displayed here. This is where you should start. Click on the Profile Page Settings tab at the bottom of the menu and it will take you to the page displayed in the image below.
When there, you click on "Manage" shown at the right of each topic. This will open up the edit settings.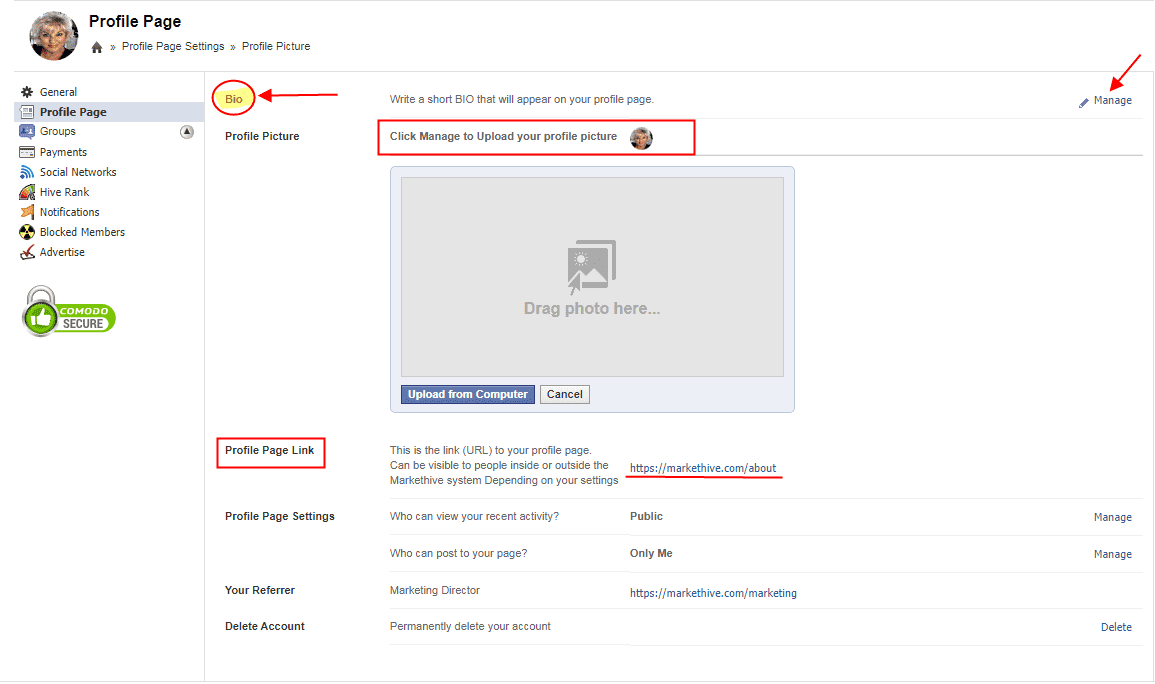 Biography or Resume Builder
Your Markethive profile page also has an optional Bio link. This is where you can talk about yourself, your experience and accolades, business or anything you desire to add. This page is not limited which means you can make it as long or as short as you want and include images, links, and videos. Just like the Markethive Blog features it is delivered in both HTML as well as PDF. The Bio is optional and can be set to private invite, friends or public. You can also delete or remove your bio from your Profile Page. Your Bio is found on the menu of your profile page, situated above "Recent Activity".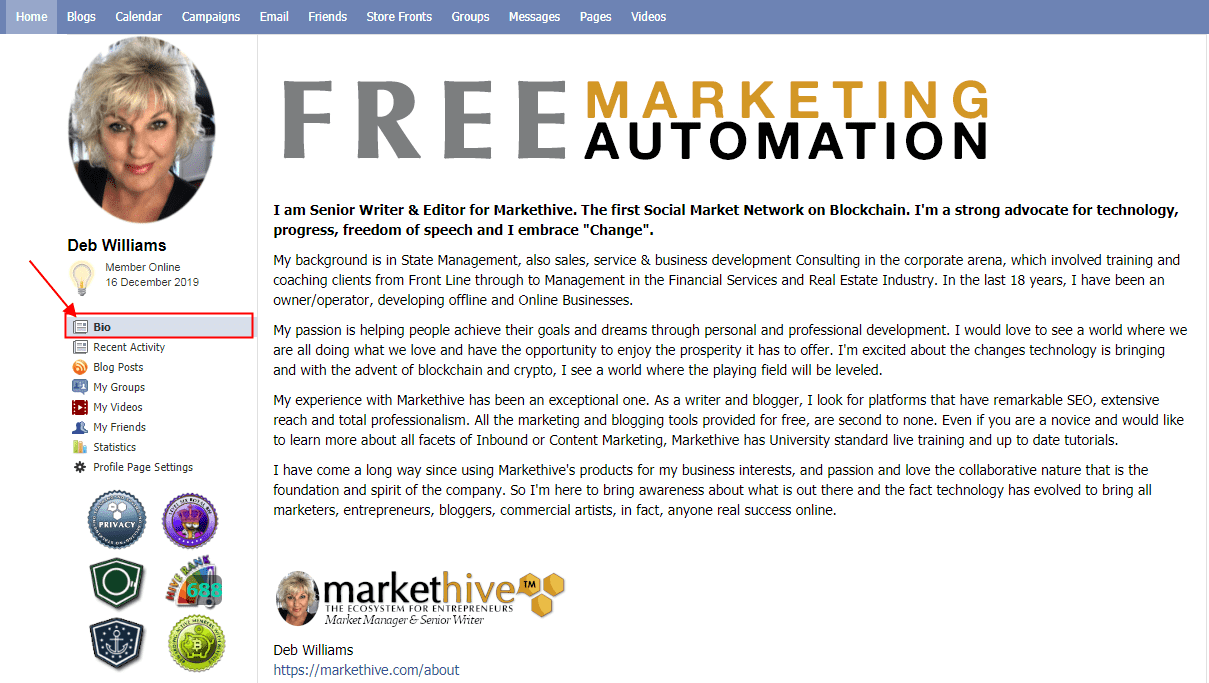 Recent Activity - That Pays
Recent Activity acts as a timeline and displays the posts that you publish either in the news feed or on your recent activity page. As well as your capture page link found on the referral Program page, the Profile Page with your own link is also your portal to invite others to join and with just 3 referrals, Markethive's micropayment system activates. That means you are paid to use the platform within Markethive by way of a faucet in Markethive Coin. As MHV is a Consumer Coin the velocity is poised to increase as Markethive enters full launch.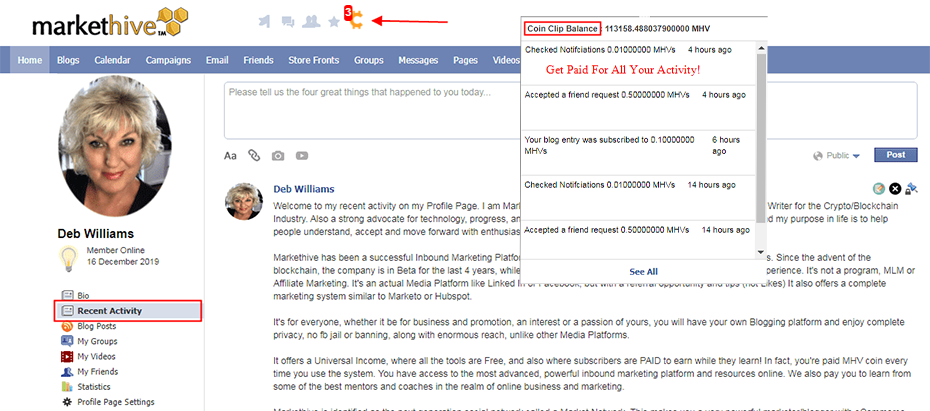 Markethive Tracking Feature
Every aspect of Markethive tracks your incoming tracking and reports. This tracking is built into your Profile page, personal blogs, and your capture pages, also WP plugins, giving a virtual full data on all your assets. From the daily activity report, Geographic map of connections, Device type, Bounce rate, referrers, Keywords, and Social Networks traffic. You can view this tracking feature by clicking on Statistics in the menu.
By Date View Of Statistics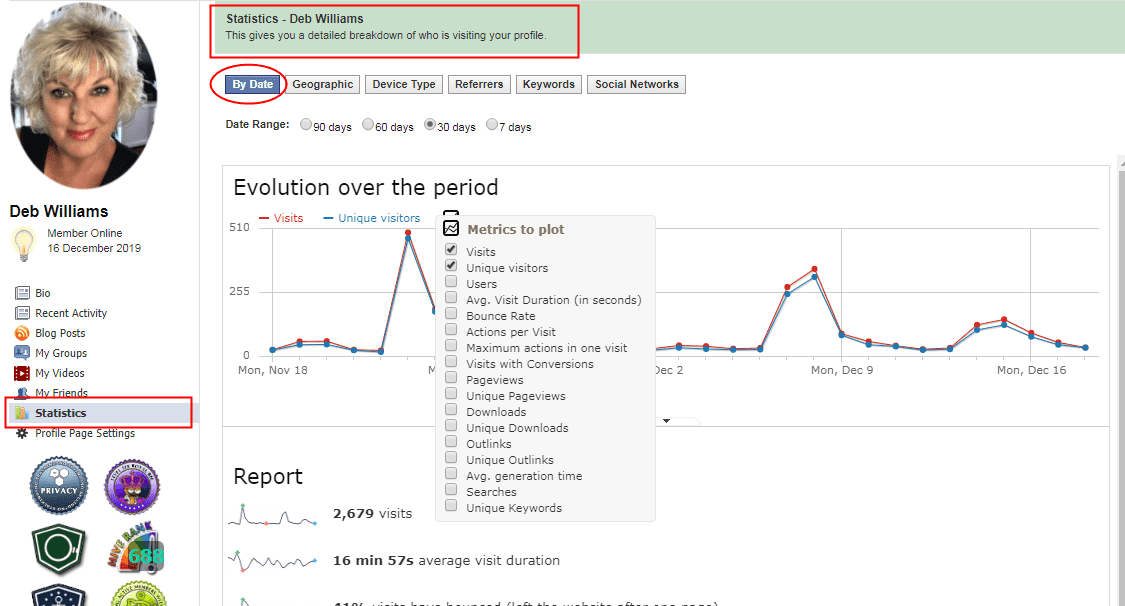 Geographical View Of Statistics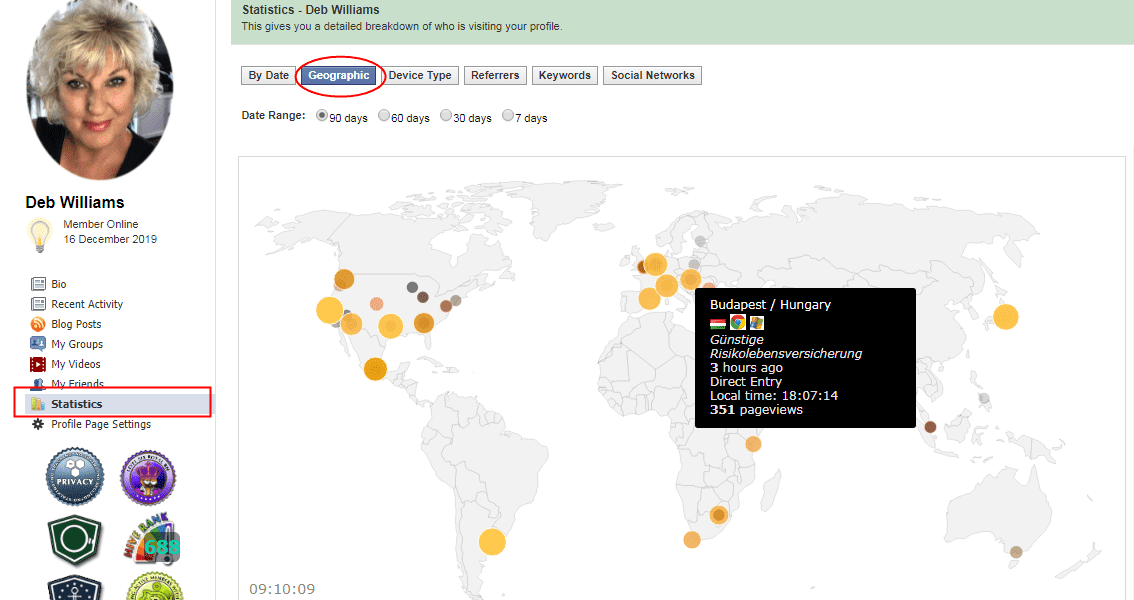 Social Networks
Authorize the integration of your other social network accounts and leverage them all from a single, powerful system! You maintain control of everything. With each account you add, you are opening up the features and options available to you through this system. This is an extremely powerful way to streamline and centralize your online marketing with social networking tools!
Note: These are in the process of being updated and more networks will be added.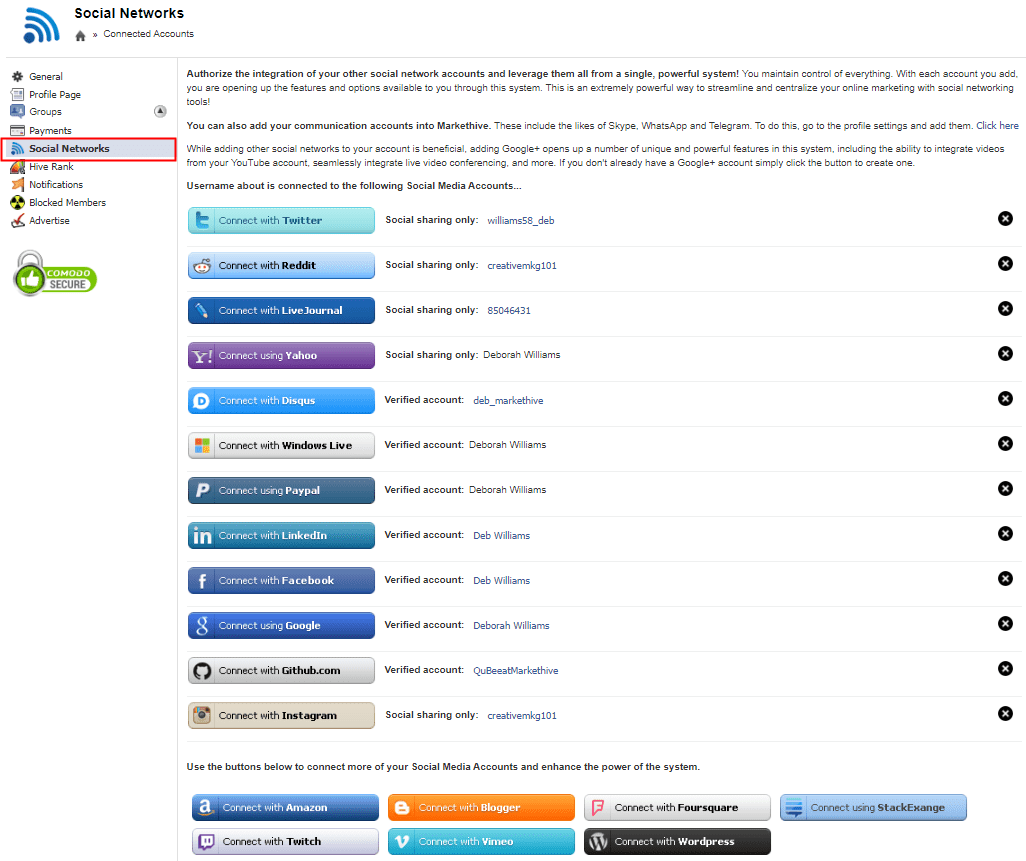 A News Feed Like No Other
Coupled with the Profile Hub, the News Feed being nearly identical to other well-known feeds is easy to use. But unlike the others, we have replaced Likes with Tips, tips that allow you the option to give your friends a small token or coin of appreciation.
Our collaborative community is encouraged to "Tip" the newcomers (instead of Like - the thumbs up) upon joining Markethive, as a token of appreciation and welcome message. The newcomers are displayed in the newsfeed as soon as they join Markethive in real-time. You see, if you tip someone for any reason, Markethive pays you for tipping them, so you're never out of pocket. As a free member Tipping is automatically activated at the time of registering.
Your News Feed is 100% responsive to any device; therefore your device web browser is all that is needed. Saving your phone disk space and assuring you greater security and privacy.
As far as Search algorithms go, you will be able to determine and orchestrate your algorithms. Not Markethive. You decide who and what you see on your newsfeed. There is no limit to the size of your friends' database. Your newsfeed is completely searchable as well with both your news feed preferences and search criteria covering literally hundreds of variables and options.
Conclusion
Markethive has built a system to empower the Entrepreneur, with amazing valuable Inbound Marketing systems integrated within a social network with multiple commerce platforms. All of this on a Blockchain foundation, which above all the other benefits, allows Markethive to pay its members, (regardless if free or upgraded Entrepreneurs) to engage. Just refer 3 people to unlock the micropayment faucet.
We are focused on providing a Universal type of income for aspiring entrepreneurs. We believe sharing our resources with you as you build your business and seek to reach your goals, benefits all of us.
If you haven't visited the tutorials yet this previous blog will guide you on how to complete the first steps. Markethive Tutorials - This Is Where It All Starts
We welcome all to our collaborative world of the Entrepreneur, the Markethive, built for you, by you and with you.

Deb Williams
A Crypto/Blockchain enthusiast and a strong advocate for technology, progress, and freedom of speech. I embrace "change" with a passion and my purpose in life is to help people understand, accept and move forward with enthusiasm to achieve their goals.