.
The Next Generation Of Social Networks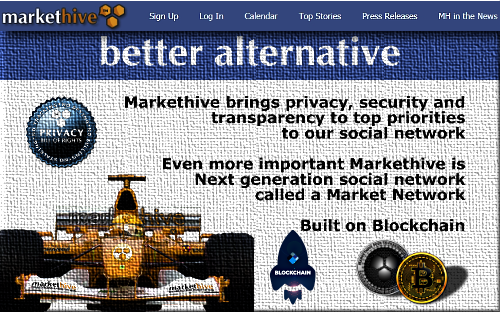 Things Online are Changing from the way we know it
Let's face it things have changed in the Social media and Marketing space from as recently as 2 years ago! Back then it was easy to throw up a link on facebook, get quite a bit of attention and make money. Marketing funnels are not what they used to be. Marketing on Social media is not what it used to be. A lot of people that have been somewhat successful are now failing as their systems and funnels just aren't working anymore and are struggling.
There is a massive culling going on right now and it has been said, it's not the strongest who survive, but the ones that are adaptable to change. People that are willing to change and be open to technology and new concepts will not be left behind. It is extremely important to be focused rather than diversified and it sure helps to have all the tools needed under one roof.
All Social Media Web 2.0 has become problematic and serious issues are occurring on many levels…
The harvesting of data causing dismay among users. 60% do not trust Facebook with their personal information.

The Social Media system is being destroyed due to spying, tracking and deeming content fake or unsuitable for their agenda.

Closing of accounts and confiscating the user's money if they don't agree with what's being promoted.

Shadow banning has become ubiquitous resulting in users leaving the network, looking for alternatives.

Notably, there is a systematic reduction of income of those who rely on Social Media as their source of income.
It is not delivering good results for Marketers who use Social Media. There are 10 top social networks for developing business. Facebook has fallen to No.10 and LinkedIn is right behind it at No. 9.
Social Networked
Markethive evolved from a previous social network pioneered by the CEO called Veretekk. It became a chicken or the egg dilemma, as automated marketing evolved into Inbound Marketing requiring the collaborative effects of a needed social network primarily of entrepreneurs. The Collaboration within Markethive vs the Conflagration found in Facebook offers a positive, constructive ecosystem. With the tools needed for marketing, most members embraced the collaborative effect of working on campaigns, projects, and strategies together. So a new but familiar social network navigation was built.
Based on the Facebook navigational design, the network was integrated into the SAAS tool dashboards and the commerce platforms and the first Market Network called Markethive was born. This means you feel right at home with a familiar navigational environment as you learn the tools and procedures to build a business and at Markethive you get paid to do so as well.
This Is The Next Generation
Markethive is the first Market Network with a collaborative social media interface. All the marketing tools, live training, and tutorials are free and included with membership. This allows entrepreneurs, marketers, commercial artists, and the novice to aspire and succeed in a fluid, collaborative and nurturing environment.
Markethive, built on the Blockchain, offers total privacy, transparency, and autonomy to all users. A decentralized platform in which all data is protected means...
compromising users' data becomes impossible.

A meritocratic system negates being banned or suspended

Blogcasting and messaging cannot be tracked across the web
The Blockchain allows Markethive to produce its own consumer coin and rewards its members for engaging on the platform. This is by way of airdrops upon joining and a micropayment system. Markethive's infrastructure facilitates…
A free marketplace where all artists and entrepreneurs can showcase and distribute their products, monetize and get paid without the fear of reducing or losing their revenue or Markethive account.

Protects the users' against losses as transactions are done within the Markethive Platform.

A complete turnkey financial system within Markethive which enhances our economic velocity.

A free market media and content publishers with a reach well beyond existing social and market networks.
A Social Media News Feed
The News Feed being nearly identical to other well-known feeds is easy to use. But unlike the others, we have replaced Likes with Tips, tips that allow you the option to give your friends a small token or coin of appreciation. Your News Feed is 100% responsive to any device; therefore your device web browser is all that is needed. Saving your phone disk space and assuring you greater security and privacy.
Search Algorithms
You determine and orchestrate your algorithms. Not Markethive. You decide who and what you see on your newsfeed. There is no limit to the size of your friends' database. Your newsfeed is completely searchable as well with both your news feed preferences and search criteria covering literally hundreds of variables and options.
Privacy
Blockchain makes privacy and security genetic to the system. Markethive does not and cannot shadowban you, track you, or even ban your account. Only you can terminate your data and account because only you control your data at Markethive.
Stability
With the advantages of a distributed and peer to peer data, communications, broadcasting, and marketing foundation, the likelihood of a data crash, central server failure, hacking, political unrest are all heavily mitigated delivering an extremely stable platform for each subscriber on their own merit.
Conclusion
Things have definitely changed for Entrepreneurs and Marketers, in fact, everyone who uses Social Media in general. The most poignant issue is one of freedom of speech and privacy. Given the unscrupulous events of the recent past, people feel invaded, intimidated and restricted. Many are looking for alternatives. A few years ago, there were none, but today is a very different story.
Markethive is a full suite "Inbound Marketing" platform integrated with a full scale "social network" targeting the 800 million "Entrepreneur" global populations. This new revolution of the next wave of progressions is known as Market Networks, compared to the last wave of Social Networks.
All users have the opportunity to increase their brand awareness and financial status within the Markethive Ecosystem while building and monetizing their own private businesses.
Published on CCN https://www.ccn.com/the-next-generation-of-social-networks
Deb Williams
Market Manager for Markethive, a global Market Network, and Writer for the Crypto/Blockchain Industry. Also a strong advocate for technology, progress, and freedom of speech. I embrace "Change" with a passion and my purpose in life is to help people understand, accept and move forward with enthusiasm to achieve their goals.