Understanding the Markethive blog and cloud

Markethive did not invent the blog, but we certainly have made it exponentially more powerful. We certainly have added fun, understanding, reach, groups, daily workshops, understanding and power to the process.
Markethive has successfully combined all the technical and tactical aspects and requirements into one system, but have also overcome the obstacles to make blogging a group process, combined with motivated mentors to help the newbie easily immerse and embrace the process.
We did not invent Word Press, but we have significantly taken Word Press serious and made it exponentially better. This blog's focus is to help you understand the paradigm dynamic shift Markethive has brought to marketing, blogging and the individual within the hive.
The following video attempts to reveal and illustrate how the whole social blogging platform in Markethive changes the entire Internet field of engagement.
Understanding SEO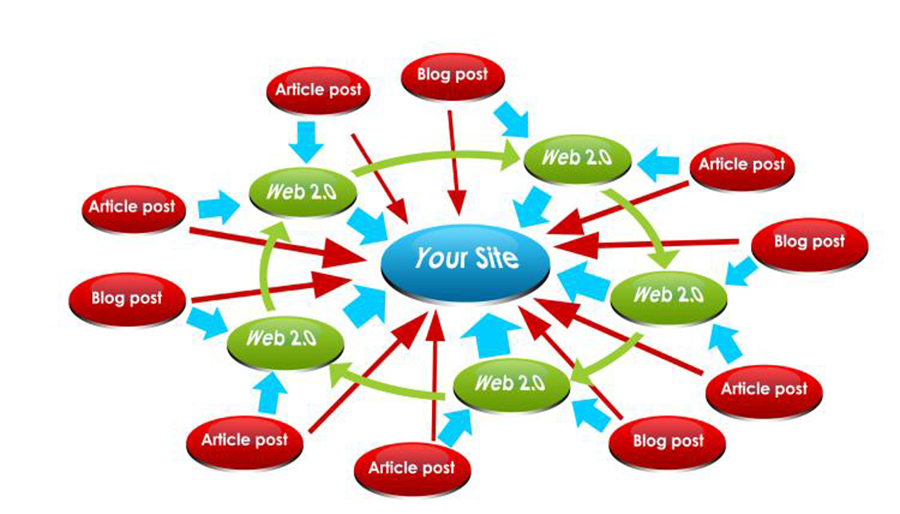 You can approach the challenge alone, hire a firm and/or a virtual assistance and take the Internet on. This ego centered approach works for many who have the grit and stamina and educated skills of journalism and polished writing (a note here: As the Internet has evolved, the polished blogger vs the blogger that lacks the polish but has the passion, wins in today's culture).
Approaching the blogosphere as a crew, a group, a gang or a family wins today. Because fresh, new, consistent and current content win and win you combine a social network into a blogging platform, the results are impressive.
Understanding SEO isn't easy, and Google doesn't help things much by changing the algorithms and policies on a regular basis. Seems like every time we get a handle on things, the rules change, and we're all left wondering what we're doing wrong and what we might still possibly be doing right.
The whole SEO quotient changes when the social network variable is integrated. This is why SEO at Markethive changes the playing field.
So a social network integrated blogging solution is at hand, and, there's one thing you may have been doing correctly already from the start: That being blogging. You probably have a million reasons to blog, not the least of which include building trust among your buyers, positioning yourself as an expert, and simply sharing news with your company's followers. Then, of course, there are those activities that help to boost your SEO rankings. These can only help you if you know how to use them, so make note of these 9 reasons blogging can boost your SEO.
Enter the Markethive Social Network Engine combined with the Inbound Marketing Engine. Kind of reminds of the Hot Rods of the 60s like Eddie Hill's double dragon (see image):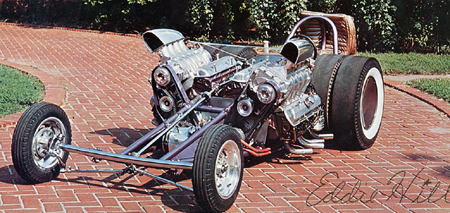 Except with Markethive, the combining the two huge engines of the Internet, Social Networking and Inbound Marketing has an exponential nature to it, not just a geometrical quotient.
This innovative integration of these two power houses has a powerful effect on all that ios Internet Marketing as I illustrate, please read on.
Backlinking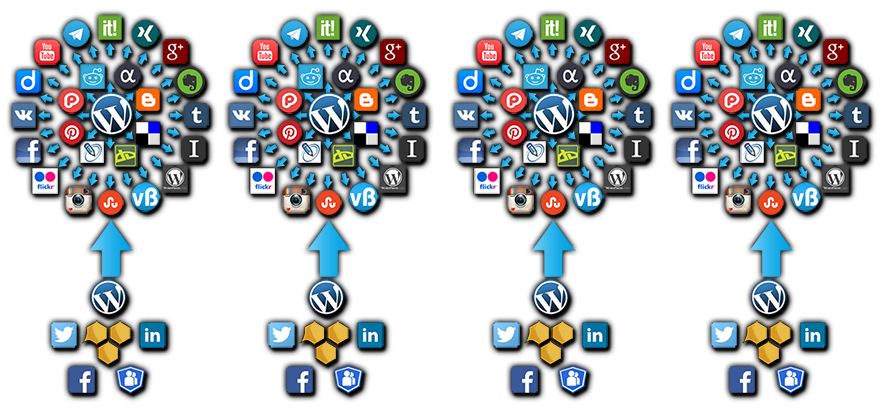 The following is the conventional wisdom perspective to today's linking approach.
Some of the techniques used for SEO when blogging raise eyebrows, and back linking is no exception. Many will tell you link schemes will get you a slap on the wrist from Google, and they'd be right. Does that mean you can't build relationships with other companies and blogs by including links and asking for some in return? Not at all.
You can still benefit greatly from being linked and linking to others, but there are some things to keep in mind. First, if you've paid for your link, be sure they use the nofollow designation. Otherwise, you'll be penalized. Next, work with reputable, quality sites that fit your blog's niche. When links to your blog appear on sites that have nothing to do with your company, you'll get another ding from Google. Finally, use the same basic rules for any blogs you link to on your site.
Good quality links from popular, well-respected sites can definitely help your SEO rankings, but only if you do it right.
Now, with that said, the amazing change that occurs to your campaign to build organic, condust and create relationships in the blogging power of the Inbound Marketing Social Network of Markethive, delivers a plethora of SEO (Search Engine Optimization), SNM (Social Network Marketing) and the advantages therein if developing unlimited streams of unique content, automated into literally millions of sites, social networks, social bookmarks, blogging platforms from the stream of content that flows out of the Markethive Social Network you are part of or built.
So what does all that mean? As the natural order of our recent tech releases of the Blog Casting (Social Broadcaster) and Blog Swiping (where your friends and other members can easily copy and edit your blog) then publish it and with the advent of this opening the possibility with these new tools produce a cacophony of your content, links, back links, side links, social reaches into the millions. All built upon chaos theory and technology.
The natural organic process to build a huge amazing white hat mass of blog and site links and social reach, thereby, the vision of the Blog Cloud has come to be reality, thank you Markethive, the social networked Inbound Marketing juggernaut.
Simply put, not just combining but fully integrating two platforms, the Entrepreneurial Social Network and a fully appointed Inbound Marketing platform, has opened up doorways not otherwise capable or even aware of or identified in the exponential character of the Markethive Hybrid. Sort of like Twin Towers built on the same foundation.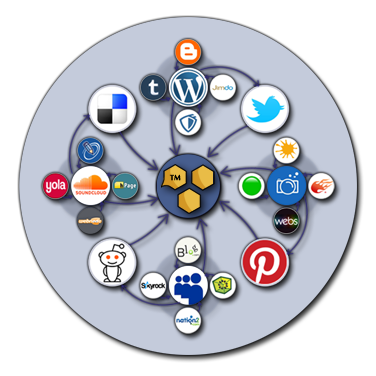 Actually more like a million communities of twin towers all inter connected and pulsing and thriving with the constant flow of content and videos and communications (comments and messaging) even further empowered with a constant thriving community of live conference room activity.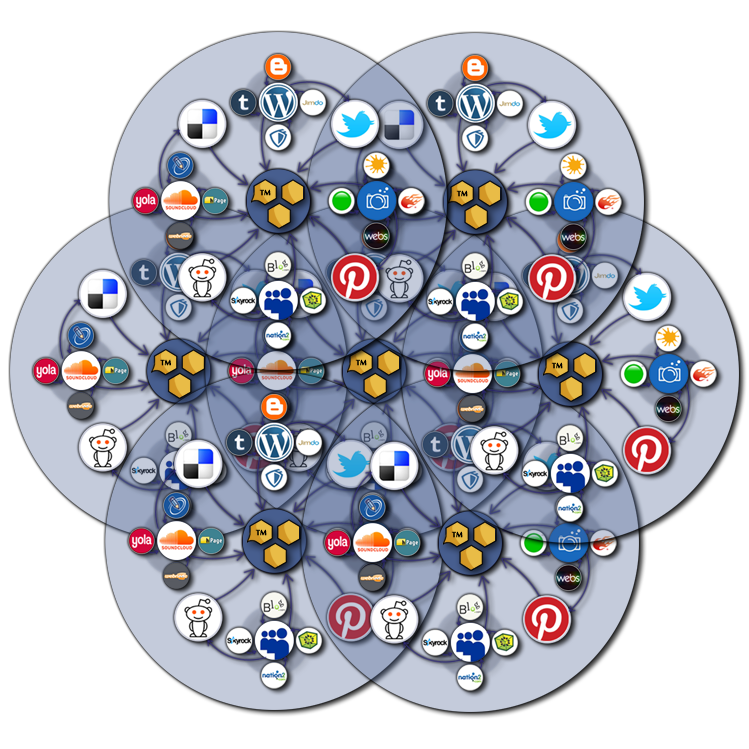 Guest Blogging
Again Markethive takes the awkward and difficult process of guest blogging and turns it into a graceful social dance. I will explain after I share again the Internet's explanation of what has been defined as guest blogging.
The latest hoopla suggests guest blogging is dead, but that's not necessarily true. As with the backlinking, guest blogs can be tremendously beneficial to the SEO of your website. If you work with reputable writers who are indeed experts in their industry, their popularity can only help you.
For this tactic to work, you must be vigilant when screening potential bloggers. Interview them, research their backgrounds, and compare their submission to everything they've written before to make sure you get truly unique content. If you follow Google's quality guidelines, your guest blog from a well-known source will bring you tremendous traffic and boost your search engine rankings.
Markethive has turned this difficult proposition into one of grace and ease. Because the core of your blogging can now be centered within Markethive, which supports and publishes to just about every blogging platform out there. As a social network, you can build a sphere of influence easily with others who are open to and or capable of assisting in your blogging efforts.
Groups also serve as additional blogging platforms, for the individual who keeps track of different campaigns separated by the groups. Groups also parlay into teams of content creators, allow a team captain to manage and lead the agenda and monitor and choose the array of articles by the group to which blog(s) that article automatically gets sent.
The options that the Markethive tools has created for diverse and distributed content is unlimited and better managed than any other option available in the blogosphere.
Group Blogging not only replaces the old guard of guest blogging, it enhances it, makes it easier to, manage and distribute. It changes the entire playing field.
You can integrate single Markethive members, and/or integrate entire groups into as many blog systems you wish. By simply organizing, selecting and developing different cock tails groups for your blogs, you can literally create unlimited selections and unlimited content for unlimited blogs, your blogs, their blogs, unlimited groups of competent writers and marketers. Get into the mix, join some groups, and get into some Workshops and put the system to work for you.
We can even say that you can produce dynamic content on your blog without as much effort as the conventional way.

Fresh Content

Search engines love fresh, unique content. How often do the pages on your website change? Probably not very often at all. That's why you must keep a steady blog filled with new information every week. Those search engines customers used to find companies just like yours will pull the freshest and most relevant content whenever a search is performed. If your site hasn't been updated with new information in over a year, you can bet someone else's will rank higher than yours in the results.
By blogging, you build relationships with your readers, position yourself as an expert in the field, and perhaps most importantly, provide new content for Google to index.
By joining Markethive you build relationships with thousands of others who are actively building business, blogging, researching, etc. basically being "entrepreneurs" and advancing their businesses and agendas. Often you can join with these people as friends, group members and subscribers of theirs via Blog Casting, Blog Sharing and Blog Swiping.
When you are an active member in a good group (active and current), using meetings and live webinars, discussions breed inspirations which support developing new content. Here is a tip I use to help with fresh content. I want to write about the "current trends for the entrepreneur market". So I go to Google and I search the tail words SEO entrepreneur trends but I designate a small tool many are not aware of.
It is found in "Search tools" in the Google search as the illustration below demonstrates. Choose last week or within 24 hours to get very fresh current content to use in building your blog article. This way, you are assured to be utilizing current references building current articles, sharing with your groups and creating a dynamic culture. Checking new content with Google daily in relations to your agenda is something that should also be shared (the search link) within your groups for discussion.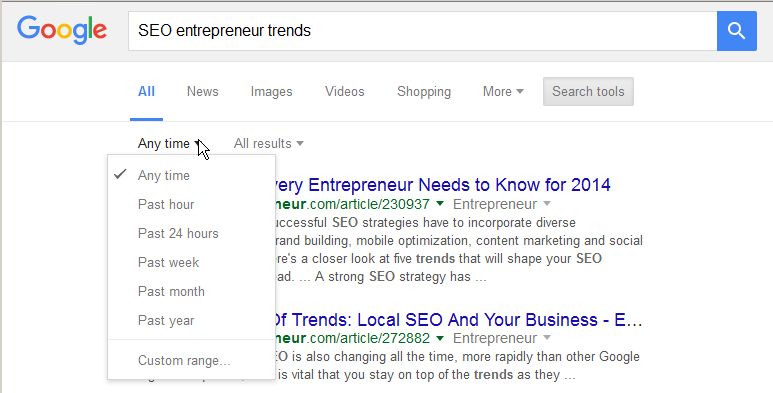 Keywords
Keywords go hand in hand with fresh content. It also pays to see what current or newest results are shown for current sites utilizing the same technique for current content for your research and agenda.
Even though keywords really don't hold the same weight they once did, it still needs your attention. In fact, this is another aspect of SEO you can do really wrong and end up punished for. The age of cramming keywords into a blog over and over, regardless of what they add to the content, is over. Now those keywords have to serve a purpose. You really want to make sure you choose unique keywords that will lead searchers to your site but not so unique that no one thinks to use them. If you choose words that are used too often, you won't get much benefit out of them.
Your best bet with keywords and search terms is to use long-tail keywords and phrases that people may use when searching. Instead of focusing too much on keyword placement and making sure you include the words a certain number of times, concentrate on simply answering questions. Provide knowledge for those who reach your site. They don't need a million keywords; they need answers.
For instance, the long-tail keyword "Inbound Marketing" had barely begun trending in 2009 with a slow crawl upward until just recently, with the advent of Markethive's soft launch and discussions of the definition of "Inbound Marketing" and the increase of Social Network chatter in that regards we are now seeing the current trend start to grow.

My first company invented what we called "Automated Marketing" but today fits the new definition "Inbound Marketing" As you can see the term "Automated Marketing" is trending down from a long crown of being a top searched keyword.

See the trend towards "Marketing Automation" beginning? Why is Marketing Automation trending up and Automated Marketing trending down? Does it deserve research?

In my opinion no, but, what does need to be looked at in my regards is our new pre launched/soft launched company (as of May7, 2016) is the Trademark "Markethive".

Because if we read these trends right, we want to make sure we mention Markethive often in connection to "Inbound Marketing" and "Marketing Automation". This will place squarely in front of the trend curve binding the "long tail" keywords together.
Markethive's SEO keyword system leads us to these research outcomes, but until the Google API is fully integrated to Markethive's Keyword platform I go to the Google Trend panel here as well.
https://www.google.com/trends/

Popularity

When your blogs are shared and consequently clicked on, they move up in the search rankings. If you're providing quality content, your readers will want others to know. Of course, the only way to make sure your blogs contribute to your website's popularity is to create unique content, provide answers for visitors, and then share your blogs wherever you can.
That key point "Share your blogs wherever you can" is another way of saying "Broadcast" them. And Markethive has taken Broadcasting to new heights with Blog Casting and SNAP. Blog Casting is a Markethive subscribe feature that other Markethive members use to subscribe to your Markethive blog. When they subscribe (and the potential is 1000s of them), your blog posts are automatically posted to their Facebook Newsfeeds, LinkedIn activity feeds and your Twitter tweets feed.
When you understand that this down stream of subscribers, fellow entrepreneurs at MarketHive, are exposing their connections to your message, they are lifting you up, increasing your popularity and building greater branding for you.
Then there is the Blog Sharing feature that also allows your fellow Markethive entrepreneurs to import your blog posts to their WordPress blogs using the SNAP plugin increasing your message (your posts) to another 25 of their social networks, Facebook Pages, LinkedIn company pages, SumbleUpon, Tumbler, Livejournal, Blogspot, ets, exponentially increasing your exposure and adding to your back links.
When you discover the responsibility this represents that you show respect, produce quality content to your loyal downstream, you now have the opportunity to build a huge popular following. Markethive, The Rise of the Entrepreneur. We have put a great future in your hands. Now it is up to you.

Images

Including images in your blog gives you one more way search engines can find you. Make sure you name them according to the search terms or keywords, and then do the same for the alt-text. The alt-text is meant to describe what's in the image for those who don't or aren't able to see images on their computer screens. For this reason, your alt-text must be carefully crafted to serve two purposes: SEO and information.
I search a lot in images and so do others. They may be looking for an image to fill a need, the reasons vary, but a lot of traffic does come from image searching, so do not ignore this small duty. Alt tags serve an important batch of duties.
When installing images in the Markethive HTML control panel, the following Image control panel, second tab, is where to enter your keywords and descriptions.

When looking at the HTML code, this is exactly what ALT tags look like and search engines Index.

Video

As with photos, video simply gives you more dynamic content that you can share with your readers. Remember they're looking for excellent, unique content, so be sure you include only videos that serve a purpose. Proprietary videos are always the best bet, since syndicated content will show up on several different sites during a search result.
If you have never made a video, get some screen capturing software. I use Camtasia (cost about $300)
https://www.techsmith.com/camtasia.html

I also down load others videos to use them in my final productions. I build titles and other content with Photoshop Software, but there are other cheaper alternatives. Many of my friends recommend GIMP for image editing. https://www.gimp.org/
A video download app for Chrome I use is free. https://keepvid.com/
I recommend you make as many of your videos you can, but do not produce bad or funky videos. Today, you need quality and you are welcome to download and use all Markethive videos I produce for yourself.
Be sure you tag your videos with appropriate search terms before you post. Let readers know exactly what's going on in the video so they can find your content in a search.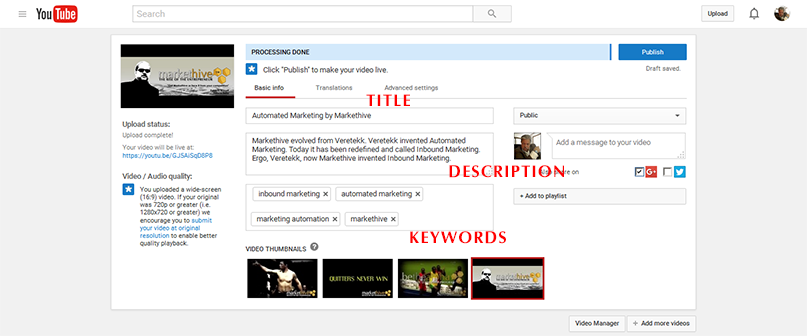 I know video editing and production can be daunting to many at first. However, we have plenty od excellent talent that offer video workshops in Markethive. Just check the calendar or enquire within the membership (Social Network).
Remember we are all Entrepreneurs and most of us are also philanthropic and want to help you succeed. I know I do.
Check the calendar
Social Media

Believe it or not, Google also returns social media search results. If you connect your blog to your Facebook, Twitter, and other social media accounts, you give search engines one more thing to find when people look for your company. As long as you use search terms in your titles and meta descriptions, you'll boost your SEO through social media listings, too.
A popular set of current wisdom pulled from the Internet void (5 Things to Think About When Considering The Impact of Social on SEO) :
1. Social Links May or May Not Boost Your Search Rank
Okay, social signals pertaining to a profile's authority are out, but does Google consider links published on social accounts to be credible backlinks? When a blog post goes viral on Twitter, do those new links boost the post's search ranking?
Many marketers believe that links to your website via social media accounts do have a major impact on your rankings. Says Marketing Consultant Brian Honigman:
Today, links are mainly achieved through developing original content that is in turn, shared across social media. Links to your content on Facebook, Twitter, LinkedIn, Google+, YouTube and other social networks help the search engines understand what websites are credible and should be ranked for what keyword phrases.
In Danny Sullivan's 2010 interview with Google and Bing for Search Engine Watch, Google first says that it doesn't incorporate the number of times a link has been tweeted into their search rank algorithm, and then it goes on to say that it does (doh). Bing says that it definitely looks at this data:
We take into consideration how often a link has been tweeted or retweeted, as well as the authority of the Twitter users that shared the link.
While Cutts' 2014 video is crystal-clear about the absence of social signals from the search algorithm, he does say that Google crawls social websites for data in the same way that it would any other site:
Facebook and Twitter pages are treated like any other pages in our web index, and so if something occurs on Twitter or occurs on Facebook and we're able to crawl it then we can return that in our search results.
This leads me to think that while the authority of a social account doesn't impact search rank, links published on social media could be marked as credible back-links and thus influence a page's rank.
Takeaways: When Cutts made his statement about Google not factoring in social signals I understood him to mean clues about a particular company's authority on social media, which, for me, is distinct from the number of times a page has been linked to on social media. Further research didn't help me get much clarity on this point.
If there are any SEO experts reading this, I'd love for you to chime in below in the comments.
2. Social Media Profiles Rank in Search Engines
While social shares may or may not affect a webpage's position in search listings, your social profiles definitely influence the content of your search results. In fact, social media profiles are often amongst the top results in search listings for brand names. When I searched "General Electric" in Google, the company's Instagram and Pinterest profiles appeared as the 5th and 6th listings, respectively, and Twitter was the 8th result.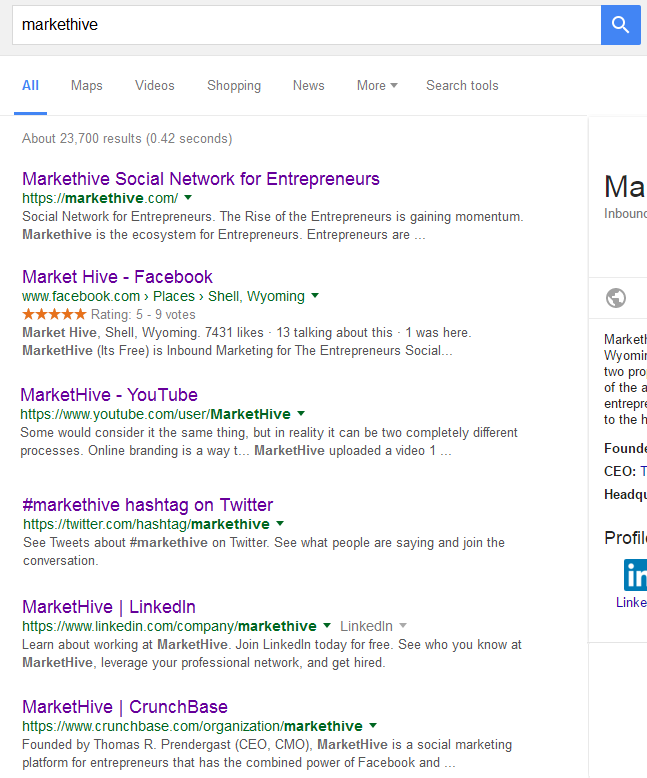 Moreover, Google displayed the company's Google+ profile information in the right-hand sidebar at the very top of the search results page.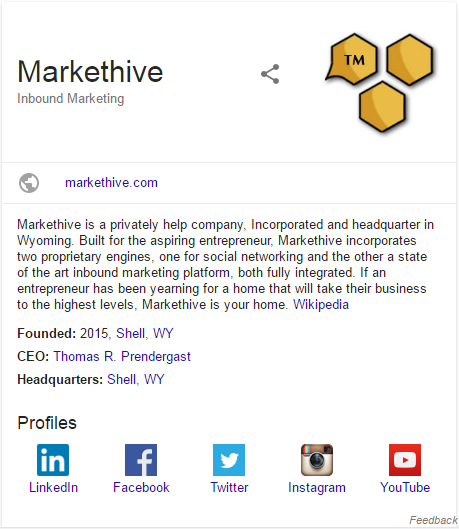 While social shares may or may not affect a webpage's position in search listings, your social profiles definitely influence the content of your search results. In fact, social media profiles are often amongst the top results in search listings for brand names. When I searched "General Electric" in Google, the company's Instagram and Pinterest profiles appeared as the 5th and 6th listings, respectively, and Twitter was the 8th result.
Social channels can feel more personal than webpages, and they're a great way to get a sense of a company's personality off the bat. When I'm researching a company I don't know much about I typically go straight to their Twitter or Facebook page. So if a social account shows up at the top of the search results, I'm just as likely to click on it as I would be to click on their website.
Takeaway: There's no doubt that your social profiles matter to Google and especially to people who are looking for you online. A few active social channels can make the experience of getting to know your brand online more fun, engaging and personal. Also, while some may consider Google+ a non-essential social channel, marketers shouldn't discount the fact that a company's Google+ profile is one of the first things a searcher will see (and potentially click on). As such, it pays to have a profile with up-to-date info and engaging content.
3. Social Media Channels Are Search Engines, Too
Nowadays, people don't just go to Google and Bing to look stuff up; they also use social media channels to find what they're looking for. Patel makes this point in his article on why social is the new SEO: "We need to understand that search engine optimization includes the search that happens on social media search engines."
This works in a couple of ways: First, if you're active on Twitter, it's entirely possible that people will discover your company's new content distribution app after searching for content marketing-related tweets with Twitter's search engine. Likewise, brands that lend themselves to beautiful visual content can benefit from making their content visible in Pinterest and Instagram by using hashtags and properly categorizing their pins.
Moreover, as mentioned in point #1, if someone wants to check out your company, they're likely to open Twitter and Facebook and do a quick search to see what kind of presence you have on each channel. YouTube, and, of course, Google+ are also search engines.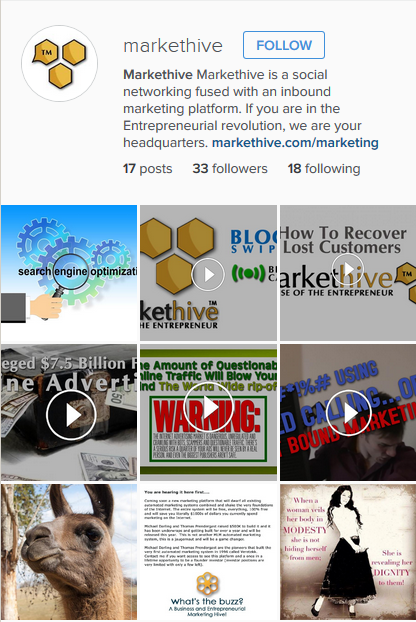 Here are some impressive stats that illuminate just how much people are using social media to search:
As of 2010, Twitter handled 19 billion search queries a month (that's more than 5x the queries handled by Bing!).
In 2012 Facebook said it got around one billion search queries per day.
As of March 2010, YouTube got roughly 3.7 billion search queries a month. Also, 100 hours of video are uploaded to YouTube every minute, making it one of the largest content repositories on the web.
Takeaways: Companies should expand their concept of SEO to include not just the traditional search engines––Google and Bing––but also social search engines.
When searching for a brand on Facebook or Twitter it's not uncommon to see several different profiles pop up, and it's not always clear which one is the real deal. Marketers need to ensure that it's super easy for users to identify their official social profiles.
This may mean deleting duplicate accounts and/or clearly labeling each social account so that users understand what purpose they serve (for example, accounts for HR or press versus general brand pages).
4. Not Now Doesn't Mean Not Ever
Just because Google says that social signals don't currently impact search rank doesn't mean they never will. Social media shows no sign of becoming a less important part of a brand or person's online presence anytime soon; moreover, given that link-building strategies like guest blogging have become a less reliable way to indicate the quality of a webpage, it makes sense that search engines would begin to look for other signals of authority and value.
Takeaways: There's no reason why social signals won't begin to affect search rankings in the future, so smart brands will continue to build their authority in key social channels and think about social when designing their SEO strategy.
5. Don't Forget Bing
Google may have back-tracked and changed their stance on social signals, but I haven't found any evidence that what Bing told Sullivan for his Search Engine Watch interview doesn't hold true today.
Remember, Bing said:
We do look at the social authority of a user. We look at how many people you follow, how many follow you, and this can add a little weight to a listing in regular search results.
Takeaways: Bing, which is the second most-used search engine, has been crystal clear about how their algorithm incorporates social signals into their search results, and, unlike Google, they haven't flip-flopped on the issue. With its market share steadily growing, companies would be wise to include Bing in their SEO strategies.
Wrapping Up
Cutts' claim that Google's search algorithm ignores social signals should not be seen as an invitation for marketers to dismiss social's impact on SEO. Instead, marketers should broaden their concept of search and SEO to take into account the myriad ways that people find content on the web. They also need to think about the positive effects that increased traffic from social can potentially have on their search rankings as well as the prominence of social profiles on first-page search results.
Ultimately, the web is all about building relationships, fostering audiences, expressing identity and sharing ideas––it's inherently social, and there's no reason that SEO best practices would go against the grain, especially since the rules that govern SEO are ultimately meant to make the web a more enjoyable and useful place.
Indexed Pages

Perhaps the most important reason of all to blog is the fact that each post counts as a new page on your website. Google really does like fresh content and will reward those who share frequently. Those who do include a business blog on their site will see up to 55% more traffic than companies who don't. The reason for this is the indexed pages. For Google to index those pages, you need to include at least 300 quality words. That means reblogging, short blogs, and duplicating content won't help you. There is a time and place for the previously mentioned blog types, but not when you're hoping to boost your SEO.
Now that you understand why blogging is essential to improving your SEO results, you probably want to get started right away. Don't get bogged down or feel overwhelmed. A systematic approach is what you need, starting with a content calendar. Simply start by answering those burning questions your potential customers have. Plan blogs that will touch on their pain points. You'll see results sooner than you ever thought possible.
Markethive
Join the Revolution
Thomas Prendergast
CMO Markethive, Inc.