What Is Solana? And More Importantly, How Does It Work?
Have you heard of the term Solana, and wondered what it might be? Discover the Solana Blockchain and how its unique technology works in more detail.
Cryptocurrencies marked the beginning of an entirely new era for finance and technology. The crypto sector has taken away intermediaries from the structure of conventional financial services by introducing peer-to-peer transactions. However, established cryptocurrencies such as Bitcoin and Ethereum have significant limitations in terms of scalability. Why? It is challenging to scale up the time required to reach a consensus on a specific order of transactions.
Due to scalability problems, alternatives like Solana have emerged as promising solutions for such issues. Now, you might marvel at how the new cryptocurrency company could solve problems that the crypto pioneers could not. Let us dive deeply into the Solana blockchain and learn more about their system. This article will also help you discover the new and unique features introduced with the Solana Blockchain.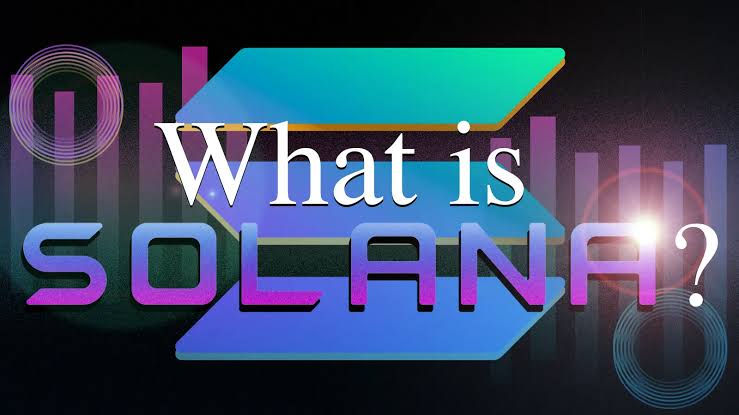 Image courtesy of Medium
Solana: What Is It?
Solana is a new blockchain platform with a unique consensus mechanism called Proof of History (PoH). Proof of History allows Solana to achieve a sustained transaction rate of up to 65,000 transactions per second, much faster than Bitcoin and Ethereum. Solana's programming language is similar to JavaScript and allows developers to build smart contracts with ease.
The platform comprises three layers: the Protocol Layer, the Transaction Layer, and the Application Layer. The Protocol Layer is the Solana Blockchain's core, providing a framework for the rest of the platform. The Transaction Layer is the foundation for executing transactions and is made up of blocks. The Application Layer is where developers can create applications that use the protocol.
Solana's blockchain is built to solve many of the problems other blockchains face. For example, Solana doesn't have any hard-coded limits for gas prices or gas limits, which can lead to users running out of gas and failing to complete their transactions. This has happened to users on Ethereum in the past, which has caused many issues for them. Solana's Proof of History consensus mechanism also makes it possible for users to complete transactions quickly and reliably.
Who Are The Developers Of Solana?
Solana is the brainchild of a group of developers and entrepreneurs who saw an opportunity to create a more efficient and secure form of blockchain technology. CEO Anatoly Yakovenko leads the team, and CTO Greg Fitzgerald, have both had extensive experience in the blockchain industry.
The team strongly believes in the potential of blockchain technology and is committed to using it to create a more equitable and secure world. They are also passionate about creating a product that can be used for trading digital assets and as a daily tool for consumers and merchants alike.
This is a platform with genuine utility and value-added features such as a decentralized marketplace, exchange, and payment system. Users will benefit from increased security, transparency, and efficiency when purchasing online or at brick-and-mortar stores and shops worldwide.
A truly global and unified currency system, enabling anyone anywhere to trade directly and instantly with other people within their community or across borders without any middlemen.
Solana's Key Innovation: Proof-of-Elapsed-Time
Proof-of-elapsed-time is the key innovation of Solana, which allows nodes to verify data without having to trust one another or confirm transactions through expensive intermediaries like banks. Instead, Solana's peer-to-peer network eliminates these middlemen and ensures that data that several parties in real-time have approved is valid.
The proof-of-elapsed-time is implemented using an optional consensus mechanism called "Tick Time Consensus" or TICK which relies on a timestamping system to establish the elapsed time since the last successful transaction (TICK_TIME).
It was initially developed to improve privacy for the Bitcoin blockchain. However, it has since been adapted for use with any decentralized application platform such as Ethereum, Hyperledger Fabric, or even DFINITY.
So far, the network has been deployed in dozens of decentralized applications and has become the industry standard for distributed computing applications.
How Does Solana Deliver Scalability?
Solana delivers scalability using a unique combination of proof of stake and Byzantine Fault Tolerance. Proof of stake is a consensus algorithm that helps secure the blockchain by allowing stakeholders to vote on proposed blocks. This system is more efficient and environmentally friendly than proof of work and allows for faster transaction speeds.
Byzantine Fault Tolerance is a system that allows nodes in a network to agree on the validity of transactions without any single node being able to manipulate the system or change data on the blockchain because of malicious behavior or malfunctioning components. This ensures trustless networks and high availability with no downtime, censorship, or fraud as long as there are honest majority participants in the network.
When it comes to scaling, proof of stake can be used as an effective method of achieving fast confirmation times for smart contracts while avoiding the use of expensive hardware and energy consumption to validate blockchains.
Solana's Core Components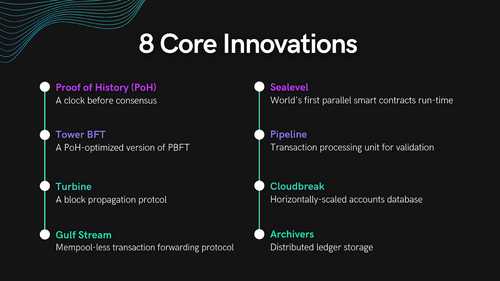 Image courtesy of Medium
For Solana to achieve all its goals, the developers have developed the essential technical components to make the blockchain suitable for the capabilities of a centralized system. As a result, the network is full of several kinds of systems, and these systems work together to create a useful and reliable blockchain network. Here are the core components of Solana Blockchain:
Proof of History

Tower BFT

Gulf Stream

Sealevel

Pipelining

Turbine

Cloud break

Archivers
Proof of History (PoH)
The important and key feature is that the PoH mechanism serves a vital role in the Solana blockchain. It creates more efficiency and a greater throughput rate within the network. This protocol improves the efficiency of blockchain by integrating timestamps in every transaction approval. So, historical records of transactions, blocks, etc., are stored on a distributed ledger which can be used for the security and verifiability of any smart contract or transaction that has been approved with the PoH function and time-stamp verification feature in the blockchain.
Tower BFT
The Tower BFT is the second and most crucial component of Solana Blockchain, and the system strengthens network responsiveness by empowering validators to vote on the state of the ledger. This mechanism also records the previous votes and the time stamp of each transaction, ensuring that the data cannot be altered later on (data integrity).
Gulf Stream
The gulf stream feature works with the mempool concept. You might be thinking about what mempool is. Mempool is a part of the blockchain that stores all transactions from previous blocks and is used to add new transactions to the blockchain.
This is much like how banks use their vaults to store your money as it comes in and goes out of your bank account without losing it permanently, just temporarily stored in the vault. The same thing happens here; when money goes into a new transaction, it gets recorded on the blockchain forever to show where it came from and where it went.
Sealevel
The Sealevel feature provides a significant benefit over the most well-known smart contract-based networks out there today. This is used to perform smart contracts that can operate in parallel, and this system likewise allows compatible smart contracts to leverage the same protocols.
As such, it permits easy interoperability with other blockchains, especially those that don't have their custom-built systems or protocol layer for smart contracts, allowing the user to connect with them instead of learning entirely new technology and infrastructure. This helps users to start working on a project together and interact with each other more easily and efficiently than ever before.
Pipelining
The Solana Blockchain is an open-source hardware system that integrates a transaction processing unit called pipelining. The protocol works by processing the transactions in batches instead of one by one using the pipelined operation mode. It minimizes latency and increases throughput on a single machine/hardware platform running Solana Blockchain software or node application code, increasing overall network bandwidth and stability of the network and its applications (blockchain).
Turbines
The turbine is another blockchain feature introduced by Solana. The Solana blockchain distributed system takes massive data and segments it into smaller chunks, and this data can be sent to the computer faster and use less bandwidth.
Cloudbreak
The cloudbreak is another Solana network's account database, and this system enhances iterations by enabling the system to read and write data simultaneously. Cloudbreak works in line with pipelining and other protocols.
Archivers
Archivers represent a group of nodes that are interconnected in a system outside the main Solana network and work as storage for Solana.
This means that if a node joins a network, it will not be able to join the Archiver network until it has been synced from one of the Archiver nodes or has its Archiver node created by another node in the main Solana network.
The reason is that nodes in the archiver network do not store any data; rather they only provide a connection between other nodes in the main network with each other to facilitate transactions without the need to transmit all the data over the network and increase transaction speeds.
What Is The Future Of Solana?
Solana is undoubtedly a new type of blockchain that can handle large amounts of transactions without ever clogging up the system. What does that mean for the future of Solana? It means that Solana has the potential to handle the load that traditional blockchains are not able to.
Think about it this way: right now, Bitcoin can only manage seven transactions per second, and Ethereum can only manage fifteen. Solana has the potential to manage up to sixty-five thousand transactions per second.
That's huge compared to the many transactions like Bitcoin and Ethereum execute altogether in a second. This makes Solana one of the most promising next-gen blockchain projects, with tremendous upside potential for those who invest in Solana early enough.
Conclusion
The Solana blockchain protocol is designed for scalability. It achieves scalability by implementing a proof of stake algorithm and by utilizing a revolutionary decentralized data storage technology known as Inter-Blockchain Communication (IBC). IBC allows the nodes to communicate directly with each other without going through the network's primary layer or any intermediary node on the blockchain network.
The complete process happens via the IBC channel between two blockchains in real-time, allowing transactions to be processed almost instantly instead of waiting for blocks to be mined and confirmed on the network's main chain first before moving forward with the transaction or block execution.

References: