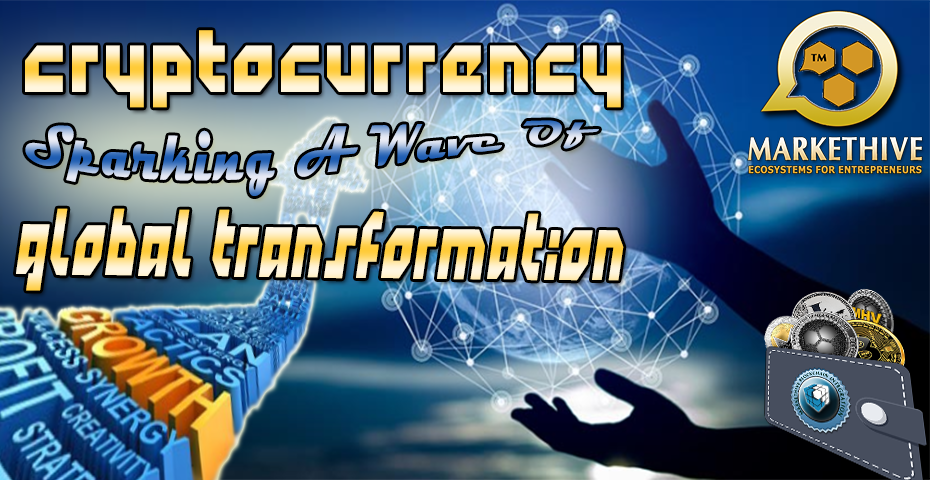 CRYPTOCURRENCY SPARKING A WAVE OF GLOBAL TRANSFORMATION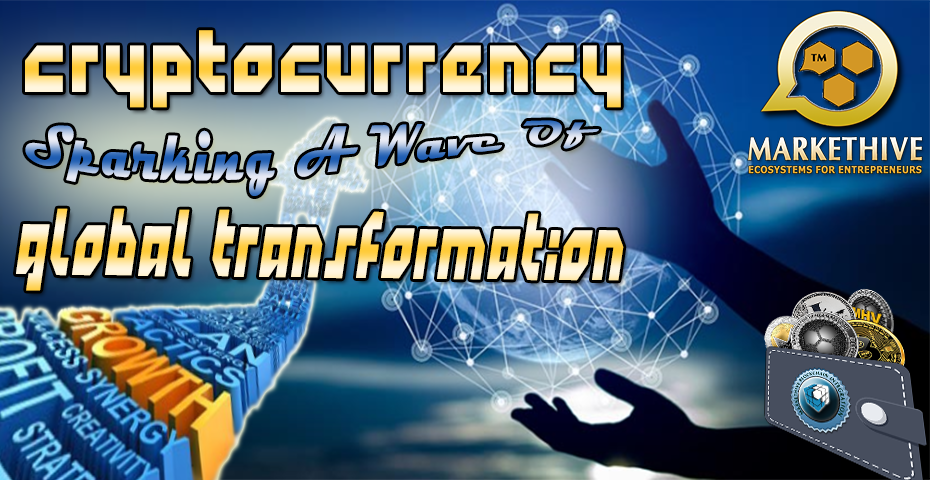 The future of finance is being redefined as cryptocurrency is becoming a thriving ecosystem, quietly encroaching on the territory of traditional finance institutions'.
Over the last five years, Bitcoin users and transactions have averaged a growth rate of nearly 60% per year. Similarly, private and public investors have deepened their commitment to cryptocurrencies including Ethereum, Ripple (XRP), Stellar, and the upcoming Markethive Coin (MHV) along with a number of other cryptos across different sectors of the industry.
We are most definitely heading towards decentralized communities. Countries all over the world are taking notice of cryptocurrencies, particularly the countries that have suffered hyperinflation. One prime example is that of Venezuela, where inflation soared, trust in the national government policy, and currency plummeted led to a rise in the interest of cryptocurrencies.
Cryptography Begets Cryptocurrency
Cryptocurrency has erupted into a $200 billion industry, sparking a wave of what is seen as a global disruption, however, in many ways a savior in this world of oppression and the autocratic system that society has been subject to.
There is a rich history of innovation at the heart of cryptocurrency and blockchain. One of the core elements being cryptography and dates back to ancient times of nearly 4000 years ago in Egyptian and Mesopotamian writings only to enhance its linguistic appeal.
Cryptography has been used throughout the course of history and evolved into being used to protect sensitive information with analog cryptography used in WW2. The science of cryptography continued to advance progressively throughout the centuries. It's come a long way since then and as long as there is a need to protect sensitive data cryptography will continue to advance.
Beginning in 1990, an entirely new form of cryptography, dubbed quantum cryptography, was under development by computer scientists hoping to once again elevate the level of protection offered by modern encryption.
Then came cryptographic techniques used to make cryptocurrencies possible. Cryptocurrencies leverage several advanced cryptographic techniques, including hash functions, public-key cryptography, and digital signatures. These techniques are used primarily to ensure the security of data stored on blockchains and to authenticate transactions.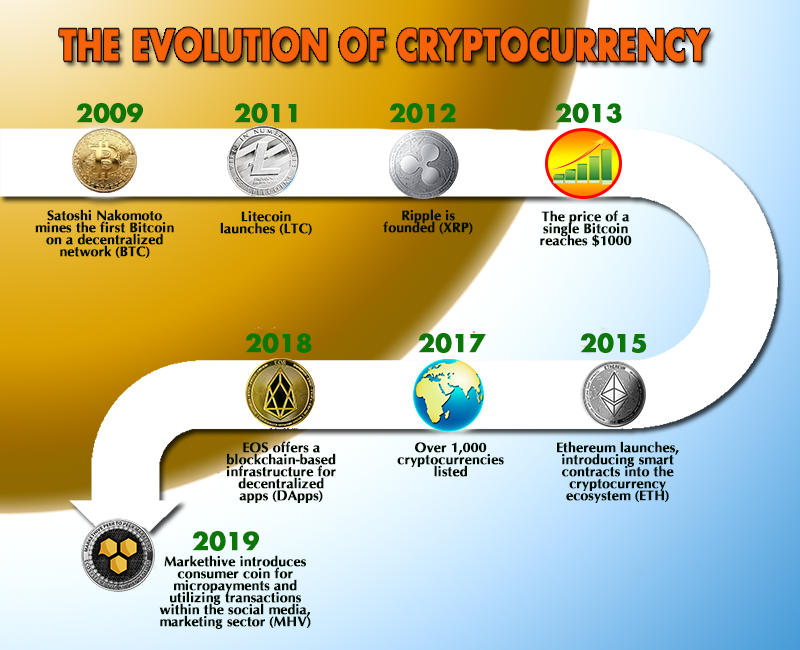 Since then, a series of key events have continued to shape the sector
Year Event
---
2009 Satoshi Nakamoto mines the first Bitcoin on a decentralized network
---
2011 Litecoin launches
---
2012 Ripple is founded
---
2013 The price of a single Bitcoin reaches $1,000
---
2015 Ethereum launches, introducing smart contracts into the crypto ecosystem
---
2017 Over 1,000 cryptocurrencies listed
---
2017 Bitcoin's price rockets past $10,000, reaching a peak just shy of $20,000
---
2018 EOS offers a blockchain-based infrastructure for decentralized apps (DApps)
---
2019 Markethive, the first Blockchain-based Market Network introduces crypto coin (MHV)
Now, there are over 5,000 cryptocurrencies in circulation, some will stagnate and peter out and others will soar as they are built on innovative applications and have real use-cases giving rise to a rapidly evolving ecosystem.
The infographic below displays a cross-section of cryptocurrencies, stakeholders, and core applications across a sector that's continuing to grow more important as we see the economic climate change dramatically.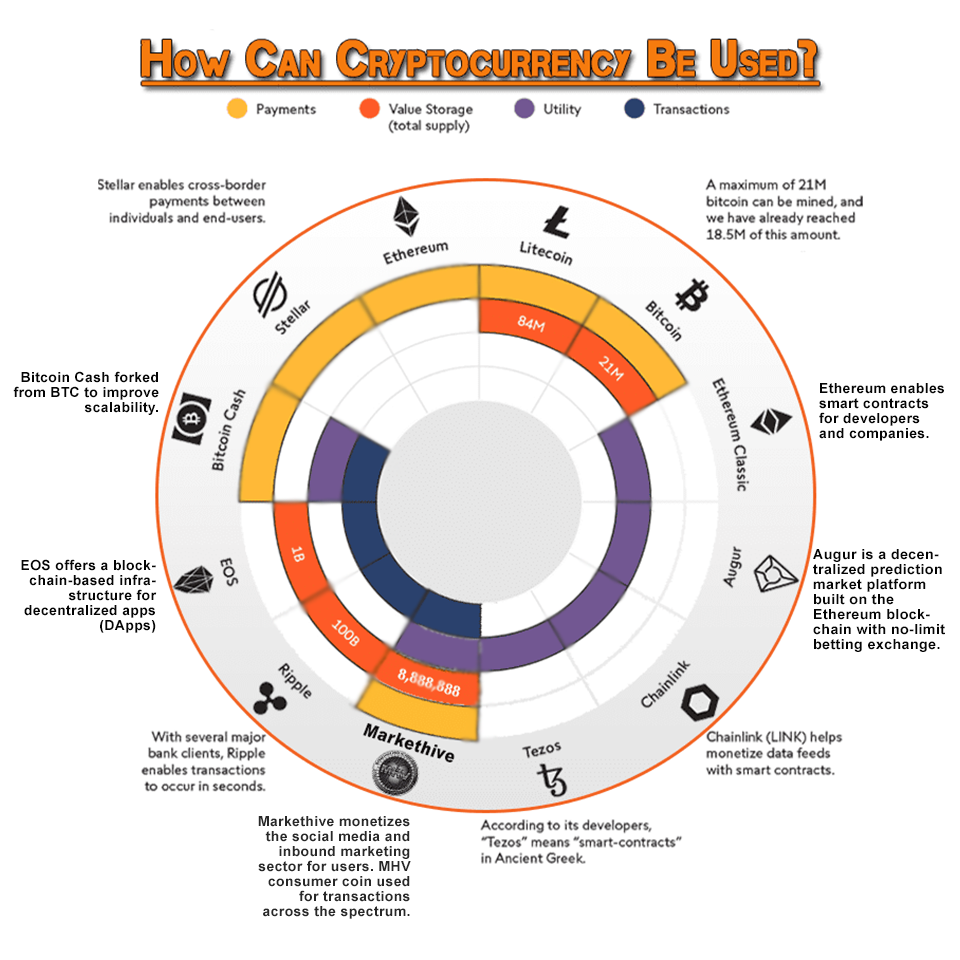 Setting The Stage For The Bigger Picture
As cryptocurrency and blockchain technology continues to gain momentum, its longer-term ramifications will be a focal point. Essentially, its cryptographic foundation sets the stage for future developments in a financial economy.
Anonymized transactions protect users' data through cryptographic techniques.
Providing a new financial model for 1.7B unbanked individuals around the world.
Steep reductions in settlement time and efficacy could save consumers $16 billion annually.
Providing immutable, traceable records of security-rich transactional networks.
Smart contracts could drastically eliminate manual and administrative work⁠, ultimately bypassing them altogether.
The Practical Advantages Of Cryptocurrencies
The cryptocurrencies of today go beyond just replacing cash. This new token-based economy is evolving, with unique solutions emerging in finance, security, identification, social engagement, the marketplace, digital media, and ownership. Cryptocurrencies are adding both value and utility to the digital economy, and to the global financial market as a whole.
Digital cash can be used for both ecommerce and brick-and-mortar retailers for purchasing goods without the need for a trusted third party.
A new form of scarce native currency and a means of settlement.
Borderless money that enables easy conversion between currencies.
Crypto version of fiat which is tied to the value of resources like gold or the U.S. dollar.
Digital handling, storage, and monetization of data.
Digital assets such as collectibles, commodities, and tokenized securities
Crypto-enabled networks, products, and services that exchange between assets.


Four Projects Set To Rock The Landscape
Cryptocurrency and blockchain offer cutting-edge advances that are diverse and transformative. These are just a few of the ways cryptocurrencies are breaking down barriers for people and companies worldwide, allowing them to grow personal wealth and enter the global market.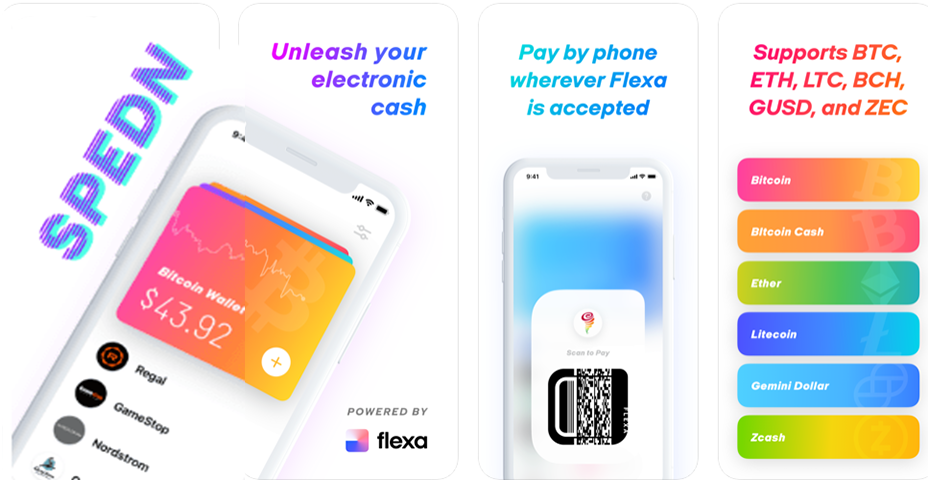 SPEDN auto-converts crypto to fiat for merchants, reducing exchange rate risk while offering convenient customer payment options. SPEDN makes it possible to spend Bitcoin and other cryptocurrencies without needing to cash out to fiat currency or load a plastic card.
SPEDN currently supports Bitcoin (BTC), Ether (ETH), Litecoin (LTC), Bitcoin Cash (BCH), the Gemini dollar (GUSD), and Zcash (ZEC), with many more coins coming soon.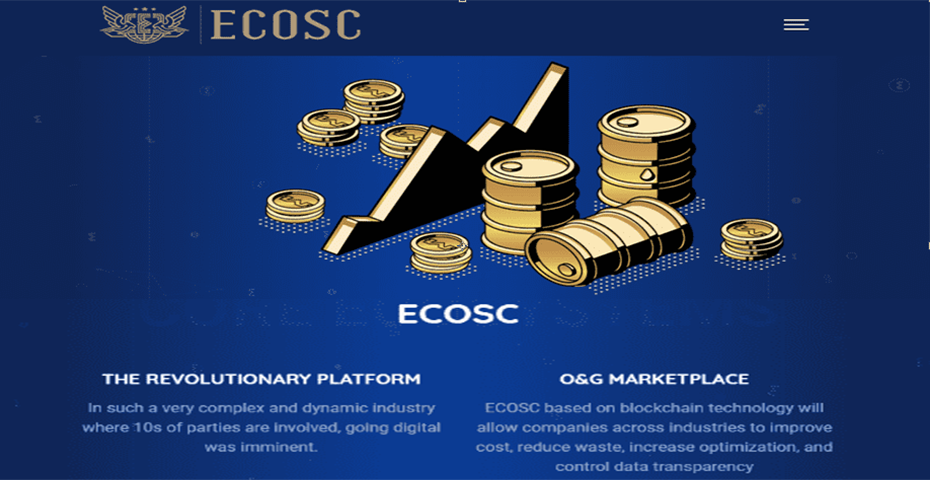 ECOSC is a Malta-based company and has designed a platform using blockchain technology to embrace the oil and gas minerals and all products for trade. It is a global, decentralized supply chain management solution that aligns stakeholders, vendors, and buyers with the strategic management of supply and demand outcomes with cryptocurrency assets.
ECOSC will reduce the risk of human error, counterfeiting, and fraud. It means less time will be spent processing documents and reconciling, which will increase the transaction process speed.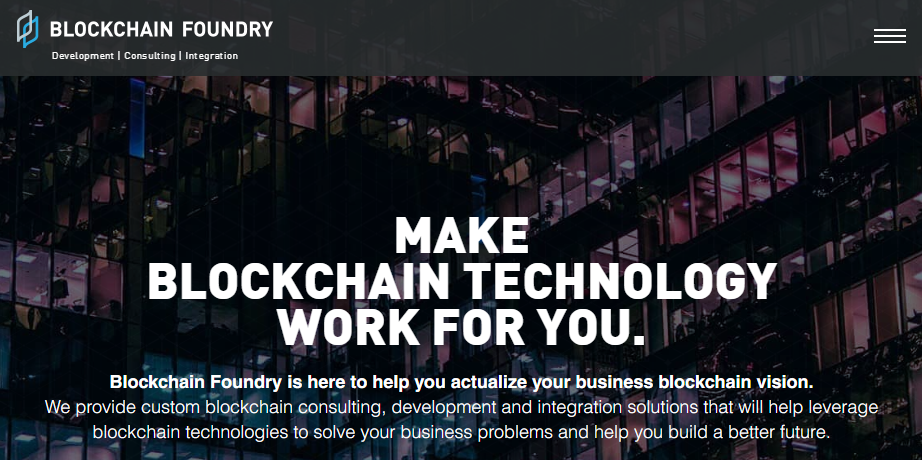 Blockchain Foundry provides custom blockchain consulting, development, and integration solutions that help leverage blockchain technologies. This firm targets governments and enterprises in need of customized blockchain solutions.
Blockchain Foundry's mission is to disrupt markets by leveraging the potential of blockchain technology. It eliminates middlemen, clearinghouses, and other mechanisms that can lead to errors, security breaches, or negatively affect your bottom line.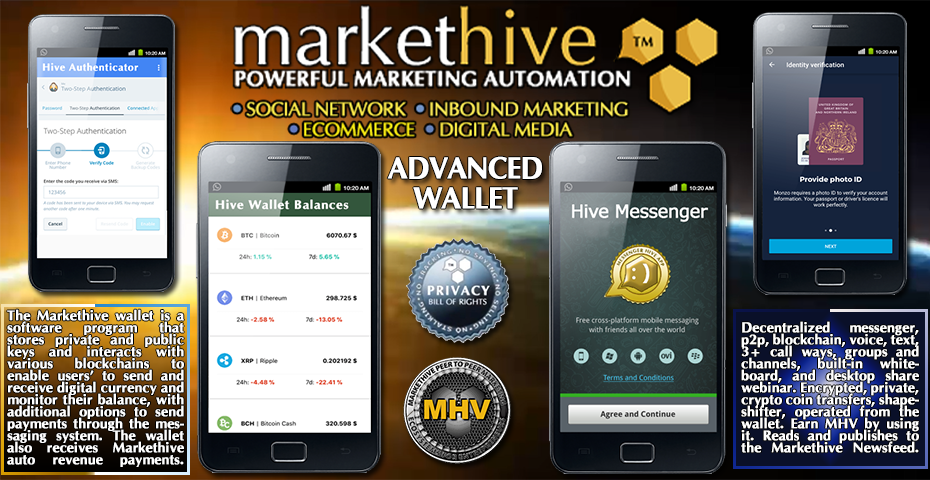 MARKETHIVE Market Network incorporates social media, digital media, ecommerce, ewallet, and inbound marketing that enables entrepreneurs, business professionals, commercial artists, etc, to utilize a blockchain-driven state of the art platform that encompasses every aspect of inbound marketing and social media engagement where it rewards all users' activity with MHV and allowing all users' to prosper on many levels.
With the ability to take advantage of the many cottage industries within the ecosystem brings financial sovereignty, privacy, autonomy to every individual with a genuine opportunity to be in control of your future with peace of mind and set to champion the social media and internet marketing industry.
The Blockchain Crypto Industry Is Expanding
Worldwide, the numbers show that blockchain-based technology and cryptocurrency use is growing. Blockchain wallet users rose from nearly 9 million in 2016 to over 47 million recorded in March 2020.
Only 100 decentralized apps (DApps) were produced by developers in 2015. with that number skyrocketing to over 3,118 by 2020.
Overall, cryptocurrencies are helping to create an innovative and accessible financial system around the world giving back freedom and autonomy to the community at large.
"Cryptocurrency deserves an opportunity to find a sustainable future in our economy."
Adena Friedman, President & CEO of NASDAQ
While the future of the new cryptocurrency economy is still taking shape, one thing is for sure, cryptocurrencies are infinitely changing the way we view and measure the value of money.
Grounded in decentralized and autonomous systems, cryptocurrencies are having an unprecedented effect in the financial world. Ultimately, cryptocurrencies will help to transform finance as we know it, delivering a slew of investment opportunities across the global economy and a more secure, autonomous way to engage and conduct business online.
To join Markethive for FREE click on the banner image below:


Deb Williams
A Crypto/Blockchain enthusiast and a strong advocate for technology, progress, and freedom of speech. I embrace "change" with a passion and my purpose in life is to help people understand, accept, and move forward with enthusiasm to achieve their goals.