What is PointPay?
PointPay Ltd is an Estonia-regulated company ( Company Founded: Jun 25, 2018 ) with international team that has created all-in-one cryptocurrency ecosystem of 4 products.
First Worldwide Working Crypto Bank Ready and Live, Live Working Fiat Exchange, Live Working Fiat Wallet, and Live Payment System, Debit and Credit Cards.
The one-stop fintech platform offers a full range of financial services within the first in the world PointPay Blockchain Bank enabling clients to earn daily compound interest on their holdings in bitcoin, dollar stable-coin and tokenized gold.
Buy and sell crypto
With debit and credit cards for USD, EUR, GBP, AUD, CAD, JPY, RUB, UAH and others with PointPay Payment System.
PointPay Crypto Exchange with custom design layout for traders and simplified cryptocurrency conversion option.
PointPay Crypto Wallet designed for daily use by monitoring cryptocurrency price change in customer's portfolio.
PointPay has released PointPay Payment System letting customers to settle the payments with their bank cards.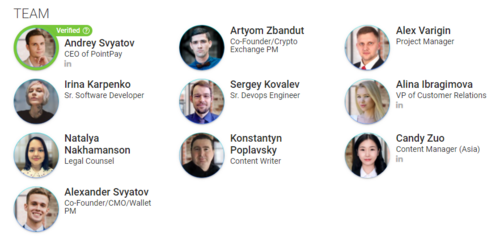 The team already achived:
- One-click instant transfers between all the products implemented
- Release of mobile banking applications for Android and iOS
- Markets overview integrated into PointPay Crypto Exchange
- Lower transaction fees on a progressive scale for PointPay (PXP) token holders within the whole ecosystem implemented
- Filing for Small Payment Institution license
- PointPay complies with PCI DSS
- Discounts to PXP tokenholders for internal transfers within the ecosystem
PXP Token
PointPay Crypto Bank enables its clients to open crypto checking accounts for daily use and crypto savings accounts to earn higher rates and storing funds securely. You can easily send and receive crypto in BTC, ETH, USDT, XAUt and PointPay Token (PXP).
Platform: Ethereum,
Token type: ERC20
Tokens for sale: 1 000 000 000 PXP
You can join one of the most innovative Blockchain-based platform in the industry here.
Read my articles: