According to Statista - Binance is the biggest cryptocurrency exchange based on 24h volume in the world on February 22, 2021.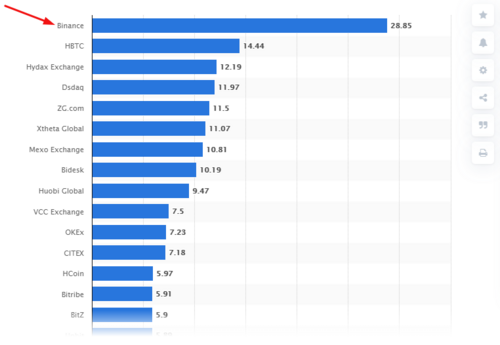 Source: statista
Binance not just the largest crypto exchange platform but offer several cool features to help you earn cashflow on your idle cryptocurrency assets.
Here are the earning tools:
Fixed savings
Earn even higher interest and rewards on your crypto assets in exchange for a 7-day, 14-day, 30-day, or 90-day lock-up period.
Locked staking
Stake select stablecoins (USDT, BUSD, USDC) for 15-day, 30-day, 60-day, and 90-day increments to earn interest and rewards on your crypto assets. You can still redeem Locked Staking funds early and maintain your principal coins.
When you already signed up at Binance choose " Finance"

Flexible savings
Earn interest and rewards on your crypto assets, and move crypto in and out of Binance Flexible Savings at any time with no penalties. With support for over 24 tokens, including Bitcoin, Ether, USDT, and BNB, Binance Flexible Savings is an excellent way to earn passive income for both new and experienced crypto users.
Launchpool
Use your existing crypto assets to earn new tokens listed on Binance crypto trading platform. These extra rewards go a long way and you can earn newly listed tokens for a 30-day period.
ETH 2.0 staking
Stake Ether (ETH) and redeem BETH, which is pegged on a 1:1 ratio to your ETH stake. Keep in mind your BETH can't be changed back to ETH until phase one of the ETH 2.0 upgrade is complete.
Under " Binance Earn " you can see the available features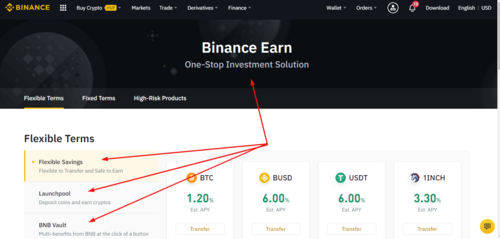 DeFi staking
DeFi staking brings yield farming to the Binance ecosystem, with zero hassle, zero fees and reward distribution straight to your Binance wallet. Easy, right? Increase your staking income with our easy-to-use take on DeFi staking. Stake your crypto assets (including BTC, BNB, BUSD, USDT, and more) with flexible lock-up durations, or 7-day and 30-day locked staking, available on select tokens.
Dual investment
Dual Investment is a two-asset yield aggregator. Essentially, you can lock BTC, UDST, or BUSDT to earn a set yield, but also increase your potential earnings based on the market price for your crypto assets. However, note that Dual Investment has floating returns without principal protection, as the final settlement is calculated based on a mixture of the settlement and pegged price.
BNB vault
If you have got you can use BNB Vault to earn all kinds of rewards on your crypto assets. Earn Flexible Savings rewards, Launchpool tokens, DeFi staking interest, and more—all with one click.
Register at Binance and start making money on the biggest crypto exchange website!
I hope you like my article, read my previous posts here: