Learn what is DMTR Ecosystem!
What is DIMITRA?
Dimitra Incorporated, is an industry leading Agricultural Technology company that has operations on 6 continents in over 60 countries.
They provide an ecosystem of agricultural technology products aimed at advancing smallholder farming performance through the use of mobile technology, IoT sensors, artificial intelligence, blockchain, satellite imagery and drones.
I have read about the Dimitra project on the internet and what it stands to achieve and impact in the lives of Smallholders Farmer. I think "This is a magnificent project"!!!
Jon Trask, CEO of Dimitra said:
EVERY SMALLHOLDER FARMER, REGARDLESS OF ECONOMIC STATUS, SHOULD BE ABLE TO BENEFIT FROM SIMPLE, BEAUTIFUL AND USEFUL TECHNOLOGY ... BECAUSE WHEN FARMERS THRIVE, ECONOMIES THRIVE.
" As global warming and catastrophic events continue to affect the farmers globally delivering digital insurance access to smallholder farmers reduces the financial burden of climate change."— Jon Trask, CEO.
Current DMTR Token price: $3.04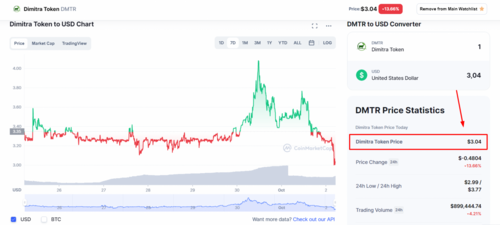 More and more people invest in DMTR Token because it's going to be the " Next Big Thing " to happen in the crypto market.
Who knows?!
DMTR token is available on Kucoin Crypto Exchange.

Go to Kucoin and get your own DMTR Token today!
My previous article: