A Complete Blockchain Commerce System At Markethive - THE SOCIAL MARKET NETWORK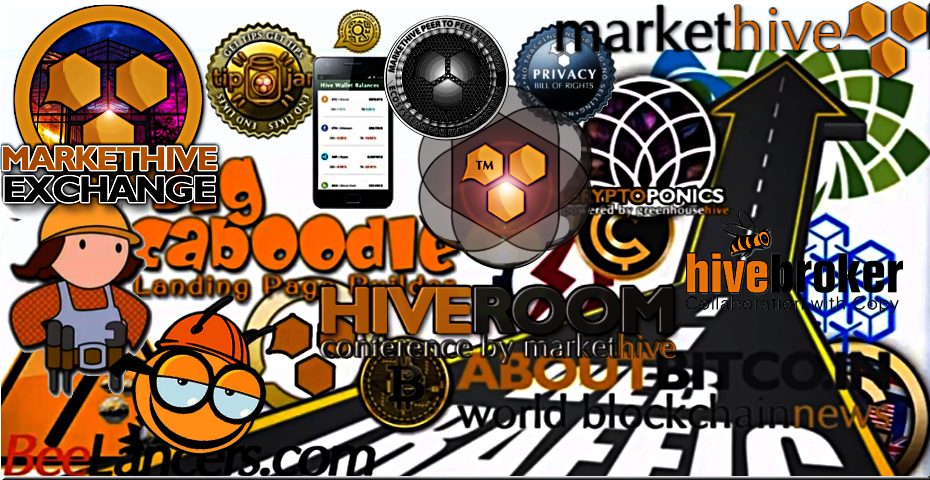 Markethive has in the wings and in the works, scores of traffic portals to enhance the Entrepreneurs' pursuit for online business. Coming soon is the Markethive Coin Exchange, a freelancing platform and a voice, video, copywriter's platform. Similar to eBay, Freelancers, Binance.
Markethive's exchange is integrated into the social network and can be used as an Inbound Marketing target when Markethive Entrepreneurs offer commission-free trades via promo codes binding the customer to the designated Markethive Entrepreneur.
The same goes for Markethive's Beelancers platform built to sell services only (not goods), Markethive's Hivebroker designed to promote artists copywriting, videography services and voice-overs talent. Other commerce platform traffic portals include About bitcoin, a news service that sells article publishing and press release publishing also displayed on the Markethive home page and Markethive.net
Notably, because of our blockchain and coin exchange, transactions and communications between buyer and seller are left to the discretion of the sellers within the platforms. Markethive does not control the transaction and in fact, transactions are peer to peer and kept private.
Markethive is a commensurable dynamic integrated amalgamation of a social network like (Facebook, LinkedIn) and Inbound Marketing platforms like (Hubspot and Marketo) and commerce portals like (eBay and Amazon) Digital Media Publisher like (Cointelegragh and Bitcoin.com), also an Advertising Agency where professionals work closely with the client to gather information, followed by the creative process of actually making whatever the client needs, whether it be Press Releases, articles or blogs, banners, images, and research.
Markethive is an all-in-one incentivized, a gamified and powerful secure blockchain platform. Our goal is to deliver a powerful portfolio of integrated business portals to build a foundation of revenue, a sphere of influence, a hub of backlinks and a dynamic collection of quality leads for our Entrepreneur upgrade members.
Copyright Directive
With recent legislation enacted, namely Article 11 (link tax) and Article 13 (designed to stop users uploading copyrighted content by forcing platforms to build massive filters or face huge lawsuits and fines), we simply give you your own domain for all your content, videos and images to originate from. When you join Markethive you receive (for free) a CPanel control panel and WordPress system built into your assigned domain, a subdomain of hivesfeed.com AKA username.hivesfeed.com. This way you control all your content, without the worry or hassles of government overreach and anti-freedom regulations designed to stifle the start-ups and small entrepreneur.
Ongoing Traffic Portals
Markethive is the leading Inbound Marketing platform pioneering an ever-growing portfolio of traffic portals for you. With 8 Portals, 5 in production so far, Markethive looks at Traffic Portals as the intuitive entrance in launching new services and technologies, primarily to profit our Entrepreneurs and to also fund the economic velocity of our Universal like Income for Entrepreneurs. Here they are with a summary of their services and benefits:
Markethive's public exchange will offer top 100 coins of the world and the top 20 paired to the Markethive coin. With the passing of the Wyoming legislation on cryptocurrency being recognized as money, (Markethive is a Wyoming Corporation), we are very likely to become a financial service offering USDA wired in, wired out and paired to top 10 crypto coins for exchange along with our own coin, MHV. Markethive membership and KYC verification are required to use the exchange. Entrepreneurs can initiate contests with a promo code type system.required to use the exchange. Entrepreneurs can initiate contests with a promo code type system.
A newsletter article site similar to "Cointelegraph" and "DailyHODL" where the cost to publish an article or Press Release runs from $150 to over $5000 depending on traffic, size of the Twitter account, Telegram account, and Youtube account. So totally depends on the Entrepreneur Upgrade members assets as well as Markethive's to set price. Only Entrepreneur upgrades can sell the service and set the price and terms and keep all the revenue.
Anyone can come and buy services from Beelancers (very similar to Freelancers). Only Entrepreneur upgrades can sell. And it is up to the Entrepreneur on how the communications occur or how and where the transactions are done or what is charged. It is a peer to peer system unlike any of the others. Being part of the Markethive social network, KYC, transactions, and work are validated, graded and publicly displayed.
BigCaboodle is a classic traffic portal example that will be one of many included in your portfolio of portals. It is a web builder in the same way Sitebuilder and Wix are. Big Caboodle makes available all the tools needed to create a website easily and quickly. Drag and Drop content and images into a large selection of templates allowing customers to build their dream sites.
As an Entrepreneur Upgrade, your portal is designated by the promo codes you produce, allowing you to set the price, terms of your offer and keep all the revenue you generate. Promote the site with your unique promo codes and build revenue and leads with amazing ease. Imagine Wix combined with Facebook Groups so collaboration and sharing are integrated. That's Big Caboodle.
A web and app-based conference room utilizing avatar options, payment transfers (think built-in wallets), VOIP call in and call out during room broadcasting, live streaming to web pages, social networks and Smart TV Apps, whiteboards, web browsers, and language translators. Only Entrepreneur upgrades can sell the service and set the price and terms and keep all the revenue.
A vertical talent portal for voice talent, video acting, imaging, animation, copywriting, directing, producing and distribution. Regarding distribution, for example - You have a Youtube channel with 500,000 subscribers, you could set up an account here, get validated, and make your distribution available for sale. Only Entrepreneur upgrades can sell the service and set the price and terms and keep all the revenue.
Hive Tube (http://www.hive.tube/ in the wings)
Markethive's video channel similar to Youtube. Advertising is only available through 2 channels. Entrepreneurs get exclusive banner ad placement and Entrepreneur upgrades can sell pre-video 10-second ads leading into their own channels at their price and terms, peer to peer.
Hive Stuff (http://hivestuff.com/ in the wings)
A premium fulfillment system, you can set up and choose Markethive premiums, like T-Shirts, Hats, Gold Coins, Hoodys, bumper stickers, etc. to run from your Wordpress or other sites as an incentive to join, etc. Only Entrepreneur Upgrades can access this system.
$100/mth gets you all of this and a lot-lot more. Exclusive, qualified, amazing leads, state of the art inbound marketing tools, eco-centered traffic portals, and Markethive coins (MHV) that can and most likely will crest to the moon in record time. MHV was placed on its first of many 3rd party exchanges on March 6, 2019, at 1 penny, $0.01. At the time of this publication, MHV is now valued at $0.23 and we haven't even launched yet.

We Call Them Money Machines
Money Machines, traffic portals, inbound marketing. By any name, the foundation of the portals dates back to 1996 when Thomas Prendergast, the Founder, and CEO of Markethive, built Blastomatic.
CEO and Founder of Markethive, Thomas Prendergast says,
"Blastomatic was an amazing traffic portal and built from that first concept, we have refined the entire process into a well-tuned money machine and lead system. It is really quite simple. Build a service entrepreneurs want, turn it into a dynamic web portal, make it easy to join, and deliver more than expected."
Markethive delights the new member by Tipping & Airdrops and rewards the Markethive Entrepreneur one hundredfold. The rewards are numerous. Increased traffic, qualified, awesome leads and MHV coin as a reward and commission.

Deb Williams
Market Manager for Markethive, a global Market Network, and Writer for the Crypto/Blockchain Industry. Also a strong advocate for technology, progress, and freedom of speech. I embrace "Change" with a passion and my purpose in life is to help people understand, accept and move forward with enthusiasm to achieve their goals.

FOLLOW US ON...
Website: https://markethive.com
Token Site: http://markethive.io/
Telegram: https://t.me/markethive_support
Twitter: https://twitter.com/markethive/
Github: https://github.com/markethive /
Reddit: https://www.reddit.com/r/markethive/
Crunchbase: https://www.crunchbase.com/organization/markethive
Medium: https://www.medium.com/@markethive
Bitcointalk: https://bitcointalk.org/index.php?topic=3309067.msg34535452#msg34535452
Telegram News: t.me/Markethive
LinkedIn: https://linkedin.com/company/Markethive
Facebook: https://facebook.com/MarketHive
Youtube: https://youtube.com/Markethive