About The Markethive Wallet - What You Need To Know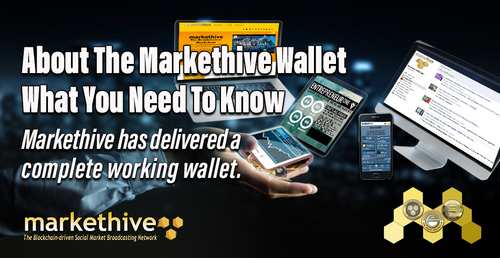 Great news, Markethivers! The wallet is now installed on the Markethive platform. Markethive has kept its promise and delivered a complete working wallet. This mighty, robust, and secure wallet encompasses all aspects of facilitating your business and securing all your financials within Markethive, like earnings and payments, dividends paid from your ILPs, retail products, etc.
This is a significant step in the right direction for monetizing Markethive's ecosystem as it endeavors to ensure and restore sovereignty and financial freedom increasingly being stripped from us by a global authoritarian regime. This article will illustrate what you need to know and do to access the now-operational wallet.
Understand that access and functions of the wallet are only for Entrepreneur One (E1) members at this stage. E1 members can now retrieve their Hivecoin (HVC) from their cold storage to their hot wallet. (You can do this in preparation for the forthcoming coin exchanges and your 3rd party self-custody wallet.) You can also transfer HVC to other members within Markethive via the wallet.

Access The Markethive Wallet
To access your wallet, tap on the wallet icon on your Markethive dashboard (portrayed in the image above). A popup of the wallet will appear on your screen. If you haven't completed your KYC, you will see a stop sign (pictured below) and a prompt for you to initiate the KYC protocol. You must complete the KYC process and 2FA for access to the Wallets section of the Markethive Wallet. (Note: The 2FA protocol will be installed into the Security section of the wallet in due course.) Meanwhile, you will have confirmed your 2FA when logging in to Markethive.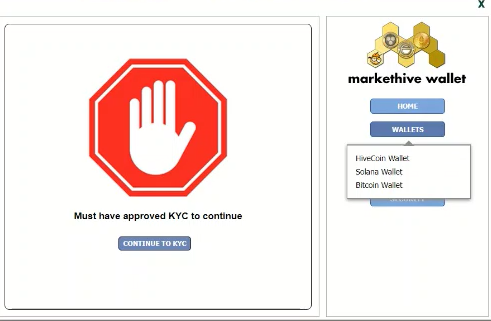 The non-E1 KYC-approved members will see the banner announcement (pictured below) until its full release. The image in the wallet has a link should you wish to upgrade to Entrepreneur One to gain early access and take advantage of all the benefits offered, including becoming a shareholder by securing the ILP (Incentivized Loan Program), which will pay a monthly dividend on the net profit of Markethive's revenue. The E1 membership will no longer be available from the company once the wallet has fully launched.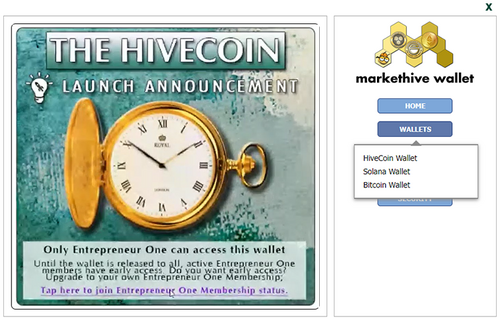 About KYC And 2FA
In Markethive's case, KYC is for the community's benefit of knowing who they are engaging with and not for governmental regulations, unlike exchanges and others. It assures Markethive members that you are a real person, dedicated to honest and transparent relationships in business and socially. The purpose is to have an active, dynamic, and secure "hive of people." Note that once KYC is approved, the documents uploaded to attain approval are all deleted; Markethive does not keep these documents.
The short selfie video required in the Markethive KYC protocol is kept on file so you can retrieve access to your account if you lose it. The admin can verify you with that video if you lose your device and the 2FA app needed to utilize your Markethive account and wallet. You just make a short video requesting access to your account and how you lost access. The video prerequisite is another layer of security to prevent your account from getting hacked. It also prevents members who have signed up but are not verified from hacking or spoofing.
This article comprehensively explains the 2FA installation and protocol for various devices. Since Markethive introduced 2FA at login, most members have successfully activated it; however, some still need clarification or have issues with it. The most common problem people have with the Google Authenticator app is an incorrect code. If your code is incorrect, it usually means you entered it after it expired. The code changes every 30 seconds.
If you input your code within the allotted time and it's still incorrect, it means the time on your Android device is not synced with your local time zone. To remedy this, open the Google Authenticator app on your Android device. In the top right, select More ⋮ > Time correction for codes > Sync now. On the next screen, the app confirms the time is synced.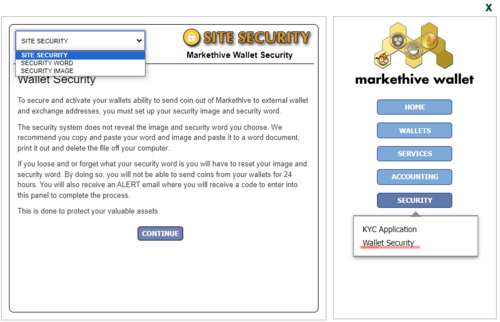 Markethive Wallet Security
More and more platforms are utilizing this protocol for security reasons. Markethive has taken it further with its unique, never-been-done-before system to provide the most extreme security that virtually makes it impenetrable. Unlike other platforms, we have a comprehensive financial accounting hub that can be likened to a bank. Your assets in your wallet are precious and, in most cases, can be considered a livelihood.
You must set up the Markethive security protocol as it is needed to transfer HVC to any other 3rd party wallet once HVC has been officially named and can be listed on various self-custody wallets. More about Hivecoin in a forthcoming article. This security consists of the following:
Your Security word.

Your security image and word.

Confirm your 2FA.

Retrieve the code sent to your email on record with Markethive.
The security of such a system needs to be severe and is very necessary in today's world of massive corruption.
How To Retrieve Your HVC From Cold Storage
The above Markethive security protocol is unnecessary for internal transfers. However, as Markethive is currently on the Solana blockchain, you must have a small amount of Solana coin (SOL) in your Markethive wallet to facilitate the transfers, whether within your Markethive wallet or externally. As shown in the image below, only a minuscule amount of SOL (0.002) is needed to retrieve your HVC from cold storage to your hot wallet balance.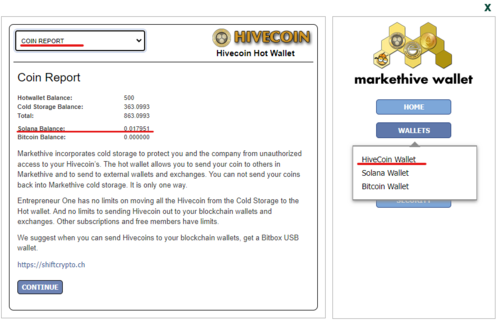 First, to deposit SOL into your Markethive wallet, go to your Markethive Wallets section > Go to Solana Wallet > In the drop-down menu, tap 'Receive Solana' > Copy your Solana address. Then, go to the wallet where you hold the Solana coin and complete the transaction. Your chosen amount of SOL will be in your Markethive wallet instantly.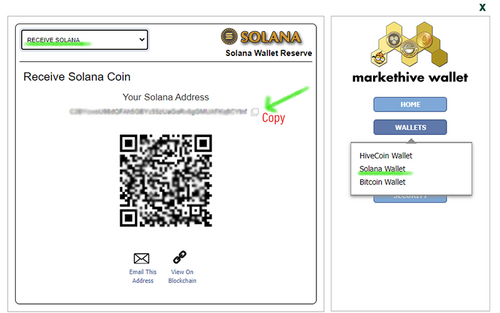 You can then retrieve your Hivecoin from cold storage into your hot wallet to access your HVC for transactions. Once in the hot wallet, you can transfer to anyone within Markethive, or any wallet you or anyone else has where the HVC is listed.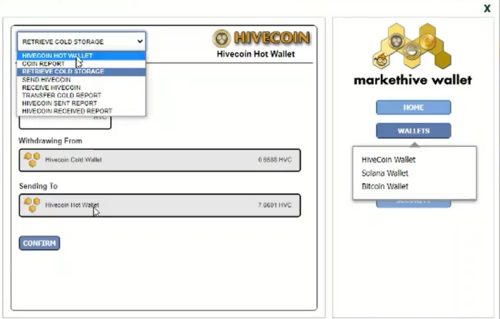 HVC Retrieval Guidelines
Another great reason to have Entrepreneur One status is that E1s have no limit on retrieving Hivecoin from the cold storage to the hot wallet. This drastically reduces the risks of bottlenecks that can occur when restrictions are in place. These guidelines are as follows:
E1s have limitless retrieval of Hivecoin from cold storage to the hot wallet.
Premium upgrades can retrieve 10 HVC per day.
Free members can retrieve 0.01 HVC per day.
Become an E1 Now. Time Is Running Out!
Markethive has built a system that works for the average entrepreneur and will continue to expand and reach new heights with its unique concepts and products. The wallet is now complete and functional for the Entrepreneur One members. You will want to become an E1 when you understand what Markethive is doing with the Entrepreneur One Upgrade.
It's Markethive's vision and mission to spread the wealth with as many who are willing to be part of this. You bless Markethive by upgrading to Entrepreneur One now and be prepared to be blessed a thousandfold. This is your company, your online business, and your home. These memberships will be sought after, demanding huge prices on the upcoming E1 Exchange, and sold by E1 members who understand and believe in the vision with the foresight to acquire multiple E1 accounts.
Entrepreneur One Upgrade. A Reciprocal Blessing. It Works Both Ways!
Secure your share of Markethive and experience exponential growth of your income and legacy. You are welcome to purchase multiple Entrepreneur One subscriptions, which multiplies your income accordingly. Time is running out as the E1's availability from the company will soon come to a close when the Markethive Wallet is released to the community. This is your chance to secure an E1 membership from Markethive for free, help pioneer, and own part of the world's first blockchain-driven social market broadcasting network of the future, where we stand for freedom and hold dear your sovereignty.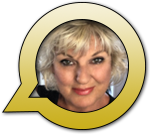 Editor and Chief Markethive:
Deb Williams
. (Australia) I thrive on progress and champion freedom of speech. I embrace "Change" with a passion, and my purpose in life is to enlighten people to accept and move forward with enthusiasm. Find me at my
Markethive Profile Page
| My
Twitter Account
| and my
LinkedIn Profile.