CMS and CRM - FREE and UNLIMITED - only at MARKETHIVE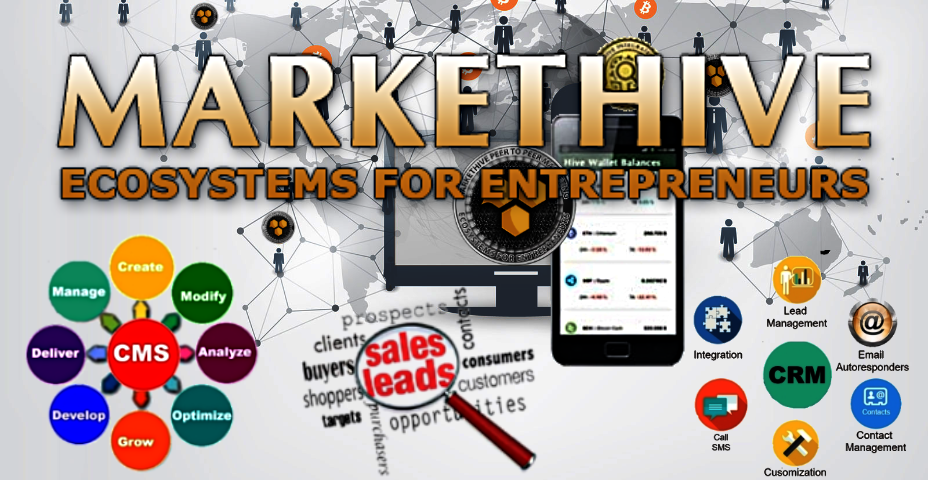 CMS (Content Management System) and CRM (Customer Relationship Management) provides two separate objectives in the business software realm. A small business needs both a CRM and CMS and Markethive has them both built-in to make it easier for you. The next generation Inbound Marketing Social/Market Network built on the Blockchain with everything needed to succeed under one umbrella.
What Is A CMS? [Content Management System]
You'll need a CMS from the outset to build your website/capture page, create content on your blogging platform and get your business up and running. (Think Wordpress or Markethive) Even if you're not in business, but want an online presence to showcase a product, start a blog or promote your services, you will need a CMS.
Key features of Markethive CMS include:
Custom domain names: When you join Markethive you receive (for free) a CPanel control panel and WordPress system built into your assigned domain, a subdomain of hivesfeed.com

Web hosting: Store your website and all of its data either in the CMS or by integrating with a popular web hosting platform.

Site editor: Change the layout of your site, either using code or a drag-and-drop editor.

Content Library: Store content for publication including images and videos.

Online-store: Set up a catalog of products and integrate a payment portal so users can shop online via your website.

Manages the creation and modification of digital content and typically supports multiple users in a collaborative environment.

Markethive provides capabilities for multiple users to manage content, data and/or information of a website project, or campaign but gives you 100% control of your data.
Markethive assists you in managing content creation, editing, archiving, publishing, collaborating on, reporting, distributing website content, data, and information.
What Is CRM? [Customer Relationship Management]
CRM is quite different. CRM solutions organize and manage information about leads and customers, and so it is a very important tool. Businesses, sales and marketing teams can utilize this tool to keep track of their leads and make sure they're communicating with their customers at the most opportune times.
You will need a CRM when you start to accumulate leads and build up your client base. (Think Salesforce or Markethive)
Key features of a Markethive CRM include:
Contact management: Markethive acquires high-quality connections (leads) we call "associates". In doing so, you have access to call them on their verified cell phone, email them on their verified email, message them through the Markethive system and the multiple social networks our system nurtures each subscriber to add to their account.

Groups System: There is also the groups' system that shares your customized funnel systems with all Markethive members. Markethive is rich in data, but unlike the other systems, your data is yours and their data is theirs. Only You control it, not Markethive.

Interaction tracking: Document every interaction that you've had with your customer, including phone calls, support requests, and purchase history.

Lead management: Allows you to sort to specific folders, sort by Social network, GEO, email, phone, capture page. Transfer from one group to another and delete. Markethive also has funnel page systems that capture leads for you through the Markethive One Click Widget

Email management: It has utilized the OAuth technology to capture data via capture widgets through a choice of Social Media Sites situated on your capture pages, blogs and profile pages. You can send email campaigns or follow up directly from your CRM. Email Deliverability: Main Inbox 99.97% Spam 0.0% Tabs 0.0% Missing 0.03%
Free when you subscribe to Markethive. There are no limitations on the amount or size of your list of subscribers and no upcharges. 100 addresses or 1 million addresses, you will experience nearly 100% delivery for no costs, for free.
Leads Funnel Technology
Markethive funnel technology is the epitome of Inbound Marketing, or Automated Marketing designed to draw visitors and potential customers in, generating massive leads and customers. Your system includes capture pages, survey pages, and your profile page all serving to bring traffic into your platform turning traffic into visitors, then leads, then customers and eventually promoters on your team. Organic, qualified leads for your business on a platform where you can cultivate those leads into long term clients. A system that meets marketers needs on every level.
Markethive's capture pages are twofold. Create capture pages to build referrals into Markethive, direct them to a specific group, set up specific autoresponders. Choose from a vast selection of thumbnail templates, or build a more sophisticated capture page with custom configurations for the more seasoned marketer. Either way, similar systems sell for over $200 per month and are complex and less effective than Markethive's one-click proprietary enrolment widgets. All of this included for free to the moon Markethive.
Markethive On Blockchain With MHV Consumer Coin
Markethive is a Social Media Market Platform that is essentially a hybrid between the social networks, Inbound Marketing, eBay and exchanges. What makes Markethive different to other alternatives is it's built on the Blockchain providing transparency; anyone can look at how we function and see that we are not spying on you. It also means everything you do is encrypted and private. The platform is completely decentralized, encrypted, private and secure. All of our code is open source, meaning privacy, transparency and free speech is foundational.
The Consumer coin, MHV, is being utilized within the Markethive exchange by way of airdrops, the faucet system, which rewards associates using the platform, bounties, and loyalty rewards and the upcoming vault. So the coin is used within the commerce of the system thus creating the velocity. The Revenue is a vehicle that is used to buy the Markethive coin back in the free market so it can be redistributed into the economic vortex of the system. This is a fundamental difference to the other systems currently out there today.
The Markethive system has been developed to produce revenue in the traditional sense with the added benefits of the blockchain taking it to the next level. Markethive is a philanthropic endeavor. To give, not take. To help not exploit.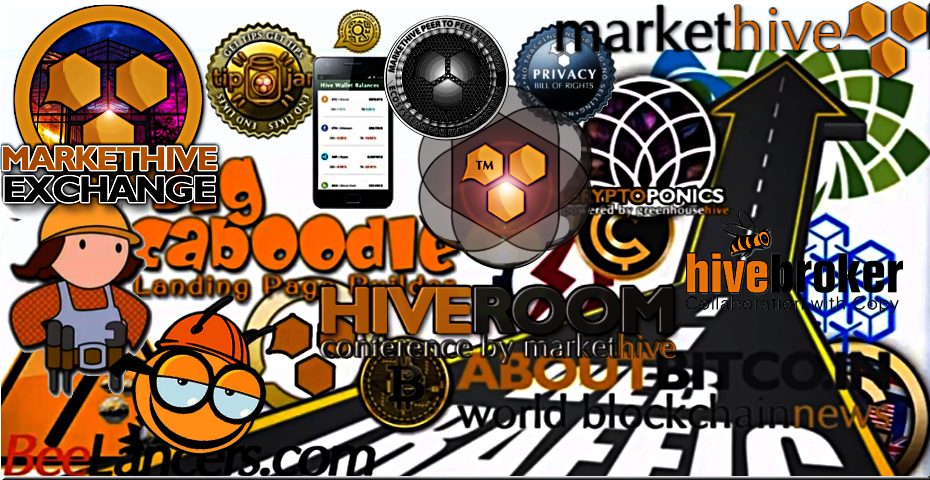 Conclusion
This is the next generation of all things from the past. This is where it's at. Combining all forms of media and marketing built on the blockchain is the new era of online business. No more standalone platforms with the need to integrate with 3rd parties to create optimum leads and results. Markethive, 20 years in the making has had the forward-thinking and tenacity to integrate the latest technology to deliver a complete ecosystem for anybody aspiring to work online.

FOLLOW US ON...
Website: https://markethive.com
Token Site: http://markethive.io/
Telegram: https://t.me/markethive_support
Twitter: https://twitter.com/markethive/
Github: https://github.com/markethive /
Reddit: https://www.reddit.com/r/markethive/
Crunchbase: https://www.crunchbase.com/organization/markethive
Medium: https://www.medium.com/@markethive
Bitcointalk: https://bitcointalk.org/index.php?topic=3309067.msg34535452#msg34535452
Telegram News: t.me/Markethive
LinkedIn: https://linkedin.com/company/Markethive
Facebook: https://facebook.com/MarketHive
Youtube: https://youtube.com/Markethive
Deb Williams
Market Manager for Markethive, a global Market Network, and Writer for the Crypto/Blockchain Industry. Also a strong advocate for technology, progress, and freedom of speech. I embrace "Change" with a passion and my purpose in life is to help people understand, accept and move forward with enthusiasm to achieve their goals.