.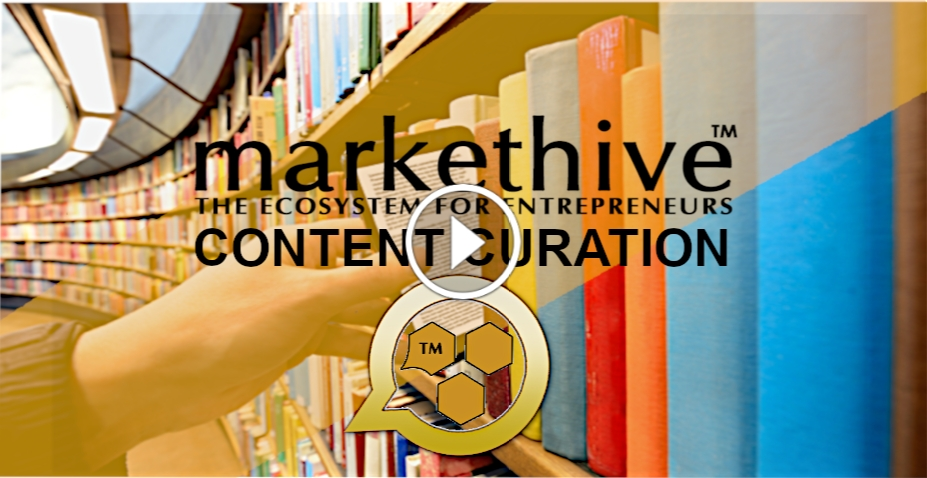 Content Curation: What Is It? What Are The Benefits?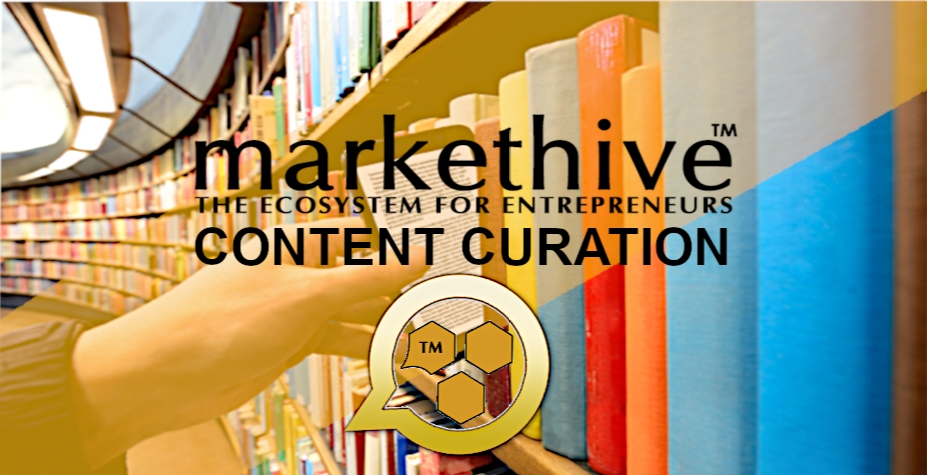 What is Content Curation?
Content curation is a term that has been used in various contexts. Most marketers are familiar with the practice of sharing other people's content on social networks, what we'll refer to as social content curation. Content curation actually covers much more than just social sharing and can help your content marketing results in so many other ways.
Content Marketing is known by any smart marketer to be the pinnacle of any and all marketing strategies. Content is the foundation of your lead generation efforts – if it inspires, educates, and gives answers to your visitors' questions. Only then it will convert. In other words, your content must resonate with your audience to be effective.
What's more, content curation can assist the different departments of your company to share knowledge or reinforce training programs. If you're just getting started with Content Marketing, then you may find this blog interesting.
A Definition Of Content Curation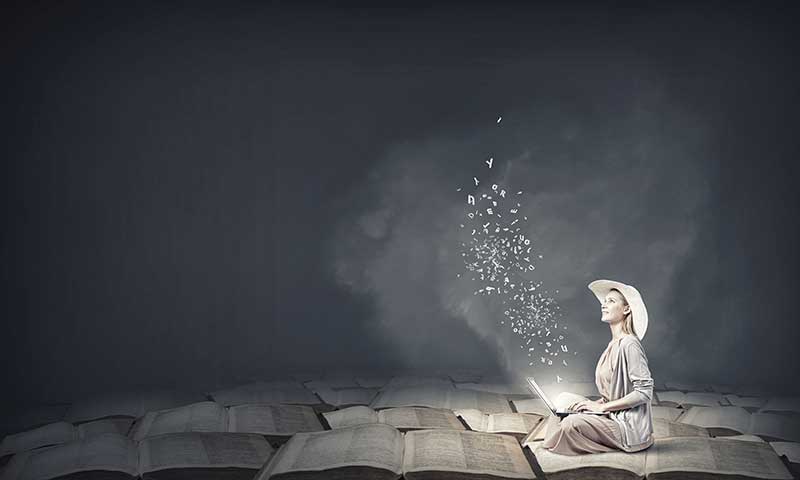 Beth Kanter, probably the most knowledgeable influencer in curated content, explains what content curation means:
"Content curation is the process of sorting through the vast amounts of content on the web and presenting it in a meaningful and organized way around a specific theme. The work involves sifting, sorting, arranging, and publishing information. A content curator cherry picks the best content that is important and relevant to share with its community."
What Is The Curator's Role?
Let's take a good look at the details in 3 steps;
1. Select
As there is a colossal, ever-increasing amount of data on the web, the curator needs to emphasize the best already existing content on a specific topic. Monitoring the best sources in any given industry and be on the lookout for new ones is first and foremost.
Obviously, the curator would need to evaluate the quality of the source and be able to distinguish the good pieces from the bad ones. This will avoid sharing content of poor quality (or false) and set you apart from the surrounding noise that already exists on the internet. Choosing good quality content is not only the first step of the process, but it's the cornerstone of content curation as well. There's no good curation without good content.
2. Edit & Enrich
To make the distinction between a wise content curator from a simple user who shares content on social media, the difference is clear, expertise. As the curator, you are seen as an expert in your field. You need to add value, provide context to the piece of content you have selected. At this stage, it's not just about hitting publish, it's also about editing the post or blog. Beyond simple formatting, bringing context to your audience adds value and helps establish yourself as a thought leader and show your expertise.
3. Share
If you as the curator take the time to select and enrich a piece of content, the next step is to share it to meet your audience. Curation is usually intended for a targeted audience, but it could be done for larger audiences, publicly. When your blogs are shared and consequently clicked on, they move up in the search rankings. If you're providing quality content, your readers will want others to know. Of course, the only way to make sure your blogs contribute to your website's popularity is to value add to your content, provide answers for visitors, and then share your blogs to millions using the Markethve Blogcasting feature.
Notably, content curation is not necessarily public. It can be used for sharing knowledge internally. Companies want to leverage their employees' knowledge and need them store, share, categorize and disseminate it to the largest possible number. Curation is a good answer to that. The main objective is that everyone can carry on with the same amount of information and is able to make the right decisions.
Also with Markethive's ability (feature) to create unlimited Groups each with a different cocktail of content curated, aggregated or from multiple Group memberships, the options to produce meaningful unique content for unlimited Wordpress blogs controlled from within Markethive is unlimited. Groups are excellent platforms for blogging. Simply set up a Curating Group for yourself and Swipe the blogs in Markethive as a collection of content you may want to use in your publications
The Benefits Of Content Curation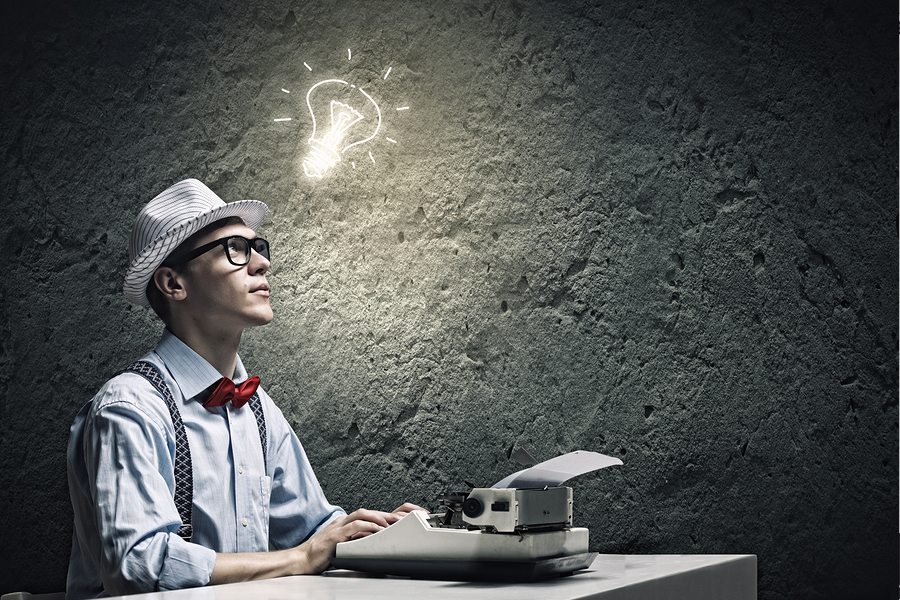 If curating content means finding the most relevant content in your space and presenting it to your audience, then the main objective – and benefit – should be to show that you are knowledgeable about your domain by relating the most useful information available to your audience. Yet, there are many more benefits that attract marketers to integrate curated content into their content marketing strategy. Some of these benefits are:
Keeping a social media presence: Content curation allows to share great content on social media regularly.

Feeding your website: many marketers, and especially marketers who don't have time to create content to feed their website. Using content curation and integrate it into their website is an easy way to do so.

Scaling your content production: If you find yourself buried in marketing tasks and don't have enough time to write a complete blog article every week, content curation allows you to publish more content easily.

Be credible: With content curation, you will show that you are not the only one to give a certain argument.

Establish thought leadership: Sharing the gems in your domain will help you establish as a thought leader.

Building brand awareness: As you can work your own online reputation with content curation, you can also build your brand awareness;

Sending love to influencers in your space and interact with the actors in your space: By curating content from influencers and other actors in your industry, you will be identified by them and they will be glad to be quoted.

Increasing your traffic from search: Sharing fresh, regular and quality content on your website will help you get better SEO rankings for your content and get more traffic from search.

Creating a space for efficient social selling activities. Social selling is all about using social media to generate relationships, leads, and eventually, sales. The people who do social selling – entrepreneurs and salespeople – are connectors. They aren't necessarily content creators or writers, and they would find it nearly impossible to keep up with the demands of a sale job as well as write a blog post everyday.
Content curation is not only helpful for marketing, but it will also be useful in market intelligence too:
Sharing knowledge with your colleagues in order to get better collectively.

Monitoring what is being said about your industry: It keeps you posted on what is being published in your space by experts, magazines, competitors, etc. You know what your audience likes to read (given the number of shares of the articles) and you can curate accordingly to answer questions your audience is asking.
Formats
After you have found the articles you think would be interesting for your audience, there are four different – and complementary – ways you can curate them. Most marketers already practice social content curation, i.e. sharing other people's content on social networks, but this is not the only nor the most efficient way curated content can be used to reach marketing objectives.
1. Social Content Curation
When you find a good article on the web and you share it on your company profile (with or without a little note saying 'great piece' or 'a new take on', etc.), you're doing social content curation. Social curation is the most spread out form of curation you can find. It is easy to do, it allows you to keep a social media presence even if you don't have time to write original content, and it helps you get noticed by the other actors in your space (because you're sharing their content).
2. Curated Blog Posts
A curated blog post is an article on your blog that starts with a quote and a link to another piece of content. You're using an existing piece as your introduction, and then you add your own commentary/insight to it, making it your own.
3. Curated Content Groups In Markethive
A curated content group is a place where you aggregate your own content and curated content to provide easy navigation and presentation of content with your added insights to introduce it. A curated content group is a great way to show your entire expertise and thought leadership on any given topic.
4. Curated Email Newsletters
A curated email newsletter provides a useful and engaging roundup on a given topic by combining your own original content and curated posts. This can be done with the Email Autoresponder feature in Markethive. Just one of the many features available to you as a free member.
How To Curate The Right Way?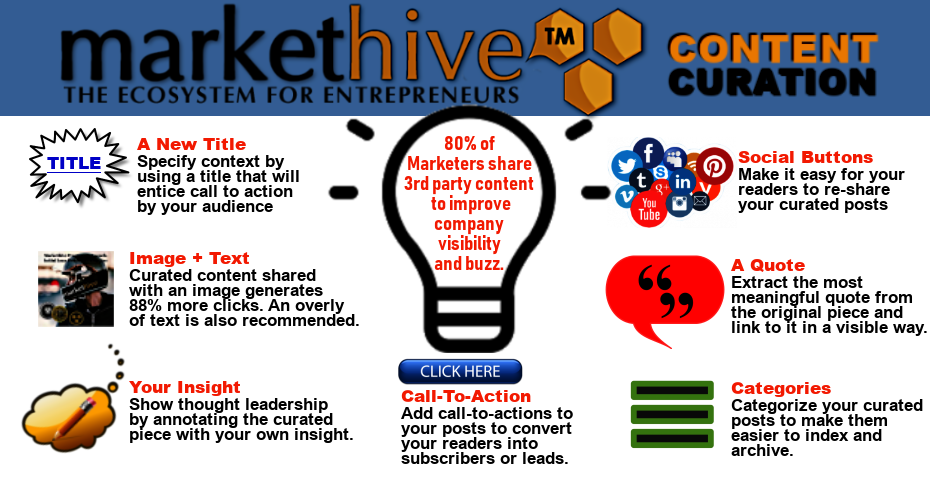 To curate content in an effective way you should:
Select carefully the piece of content you want to curate. It must be fresh and of good quality. No need to share every single piece everybody shares. You have to know why you curate it.

Be careful with the layout. Whatever media, it's easier to read when well-formatted. Titles should be catchy, images have to be polished and the subject has to be clearly identified.

Systematically quote the source, it's a golden rule. The author must be mentioned and a link must go to the original article.

A short quote yes, a copy/paste no! Don't copy the article and make sure to mention the author – those two rules go hand in hand! It's important not to make another piece of content yours – for ethical reasons obviously, but also for SEO purposes (Google blames severely duplicate content).

Broadcast it at the right place. Be logical when it comes to your audience and your objectives.
Copyright Directive
With recent legislation enacted in March 2019, namely Article 11 (link tax) and Article 13 This law is designed to stop users uploading copyrighted content by forcing platforms to build massive filters or face huge lawsuits and fines. Markethive simply gives you your own domain for all your content, videos and images to originate from.
Solution
When you join Markethive you receive (for free) a CPanel control panel and WordPress system built into your assigned domain, a subdomain of hivesfeed.com AKA username.hivesfeed.com. This way you control all your content, without the worry or hassles of government overreach and anti-freedom regulations designed to stifle the start-ups and small entrepreneur.
Free System - Free Speech
All of this for free incorporated into a transparent blockchain system, the platform is completely decentralized delivering on our principles of privacy, transparency, and free speech.
We are not spying on you; shadow banning you; or terminating accounts, for any reason

Conclusion
By blogging, you build relationships with your readers, position yourself as an expert in the field, and perhaps most importantly, provide new content for Google to index.
By joining Markethive you build relationships with thousands of others who are actively building a business, blogging, researching, etc. basically being "entrepreneurs" and advancing their businesses and agendas. Often you can join with these people as friends, group members and subscribers of theirs via Blog Casting, Blog Sharing, and Blog Swiping.
Deb Williams
Market Manager for Markethive, a global Market Network, and Writer for the Crypto/Blockchain Industry. Also a strong advocate for technology, progress, and freedom of speech. I embrace "Change" with a passion and my purpose in life is to help people understand, accept and move forward with enthusiasm to achieve their goals.

Sourced from author Helene Brevet