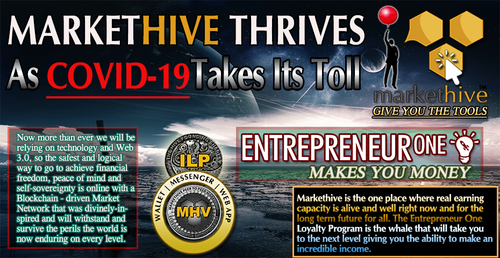 Covid-19 Takes Its Toll While Markethive Thrives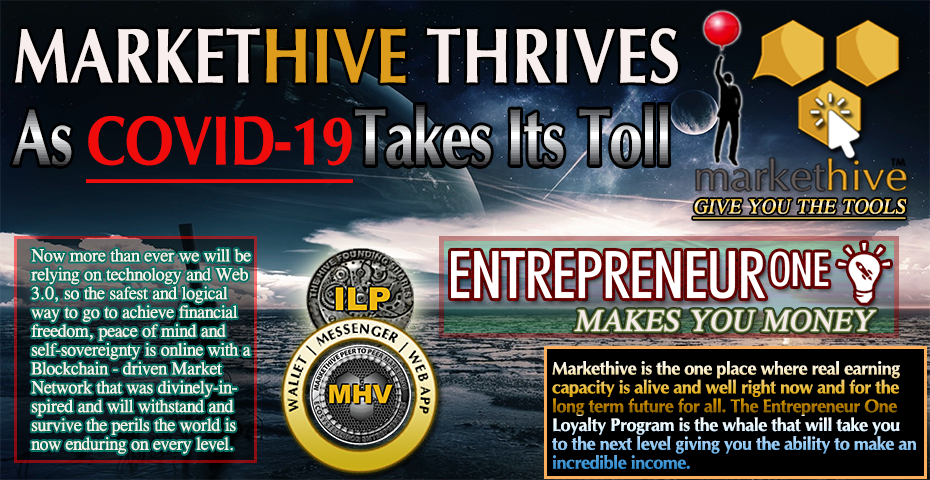 As the situation worsens with the Coronavirus on a global scale, we are promised unprecedented financial aid by governments, not to the big banks as was carried out in the GFC of 2008, but to the individuals of the population in many countries in order to stimulate the economy. President Trump announced a $1,200+ payout to each US citizen to help at this time of crisis. Other countries have pledged similar as a helping hand to individuals and communities to lessen the blow of financial hardship.
Further handouts have been proposed in the coming months as authorities speculate there is no quick fix to this pandemic that has financially hit and devastated small businesses, the entertainment industry, hospitality, travel industry, and sporting codes and clubs, and the people who are either employed or use the services. The whole world is virtually in lockdown bringing devastating effects to the world economy.


Uncertainty And Contingencies
The W.H.O and "powers that be" confess they have never experienced anything like this. This is something very new and the dichotomy being although we are urged to isolate, now mandatory in many countries, the world is uniting on a virtual level to beat this critical situation. Some brick and mortar businesses may never recover and there's an urgency to conduct their businesses solely online with logistics and delivery services being revamped to accommodate this new way of living.
Rest assured we will see an end to this present catastrophic state of affairs, however, the world and how we do business will change. I like to think this is for the greater good and with the advancing technology, we have today with Blockchain, cryptocurrency and quantum computers that have the capacity to connect in every part of the world bring a more self-sovereign way of life, with the freedom and financial independence we all deserve. Markethive is the only company to date with this vision and Plan to integrate this monumental undertaking.


Markethive Thrives Amid The Covid-19 Devastation
As the offline business world comes to a stand-still or collapses, Markethive thrives. Entrepreneurs know this is where we are heading. The only platform that offers every individual self-sovereignty with the opportunity to capitalize on the many different services and products Markethive is rolling out. Entrepreneur One will include every reseller program starting with the Banner Impressions Exchange, then the Press Release Exchange, The Boost Advertising, Video Advertising, in fact, every aspect of Markethive will be available to the Entrepreneur One Upgrades to run as their own businesses within Markethive.
Markethive will not be selling those services to Markethivers. Only Entrepreneur One Associates will be able to sell them. Markethive only requires the $100 per month subscription from you. You are then allocated your portion of banner impressions, press releases, etc, to resell them to the Markethive community of which there will be millions. Keep in mind the number of E1 Upgrades is capped at 500.
This is on top of the 1/10th ILP (Incentivized Loan Program) you receive after 12 consecutive payments of your Entreprepreneur One Loyalty Program. This continues to accrue every year you are current, up to 10 years. This in itself will bring you huge dividends as the limit of ILPs is 1000.
In a recent interview, CEO of Markethive, Thomas Prendergast says,
"This is truly a god-given, spiritual concept that is brilliant, to create an entry-level program of $100 per month. As we expand Markethive Entrepreneurs become an authority to conduct their individual businesses and capitalize on the Markethive products and services. I, as the CEO of the company, is an Entrepreneur One upgrade just like the others and just join in with what they are doing and let Markethive be that foundation of equality. It's a concept I don't think anyone has even considered before."
With the advent of the stimulus package, the governments are doling out to every individual, the likelihood that the 500 Entrepreneur One Upgrades will be maxed out sooner than first expected as many Markethivers will make good use of the money by investing in their own future and financial security by upgrading to Entrepreneur One Level. So the Entrepreneur Two Loyalty Program is currently in the works which do not include the Banner Exchange or the 1/10th ILP. More about that in this article…
https://markethive.com/group/marketingdept/blog/markethiveloyaltyprogramsyoudontjustsavemoneyyoumakemoney

Markethive - A Force To Be Reckoned With
Our Alexa rank currently at 5,146 puts us in the top .0001% of the billions of websites on the internet. Markethive is in the cream of the crop of the most visited and active sites. Markethive is exponentially growing as people who join see the good it's doing for the individual and opportunities it is creating, open to everyone. So we will expand into the millions, just like LinkedIn.
But even as it stands now, Markethive is receiving more than 60 million page views per month! This is increasing daily. What does that mean for the Banner Impression Resellers? Popular websites are selling impressions for up to $0.10 cents. But let's just do the math and sell them for a penny, ($0.01 cent). The allocated amount of impressions for each Entrepreneur One will generate an income of $1,200 and of course, you can expect that to increase on a monthly basis.
Once we have the Press Release Reseller program in place you'll be able to sell Press Releases for $10,000 each. This is what digital news sites with an Alexa ranking doubling Markethive are selling for. The following on the various social media platforms also plays an important role. Markethive is also exponentially growing there too with a following into the 10s of thousands. The only way is up now.
Entrepreneur upgrades will be given a set amount of press release slots each month to on-sell to anyone who wants to publish their story. As an Entrepreneur Upgrade, you will also be able to buy more should you need them from Markethive at a fraction of the cost you would sell them for.

Thomas Prendergast explains,
"The reason we're doing this is so that you as the individual have all of these cottage industries so you can make money, You don't have to go recruit anybody. This is not MLM or affiliate marketing, it's a referral business which completely works differently and instead of us taking all the money from the banner impressions, press releases, etc, you are responsible for using the system, that's why we give it away."
He goes on to say,
"There is a spirituality to this, I was given the instructions and the blueprints intuitively to build the system as powerful as this and to give it all away. Where I can make my money is selling the services Markethive represents, like banner advertising, press releases, broadcasting, etc. So designing it so that you get your share of our traffic, which you are responsible for helping us build, you pay us a flat rate by way of the Entrepreneur Loyalty Program and you sell Markehive's services thereby making you a cottage industry, not an affiliate, not Multi-level marketing, and now not even a referral. This is a completely different animal which can literally mean a significant income for the rest of your life!"
The ILP is another income stream, which as we move forward and introduce the Apprentice and Journeyman programs which are upgrades similar to LinkedIn, for prices similar to LinkedIn. Members will have a big advantage in Markethive for as little as $20 per month that millions of people will subscribe to as they see the benefits that Markethive offers.
Markethive Projections - Realistic And Viable
Statistics show that 39% of LinkedIn users have upgraded to one of their paid memberships. They have just tipped 500 million members. So let's be conservative and project only 20% of 10 million Markethive members which equates to 2 million upgrades to the Apprentice Membership at $20 per month = $40 million. 20% of $40 million for the ILP holders = $8 million, divided by 1000, (the maximum amount of ILPs) = $8,000 per month, per ILP. This equates to $800 per month for a 1/10th ILP.

As Thomas passionately states,
Do you guys not get this? This is legitimate! I know that you have probably never dealt with this before and someone being so generous. What's wrong with being generous? There is nothing wrong with being generous! It's not found very often in the world but those of you that know me, I've been doing this for over 20 years and this is what drives me!

I am not a materialistic person, I do not have greed in my blood. I have decided if I'm going to be a success, you're going to be a success. I will not build my success on the backs of your failures. I am going to build my success arm in arm with your success. I really hope that makes sense?"

A Wrecking Ball
Just as President Trump is seen as a political wrecking ball in the eyes of some, as he tends to defy the political norm, it can be argued that he is not left or right, he's an entrepreneur and a president for the people, the little guy. So too does Thomas Prendergast shine in a similar light, a mini wrecking ball, with a mandate to bring down and crush the ethos and inequality of MLM and replace it with a legitimate system where every single person succeeds.
Markethive has been in Beta for nearly 5 years, but here is the good news about it taking so long to build. It is very unlikely that a company will try to copy what Markethive has or is doing. Markethive is a massively huge project of all linear platforms along with its own financial ecosystem. As we gain more revenue with the first tipping point of 500 Entrepreneur One Upgrades, we accelerate a lot faster, the more traffic we have, the more services we can deliver along with the planned money-making machines exclusive to the Entrepreneur Loyalty programs. This just leverages the complete system to grow even faster and become more profitable for everyone.


Markethive Is A GrassRoots Company
As Thomas says, we are grass-roots. Think of it as virtually impossible to put a fire out that is burning on 400 million acres at the same time. So once it gets going it consumes everything and that's what Markethive is. Not just one person making trillions of dollars and the rest make nothing or lose, everyone has the opportunity to make money. Of course, the Entrepreneur Loyalty upgrades and who have invested in the ILPs stand to make a considerable income, plus members who are more active and using the system will definitely make more than someone who sits idle hoarding their 500 MHV they received upon joining Markethive. What you sow, so shall you reap.
We are very close to launching our wallet and when we do, the number of coins given away as airdrops will be reduced because there will be a real need for it. The MHV coin becomes fungible, more valuable as the ecosystem's viability and velocity increases. If you're a marketer and want to take advantage of the huge traffic and exposure the Markethive platform offers, but not an Entrepreneur One, you will need and want the MHV to pay for its banner impressions and digital media services available from Markethive's Entrepreneur One Associates. There will literally be millions of prospects coming into the system who are looking for what you are selling.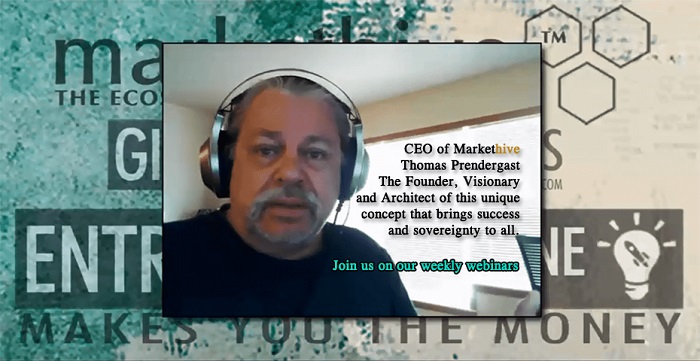 In Closing
To sum it all up, although this invisible war has almost stopped the world in its tracks with millions of employees and businesses feeling the blow economically likened to the great depression of 1929, the online world of business and social media is sitting pretty as its the only way to communicate and transact while we are all isolating.
Markethive is the one place where real earning capacity is alive and well right now and for the long term future for all. Right now we accumulate MHV, ready for the exchange and wallet to come into effect. The Entrepreneur One Loyalty Program is the whale that will take you to the next level giving you the ability to make an incredible income.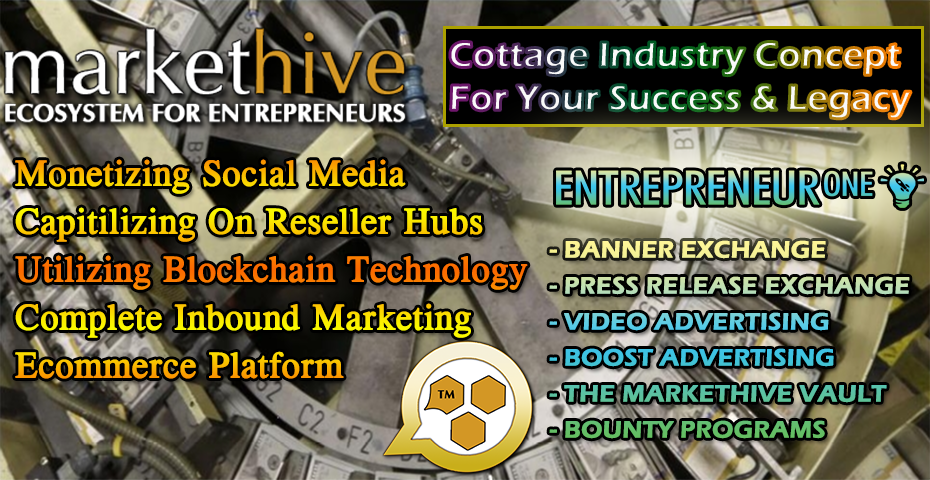 This is perfect for the non-recruiter as your customers are already there as part of the Markethive community. It is also perfect for those who would rather just invest and reap the rewards of the interest payments with the Incentivized Loan Program (ILP). This in itself will provide a significant income.
This is the genesis of a new world. The Coronavirus war will end one day, but the world will not return to the way we know it. Now more than ever we will be relying on technology and Web 3.0, so the safest and logical way to go to achieve financial freedom, peace of mind and self-sovereignty is online with a Blockchain driven Market Network that was divinely-inspired and will withstand and survive the perils the world is now facing.
Remember, the ILPs are capped at 1000 and the Entrepreneur One Upgrade is limited to 500. There are a few left. What will you do with your Covid-19 Aid Package?
Become an Entrepreneur One Reseller today and be the owner of your Cottage Industry Turnkey system at Markethive... https://markethive.com/upgrademe

Deb Williams
A Crypto/Blockchain enthusiast and a strong advocate for technology, progress, and freedom of speech. I embrace "change" with a passion and my purpose in life is to help people understand, accept and move forward with enthusiasm to achieve their goals.