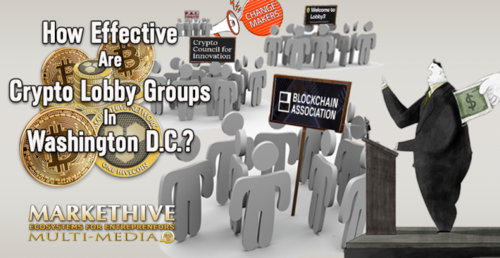 How Effective Are Crypto Lobby Groups In D.C.?
Can They Educate And Influence Archaic Politicos?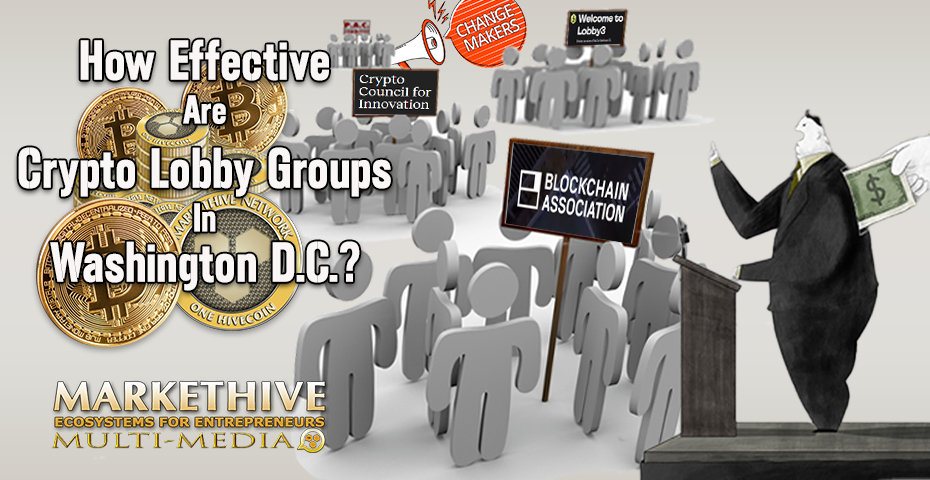 Over the past twelve months, we've seen governments worldwide press for aggressive crypto regulation, especially regarding privacy, non-custodial wallets, stable coins, defi, and even NFTs. This has made crypto lobbying more critical than ever, and many crypto lobbying groups have advanced to protect the industry from over-regulation or worse.
In this article, we'll look at
What lobbying is

The current state of crypto lobbying

The prominent crypto lobbying groups

What they can do to reinforce the crypto industry
What Is Lobbying?
The term 'lobbying' is said to have originated from the lobby of England's Houses of Parliament, where politicians would gather to be petitioned by the general public. Today, lobbying is probably one of the most controversial aspects of modern politics. It involves hiring someone to influence politicians to change laws and regulations and is often a well-connected former politician.
Some would argue that lobbying a politician is not much different from bribing a politician; however, there is a subtle difference. Bribing a politician usually involves paying them directly to do something. In contrast, lobbying usually involves donating to a politician in advance and then sending a lobbyist over to discuss what the donor wants.
Of course, if the politician doesn't agree or comply with the conditions, they are not likely to receive any more donations, with the lobbyist moving on to their political opponent. And yes, it is legal, aligning with the First Amendment of the Constitution, which says that the people have a right to "petition the government for a redress of grievances."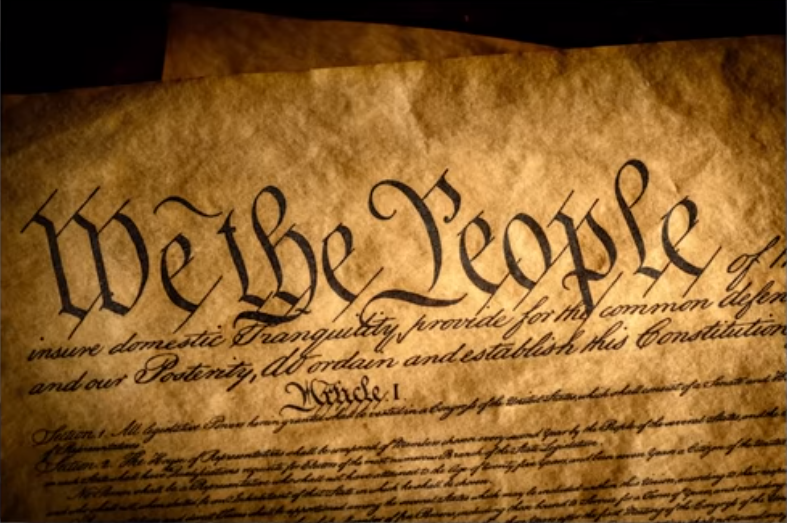 It's believed the founding fathers of the United States explicitly included this clause in the First Amendment because they knew that influential individuals and institutions will always try to influence laws and regulations via politicians, even if it's illegal and carries a harsh punishment.
Making lobbying legal makes this influence transparent and creates free-market competition between different lobbyists and interest groups, theoretically resulting in better laws and regulations, especially since anyone is technically allowed to lobby a politician. However, in theory, lobbying is different from how it works in practice.
In practice, whoever has the most money can hire the best lobbyists and therefore have the most significant influence over the laws and regulations of the land. Interestingly, this effect only started to become apparent in the 1970s after the United States officially went off the gold standard and may well have to do with the abnormal concentration of wealth that has been happening since then.
Today, lobbying is estimated to be an almost $4 billion industry, and interestingly, only around 14,000 people work in the industry, with most of the lobbying happening in Washington, DC. Moreover, the average return on investment for lobbying is about 760x. In other words, for every dollar spent on lobbying, an individual or institution can expect to see favorable laws and regulations that will result in $760 worth of returns.
Not surprisingly, most of the lobbying money comes from corporations, and the top spenders have mostly been big tech companies over the last decade. However, the composition of last year's top spenders includes real estate and big pharma organizations.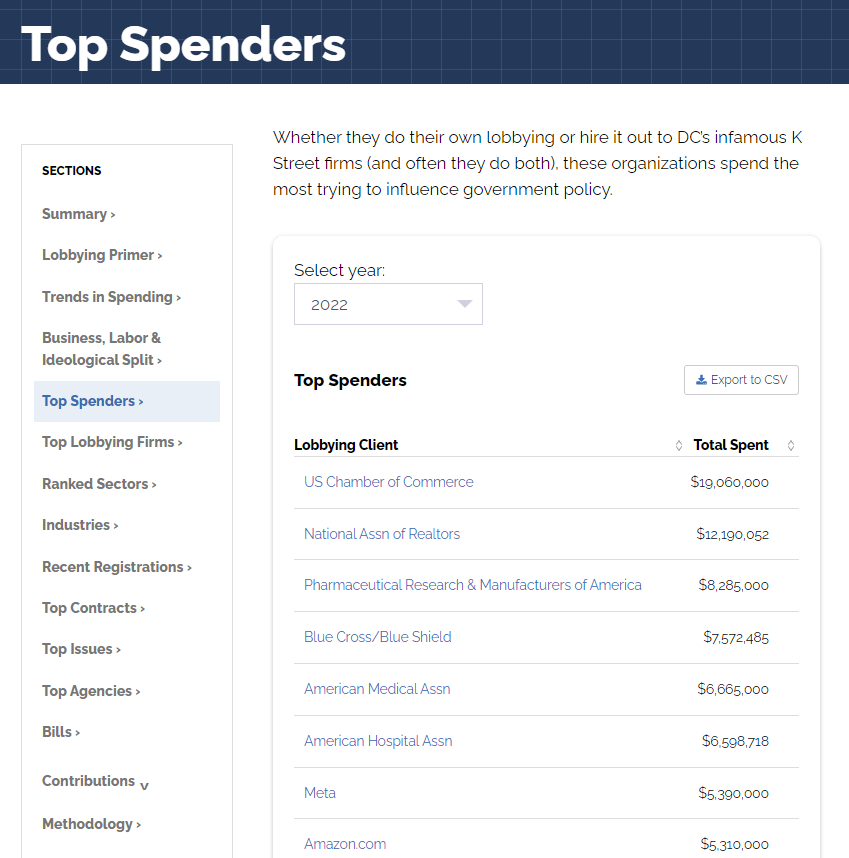 Image source: Open Secrets
The Need For Crypto Lobbying
There is an excellent practical reason why lobbying is legal and especially relevant to cryptocurrency. The simple fact is some politicians can be incompetent. [Well, we all knew that.] But more specifically, they may not be qualified to create comprehensive laws and regulations on complex topics in emerging industries. Many would argue some should have retired years ago.
It means that lobbyists are often the only way comprehensive laws and regulations can be created. Sometimes, the lobbyists write these laws and regulations, which was actually the case with El Salvador's Bitcoin law. Many political experts have pointed out that there aren't really any feasible alternatives, and the entire political system has effectively evolved to rely on the input of lobbyists to operate.
Notably, crypto lobbying efforts began after the crypto bull market in 2018 in response to the lack of legislation around crypto taxation and initial coin offerings. By 2019, over 40 companies and organizations were lobbying for crypto interests, spending over 40 million dollars in the first quarter alone.
In 2020, the interests of all these different entities lobbying for crypto started to diverge, which makes sense, considering that not all of them were crypto companies. Unfortunately, even the crypto-specific lobbying groups began to splinter into their factions. Adding to the chaos was the infamous infrastructure bill the current US administration put forward, containing a series of anti-crypto provisions.
The most important of which is arguably the poorly defined definition of a broker, a clause in the infrastructure bill worded so that cryptocurrency miners, validators, and even developers could potentially be required to collect KYC from users for tax purposes and practically impossible to do.
For the first time, all the different crypto lobby groups came together. They worked with pro-crypto politicians to draft an amendment to the infrastructure bill that would change the wording of these anti-crypto clauses so that the crypto industry doesn't get turned upside down in 2023. The amendments to the infrastructure bill didn't pass, and it turns out that the treasury secretary Janet Yellen was actively lobbying against these amendments while they were being considered.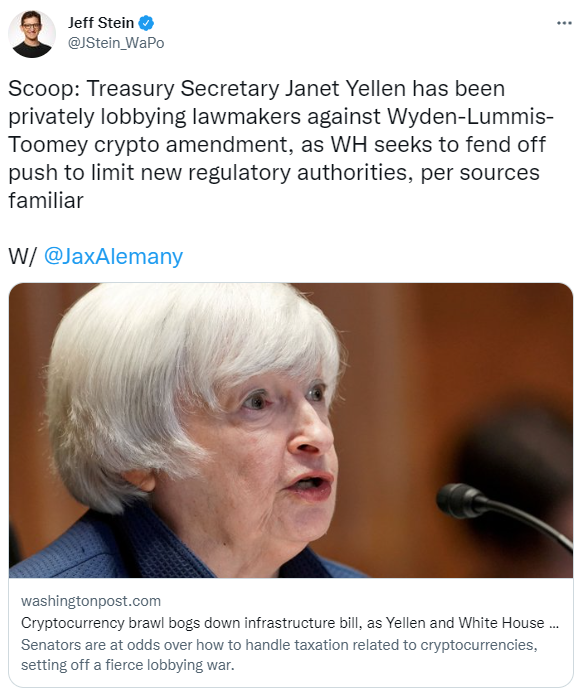 Image source: Twitter
Crypto lobbying was ramped up after the infrastructure bill fiasco, with asset managers lobbying the SEC to approve a spot Bitcoin ETF and DAOs lobbying for reasonable Defi regulations. The existing crypto lobbying groups turned their focus to stable coins, as they were a point of interest for politicians.
By the end of 2021, some political experts started claiming that crypto entities were "dictating terms in Washington" through their lobbying efforts. A recent report found that over 300 people in Washington are lobbying exclusively for crypto interests, with crypto companies and lobbying groups spending three times more on lobbying in 2021 than in 2020.
Three Prominent Cryptocurrency Lobby Groups
1. The Blockchain Association
The best-known and most influential crypto lobbying group is arguably the Blockchain Association. The Blockchain Association was founded in September 2018 by a series of crypto companies and VCs, including Circle, Polychain Capital, Digital Currency Group, and Protocol Labs.
Leading the charge is Kristen Smith, a well-connected and experienced policy professional with senior-level experience in both House and Senate offices. She also has private sector experience, advocating for companies in the telecommunications, Internet, and other tech-focused industries. Kristin holds an MBA in Finance from NYU's Stern School of Business and a graduate degree from Georgetown University.
The Blockchain Association boasts over 80 members and includes cryptocurrency's creme de la creme, like Defi Protocol, AAVE, Etherium Company Consensus, Crypto Custodian Fire Blocks, Solana, Avalanche, and eToro trading platform.
Coinbase, headed by CEO Brian Armstrong, was one of the founding members before it withdrew from the lobby group in August 2020 under protest due to a disagreement with unspecified decisions made by the association.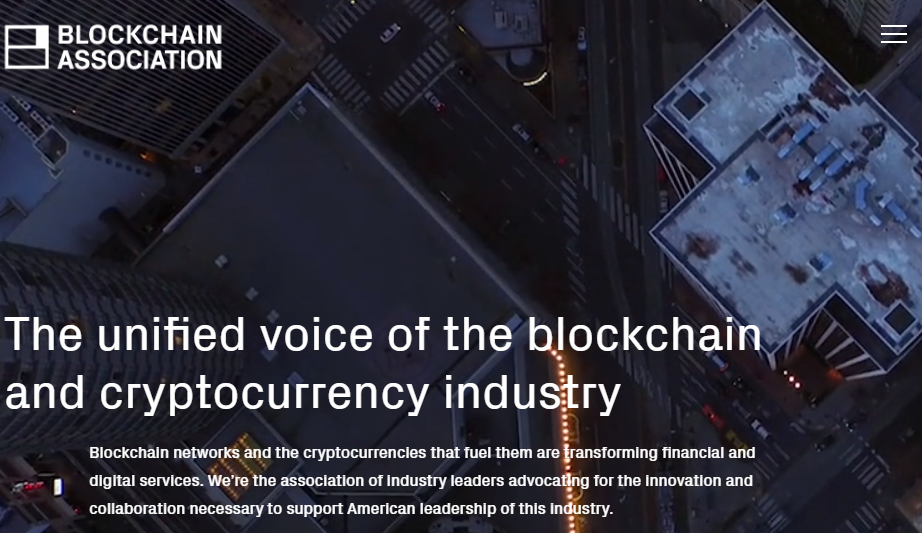 Image source: Blockchain Association
In a recent interview hosted by Unchained, the Executive Director at Blockchain Association, Kristen Smith, explained that 2021 was a very tough year for crypto lobbying groups primarily because of all the anti-crypto regulations, proposals, and comments coming from the current administration.
Kristen said that the blockchain association was even on the brink of suing the treasury secretary, Janet Yellen, over her midnight rulemaking and anti-crypto shenanigans, such as her previous lobbying efforts against the amendments to the infrastructure bill.
Despite the backlash, the Blockchain Association has made serious progress, particularly in educating politicians and regulators about cryptocurrency. This is important because most politicians have been learning about crypto through the mainstream media only and arguably not getting an objective or accurate view on it from there.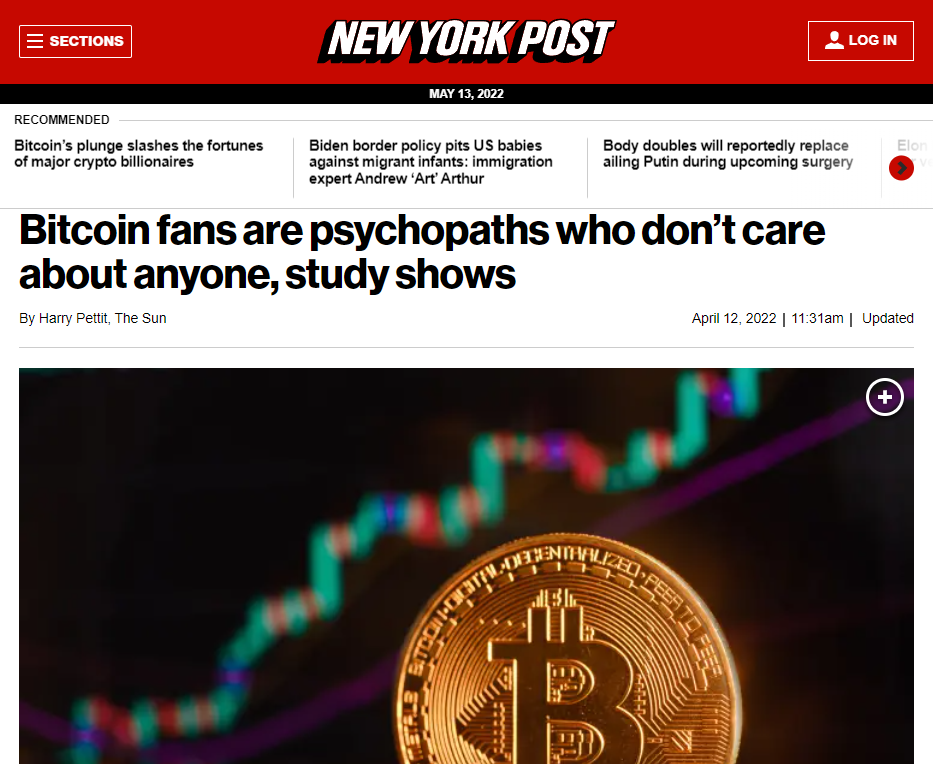 Image source: New York Post
Notably, the blockchain association has been pushing back against releasing a Central Bank Digital Currency in the United States and has also set the record straight for Russia using cryptocurrency to evade sanctions.
2. Crypto Council for Innovation
The second biggest and best-known lobbying group is the Crypto Councill for Innovation, founded in April 2021. An alliance among some significant leaders in the cryptocurrency industry was formed to educate policymakers, regulators, institutions, and individual investors on the benefits of digital assets.
It came on the back of Coinbase CEO Brian Armstrong's visit to Washington D.C. to meet with politicians. His experience there seemed to be one of the inspirations behind the formation of the lobby group. Other supporters are Paradigm, Ribbit Capital, Block, Andreessen, Horowitz, Fidelity, Digital Assets, and Gemini.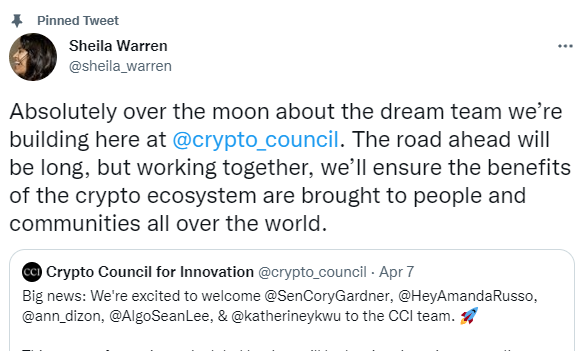 Image source: Twitter
Whereas the Blockchain Association is headed by someone who's politically connected, the Crypto Council for Innovation is led by someone connected on a different level. Sheila Warren is a Harvard Law School graduate and a former heavyweight at the World Economic Forum.
She worked as the head of Blockchain, data, and digital assets and served on the center's executive committee for the fourth Industrial Revolution. I think it's fair to say she will have some clout in Washington.
3. Lobby 3
The third lobby group is not that well known as it's pretty new. It is a decentralized autonomous organization called Lobby 3, launched in February this year by American politician and 2020 presidential candidate Andrew Yang. Andrew is an Entrepreneur, a champion of a human-centered economy, and famous for favoring universal basic income saying automation will soon phase out most unskilled jobs.
Although Andrew spent most of his political career as a member of the democratic party, he became an independent politician in October 2021. Subsequently, he founded a new political party called the Forward Party with the slogan "Not Left. Not Right. FORWARD." As part of his political pivot, Andrew doubled down on cryptocurrency and claims that he wants to make the Forward Party the "Crypto party of the United States."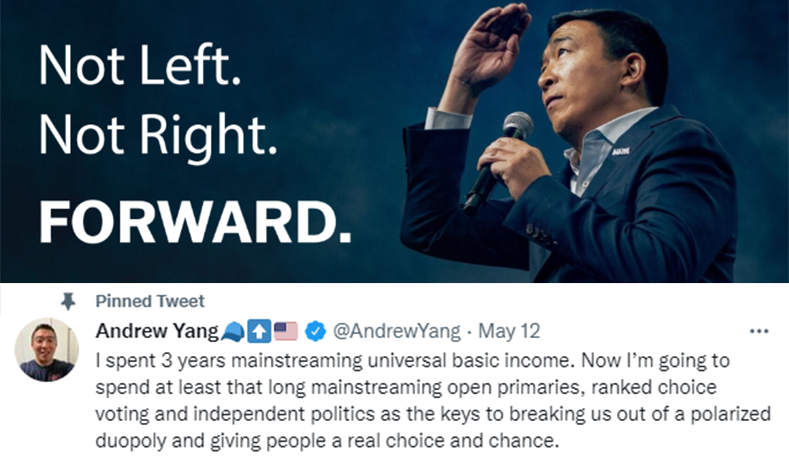 Image source: Twitter & AndrewYang.com
As explained on the Lobby 3 website, the DAO will crowdfund crypto lobbying in Washington, D.C, and aims to make it possible for the average person to have their voice heard on the issues that are only currently being discussed by an exclusive group of well-funded crypto personalities.
The advocate membership is accessible to everyone as Lobby 3 offers three membership tiers starting at 0.07 ETH. Each membership tier comes with its own NFT, which gives its holder a series of perks like access to exclusive events and voting power for what crypto issues are lobbied for in true democratic fashion.
All proceeds from membership NFT sales will fund "issue-based advocacy organizations" in D.C to build the core advocacy infrastructure, which is the first of the four steps on the Lobby 3 road map.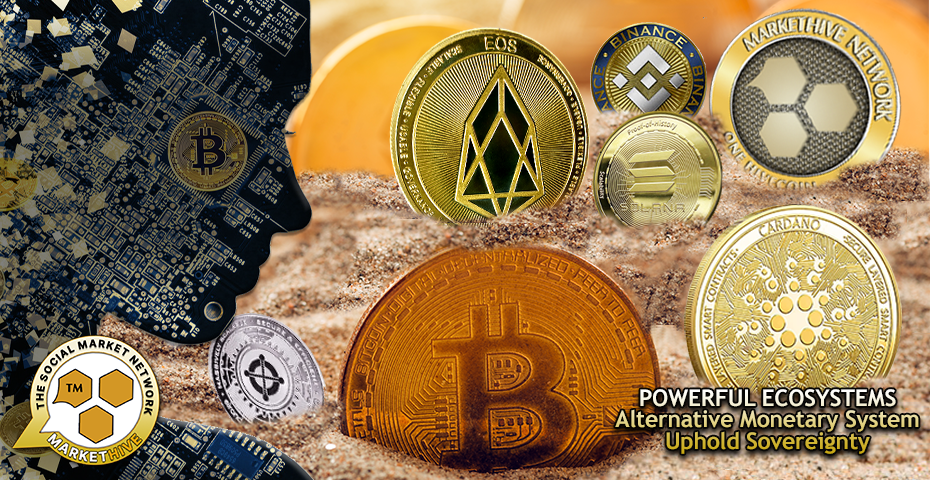 Image: Markethive
What Will Crypto Lobbyists Do For The Emerging Industry?
So, how exactly will these crypto lobby groups save the crypto industry? First, they'll make sure that politicians know what they're talking about before voting on any crypto-related legislation. When blockchain Association executive director Kristen Smith said, most politicians get their crypto education from the mainstream media, she wasn't joking.
Coinbase CEO Brian Armstrong became aware of the crypto knowledge deficit when he traveled to Washington and that about 50% of US politicians see crypto as risky because they think it's only being used for illicit activity.
The silver lining to this statistic is that most US politicians don't care about crypto, and it's just the same group of politicians on both sides of the extreme and mainly cited in crypto headlines and MSM. It's no surprise that the big banks and the like are lobbying most anti-crypto politicians. In contrast, the pro-crypto politicians are almost certainly being lobbied by crypto companies.
The question is, which of these positions is easier to lobby for? The answer may well be found in the fact that for many politicians, the ultimate goal is to be re-elected. The bottom line for banks is that next-generation financial technologies are replacing them, which means they don't have much to offer besides money.

A politician can get boatloads of donations from big banks. Still, if accepting the contribution doesn't result in additional jobs for their jurisdiction, for example, then they may eventually lose the popular vote in their electorate.
The prospect of capitalizing on the crypto industry is a seriously appealing value proposition for a politician. Because even if the donations they receive from the crypto industry aren't as lucrative, the jobs, tourism, and investment that the crypto industry will generate will almost guarantee they will get elected.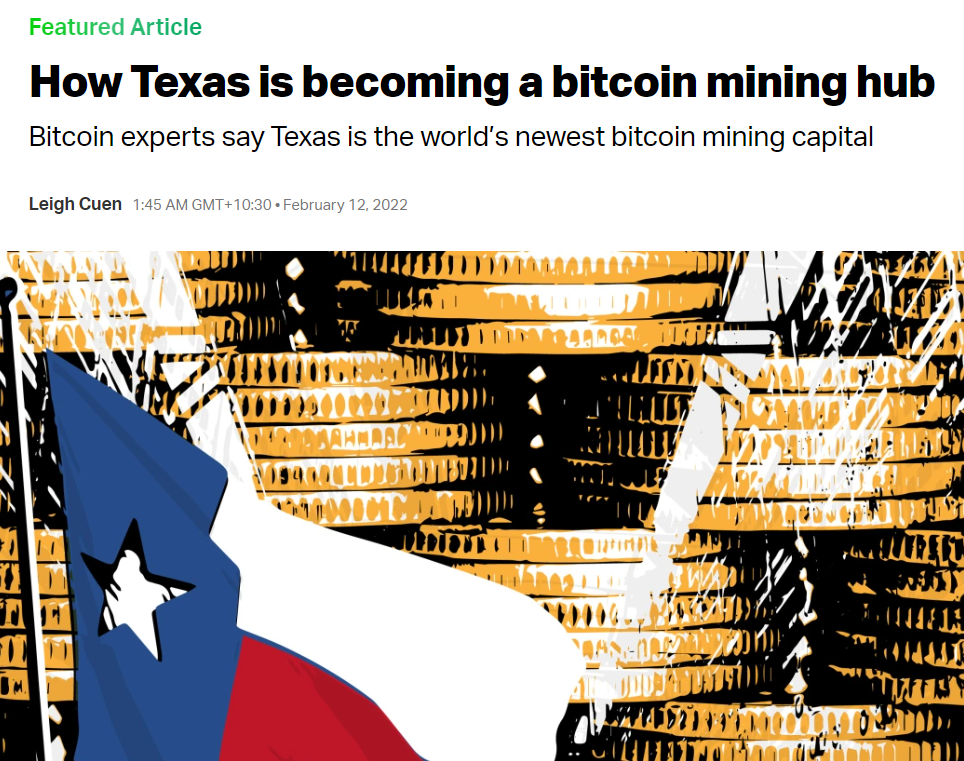 Image source: Tech Crunch
We are already seeing this effect in full force in States like Texas, now touted as the newest Bitcoin mining capital. LinkedIn reported that job listings for crypto increased by 395% in 2021 within the San Francisco Bay area, Austin in Texas, New York City, Miami-Fort Lauderdale, and Denver. Even counties in select States are signaling their support for cryptocurrency through legal tender bills and the like.
With digital mediums and platforms on the rise and preparing for Web 3.0, some have integrated cryptocurrency as a means to reward users, encourage and nurture the entrepreneurial spirit and support a redistribution of wealth. Blockchain and Cryptocurrency have opened up tremendous possibilities and opportunities for people struggling in the current financial climate.
Apart from an increase in employment in the crypto industry, there is remarkable growth in sovereign social media and marketing platforms that give the average person the ability to generate an income and provide businesses the resources to promote and facilitate their brand to a worldwide audience.
We welcome all influential groups to educate the powers-that-be and society in general on the benefits of decentralization and cryptocurrency. The crypto Lobbyists will make waves in Washington in the second half of this year, and it's going to make for a fascinating midterm election.
References: coinbureau.com


Also published @ BeforeIt'sNews.com: https://beforeitsnews.com/politics/2022/05/how-effective-are-crypto-lobby-groups-in-d-c-3262760.html