.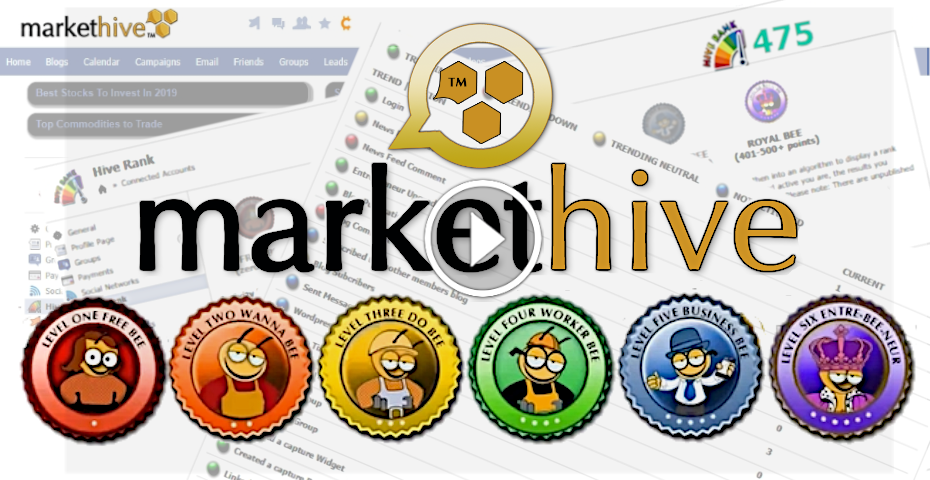 The Markethive Hive Rank Explained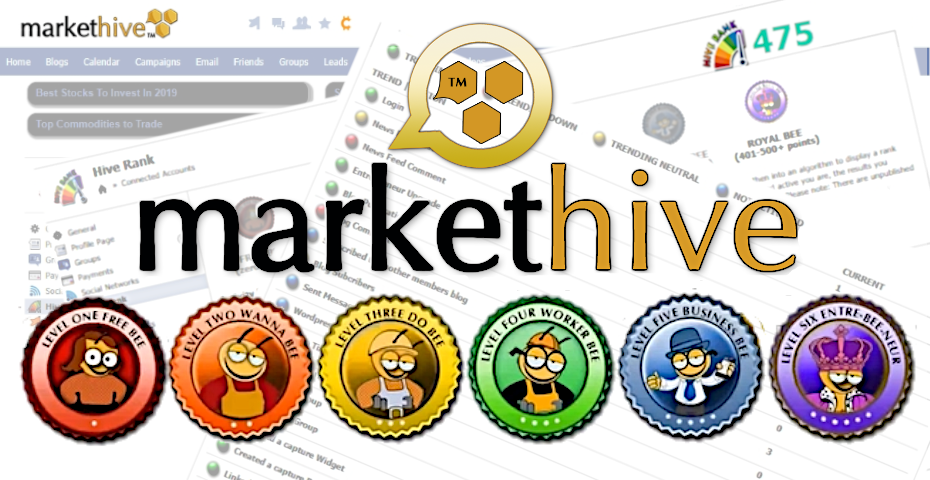 Markethive's Hive Rank calculates the amount of work you do and the results of the work accomplishes with the interactivity it causes within the Markethive system.
How Is The Hive Rank Activated
First of all, to activate the Ranking system you must have at least three referrals registered to Markethive through you. Doing this activates the Hive Ranking system, tracking your engagements which includes activities such as commenting on posts, following people, subscribing to blogs, messaging, joining groups, tipping, etc.
Also, productions including writing or curating blogs, posting, creating capture pages, capture widgets, setting up autoresponders, creating groups, etc. All of these assigns various calculated values to determine your score. These values have a half-life which means depending on your activity, they will diminish which causes your score to fluctuate.
Scores can reach into the thousands, depending on how consistently active you are on the platform, along with your utilization of the inbound marketing tools at your disposal and marketing efforts. High scores can also increase faucet earnings, Infinity Bounty awards, achieving Super Status and becoming qualified to achieve the coveted Royal Bee of the Day. This has great benefits which I will discuss later.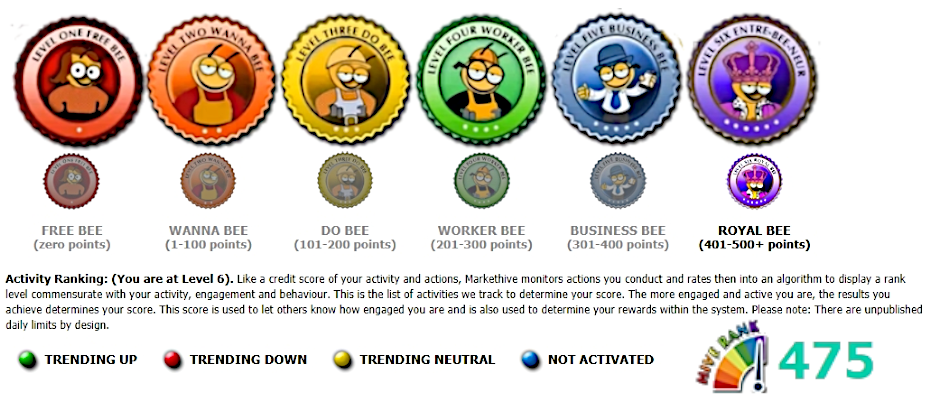 The Key
It's not just what you do within the Markethive Platform, your Hive Rank is also driven up by the engagement you receive when you post or market your blogs and/or capture pages. If your content gets a response and a lot of traffic coming to your site that also increases your hive rank. For example, when you create a capture page and promote anywhere on the internet, that capture page will, in turn, drive your Hive Rank numbers up. So it's not just what you do within Markethive, your hive ranking score increases due to the results of what you do.
The key is to be active and consistent with all that Markethive offers to achieve these generous rewards which can only increase your universal income within the Markethive Ecosystem.
Notably, there are limits to certain activities. For example, you can't produce 10 blogs with one line of content on any given day just for the sake of increasing your score. The system will limit you to 2 blogs a day. You can publish as many blogs as you wish, however it won't affect your hive ranking. So, in essence, the system cannot be gamed.
Like a credit score of your activity and actions, Markethive monitors actions you conduct and rates then into an algorithm to display a rank level commensurate with your activity, engagement, and behavior.
Super Status - Royal Bee Of The Day
Royal Bee which is Level 6 on the hive rank score is the highest one can achieve. The trick is to stay there. One of the benefits is you will be given the accolade of "Royal Bee For The Day". This achievement can only be acquired once every 30 days. While you reign in this esteemed position for the day, you will receive all the new signups into Markethive for that day produced by the Markethive Marketing Department. That means as an Entrepreneur Upgrade, you will also receive the 500 coin matching bonus for each verified registration. Faucet or Micropayments will also be increased for any activity performed.
Not to despair! Those who are a free member can still achieve the status of Royal Bee For The Day. This will put you in Entrepreneur Upgrade status for the day and you'll receive the same rewards accordingly. As a rule of thumb, you do not receive the matching bonus, as a free member, however, the associates you acquire through the system will be held for you as your associates and if you decide to upgrade within the first 30 day period you will be paid a 100% of the matching bonus of 500 coins. This also has a half-life as illustrated in the image below.

Markethive Has Got You Covered
Markethive has got you covered with an excellent gamification system that produces real income. It also enhances the building of your business with Markethive services and makes it fun and rewarding! There are many other platforms that are gamified, however, it is all in-house. You are rewarded with points or credits only. This only allows you to use those credits within that certain platform for advertising your brand, which otherwise would cost you money to do so. Markethive being the complete ecosystem built on the Blockchain, with its own Exchange (in development) Crypto Coin (MHV), mining hives and products for sustainability will provide you with universal income and the liquidity to use that income.
This is the next generation of all things social media and marketing. So "get with the program" and conduct your business and online activities with a system that truly rewards you so that you may have the success and create wealth that will surpass any other social media platform out there today.
Deb Williams
Market Manager for Markethive, a global Market Network, and Writer for the Crypto/Blockchain Industry. Also a strong advocate for technology, progress, and freedom of speech. I embrace "Change" with a passion and my purpose in life is to help people understand, accept and move forward with enthusiasm to achieve their goals.