The Importance Of The Markethive Link Hub And Tracking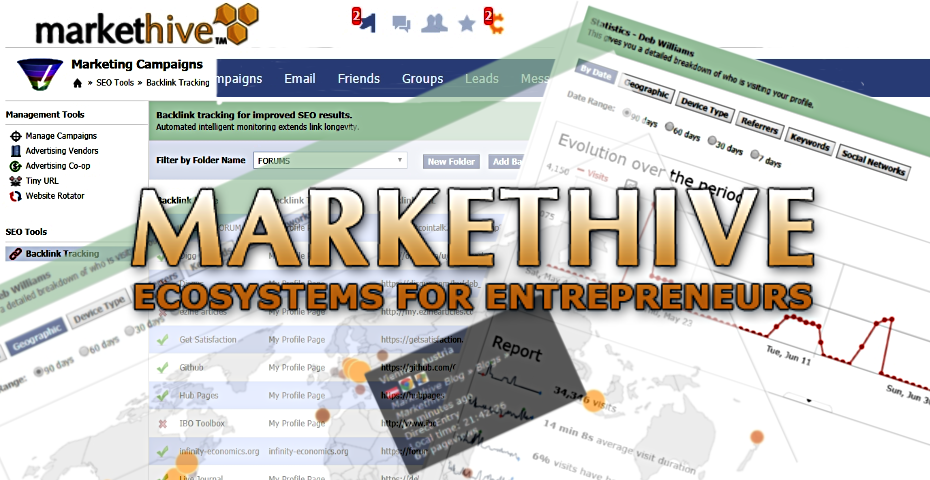 The Markethive Link Hub is built into the Profile page to enhance and assist in your primary SEO goals. Connected via your Backlink Management system, you have the options to include as many of your backlinks to be displayed via your Profile Link Hub. Optionally included in this Link Hub, are your Word Press blogs, social accounts, and the literally 1000s of other forums, accounts, bookmarks, and miscellaneous systems available throughout the Internet.
What is SEO?
SEO is short for "search engine optimization". Search engine optimization is a methodology of strategies, techniques and tactics used to increase the number of visitors to a website by obtaining a high-ranking placement in the search results page of a search engine (SERP) — including Google, Bing, Yahoo, and other search engines.
SEO involves a range of tactics that may include blogging, backlinks, changes to your website copy, improving how quickly your website loads and changing how certain things on your website are labeled. When done well, it's a long term strategy that can drive people to your website without the use of paid advertising.
Search engine optimization is important because users trust search engines and having a presence in the top positions for the keywords the user is searching, increases the web site's trust. SEO is good for the social promotion of your web site.
Top keywords are:
It's recommended you only put a maximum of 3 keywords in each of your blogs or posts.
How SEO works:
There are many factors that help a search engine determine what goes on Page One of the search results. A couple of very important factors include:
Backlinks
Backlinks are what gives your website authority. The more high-quality websites that link back to your website, the higher you will rank in search engines. For example, if your business is featured in news.com or yahoo.comand the article includes a link to your website, Google sees this as a backlink and uses it as a ranking factor for your website. Backlinks are a major metric for the ranking of a webpage. A page with a lot of backlinks tends to rank higher on all major search engines. With Markethive's Backlink Management System, you can be assured this will help towards your goal increasing your presence online.
NOTE: If a link displays a red cross instead of a tick, it is still working as intended. It means the site has a no-follow link. No-followed links are not a direct impact, but potentially a very powerful, indirect way to get lots of good links and lots of good SEO value. They open up opportunities for you to gain follow links.
So don't discount No-follow links. The benefits are twofold. They provide more of a variety in your link profile and Google loves that. Also, whether it's found in an insightful tweet, expert advice on Quora or an in-depth blog comment, a No-follow link can make a difference. There's always someone out there looking for a resource-loaded site to link to.
Content
High-quality content whether it be articles, videos and product pages that answer a person's search queries can help your website appear higher in search engines. Publishing unique and quality content is a crucial part of retaining visitors on your blog. It's not only important to get new visitors. Giving people a reason to come back and visit your website is what is going to give you a good boost in increasing Alexa rank and SEO. Share your content on Social Media. Just about everyone is active on the internet through social media. Also, submit to other sites such as Dig, Reddit, Delicious, Stumbleupon, and Tumbler, etc. Markethive accommodates this sharing facility which will achieve a reach into the millions.
The Backlink Tracking System At Markethive
Backlinks are an important component to achieving and maintaining optimal SEO results. Establishing good backlinks on authority sites can require a committed ongoing effort. But once you successfully do so, it's just as important to monitor that website to confirm your link remains active.
The Backlink Tracking system allows you to organize and catalog each new link account and categorize them according to your marketing campaigns, or country or type of site (social network, and Target Sites they are associated with. Staying organized is the first step to properly managing your backlink portfolio.
But the system goes one step further and will actually monitor each of your backlinks for you! Each day it will verify that your link still exists and if not, will notify you so you can take corrective action. This cuts down the time normally required to manually verify your links to ensure each one is active.
This video is a Backlink Training Workshop with Thomas Prendergast demonstrating how to create a backlink within Markethive from a list of quality backlinks. Here is the site where you can start creating your backlinks. https://www.bloggingseed.com/profile-creation-sites-list/
Track It All Through Markethive's Tracking System
Every aspect of Markethive tracks your incoming tracking and reports. This tracking is built into your Profile page, your blogs, your capture pages, your WP plugins, giving you virtual full data on all your assets. From the daily activity report, Geographic map of connections, Device type, Bounce rate, referrers, Keywords, and Social Networks traffic.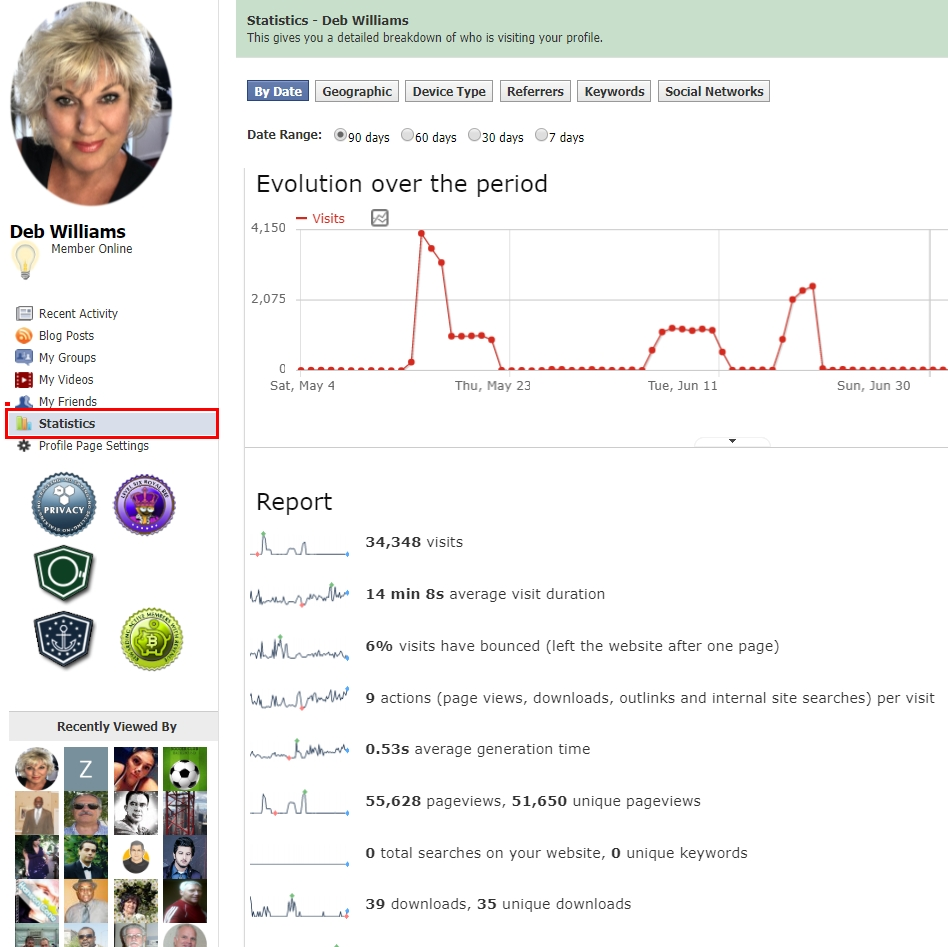 Asset Map
Internet assets can be considered to be your social networks, forum posts, WordPress blogs, capture pages, websites, social bookmarks, etc. SEO utilizes these and their backlinks. Proper backlinking optimizes your results. The asset map allows you to visualize your backlinking layers and structures for your SEO strategies and campaigns.
This tool along with the Backlinking tool is invaluable in a sophisticated SEO campaign.

Markethive Seeing Rapid Growth
Given Markethive's social and collaborative nature, gamification and rewards in MHV coin, the content-rich platform created and published by users, along with personalization have seen exponential and rapid growth to date...

Markethive has been in BETA for 4 years and at the end of 2018 had 2,000 members, to date we are approaching 70,000 members.

Per Clouldflare.com and Oneall.com, Markethive has members in 187 countries.

Per Worthofweb.com Markethive.com domain's raw worth is $12,570,000 up from 950K at the end of 2018.

Per Alexa rating, we have risen to 4th in the category of Blockchain Media sites with an Alexa rating of 8,945, up from 50,000 at the end of 2018.
Conclusion
Markethive is a decentralized, autonomous, fluid environment which includes manifestations of intellectual achievements, social habits, innovation, music, literature, technology, commerce, and the arts. A central "hub" built using blockchain technology, is designed to encourage "reciprocal interchange" of ideas, knowledge or skills as well as providing for exchange, sales or purchases of goods, services, and commodities.
With a history of over 20 years in Inbound Marketing, including SaaS, CRM, and CMS, Markethive does have the edge and is on track to bring proven products and services to a much needy market. It is essentially the process of attracting prospects via content creation, creating brand awareness and integrity leading to a healthy relationship with the customer.
This futuristic model is here now and fully prepared for the future, truly representing a prime example of the next generation = Market Networks. Markethive has the road map and is the blueprint of where things are headed.
Deb Williams
Market Manager for Markethive, a global Market Network, and Writer for the Crypto/Blockchain Industry. Also a strong advocate for technology, progress, and freedom of speech. I embrace "Change" with a passion and my purpose in life is to help people understand, accept and move forward with enthusiasm to achieve their goals.