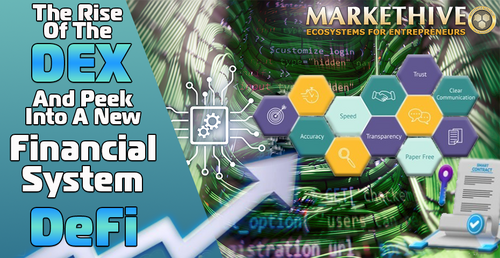 The Rise Of The DEX And Peek Into A New Financial System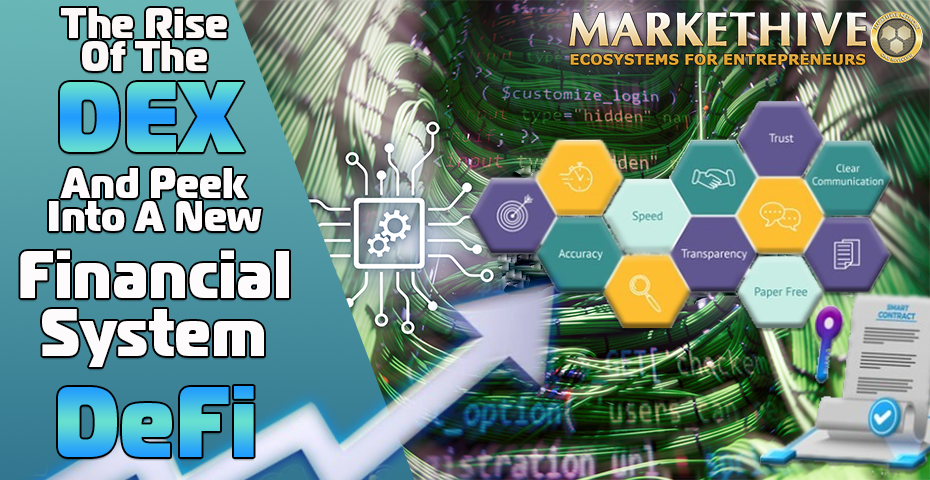 DeFi (Decentralized Finance) is a term used to cover various components and activities, including Decentralized crypto Exchanges or DEXs which are at the cutting edge of DeFi. The rapidly evolving market of the DEX allows peer-to-peer cryptocurrency transactions without the need for an intermediary.
DeFi - A New Financial System
DeFi is a system by which financial products become available on a public decentralized blockchain network. That makes them open to anyone to use, rather than going through middlemen like banks, brokerages, and even centralized crypto exchanges.
Unlike the legacy financial institutions and centralized crypto exchanges (CEXs), the KYC/AML (Know Your Customer and Anti-Money Laundering) protocol is not necessary with the Decentralized Finance protocol. This is welcomed by those concerned about their privacy and who cannot access valid documents. The documents required are usually a government-issued ID, Social Security number, or proof of address.
More specifically, DeFi operates in a decentralized environment on public and permissionless blockchains, making it possible for buyers, sellers, lenders, and borrowers to interact peer to peer and use services encoded into open-source software protocols and smart contracts rather than a company or institution facilitating a transaction.
Historically, intermediaries have been the central hub acting as agents and brokers of trust, providing liquidity and security. Over the last century, the massive failings of this system, resulting in tumbling economies and the onset of a global recession, revealed a major flaw in the architecture. With the emerging technology, we can see a glimpse of a new financial services infrastructure.
Decentralized finance uses technology to disintermediate centralized models and provides financial services on a global scale to anyone regardless of ethnicity, age, or cultural identity. It also gives users more control over their money through personal wallets and trading services that expressly cater to the individual, not institutions.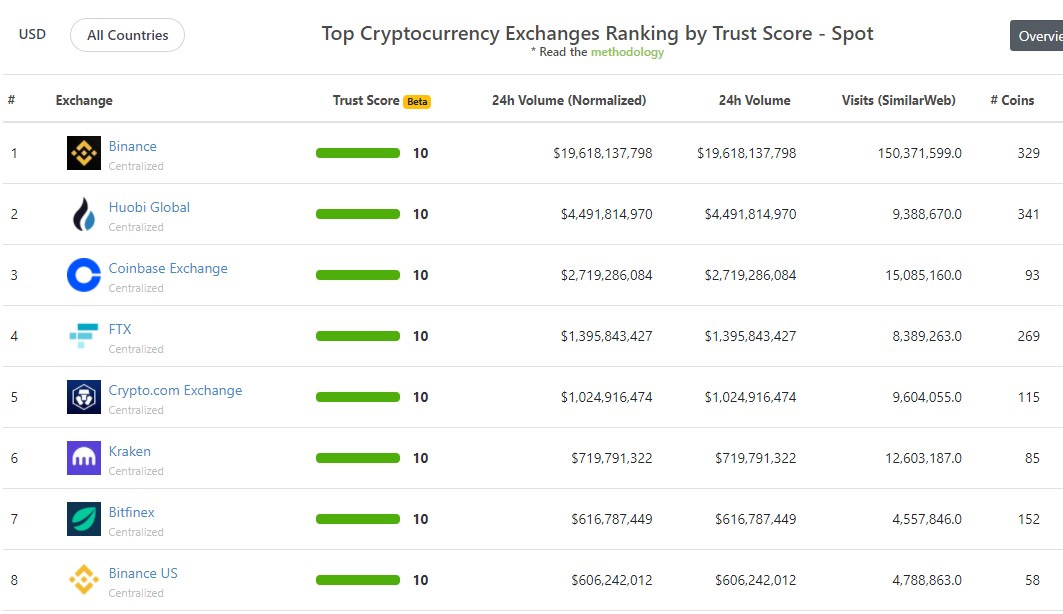 Source: https://www.coingecko.com/
What Is A Centralized Exchange? (CEX)
Since the inception of Bitcoin, coin exchanges were fundamental as the vehicle to connect buyers with sellers. These exchanges are centralized and facilitate every aspect of digital trading. On most CEXs, you must deposit fiat or cryptocurrency into an exchange-held crypto wallet before making trades. In the world of digital assets, this is called on-ramping (as opposed to off-ramping, when you withdraw and convert your crypto to fiat).
Although you can transfer your crypto to an external crypto wallet (non-custodial wallet), many users leave it in their custodial wallet managed by the exchange, so essentially you give up control of your crypto. You don't own the private keys to your funds, which means that you ask the exchange to sign a transaction on your behalf when you withdraw. You need to trust the exchange with your money.
Notably, in Sept. 2020, centralized exchanges accounted for approximately 95% of the crypto trading volume. CEXs function as trusted intermediaries in trades and often act as custodians by storing and protecting your private keys, and therefore your funds. Along with the cost of your independence, centralized exchanges have their challenges.
They reside in specific geographic locations and are subject to stringent regulations. A recent example of this is Binance, which was banned from undertaking any regulated activity in the UK. Any centralized exchange can place limits and restrictions on its customer's actions, and some have been the target of malicious attackers, hacks, and fraud. Overall, they are arguably centralized bottlenecks that stand in contrast to cryptocurrency's open, decentralized ethos.
Centralized entities have dominated the field of crypto exchanges and are now more than ever at the behest of regulatory authorities. You know, the ones we are trying to separate ourselves from. But with the continuous evolution of technologies, decentralized exchanges are emerging as an alternative.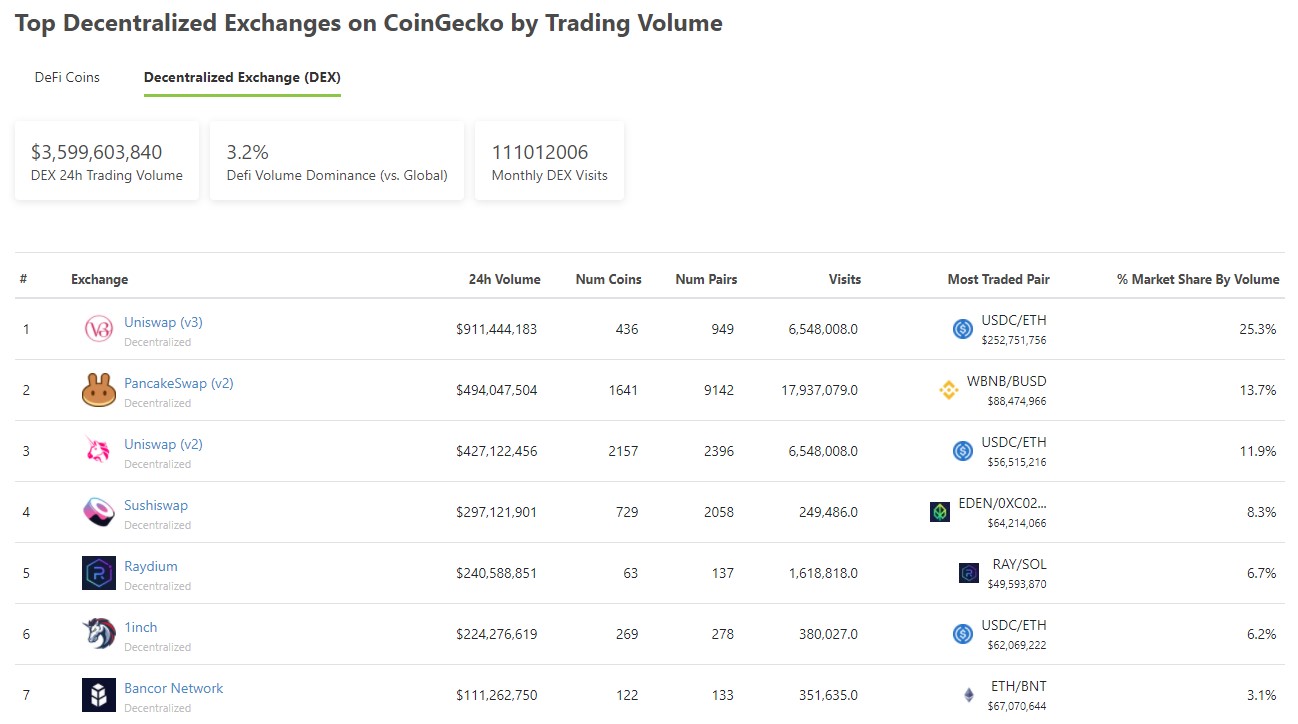 Source: https://www.coingecko.com/
The Decentralized Exchange Approach (DEX)
DEX platforms use a different approach when facilitating the buying and selling of cryptocurrency. With no intermediary organization to clear transactions, DEXs leverage the functionality of self-executing smart contracts. Their backend exists on a blockchain, and as DEXs are non-custodial, no entity takes custody of your funds or control of your private keys.
Since DEXs are permissionless, no one checks your identity. All you need is a cryptocurrency wallet. However, some DEXs are partially run by a central authority, so there are some legal requirements that need to be adhered to. In some cases, if the order book is centralized, the host must remain compliant.
DEXs have become more prominent today, with over 85 exchanges listed on Coingecko, offering advantages that impact custody of digital assets, diversity, transactional trust, investor privacy, and trading fees.
What Are The Advantages Of A DEX?
Custody - No counterparty risk
The primary appeal of decentralized cryptocurrency exchanges is that they don't hold customers' funds. Being non-custodial also means you don't relinquish control of private keys to transact. You have an external wallet that interacts with DEXs instead, where trades self-execute through smart contracts.
This eliminates counterparty risk and breaches like the Mt. Gox hack in 2014 and, more recently, the Binance hack that has put users' funds at risk and exposed sensitive personal information.

Diversity
Currently, there are over 9,000 cryptocurrencies on the market. CEXs choose the cryptocurrencies they list and generally only list those that meet the requirements. These are adequate trading activity, prevalence, and effective security standards to ensure profitability and legal compliance.
Altcoins that aren't listed on centralized exchanges can still be traded freely on DEXs, where peer-to-peer transactions can occur without high trading volumes. This provides a broader opportunity for engagement in digital assets and enhances financial inclusion.
Trustless Transactions
On CEXs, every transaction is overseen and recorded by a central authority, the exchange itself. Through smart contracts, DEXs execute trades and record them to the blockchain, enabling trustless transactions. This means that the system is run autonomously by the blockchain protocol's underlying technical architecture and consensus mechanism.
Decentralized exchanges are distributed across a vast network of computers and governed by their stakeholders. Anyone can become a stakeholder in a crypto DEX, share in its evolution, and benefit financially from its growth. There are numerous elements foundational to the trustless nature of blockchain networks, including immutability, decentralization, transparency, censorship resistance, and neutrality.
Privacy
Investors and Traders using decentralized exchanges don't need to disclose their private keys because wallets are held externally, and the DEX is not liable for the funds. For the same reason, users aren't typically required to complete KYC and AML procedures when using DEXs.
Lower Fees
Decentralized exchanges have no intermediary and function through the use of self-executing smart contracts. Therefore, DEXs like Uniswap charge a lower fee of around 0.3%. Although these fees fluctuate in response to the network utilization, they remain far lower than the costs incurred on centralized alternatives.
Overcoming Obstacles
Over recent years, many decentralized exchanges have emerged and have experienced some obstacles, including limited scalability, throughput, liquidity, and usability. However, DeFi and DEX are still in the infant stages with ongoing innovation in the technology, iterating on previous attempts to streamline the user experience.
Ethereum-based DEXs have seen increasing momentum and user adoption. New combinations of cutting-edge technology are helping later generation blockchains overcome the perceived shortcomings of earlier implementations. Cardano's 3rd generation blockchain, DeFi platform, and Hydra technology will address the obstacles mentioned above.
The whole point of decentralized finance is to build financial services separate from the traditional financial and political system.
Interestingly, Cointelegraph recently reported the U.S Securities and Exchange Commission is very keen on understanding what is happening in the smart contract-based digital asset and DeFi landscape. Hester Peirce, Commissioner of the SEC, has warned of rampant "shadow-centralization" within the decentralized finance (DeFi) sector.
Dubbed the crypto mom, Pierce believes that DeFi founders need to ensure complete decentralization from launch to bypass financial regulation.
"If you want to be decentralized, you really need to be decentralized, and that is going to then put you in a different category from the perspective of regulators because that's just not something that we've dealt with before."

The Future Of DeFi And Crypto Exchanges
DeFi will minimize the power from large centralized organizations and put it in the hands of the open-source community and individuals. It allows for a more open financial system preventing censorship and discrimination worldwide.
Decentralized exchanges are a solution and valid alternative to centralized entities. Through on-chain smart contracts, DEXs provide a trustless method of connecting buyers and sellers and offer new precedents of equitable involvement and governance for stakeholders.
No banks or corporate exchanges are required. While a board of directors runs banks, DEXs are run by the "customers" themselves. With increasing momentum, we will witness a ramping up of innovation in technology throughout the entire industry. The evolution of technology will challenge the status quo and heavily align with the ethos of self-sovereignty.


Sources: Gemini Cryptorials, Binance