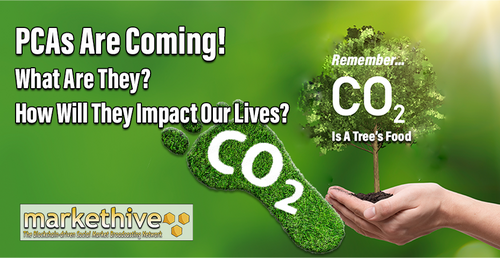 Is This For Real, Or Is It Just One Big Elitist Sham?
Now that we're coming out the other side of the initial C19 pandemic with the mainstream narrative falling apart, climate change seems to be the hot topic. One strategy introduced to reduce carbon emissions is to issue Carbon Offset Credits to companies in a bid to reach net-zero emissions by 2050. More recently, during the World Economic Forum's Davos Summit, Alibaba President Michael Evans revealed that the elites are working on an individual carbon footprint tracker for consumers. That means you and me.
As it turns out, many countries worldwide have been researching and developing an individual carbon credit system for over a decade, and it seems they're on the brink of being rolled out. Let's find out what we need to know about this impending dystopian system and why it's being implemented. We'll start with when Personal Carbon Allowances (PCAs) became a concept and who's behind it.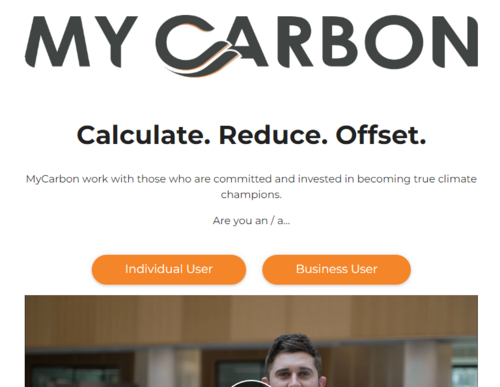 Image source: MyCarbon.co.uk
When Did It All Begin?
The history of individual carbon credit allowances began with the United Nations' first Earth Summit, held in Rio De Janeiro in 1992. The Summit was significant because it laid the groundwork for the collective climate action of the countries in the UN. Later that year, UN countries signed the Kyoto Protocol, an international agreement to reduce and eventually eliminate carbon emissions to fight climate change. As of 2020, 192 countries have signed up for the Kyoto Protocol, which is basically the entire world.
Interestingly, the Kyoto Protocol laid the foundation for the issuance and trading of carbon credits. So when the concept of carbon credits was introduced, it was intended for institutions, not individuals. However, it didn't take long for the concept of carbon credits to be applied to individuals. The catalyst was British Petroleum or BP, the oil company that used the idea of an individual carbon footprint for its massive marketing campaign in the early 2000s; it even created an individual carbon footprint calculator.
Obviously, these ongoing marketing campaign's purpose was to blame climate change on consumers, not corporations. After all, were it not for the demands of the consumer, then these corporations would not have to pollute as much as they do to provide the goods and services consumers desire.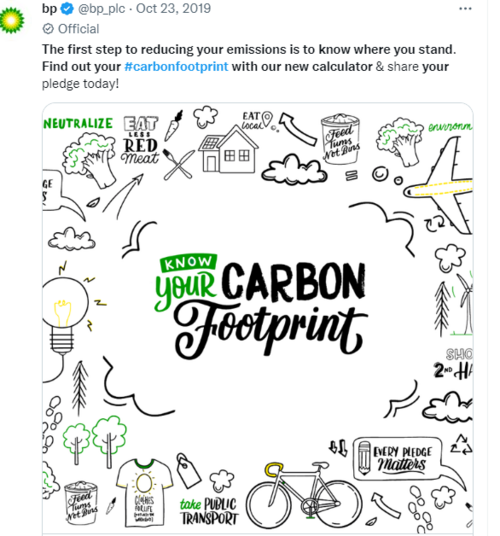 Image source: Twitter
United Nations First Experiment
The UN's first global governance experiment, or global control, was called the Millennium Development Goals (MDGs), which the Millennium Summit established in 2000. 191 UN member states and 22 international organizations agreed upon 8 Millennium Development Goals that were supposed to be achieved by 2015. These included eliminating poverty, combating deadly diseases, and environmental sustainability.
It appears that BP's concept of an individual carbon footprint was something that the countries looking to meet their environmental MDGs found interesting. As some countries thought creating an individual carbon credit score for their citizens would help them meet their MDGs, the first wave of academic research emerged in the mid to late 2000s.
The British government created a legal framework for PCAs in 2008. To take it one step further, according to Wikipedia, "The Climate Change Act 2008 also grants powers allowing the UK government to introduce a personal carbon trading scheme without further primary legislation." And similar laws are likely in place in other countries.
Given the concept of a personal carbon allowance has been around for a decade or more, it begs the question of why it's only surfacing now. The answer seems to be that the UN's MDGs experiment fell short. In 2015, the MDGs were unmet, as environmental issues, deadly diseases, and poverty were still plaguing the planet.
There are many reasons why the MDGs were limited. Still, the main three factors were a lack of funding and coordination and the 2008 financial crisis, which threw many countries into chaos in the following years. So the UN did what every institution does when it fails, rebrand and try again.



Image source: United Nations
The Second Experiment - Rebranded
In 2015, the UN announced its second experiment in global control called the sustainable development goals or SDGs, which superseded the MDGs as per the UN's website. Note this transition didn't happen overnight. In 2012, the UN set up the UN Sustainable Development Solutions Network, or SDSN, to figure out what went wrong with the 8 MDGs and ensure that the SDGs, which were increased to 17, were implemented.
Whereas the 8 MDGs were supposed to be met by 2015, the 17 SDGs are supposed to be completed by 2030. The SDGs are the same as the MDGs, just with more extreme and vague language, probably to allow for interpretations with serious outcomes. You can sum up the SDGs as being the MDGs on steroids because the SDGs are backed by both the public and private sectors.
The MDGs were backed almost entirely by the public sector, which is a big part of why there needed to be more funding and coordination. Global corporations have no shortage of capital, and they're able to coordinate because their operations transcend borders. More importantly, they can ensure compliance with SDGs without governments having to pass any laws.
The Plot Thickens
The 17 SDGs are also part of a bigger plot by the UN called Agenda 2030 and the Great Reset, which includes lots more controversial stuff like the Tri-State City in the Netherlands. This involves removing the Dutch farmers from their land and livelihoods under the guise of climate protection. Notably, the SDGs are based on the Environmental, Social, and Governance criteria (ESG) that the world's largest institutions use to guide their investments and operations.
In theory, the primary benefit of pushing SDGs through ESG is that it makes it possible for these global corporations to crush small competitors and acquire their assets. This is because it won't be possible for small businesses to comply with ESG criteria, and it is arguably the entire purpose of ESG. However, there is a limit to how lucrative this would be for global corporations because they will eventually succeed in acquiring all the resources and customers that exist.
When that happens, these elites will be confronted with an economic reality that most are aware of, a demographic decline in developed countries. Each year there are fewer and fewer consumers with the kind of capital these global corporations need to continue growing. If you read this article about why you will own nothing and be happy, you'll know that demographic decline is why these Global corporations are slowly trying to make us rent everything instead of owning it.
This makes products more accessible on a global scale and creates a constant stream of cash flow. However, even this Hardware as a Service scheme would only last so long. Eventually, these global corporations will run out of people to rent their products to, and they'll again face the economic reality of demographic decline.
This would suggest the primary benefit of pushing SDGs through ESG is temporary and short-lived or is it? So what would make it possible for these global corporations to create an economy where they continue to grow regardless of demographic decline? The answer is their Carbon Credits System.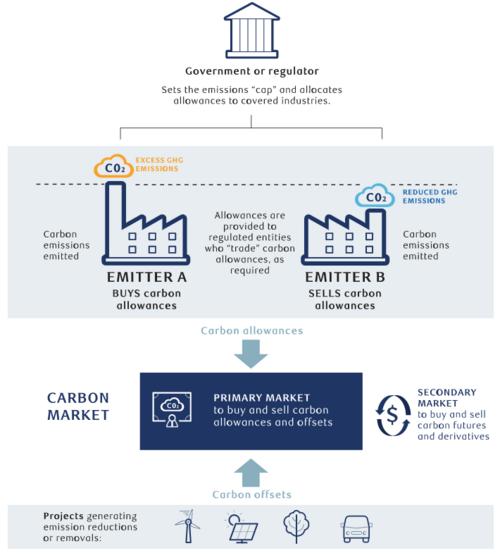 Image source: Global Asset Management
Carbon Credit System For Companies
As it stands, each carbon credit represents one ton of carbon dioxide emissions that were removed or were never emitted. So, when a company does something that removes or prevents future carbon emissions, such as planting trees or installing solar panels at their business, they are given carbon credits by a governmental authority.
These carbon credits are then sold to other companies that want to emit more carbon without penalty. This kind of carbon credits issuance, trading, and redemption is done because of environmental regulations and is called the Compliance Carbon Market. Compliance carbon markets in California, Europe, and China account for 99% of all carbon credit trading.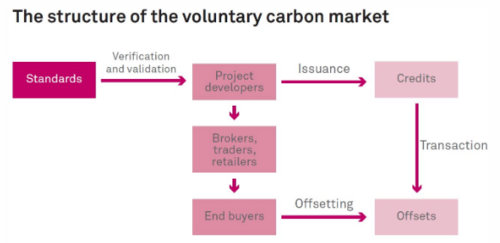 Image source: S&P Global
The remaining 1% of carbon credit trading happens in the Voluntary Carbon Market. This is where companies looking to emit more carbon voluntarily purchase carbon credits from companies who are voluntarily looking to emit less. This is, of course, done to increase their ESG scores.
Spoiler Alert! As I mentioned earlier, carbon credits are supposed to represent one ton of carbon dioxide emissions that were either removed or never emitted. Well, it's estimated that around 85% of all carbon credits are not reducing carbon, and research suggests they actually increase emissions.
United Nations Global Carbon Credits Market
During the UN's COP26 climate Summit in Glasgow last year, 200 countries adopted Article 6 of the 2015 Paris agreement. The main takeaway is that it will create a single global carbon credits market that an upcoming UN agency will regulate.
This "supervisory agency" will also issue "UN-recognized carbon credits to eligible institutions." It also appears that under Article 6, trades on the UN's global carbon credits market will be tax-free, meaning the global corporations will not only reap the benefit but thoroughly clean up.
As the goal of carbon credits is to reduce carbon emissions, it's interesting to note that it will be achieved by slowly reducing the number of carbon credits issued to companies each year. The EU Carbon Market is the largest, and the European Union has a carbon credit reduction schedule on its website, stating, "to increase the pace of emissions cuts, the overall number of emission allowances will decline at an annual rate of 2.2% from 2021 onwards compared to 1.74% currently".
As we know, when the supply of something gradually declines, and the demand for it stays the same or increases, prices eventually rise. This is precisely what's been happening to the cost of carbon credits, especially those in the compliance markets.
And that, folks, is how global corporations can ensure continued growth in the face of a demographic decline. All it takes is a few billion carbon credits issued to them by their friends in government or the United Nations and a bit of supply and demand manipulation through regulation.
Case in point, according to this article, Tesla earns most of its money by selling carbon credits. Considering Tesla is one of the largest companies in the world, it's more than likely other big brand names will follow suit with this economic phenomenon.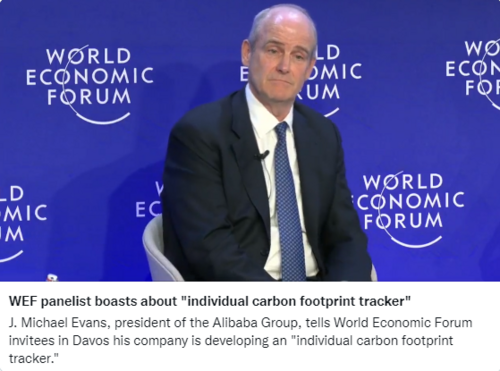 Image source: Twitter
Individual Carbon Credit System
Now let's see how we will measure up in the carbon credit equation and what they have in store for us. As I mentioned at the start of this article Alibaba's President and former Goldman Sachs banker, Michael Evans, revealed that [they] meaning other so-called stakeholders on the panel and in the audience at the WEF's Davos Summit are working on an individual carbon footprint tracker.
Because Alibaba is a Chinese company, Michael's comments went viral as people interpreted his remarks to mean they were developing an individual carbon credit system akin to China's social credit system. While it's true that some corporations are developing ESG scores comparable to China's social credit score, the individual carbon footprint tracker Michael and other wealthy elites are obsessed with is entirely new. In many ways, it's much worse. That's because almost all the countries at the UN are planning to create an individual carbon credit market practically identical to the one that institutions have today.
How Will it Work?
Each year, you will be allocated carbon credits that allow you to emit a certain amount of carbon dioxide. The possibility of how much carbon you're issued will depend on your ESG score may be speculation at this stage, however, note that everything stated here has been researched by governments for years and is probably in development in most developed countries.
If you use up your annual carbon allowance before the year is over, for example, by eating too much meat or traveling too much, you will no longer be able to do carbon-intensive things. That is unless you purchase more carbon credits from individuals who have yet to use up their annual allocation.
If you're wondering how the government will prevent you from purchasing carbon-intensive things, the answer is a central bank digital currency. (CBDC) CBDCs are necessary for an individual carbon credit system to work, as are government-issued digital IDs, which are also prerequisites for CBDCs.
As with the issuance of institutional carbon credits, allocating individual carbon credits will incentivize individuals to minimize their carbon emissions. At first glance, this seems fine, but upon closer inspection, it's easy to see why a carbon credit score is much worse than a social credit score. In a simple social credit score system, you can still get ahead by being a good citizen. In a carbon credit score system, however, the only way we'll be able to live a good life, or even the life we've been accustomed to, is to purchase the carbon credits we need to do things a good life entails.
This includes going where you want, eating what you want, and living in something that's not a pod. For some, a good life will involve having children. Chances are you'll need a lot of individual carbon credits to do all of the above. The main reason is the Scope 3 Emissions Cap that only currently applies to institutions, which I mention in this article and how it impacts companies.
And it looks like individual citizens will be next. That's because Michael pointed out that Ali Baba and the other WEF stakeholders are working on a "Scope 3 Emissions Plus," which will indeed apply to individuals. This means that in an individual carbon credit system, you will probably have to provide enough carbon credits to cover the carbon emissions of your friend traveling to see you. It could be that you have to provide enough carbon credits to cover the future carbon emissions of your children.
By now, you've probably realized that this will make the rich richer and the poor poorer. The poor will live in pods and eat bugs, so they can save up their carbon credits to sell to the rich for food and shelter. In turn, the rich will use these carbon credits to continue living as normal. Furthermore, given that the purpose of carbon credits is to reduce carbon emissions, there's a great likelihood we'll see the same decreasing issuance for individuals as they've proposed for institutions. In turn, this will increase the price of individual carbon credits and make it more challenging to afford the credits to "live a good life."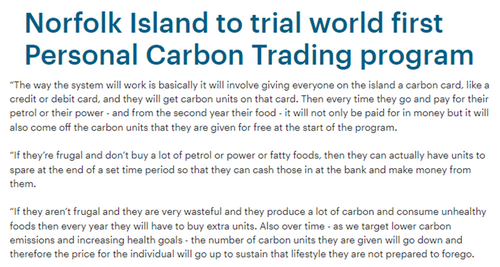 Image Source: Southern Cross University
When Is This Insane System Coming?
It's already in play on Norfolk Island, a small island off the coast of Australia. With a population of 6000, it seems that was a perfect place to trial this form of control, and it has had an individual carbon credit System since 2011.
Also, the second region, the European microstate of San Marino, is using Ve Chain to set up its own individual carbon credit system to become the first country to comply with the UN's SDGs. It has a population of around 34,000.
We can assume that individual carbon credit systems will be rolled out in smaller countries first. This makes sense given that, so far, most of the research and development of personal carbon credit systems has been theoretical, so more actual testing is needed. Beyond that, we will likely see individual carbon credit systems introduced in the next couple of years.
The 'ESG-induced energy crisis' will present the perfect opportunity to do this, as governments can use the allocation of limited energy as justification for the rollout. However, PCAs will only be effective once they implement Digital IDs and CBDCs, and given that governments have been openly testing Digital IDs during the pandemic, they will come first. Notably, a recent article about an individual carbon allowance by the WEF blatantly states that the pandemic was a "test for what's coming" and how the elites are amazed at how easily we submitted.
To add insult to injury, at the UN Climate Change Conference (COP27), Michael Sheren, Former Bank of England Senior Advisor, stated that carbon will be very close to a currency; tokenizing nature is next.
Will the UN and its cohorts succeed in rolling out its sinister global carbon credit scheme? That depends on if it can get all its ducks in a row by 2030, as this is the deadline for SDGs to be achieved.
History suggests it's unlikely to happen as the UN is in a similar position today as it was with the fallout from the 2008 financial crisis, which was the main reason why the UN's MDGs failed. We are now facing another financial crisis that has only just begun. This means that the full extent of the fallout has yet to come, and we already see cracks forming on the international stage.
Moreover, for the UN's SDGs to succeed, it needs just about every country to be on board. This is becoming increasingly less likely by the day as conflicts arise between countries and nationalists candidates turn a cold shoulder to globalist organizations. The UN must get every country on board because if people see other countries overseas or even other states within a country that are not abiding by the SDGs, they might compare and contrast their quality of life.
It happened during the pandemic, with some countries implementing severe restrictions while others did not. More recently, Sri Lanka collapsed under its own weight after it achieved one of the highest ESG scores the institutions' could offer. It just shows that energy is the economy, and some emissions are required for the world to function.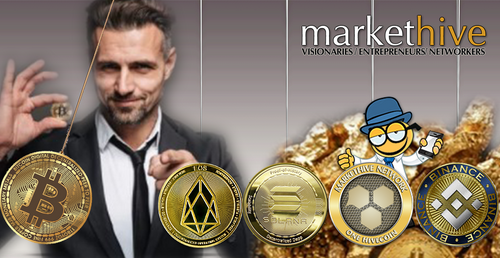 Image Source: Markethive.com
How Can We Prepare?
How can we prepare for such a system if it's successfully rolled out? The most intuitive is to hold and use cryptocurrency or any other money outside this dystopian system so we can continue to transact without restrictions or carbon credit tracking.
The centralized control of carbon credits means the UN and others could limit how many carbon credits you can hold. If they're tokenized, it would be effortless to set these limits. It is also easy to block transactions through CBDCs. This is why using a genuinely decentralized cryptocurrency as a hedge might be a better strategy.
There are ecosystems that are purpose-built to counter the totalitarian initiatives they're trying to impose. The crypto and blockchain projects that uphold the interests and fundamental freedom of the people provide the foundation for truth, not propaganda, applying critical thinking and seeing through the shams the self-interested elites are propagating. It's becoming increasingly clear that there is no climate emergency that warrants these dystopian measures. It's just all about money and control.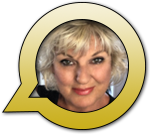 Editor and Chief Markethive:
Deb Williams
. (Australia) I thrive on progress and champion freedom of speech. I embrace "Change" with a passion, and my purpose in life is to enlighten people to accept and move forward with enthusiasm. Find me at my
Markethive Profile Page
| My
Twitter Account
| and my
LinkedIn Profile.
Also published @ BeforeIt'sNews.com; Steemit.com