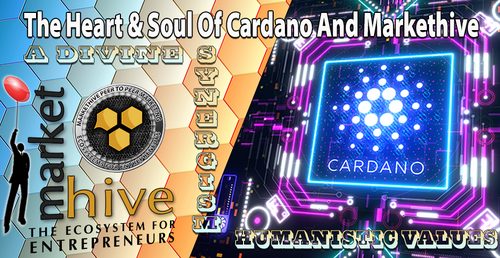 The Humanistic Values Of Cardano And Markethive - A Divine Synergism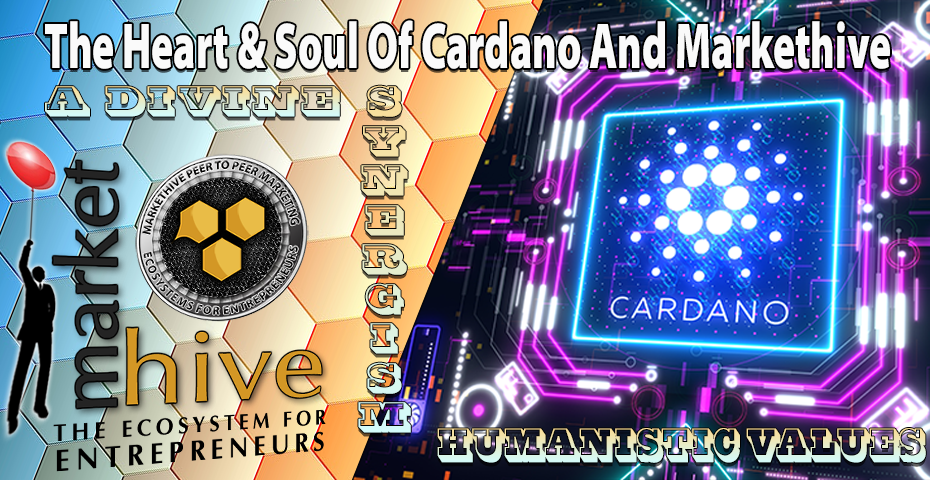 Cardano and Markethive - Two systems of the next generation on the rise, making their mark on so many levels. They will eclipse big tech disrupting the monopolizing status quo that the populace has come to accept and is part of their daily lives. As the monopolies conspire on who or what they will boycott or cancel out next, Markethive and Cardano have secured themselves in a position where the oligarchs cannot manipulate them.
Markethive, the social market network, and Cardano, the blockchain technology company, are congruent in many areas. Apart from both being blockchain projects, the spiritual, humanitarian aspect is a major common denominator with the synergistic purpose of manifesting personal and financial sovereignty, delivering freedom and connectivity to emerging countries, aligning them globally.
The blockchain projects and cryptocurrencies that have endured the "crypto winter" of 2018/19 are not the scams associated with the industry's early days and are now positioning themselves to deliver ecosystems that are unique and evolutionary.
Both Cardano and Markethive have watched other blockchain projects follow the more Silicon Valley approach of "move fast and break things," resulting in subsequent issues with security and scalability. Cardano's prominent team has taken a notably academic and philosophical approach publishing 102 peer-reviewed papers, and Markethive's approach is an innovative, holistic and evolutionary one.
Both companies are of Divine inspiration and a massive undertaking building a solid foundation for the sustainable long-term growth of sovereign ecosystems empowering societies bringing the people of the world together equitably.

CARDANO ECOSYSTEM - Crypto ADA




Blockchain And Defi Network
Cardano is wholly human-centered, with its ultimate mission to bring innovation and scientific-based technology, creating an ecosystem that is balanced, sustainable, and focused on the needs of its users. With the numerous applications Blockchain has, Cardano's decentralized technology enables digital payments, smart contracts, food traceability, etc., all the technology necessary for systematic change.
One of the aspects that the Founder and CEO of Cardano, Charles Hoskinson, is passionate about is using Cardano to unleash the potential of people in emerging countries. There are approximately 3 billion people "unbanked" who cannot access the infrastructures and institutions many of us take for granted.
Cardano is taking its decentralized technology beyond Africa into other developing countries of South America and Asia in the food supply chain and Defi (Decentralized Finance). Charles says this technology has no owner and no central point of failure, and no one in control. Instead, it is a global infrastructure that uses the same infrastructure no matter how rich or poor you are.
A peer-to-peer lending protocol is one project of Cardano that will see a merger of markets in Ethiopia and other places with Defi. Micro banks cater to people with no bank accounts but are internet-enabled with increasing access to smartphones, building wealth, and desperately needing to globalize.
Companies and individuals that get into this Defi ecosystem are the first movers in these marketplaces that will enable Africa and other places to grow and thrive in this new economy that is honest, fair, and transparent. A soulful Charles Hoskinson explains more in the video below.



Decentralization With Good Governance
Blockchain is the enabling technology, but decentralization is the movement. Cardano is aiming to be the most decentralized platform in the world and is achieving its goal. It's currently ranked number 5 on coinmarketcap.com and 71% of Cardano's ADA token in circulation, with a total market capitalization of $38.7 billion at the time of this writing.
Cardano has launched support for smart contracts as part of its 'Goguen' era, a time when decentralization and solutions to increase trust have ostensibly never been more crucial in modern history.
One of the reasons Charles Hoskinson ceased to work with Ethereum was a dispute over its governance structure. Cardano's framework intends to - marginalize none and give power to all - through a system that incentivizes participation by individuals, and votes are immutably recorded. Hoskinson has prominently said that Cardano "will be 100 times more decentralized than Bitcoin."
Charles Hoskinson doesn't dwell on price or get caught up in the short term. He says it's more to do with the principles, vision, and a high-level goal to move from high-level to something to create real value for your token. If you have that, then the price works itself out.
As Charles Hoskinson stated,
"There is a higher purpose and more meaning than digits on a computer screen. All we need to do is grow up and realize this is bigger than our egos and bigger than our wallets."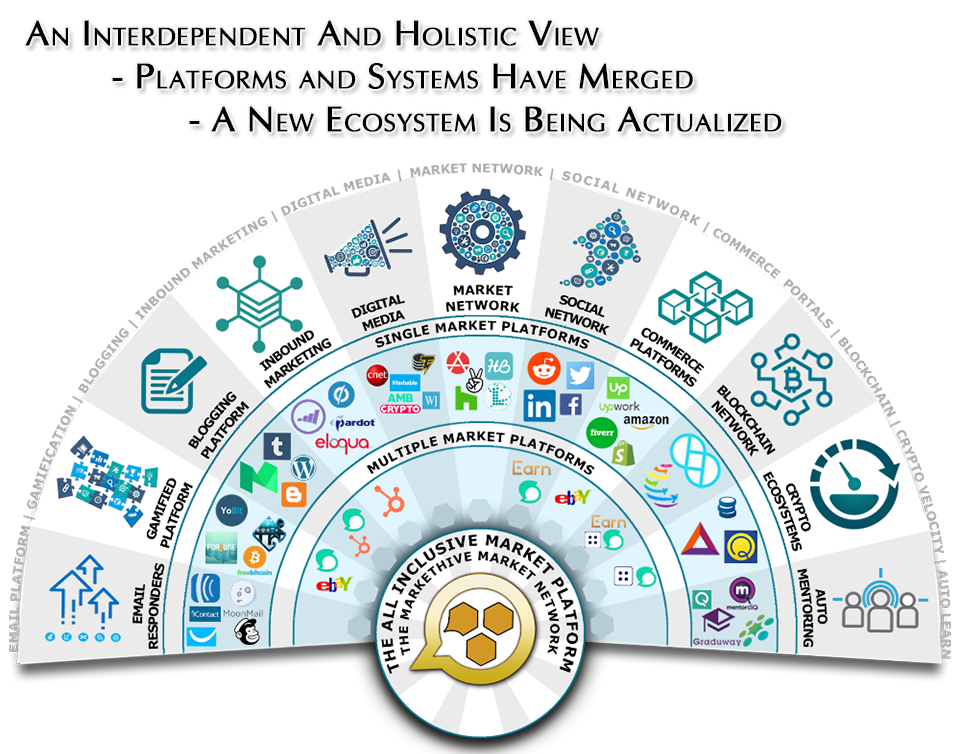 MARKETHIVE - Ecosystem For Entrepreneurs - Crypto HIVEcoin
Sovereign Social Media & Broadcasting Market Network
Markethive is committed to uplift our expanding community and bring forth the entrepreneurial spirit within each individual. Markethive is the ultimate market network, a complete ecosystem for Entrepreneurs leading the curve with Blockchain technology and cryptocurrency, making it a viable ecosystem that will survive the current and depreciating world economy.
The Markethive platform is not only a forum for free speech on a social media front but also inbound marketing, saas, blogging, email, video, and media broadcasting network built on Blockchain with its consumer cryptocurrency coin (HIVEcoin).
Wholly independent, the monolithic Markethive Network encompasses all facets of social media, inbound marketing, and digital media, making it the only platform to fully embrace an attainable sovereign income for all associates, particularly those in developing countries.
As the Markethive community grows, we see an influx of souls from all walks of life experiencing the latest aftermath of a declining economy in the so-called "real world" of governments and bureaucracy.
A True Decentralized Social Network
Markethive is a global company that caters to everyone. We are not specific to any national identity. We have no agenda, no left or right that invokes radicalization. Markethive is a meritocracy whose heart and soul are freedom, liberty, financial sovereignty, and entrepreneurialism.
Markethive is unique with its cottage industry concept and driven by two engines that work simultaneously, bringing in the masses who aspire to be entrepreneurial and out from under the tyrannical pressures. Markethive runs on a decentralized network and is expanding continuously, facilitated by a dedicated team of engineers with CTO, Douglas Yates at the helm.
With Markethive's migration to the Cardano blockchain, we'll soon see the release of the Markethive multi-dimensional wallet and the Hivecoin listed on significant coin exchanges. Then we'll see the floodgates open.
All the while, Markethive's focus is to stay at the forefront of emerging technology, introducing unique and better solutions, enhancing all users' experience, and who are the lifeblood of our entrepreneurial infrastructure. Markethive's goal is to enrich the lives of people and humanity on every level.
Just like Cardano, where the community will direct governance, Markethive is for the people, built by the people and of the people. This rules out the inequitable and autocratic power of the few at the top and cultivates a harmonious, more transparent environment.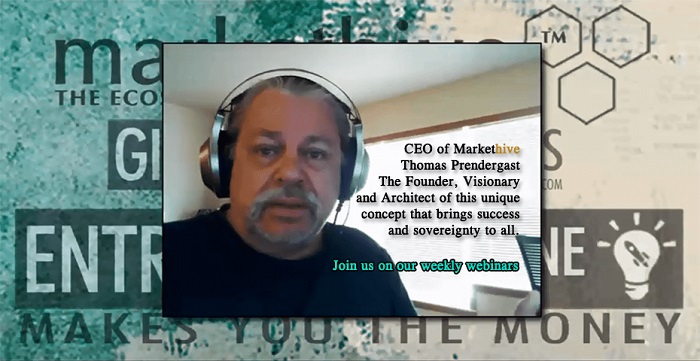 Founder and CEO of Markethive, Thomas Prendergast said,
"I got goosebumps when I became aware that Charles Hoskinson of Cardano's passion was to bring economic sanity, stability, and entrepreneurial wealth to Africa. That is our calling too! Markethive is a mighty light on the mountain attracting the multitudes, the millions into our city to prepare for financial sovereignty and be free in this world of suppression and authoritarianism."
Creating And Facilitating Change In The World
Markethive and Cardano are here to create change, revive humanitarian values, working in synergy for all to have the freedom and autonomy to realize the goals, dreams, and life purpose of all individuals globally. The freedom to deviate from being just a cog in the wheel, to work, and be part of the legacy that has indoctrinated us from a young age and enslaved us to the system that looks at people as commodities and a lifestyle viewed as safe and predictable, but in essence, is restricted and soul-crushing.
The world has changed, and the point of this technology is to change how society, organizations, and companies work. How we think and make decisions, what we value, to enable people to monetize things they never thought were monetizable.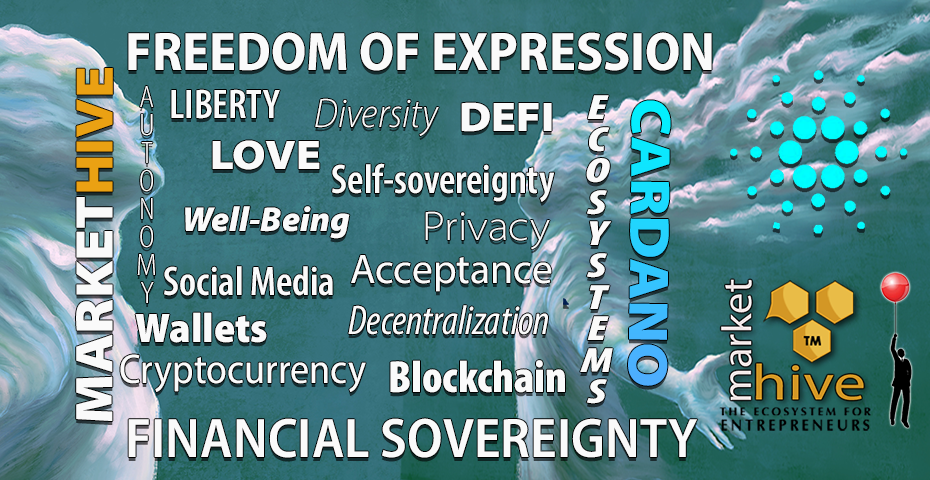 Cardano's blockchain can facilitate Markethive in building distributed database clouds that are controlled by the blockchain. This will enable us to develop and issue downloadable wallets apart from the exchange wallet that will be made available as the first of Markethive's wallet integration.
It will also give us the ability to produce the type of blockchain that no social network has achieved; simply because social media platforms have so much data in terms of video, images, and content, previous blockchain generations can't accommodate.
You could fundamentally change the incentives behind passions and give people the means they need to pursue the things they love. What Markethive and Cardano are fundamentally doing is allowing the broader community to wake up every day and autonomously work for a cryptocurrency, knowing you are part of something much bigger where every individual can attain freedom of expression and financial sovereignty.
People are paid to have opinions and their passions, whatever they might be; art, psychology, science, engineering, writing, or marketing, to name a few, now have the opportunity with the systems Cardano is constructing. The many diverse platforms, hubs, and portals Markethive has and will be integrating bring your work or passion to the forefront in a liberated and equitable online world. This is the mandate of Charles Hoskinson of Cardano and Thomas Prendergast of Markethive to change the world. A match made in Heaven.



Written by Deb Williams
Chief Editor and writer for Markethive.com, the social, market, broadcasting network. An avid supporter of blockchain technology and cryptocurrency. I thrive on progress and champion freedom of speech and sovereignty. I embrace "Change" with a passion, and my purpose in life is to enlighten people en masse, accept and move forward with enthusiasm.