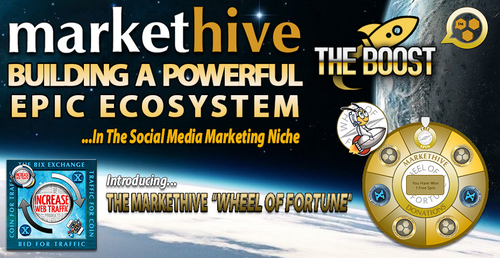 MARKETHIVE - BUILDING A POWERFUL EPIC ECOSYSTEM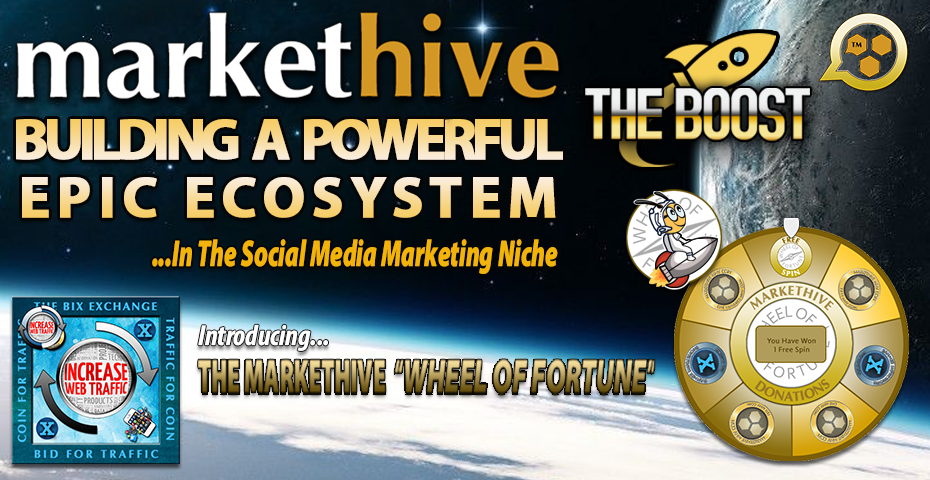 A First In The Social Media Marketing Niche
Markethive is building an epic entrepreneurial ecosystem, never experienced before and transcendent to other social media and marketing platforms. The innovation is enhanced with the Banner Impressions Exchange and the latest release of one of many initiatives - The Wheel Of Fortune. The launch of The Boost advertising platform will follow soon after.
With Markethive now running on its own servers, with the security of Blockchain and its Hivecoin about to be released on prominent coin exchanges, we have arrived as the first mega decentralized social platform marketing network with the mission is to deliver a decentralized and autonomous environment en masse, that is not subject to the oppressive technocracy.
Inspired by Binance's rise in becoming more than a crypto exchange, Markethive goes far beyond by creating a robust ecosystem in the social media and marketing niches. It will deliver very unique aspects to the Markethive exchange by creating niches and exclusivities that no other platform or system has.
As stated by Founder and CEO of Markethive, Thomas Prendergast,
"The transformation has begun. We are releasing our first of many services as we move Markethive into being the most powerful marketing platform in existence, as well as the most powerful Social Network system as well as the most effective broadcasting platform ever built. The Wheel of Fortune is just one of the many major integrations of services coming that entrepreneurs and marketers need and will benefit from. We are building a powerful epic ecosystem never seen before."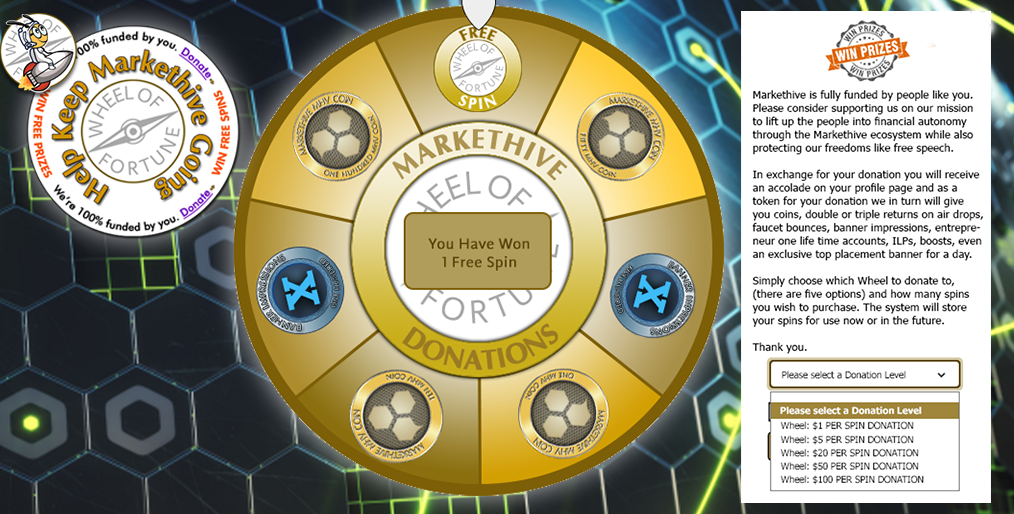 The Wheel Of Fortune
First off the development team's rank is the Wheel of Fortune: The spinning wheel is packed with various prizes related to Markethive and conducive to the people of the community who participate. The awards consist of Hivecoins, Bee Coins, Ad Impressions (to use on the BIX platform), Airdrop bumps of Hivecoin, Newsfeed Boosts, Micropayment boosts, and even ILPs or a fraction thereof.
Note; A "BEE" coin is a fractional unit of the Hivecoin. Like the Satoshi is to Bitcoin, it takes 100,000,000 BEEs to make one Hivecoin.
It's fundamentally a donation platform displaying five levels ranging in price from $1usd to $100usd, and prizes or number of spins are commensurate with any given level as shown below. The beauty of this wheel is that "Every Spin is a Win!"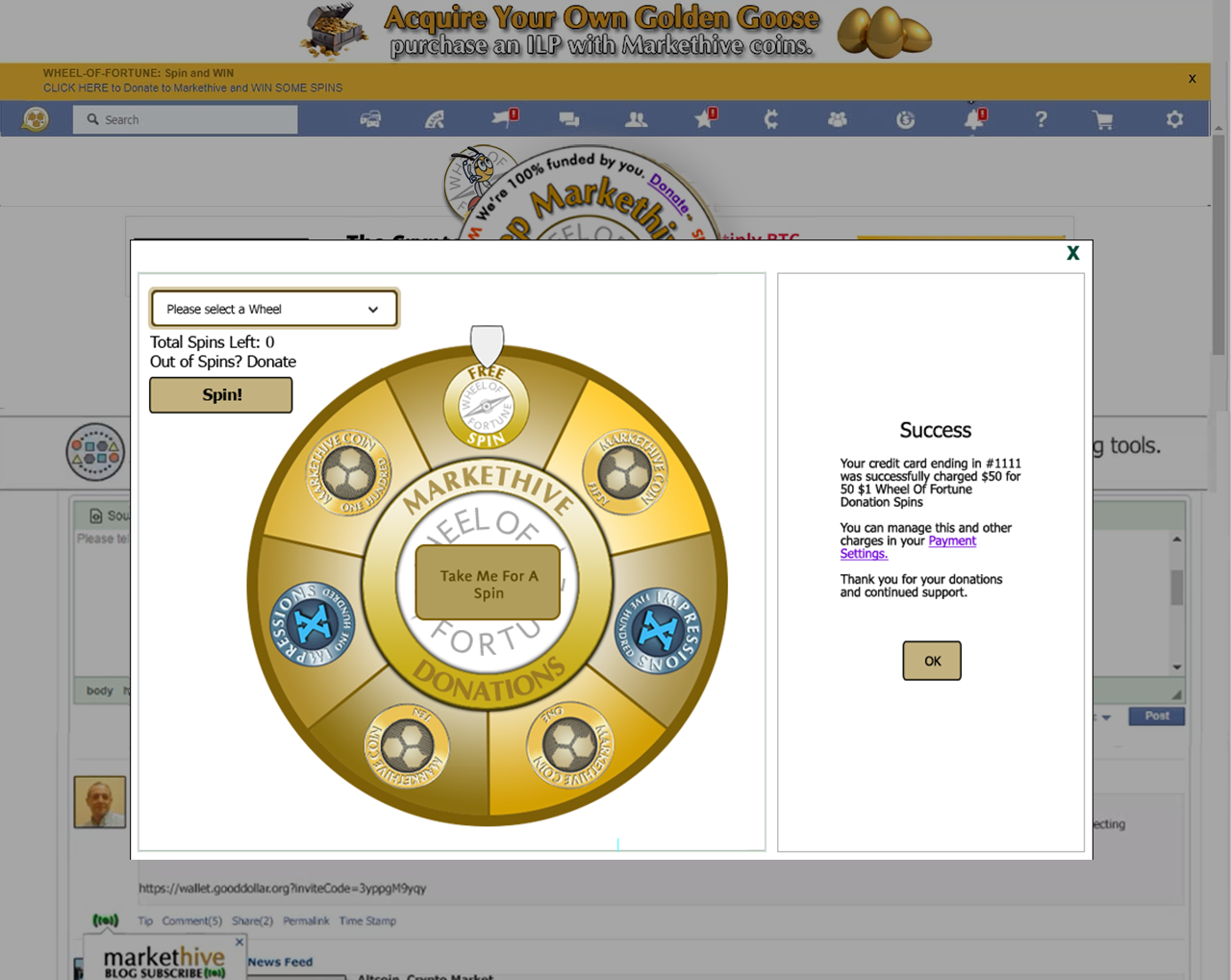 Wheel of Fortune Popup Store
Level 1:
500 Bee Coins; 500 Ad Impressions; 100,000 Bee Coins; 1 Hivecoin; 100 Ad Impressions; 10 Hivecoins.
Level 2:
500 Bee Coins, 1000 Ad Impressions; News Feed Boosts; 10% AirDrop Bump for seven days; 10% Faucet Bump for five days; 50 Hivecoins.
Level 3:
200 Hivecoins; 5,000 Ad Impressions; News Feed Boost; 50% AirDrop bump for 30 days; 10% Faucet Bump for 15 days; 1/10th ILP.
Level 4:
200 Hivecoin; 10,000 Ad Impressions; News Feed Boost; 50% AirDrop Bump for 30 days; Entrepreneur One for one month; 1/10th ILP
Level 5:
1000 Hivecoins; 20,000 Ad Impressions; 1 News Feed Boost; 50% AirDrop Bump for a year; Entrepreneur One for Life; 1 full ILP.

With the much-enjoyed gamification aspect, the Wheel of Fortune provides ample opportunity to accumulate and increase your crypto portfolio as well as the chance to become a lifetime revenue earner as a Markethive Shareholder with an ILP.
All proceeds of the Wheel of Fortune and the other advertising services to be released like The Boost (coming soon), Press Releases, Premium Upgrades, etc., are classed as revenue for the Markethive ILP holders. Markethive will pay these dividends via fiat or Bitcoin and eventually paid in Hivecoin when we progress with the exchange.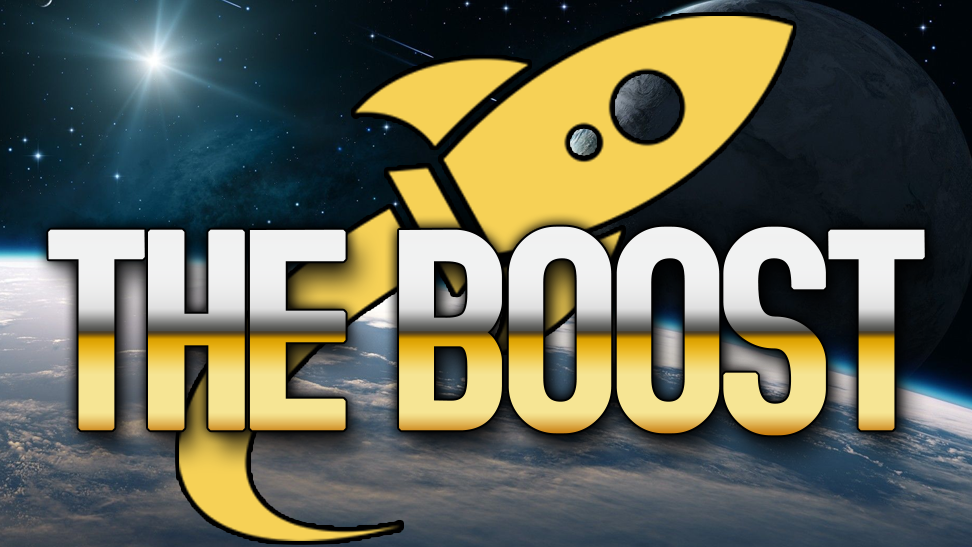 The Boost Explained
Have you ever noticed when creating a post for your business on your Facebook Page, you constantly get prompts to increase traffic to your post by purchasing a Boost Package? The concept is a good idea; however, the number of viewers that actually see your post is questionable.
Facebook algorithms are notorious for being manipulated. The reality is that even after spending time and money to build a large following with a Facebook Page, the news feed posts are only posting to less than 1% of your followers.
Facebook Boosts cost as much as $1000 to post your News Feed post to a maximum of about 500-700 members even if you have 1,000s of Page followers. There is much room for improvement as Facebook Boost posts are limited in their reach and are too expensive for most aspiring entrepreneurs.
For instance, at the time of this writing, Markethive's Facebook page has about 10,000 followers. When we post to the News Feed, only around 1% of the members are reached (for example, our post was only available on the news feed of 141 people). However, Facebook is quick to alert us a boost is available.

However, for $1000, Facebook will publish our Newsfeed post to an additional 5,000 over seven days of our 10,000 followers.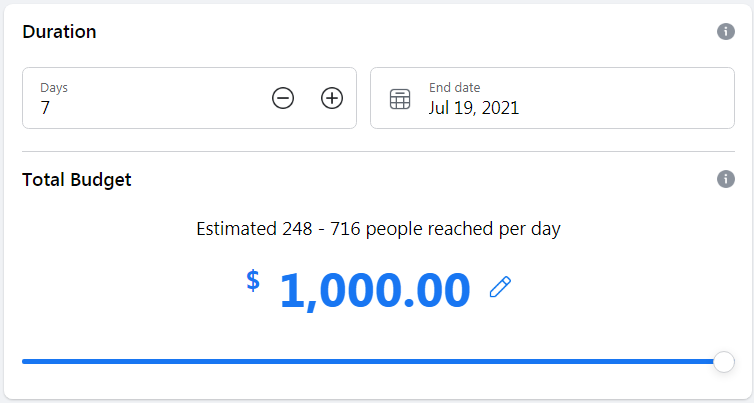 Facebook's algorithms greatly reduce the number of friends who see your posts and significantly limit your marketing efforts to your followers. Even with the Boost, it's not ideal and can run into thousands of dollars.
There are pros and cons to Facebook Boost, but arguably, Facebook is not designed for marketers or aspiring entrepreneurs, nor does it have their best interests at heart. The coming Markethive Boost system is designed to give the entrepreneur a very distinct advantage within our ecosystem.
The Markethive Boost Difference
The Markethive Boost will not be prone to algorithmic manipulation and will allow you to Boost outside your boundaries as well for a fraction of the cost. As the Markethive Boost evolves, it will become layered to the level you want it delivered (different prices to deliver via hashtags, keywords, most active, number of friends, etc. (But not via private navigation). Initially, the Boost will allow you to post on every member's News Feed for one flat fee for free members and a discounted fee for upgraded Entrepreneur One and Premium members.
Entrepreneur Ones will be able to offer new signups and members a free boost with our code generator … Simply choose a block of "BOOSTS" pay for them then distribute them as incentives to join Markethive or to Members to join your groups or make store purchases. (This is still in the works).
The first Boost to the entire membership is only $20. The following standard BOOST prices are $200 for free members and $100 for paid members (Entrepreneur One and Premium members). Expect this price to rise as we grow.
Markethive Puts The Needs Of Entrepreneurs First
Markethive has infused the power of Inbound Marketing into the News Feed and infused the power of the social network into the Inbound Marketing platform, which means it's an enhanced Social Network hybrid. It's where the needs of the entrepreneur, marketer, business, and corporation are not only met but put at the forefront.
Markethive's evolutionary and innovative ethos is showcased with the introduction of Markethive's unique combined news feed interface. Plus, the social market network's ability to build a massive database management system on the decentralized blockchain with its crypto, Hivecoin, as a native token which is a fungible multi-asset token along with the Markethive Wallet App. All are coming soon.
It already has a large community that is highly engaged, has exceptional traffic, and all the components and the utility that is considered essential for a cryptocurrency to be explosive on the crypto market potentially.
Social + Marketing + Blogging + Video + Curation + Broadcasting + Gamification + Crypto = Markethive
An Epic Ecosystem In The Making
All these elements constitute a powerful and epic ecosystem that will only expand as we move forward with our next-generation multi-media interface. Markethive was built for the Entrepreneur: It's about looking after the community, the products and projects, the use, and the utility.
Getting it right, being clever and evolutionary will pay huge dividends in the mid to long term for everyone in the Markethive ecosystem. Markethive is always focused on where we are going and why we are going there in the mission, giving economic sovereignty, privacy, security, free speech, and liberty to all.
Markethive has built a system that they said could not be done; it's too big. However, Markethive will always be ahead of the curve, introducing new products, systems, and more innovative ways to facilitate user operations within the social media and marketing environment. The added advantage of a decentralized crypto environment offers the potential for real financial wealth and abundance on every level for its community.
Join us as we move forward with the next-generation multi-dimensional media platform, Markethive. Welcome to the Entrepreneur's ecosystem. We are built for Entrepreneurs by Entrepreneurs and are of Entrepreneurs of every caliber.



Written by Deb Williams
Chief Editor and writer for Markethive.com, the social, market, broadcasting network. An avid supporter of blockchain technology and cryptocurrency. I thrive on progress and champion freedom of speech and sovereignty. I embrace "Change" with a passion, and my purpose in life is to enlighten people en masse, accept and move forward with enthusiasm.