Markethive's Premium Platform Explained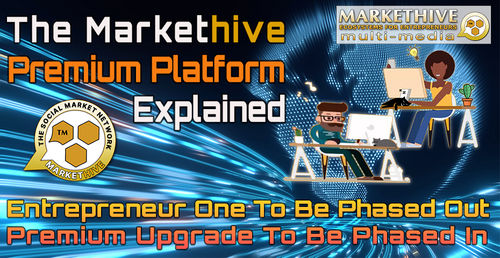 Entrepreneur One To Be Phased Out - Premium Upgrade To be Phased In
As Markethive moves forward, our Entrepreneur One Loyalty upgrade (the ultimate loyalty program for Markethive's early adopters) will be phased out and unavailable to new members. However, this makes way for our next phase, the Premium Upgrade, which is in preparation for launch and will be released about the same time the Markethive wallet is integrated.
Currently, the Entrepreneur One Upgrade (E1) is still available to new members. There will be a countdown ticker badge of 30 days placed on the Markethive home page for you to view, giving you ample notification of its cessation to new members.
There is also a moratorium for canceled or lapsed E1 accounts, starting simultaneously with the countdown badge. This allows former Entrepreneur One members to resume their membership as though they never left. The months that lapsed will be compressed to show a continuation of a paid year to date.
Once this 30-day period has ended, the wallet and Premium Upgrade will be released. We have a lot going on now; it's thrilling that Markethive is coming out of BETA with this launch. The innovative visions and tireless work of the Founders' are coming to fruition for all of us.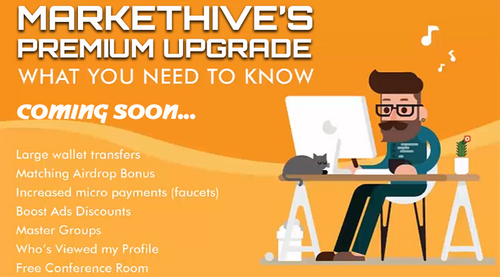 Premium Upgrade Illustrated
The Premium Upgrade will include everything stated below. This is the first and basic draft, so there might be a few additions and may be subject to change, but this is primarily the features.
1. The first is the large wallet transfer/transactions. There's no limit for the Entrepreneur One member; however, the Premium Upgrade will be the second-largest wallet transfer. So the number of MHV coins you can transfer out with this wallet will be substantial.
2. You will enjoy a matching bonus when you refer new members, just like Entrepreneur One has a matching bonus. This consists of a 100% matching bonus on the first three that sign up with you, which is 50% more than a free member, and then 25% on each subsequent sign-up for the duration of your active membership.
For example, if the new sign-up airdrop is 100 MHV, you will get 25 coins for as long as you are active in the Premium Upgrade.
3. You get the entire inbound marketing system. All the features and functions will be available, except for the email broadcasting system, which is limited. You can email your associates (sign-ups) and your group members, but not your friends you have accumulated on Markethive; that is only available to Entrepreneur One associates.
4. You will have access to total data on the first 16 visitors. This includes their other social media accounts, phone number, and email address. This means you'll get access to the first 16 people who visit your Markethive profile and be able to see who they are. You can contact and reach out to them because they are obviously interested in you, as they came to see you.
5. Access to a friend's "Friends List" gives you access to your friends' list, similar to LinkedIn and Facebook.
6. Automatic video and blog posts to the news feed. Coming very soon is the four different types of newsfeed that are four different types of feeds. As a Premium Upgrade, you will have access to the first three.
First is the general newsfeed, similar to a Twitter/Facebook feed.

The second is the blogging system, which will display your blogs in that feed.

The third is the video feed, where you can upload organic videos to the Markethive Video Channel and your videos from 3rd party video platforms. All the videos you upload will be shown in your video newsfeed.

The fourth newsfeed is the curation newsfeed limited to Entrepreneur One members only.
7. Increased Limits On your Video Uploads. Notably, with YouTube, you need to be qualified to be able to upload unlimited videos. If you do not pass their qualifications, they limit the size of your video uploads. As a Premium Upgrade, there is no limit to the size, length, or number of videos you can upload.
8. 10% Discounts on Services, such as Press Releases, Banner Impressions rebate, Boost, Video Ads, etc. E1s get more discounts; however, free members must negotiate with either Entrepreneur One or Premium level and pay them to acquire any of these services or purchase them at full price from Markethive, the company.
9. Upgrade activities interest (staking) on the Vault. As a Premium Upgrade, you will receive an increase in micropayments for all your activities in Markethive. Plus, any Markethive Credits you hold in the Vault will be paid interest.
10. KYC (Know Your Customer). All Premium level and Entrepreneur One associates will have a blue verification checkmark on their profile. So your KYC verification steps will be a lot easier to do as an upgrade than they would be if you were a free member.
11. Newsfeed Rich Text Formatting. You will be able to highlight with bold, italics, or underline in your newsfeeds as a Premium Upgrade. This makes your posts stand out a lot more.
12. Fully Functioning Storefronts. It is also known as Groups but with the added advantage of monetizing it with capture pages, custom Splash pages, videos, co-ops, shopping carts, etc. You create a complete campaign with a capture page that lands on the splash page built into the group. Essentially, this is a Storefront where people can visit and buy your products listed via your shopping cart.
So you can essentially turn your group into a landing page that allows you to communicate with those in that storefront group, much like a forum. It really is an innovation that takes the whole thing and turns it into a turnkey Marketing System.
A free membership gets the group, but you're getting a storefront when you upgrade to Premium or Entrepreneur One.
13. Group/Storefront posts in profile feed option. So whenever you post in your group newsfeed, you have the opportunity to post into your profile feed automatically.
14. Full Video Channel System is a complete YouTube-like video system where followers, friends, and associates can subscribe to your channel. They can comment on your videos, and all the features on YouTube will also be in the myhive.tube video system.
The other great thing about the entire video channel system is that as an Upgrade, the system will ask if you have accounts on other video platforms whenever you upload your video. (e.g., YouTube, Vimeo, Daily Motion, Facebook, Twitter) You'll be able to link to all of these 3rd party video platforms.
So you upload your videos into Markethive, which will also upload your thumbnail to those videos and remotely publish out to all the other video accounts you may have so you get extensive video distribution.
It's worth noting that when videos are posted on another platform, only a snippet of the video can be viewed. Users will be directed back to the Markethive platform to watch the whole video. This is a huge advantage considering YouTube's predilection to censorship.
15. Full Conference Room Channel. All members will have access to Markethive's free conference rooms; however, they will be limited according to your membership level. Free members will have two seats (you and a guest). Premium will have ten seats, and the Entrepreneur One Upgrade will have unlimited seats.
Our conference room system is integrated into inbound marketing, calendars, and timers, making it a very sophisticated system.
16. Bookmark Newsfeed Management. If there are posts in the news feed that you like or want to remember, you will be able to bookmark them if you're going to reference them again, creating easy access to them in the future.
17. Self Deleting Posts (Set timer option) Like Snapchat, you will be able to send a message to someone or make a post, then set a timer for it to self-delete. This is an excellent option if you have a time-sensitive message or post.
18. Send Messages to anyone in Markethive. (Limited to ? per month) The number of people you can message is still yet to be determined. However, as an upgrade, you will be able to message any member, no matter their level. You can send a message to them if you see their profile page or a post they did.
Once this feature is in place, nobody else can send messages to anybody unless their first-level friends.
19. Markethive sub ROKU Channel. Markethive already has a Roku Channel, and we can build Roku sub-channels into it. What this means is, as a Premium or E1, you will be able to have your own sub-channel, which will be named, yourusername.markethive.
So when you upload a video into Markethive, you can designate to upload it as well to your Roku sub-channel.



Premium Platform Plan Proposal
So there you have it. This is an impressive menu of options for the Premium Upgrade, which can be paid in part using MHV along with BTC or credit/debit card. The subscription prices are not set in stone as yet; however, a mock-up of the various plan options proposal is pictured below. The MHV is based on the value of one penny in the image. However, the coin price will fluctuate when listed on the exchanges, so the amount of MHV will be adjusted accordingly.
**Note that the Markethive coin (MHV) will be renamed to Hivecoin (HVC) once we list it on coin exchanges. The total coin supply will be drastically reduced, which will only benefit the coin's price.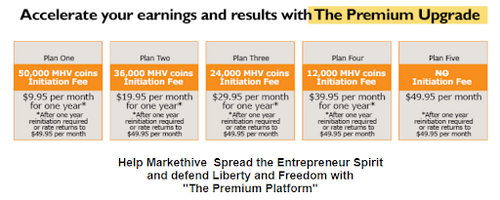 Markethive built this system to lift you up financially while giving you a mighty broadcasting Social Network. Our foundation is built upon the precept that freedom and liberty are very much at the forefront and our main product. Upgrading to Premium Level gives you additional leverage and greater power to broadcast your message while supporting our mission to lift up the entrepreneurial spirit found in all of us.
Still Time To Secure Your Entrepreneur One Upgrade
And of course, there is still time to upgrade to the ultimate loyalty program, The Entrepreneur One, for US$100 per month, which includes a 1/10th ILP after 12 months of consecutive payments. Essentially you have shares in the company! This is a golden opportunity; think of the Web 2.0 social media platforms like Facebook et al., when they were looking for funding; they engaged affluent Venture Capitalists. The difference here is you are the VCs without needing the capital, and you will reap the rewards as Markethive becomes the next tech giant of Web 3.0.



Finally...
Stay up to date with the progress by attending the Markethive meetings on Sundays at 10 am Mountain Time. Come with us as we make our way through the final stages of BETA, where the full potential of Markethive will be realized, creating more leverage, opportunities, and the ability for you to achieve your personal and professional goals. The link to the meeting room can be accessed in the Markethive calendar.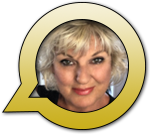 Editor and Chief Markethive:
Deb Williams
. (Australia) I thrive on progress and champion freedom of speech. I embrace "Change" with a passion, and my purpose in life is to enlighten people to accept and move forward with enthusiasm. Find me at my
Markethive Profile Page
| My
Twitter Account
| and my
LinkedIn Profile.